There are no tickets
available for purchase
at this time.
Get Tickets
Shockheaded Peter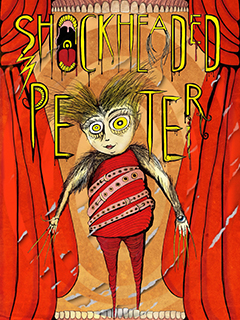 A New England Premiere created for the stage by Julian Crouch and Phelim McDermott
Original music and lyrics by The Tiger Lillies
Originally conceived and produced by Michael Morris for Cultural Industry, London
Directed by Steven Bogart
Featuring Walter Sickert & The Army of Broken Toys
March 6 – April 4, 2015
The Modern Theatre at Suffolk University
Run Time: 1.5 hours, no intermission.
Strobe lights are used in the production.
Appropriate for ages 12+.  Dark imagery and stylized violence, akin to the style of the original Grimms Brothers' fairy tales.
Fall into the world of Victorian SteamCRUNK nightmares as a manic music-box spins stories of naughty children and misguided parents. Silly and sinister, SHOCKHEADED PETER, with the musical mayhem of Walter Sickert & The Army of Broken Toys, dares us to ask what's beneath the floorboards. Don't miss the most damning tale ever told on stage!
C1's Take:
We're so excited to be collaborating once again with Suffolk University and producing in the Modern Theatre, home of last year's Elliot Norton Award winning THE FLICK. Featuring the SteamCRUNK band Walter Sickert & the Army of Broken Toys, SHOCKHEADED PETER (Olivier Award for Best Entertainment) is sure to keep you up at night with its unique brand of twisted humor.
Cast
PLAYWRIGHT & PRODUCTION STAFF
---
March 13, 2015 7:30pm- SteamCRUNK Night @ SHOCKHEADED PETER
Celebrate Friday the 13th by showing up to SHOCKHEADED PETER in your most fabulous SteamPunk finery! Click here for information!
March 15, 2015 3:30PM- Post Show Discussion
Design Showcase: get a peek into the production process! Designers will be present, sharing pieces of their process: sketches, groundplans, puppet prototypes, and more.
March 20, 2015 6:00pm- Cahllege Mixah!
Join us for an evening of activities and interactions for college students of Boston, including a performance of SHOCKHEADED PETER. Click here for information!
March 26, 2015 9:00PM- Post Show Dicussion
A moderated conversation about the production process with Steve Bogart, cast, and band members.
April 2, 2015 9:00PM- Post Show Discussion
Stay tuned for more details!
Curricular Connections Packet:
The Education Staff at Company One Theatre is pleased to share our SHOCKHEADED PETER Curricular Connections Packet.  This resource is ideal for both students and teachers who want to read more about the world of the play, the collaborating artists, and the stories behind script.  Each packet contains experimental and interactive lesson plans that address current state curriculum frameworks in theatre production, language arts, and social studies. We hope this packet leads to memorable experiences and conversations for your classroom, either before or after your visit to see SHOCKHEADED PETER!
Rehearsal & Production Blog: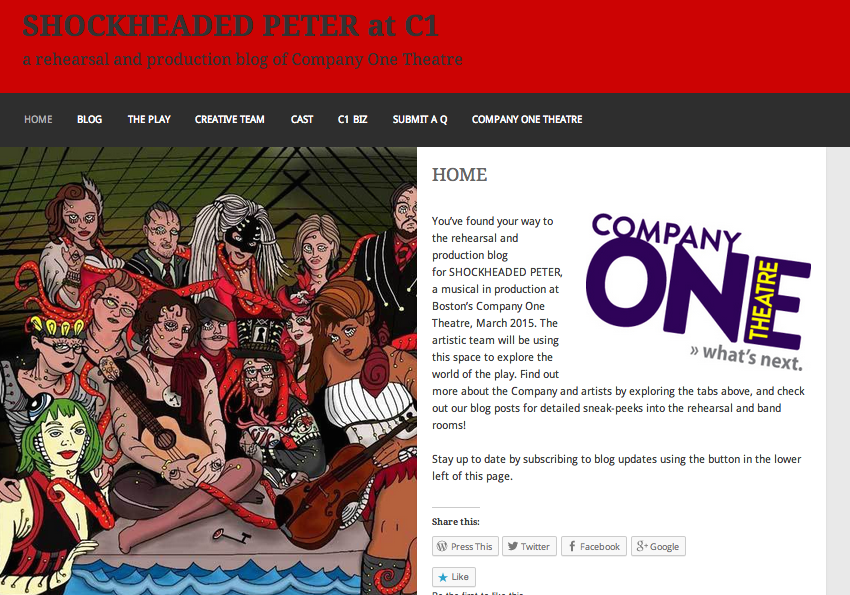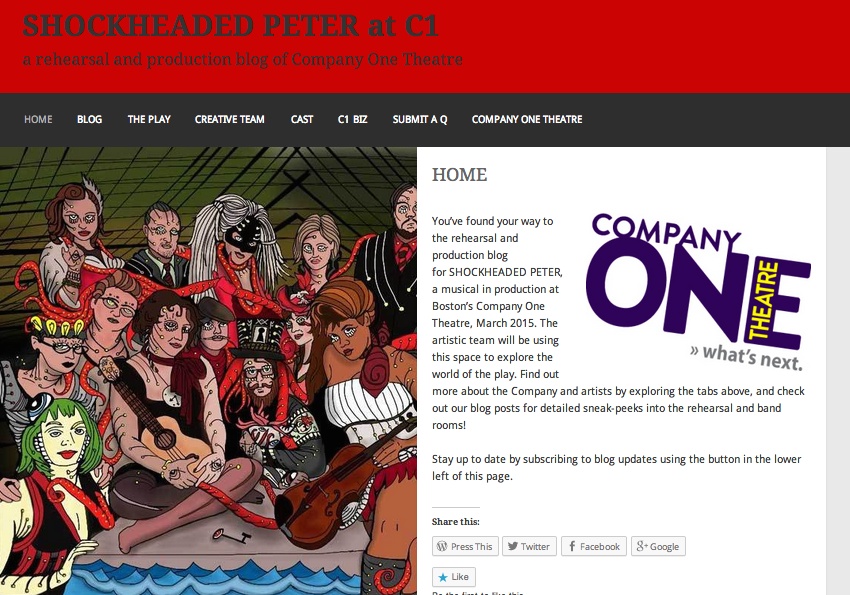 Reviews
January 31, 2015
March 5, 2015
March 5, 2015
March 6, 2015
March 6, 2015
March 9, 2015
March 9, 2015
March 10, 2015
March 10, 2015
March 11, 2015
March 16, 2015
March 19, 2015