CONNECTIVITY
AT COMPANY ONE
Company One Theatre is Boston's hub for community connection.
Connectivity is our way of bringing you in contact with our mission and with those who are also working to create a just and equitable Boston.
Dig deeper into our shows and events by engaging with our partners and taking action with us!
C1 connects with partners across the city to explore themes and content found in our productions. Partnerships can take many forms, from working with our artistic teams, to sharing resources in our lobby, to collaborating on public events like Studio Session open rehearsals, film screenings, post-show events, and more!
Do you have a partnership idea, audience engagement event, or social action you'd like to see at C1 this season? Let's make it happen! Email jbaxter@companyone.org and swilliams@companyone.org.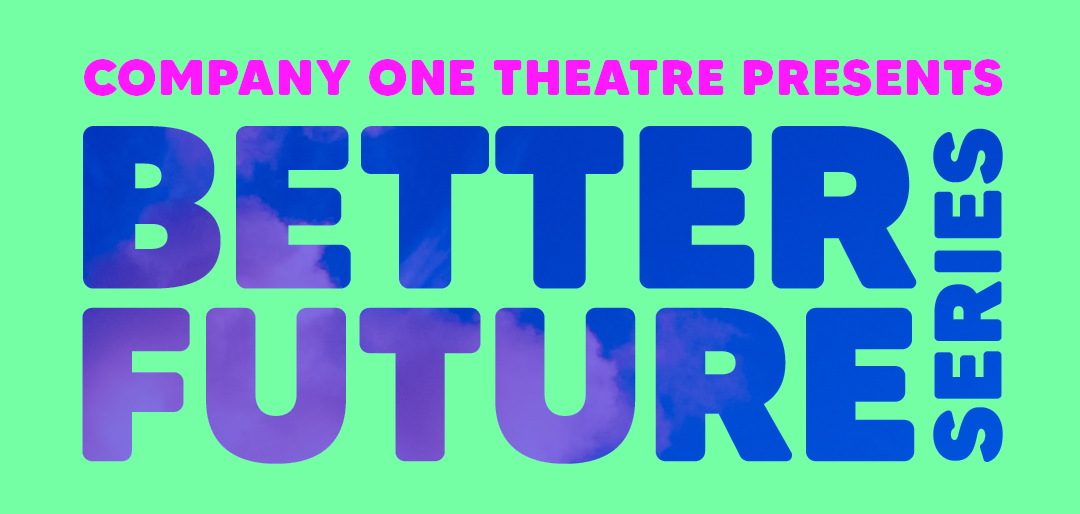 BETTER FUTURE SERIES
C1's Better Future Series is a multi-part digital gathering bringing together Boston's artists, community leaders, and policymakers to understand the needs of our neighborhoods and reimagine the future of our city.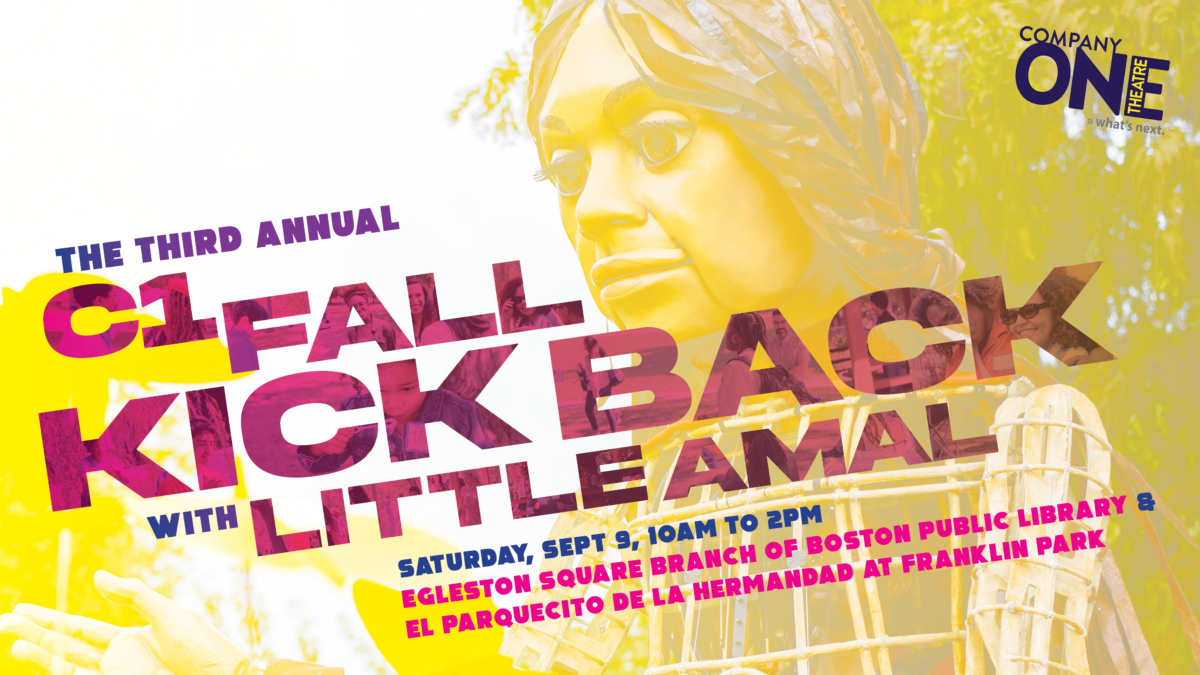 C1 Fall Kick Back with Little Amal
September 9, 2023
Egleston Square Branch of Boston Public Library & El Parquecito de la Hermandad at Franklin Park
C1 is thrilled to welcome Little Amal, the internationally acclaimed public art project, to our third annual Fall Kick Back!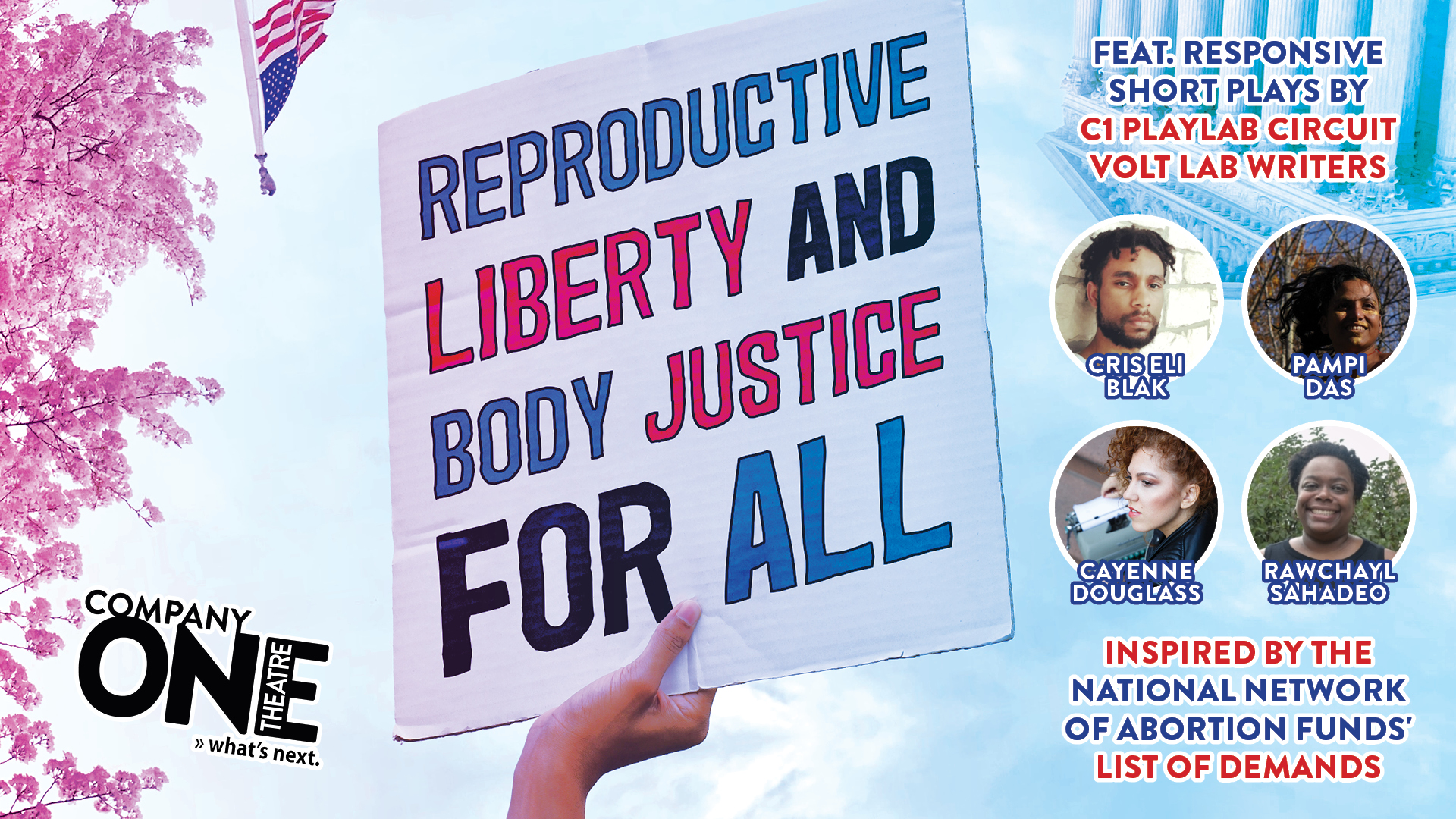 Reproductive Liberty and Body Justice for All 
Originally streamed Oct 13, 2022
Prompted by the recent dismantling of the protections laid out in Roe v Wade, four of Company One Theatre's Volt Lab playwrights — all playwrights of color, all rising voices of the American theatre — have chosen one item from the National Network of Abortion Funds' list of demands as a jumping off point for a short play and exploration of the actions we can take together for a more just society.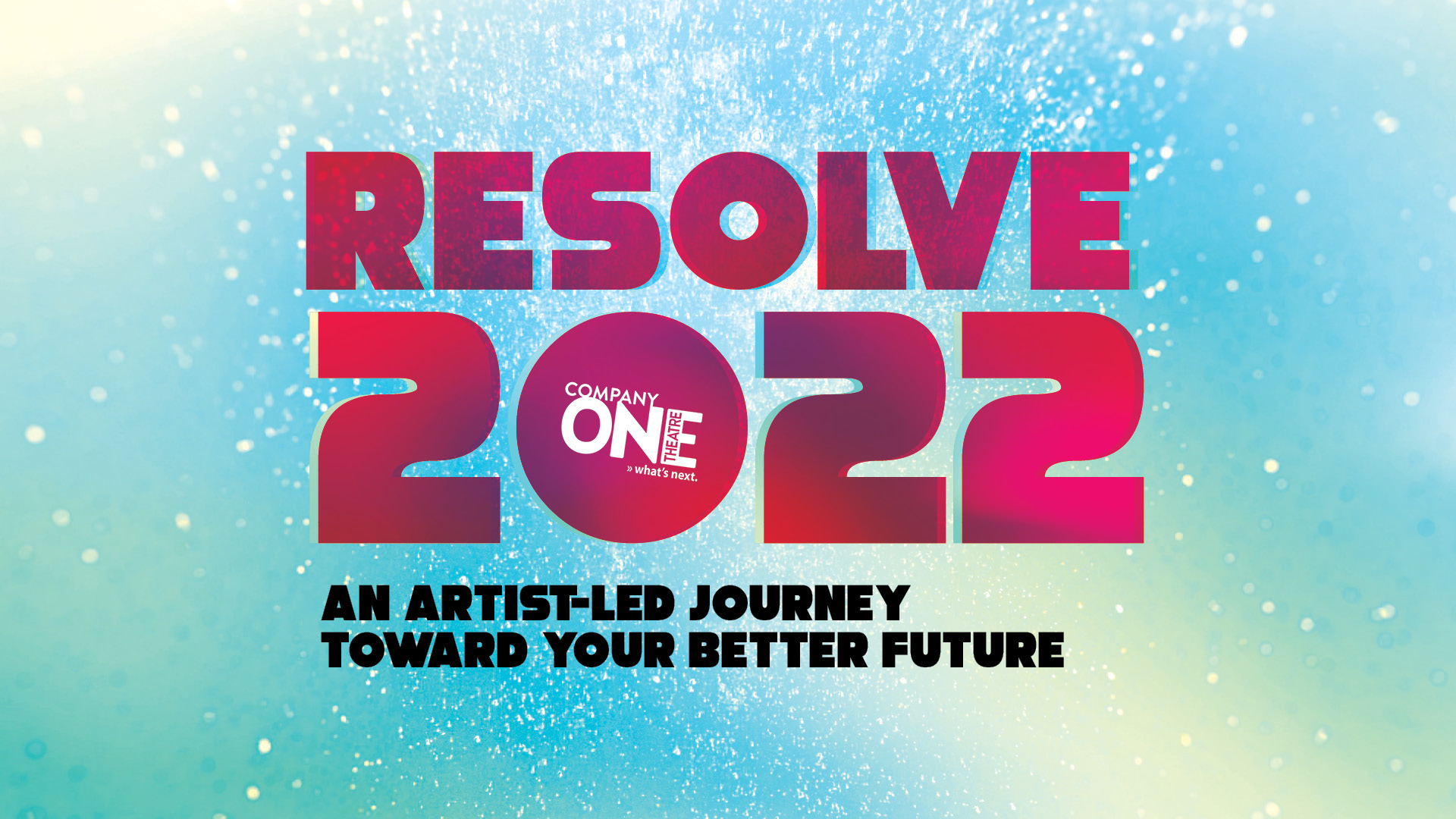 RESOLVE 2022:
AN ARTIST-LED JOURNEY TOWARD YOUR BETTER FUTURE
Originally streamed Jan 20, 2022
Elevate your 2022 vision board! RESOLVE 2022 is an evening of art and reflection to help you set an intention for yourself and your community as we begin a new year.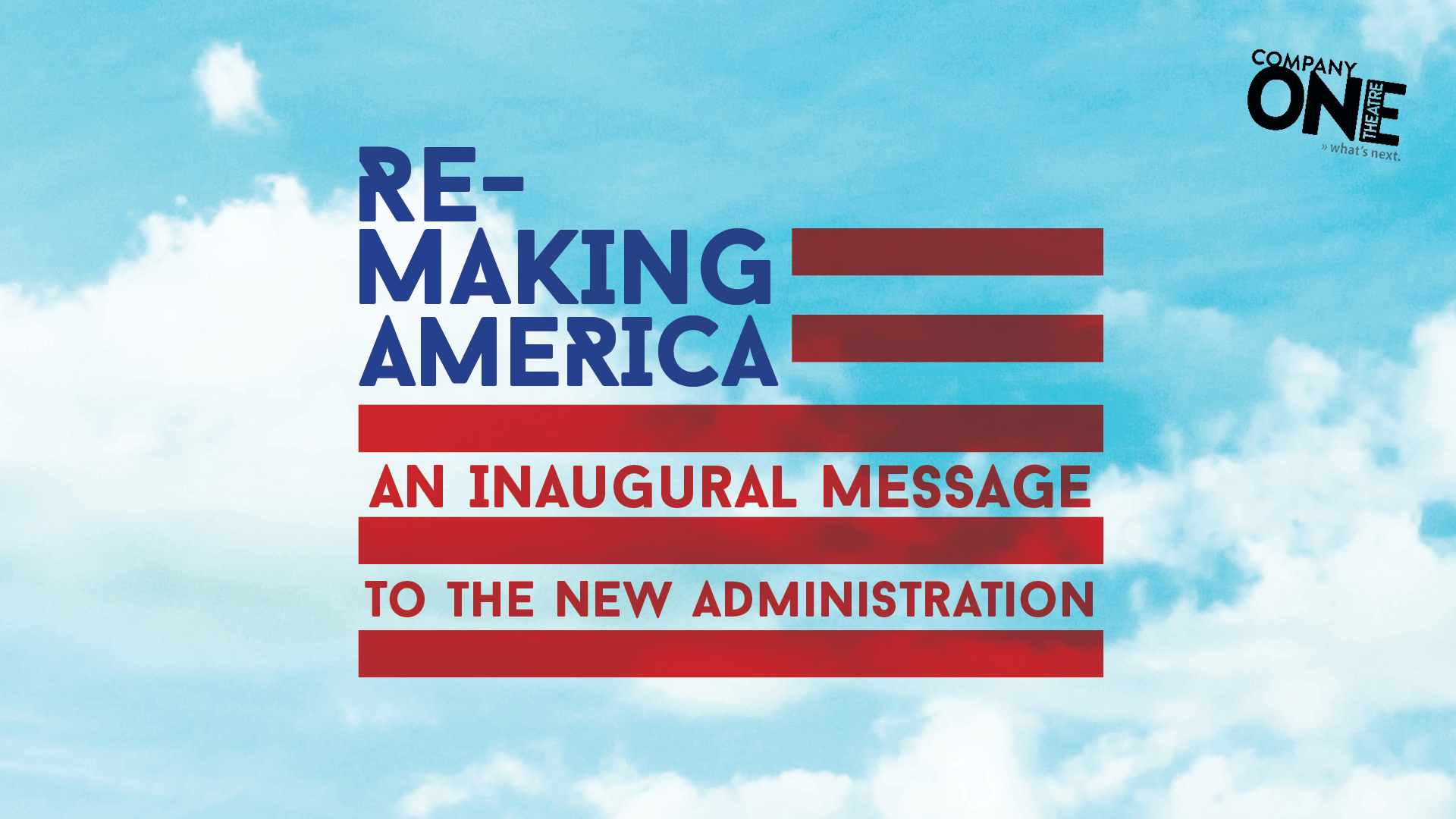 REMAKING AMERICA
Originally streamed Jan 26, 2021
Each new President pledges to "preserve, protect, and defend," but which communities are at the front of that line? Company One's Surge Lab playwrights — Inda Craig-Galván, Francisca Da Silveira, and Idris Goodwin — demand that we ALL move to the front by re-imagining our Better Future for housing, health, and education, along with local community leaders who have been doing the work.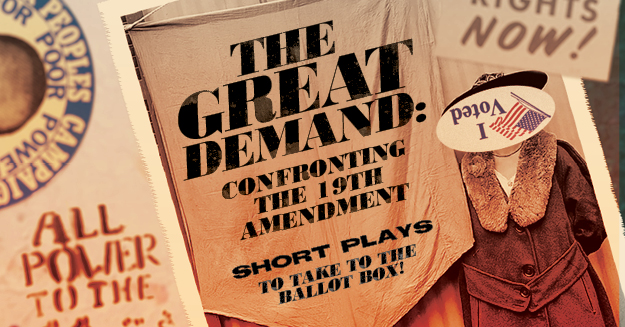 THE GREAT DEMAND
Originally streamed Aug 18, 2020
Through a selection of short plays that uplift the often ignored voices in the quest for suffrage, and in conversation with organizers working to address disparities in voting access today, this digital event combines art and advocacy to celebrate how far we've come and look forward to the work that still remains to achieve true universal suffrage.
Action for Boston Community Development
Agencia Alpha
American Repertory Theater
ArtsEmerson
Asian American Resource Workshop
Asian Community Development Corporation
BAMS Fest
BAGLY
Black Economic Council of Massachusetts (BECMA)
Boston Arts Academy
Boston Center for the Arts
Boston Chinatown Neighborhood Center
Boston's Dept of Youth Employment & Engagement
Boston GLOW
Boston GLASS
Boston Mayor's Office of Arts & Culture
Boston Music Project
Boston Public Library
Boston Ujima Project
Central Square Theatre
Center for Trauma and Embodiment at Justice Resource Institute
Comfort Kitchen
Comics in Color
Design Studio for Social Intervention
Disability & Intersectionality Summit
Disability Policy Consortium
Dorchester Bay Economic Development Corporation
Dudley Cafe
Dudley Street Neighborhood Initiative

Fairmount Cultural Corridor

Fenway Health



The Flavor Continues
Humphreys Street Studios
Huntington Theatre Company
Hyde Square Task Force
Justice Resource Institute
Leela Yoga + Wellness
Louis D. Brown Peace Institute
Madison Park Development Corp.
March Like a Mother
Massachusetts Senior Action Council
Massachusetts Trans Political Coalition
Mothers for Justice and Equality
Museum of Fine Arts
Neighborhood Birth Center
Neighborhood Villages
Now + There
Pao Arts Center
Planned Parenthood
Project Bread
Reclaim Roxbury
Reflective Spaces / Material Places
ReRooted / The HairStory Project
School of HONK!
Suffolk University
The Theatre Offensive
Transgender Emergency Fund
Trans Resistance MA
Urbano Project
Upham's Corner Main Street
Vital CxNS
The Walk (Little Amal)
Wee the People
Zumix
Header photo: Afrikah Selah, Kurt Faustin, and Judy Cazeau at can i touch it?  post-show conversation
"Empowering Ownership: Black Business, Community, and Identity in Boston." Photo by BECMA photographer Bobby Shakes.