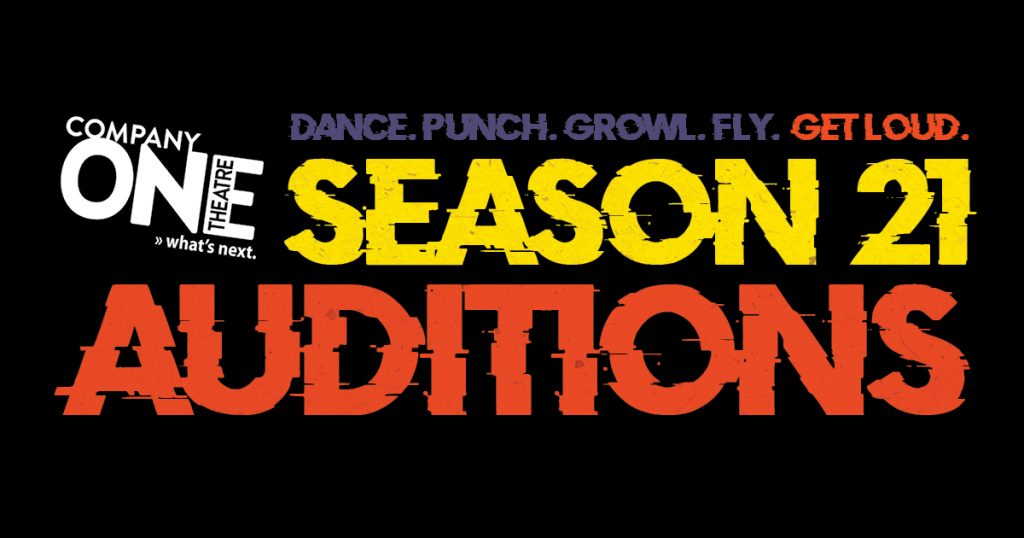 Company One Theatre is holding open season auditions for non-union actors on July 21 from 1pm-6pm and on July 23 and 24 from 6pm-10pm at the Boston Center for the Arts (551 Tremont St, Boston, MA).
If you're interested in auditioning, please email auditions@companyone.org with a headshot/resume (if you have one), your availability on the audition days, and the show/character you wish to be considered for in our upcoming season (see breakdown below).
Please prepare a 1-2 minute contemporary monologue for this audition.
Company One is committed to casting actors of all races, genders and body types in our productions.
If you have any questions, feel free to email us at auditions@companyone.org.
SEASON BREAKDOWN
WOLF PLAY
by Hansol Jung
directed by Summer L. Williams
Rehearsals start in mid-November and the show runs from January 31 – February 29, 2020 in Rabb Hall @ Boston Public Library – Copley Branch
ASH – Female, Late 20s. Southpaw Boxer. Woman of color.
ROBIN – Female, Late 30s. Ash's wife. Woman of color.
RYAN – Male, Early to mid 30s. Robin's brother. Man of color.
PETER – Male, Late 30s. A father. White
WOLF – A mix of the familiar with the terribly unexpected, East Asian
DANCE NATION
by Clare Barron
directed by Shana Gozansky
Rehearsals start in mid-March and the show runs from May 15 – June 13, 2020 at the Loeb Ex @ American Repertory Theater
All characters except Dance Teacher Pat and The Moms are between the ages of 11 and 14 years old. However, they will be played by a cast of adult actors of all ages, races and body types. There is no need for any of the actors to resemble teenagers.
Think of it as a ghost play: the actors' older bodies are haunting these 13-year-olds characters. (We're getting to see who they grow up to be!) And these 13-year-old characters are haunted by the specters of what they will become.
Actors do not need to possess any dance talent or experience to be considered for this show.
DANCE TEACHER PAT – The head of the dance studio
AMINA – The star dancer
ZUZU – Always second best
CONNIE – A talented dancer who thinks she should have the solo
LUKE – The only male dancer on the competition team
MAEVE – The oldest and least talented dancer on the team
SOFIA – Knows what's up
ASHLEE – Future president of a post-apocalyptic USA
VANESSA (aka THE CRUMPLED SAILOR) – Could've been a phenomenon
THE MOMS – Means well. Grown up Wendy
BLACK SUPER HERO MAGIC MAMA
by Inda Craig-Galván
directed by Summer L. Williams
Rehearsals start in late May and the show runs from July 17 – August 15, 2020 at the Strand Theatre.
TRAMARION JACKSON – A Black son, 14
CONNIE WRIGHT aka LADY VULTURE – An Asian news anchor, 35
TOM BLACKMAN aka HUMAN HYENA – A Black field reporter, 40
LENA EVERS – Sabrina's sister; Tramarion's aunt, 32
COACH COREY BRACKETT aka DEEP THINKER – A part-time coach; full-time history teacher. A Black man, 40. Also plays HOST, the host of Know Your Heritage game show as Tramarion imagines him.
FLAT JOE/JOSEPH A. HUGHES aka BLACK

SUPERMAN

– Someone else's Black son; the boy who lived, 14
DAVE LESTER aka DEATH TAP – A White cop, 40
We are currently accepting applications for the following positions:
Theatre has historically been a majority cis and white discipline. In keeping with Company One's mission we are especially committed to providing paths of access for theatre practitioners of color, trans theatre-makers, and those from backgrounds not typically represented in the field.
We also accept rolling submissions of applications for the following production positions:
Stage Manager
Lighting Designer
Costume Designer
Scenic Designer
Sound Designer and/or Composer
Props Designer/Master
Master Electrician
Sound Board Operator
Electrician
Dialect and/or Vocal Coach
Fight Choreographer
To apply, please email a cover letter and resume to Sarah Cohan, HR Manager, at employment@companyone.org
We are currently seeking applicants for the following internship positions:
Company One often offers internships in many different areas of design, production, and management, often tailored to the individual applicant's schedule and interests. If you'd like to apply for an internship with Company One, please email your resume, and cover letter including your specific area of interest, to Sarah Cohan, HR Manager, at employment@companyone.org, and we will be in touch should there be an internship available in your area.
AMPLIFY the process. AMPLIFY new voices. AMPLIFY connection.
We are taking this opportunity to examine our new play processes to make sure they align with our core values as a company. While this work is underway, our submission window is temporarily closed.
Please check back soon for more information on our new submission procedure. Company One is dedicated to artist development and supporting playwrights at all levels of their writing process. In an effort to create a more transparent and equitable process, next season's open submissions structure will be geared toward relationship building, play development and dramaturgical engagement.
Interested in participating in our PlayLab Unit or PlayLab Fellows programs? Applications will reopen in Fall 2018 for Season 20's cohorts!
Any questions about Company One's new work activities should be directed to literary@companyone.org.
If you have a strong interest in the mission of Company One Theatre, and would like to explore ways to become more deeply involved with our organization, please contact Board Vice President Elisa Choi at echoi@companyone.org.