There are no tickets
available for purchase
at this time.
Get Tickets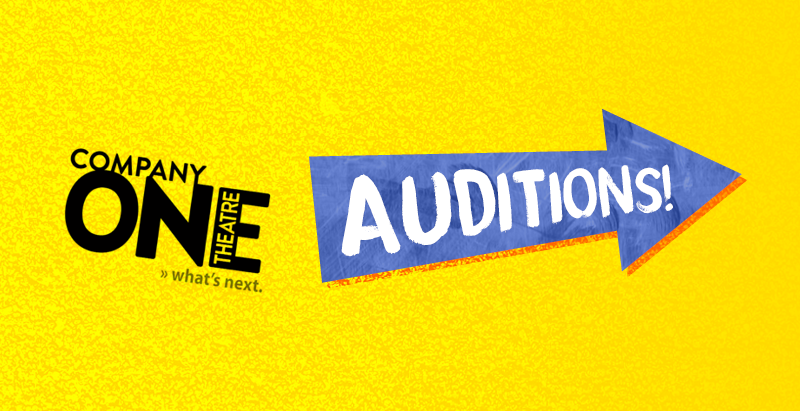 GREATER GOOD AUDITIONS
Company One Theatre is holding auditions for non-union actors on Thursday, April 11 starting at 6:30pm at the Artist Studios at the Boston Center for the Arts. If you're interested in auditioning, please email auditions@companyone.org with a headshot/resume (if you have one), your availability on the audition day, and the character you wish to be considered for in Greater Good.
Character Descriptions:
Adams – Asian American, late 40s, he/him/his, parent council member, practical, organized
Kim – black, early 40s, she/her/hers, parent council member, confident, of money, tries to prove she's an insider
Michael – black, early 40s, he/him/his, parent council member, gamer type
Gordon – white, hovering 50, he/him/his, Head of School, charismatic, tries to present as progressive
Isa – black, mid-20s, she/her/hers, teacher, revolutionary spirit
What to Prepare:
Please indicate which character you are interested in auditioning for and we will provide you the correct sides to read at the audition.
Callbacks will be held on Sunday, April 14 at 12:30pm-3pm at the Artist Studios at the Boston Center for the Arts.*
There will be a workshop pre-production April 29, May 1 and 3.
The first rehearsal is May 21 and the show runs from July 24 – August 17 at a Boston school. If you have any questions or concerns, please email auditions@companyone.org
*We understand that Sunday is a holiday. If actors who are called back are unable to make this date because of religion obligations, please let us know and we can arrange another date
We are currently seeking candidates for the following positions:
In an effort to serve our mission, Company One is looking to diversify its pool of designers and production staff. We are seeking theatre artists of color in all areas to be considered for our production teams. We also accept rolling submissions of applications for the following positions:
Lighting Designer
Costume Designer
Sound Designer and/or Composer
Props Designer/Master
Master Electrician
Sound Board Operators
Electricians
Dialect and/or Vocal Coach
Fight Choreographer
To apply, please email a cover letter and resume to Sarah Cohan, HR Manager, at employment@companyone.org
Company One often offers internships in many different areas of design, production, and management, often tailored to the individual applicant's schedule and interests. If you'd like to apply for an internship with Company One, please email your resume, and cover letter including your specific area of interest, to Sarah Cohan, HR Manager, at employment@companyone.org, and we will be in touch should there be an internship available in your area.
AMPLIFY the process. AMPLIFY new voices. AMPLIFY connection.
We are taking this opportunity to examine our new play processes to make sure they align with our core values as a company. While this work is underway, our submission window is temporarily closed.
Please check back soon for more information on our new submission procedure. Company One is dedicated to artist development and supporting playwrights at all levels of their writing process. In an effort to create a more transparent and equitable process, next season's open submissions structure will be geared toward relationship building, play development and dramaturgical engagement.
Interested in participating in our PlayLab Unit or PlayLab Fellows programs? Applications will reopen in Fall 2018 for Season 20's cohorts!
Any questions about Company One's new work activities should be directed to literary@companyone.org.
If you have a strong interest in the mission of Company One Theatre, and would like to explore ways to become more deeply involved with our organization, please contact Board Vice President Elisa Choi at echoi@companyone.org.