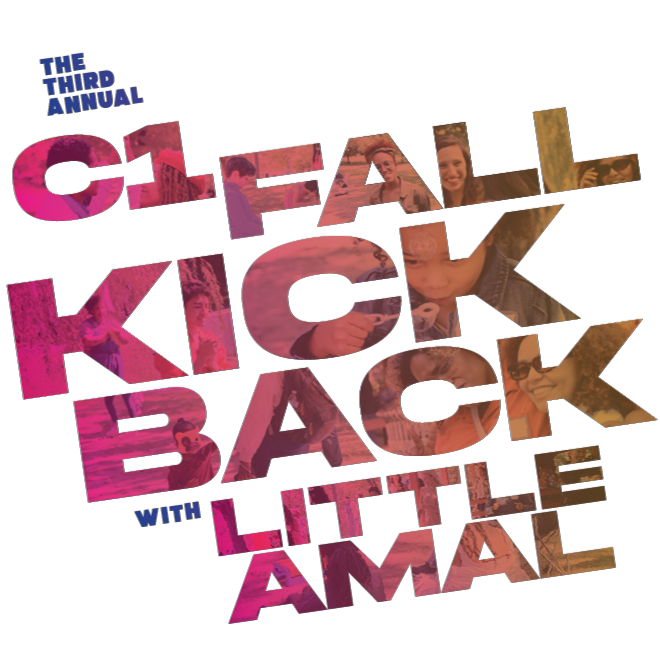 Join Company One for a celebration of community and belonging, featuring Little Amal and friends!
Saturday, September 9, 10am to 12pm
Egleston Square Branch of Boston Public Library

C1 is thrilled to welcome internationally acclaimed public art project Little Amal! Gather with us at the BPL's Egleston Branch as we prepare to greet Amal at 11am, then walk with us through the neighborhood alongside Amal as we make our way to Franklin Park.
This is a Pay-What-You-Want experience with $0 minimum. All proceeds support C1's mission to build community at the intersection of art and social change.
Location and Schedule of Events
‣‣ 10am – 11am — Leaving Home, Finding Community: A DIY Puppet Workshop for All-Ages
Egleston Square Branch of the Boston Public Library
Get ready for Little Amal's arrival at this intergenerational workshop exploring themes of migration and belonging, led by artist/educator Barrington Edwards! Learn more about Amal and her journey, and create your very own puppet.
‣‣ 11am – 12pm — C1's Walk with Amal: When Migrants Meet
Egleston Square BPL to Franklin Park
Join Little Amal for a musical walk from Egleston Square to Franklin Park! Follow Little Amal as she discovers an injured snow goose that's been separated from her migrating flock, and attempts to reunite the bird with her family. Help Amal locate the flock for a honking good time!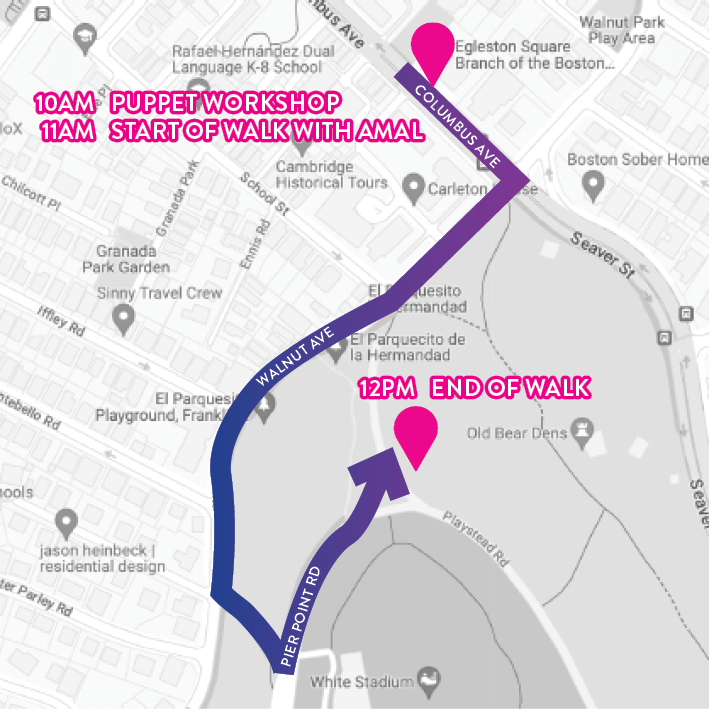 The walk is about 0.5 miles over sidewalk/paved road and is accessible to wheelchairs and strollers.
Meet our Special Guests & Commuity Partners
Little Amal is the 12 foot puppet of a 10 year old Syrian refugee child at the heart of The Walk. She has become a global symbol of human rights, especially those of refugees.
Since July 2021, Amal has travelled over 9,000km to 97 towns and cities in 15 countries and been welcomed by more than a million people on the street, including hundreds of artists and civil society and faith leaders, as well as by tens of millions online. Her journeys are festivals of art and hope that draw attention to the huge numbers of children fleeing war, violence and persecution, each with their own story. Her urgent message to the world is "Don't forget about us".
Between 7 September and 5 November 2023, Amal will journey 6,000 miles across the United States. 35 towns and cities from Boston to San Diego and 1,000+ artists and arts organizations will create 100+ events to welcome her. Explore the hundreds of confirmed partners for the United States journey HERE.
Egleston Square Branch of the Boston Public Library
Established in 1848, the Boston Public Library is a pioneer of public library service in America. It was the first large free municipal library in the United States, the first public library to lend books, the first to have a branch library, and the first to have a children's room. As a City of Boston historic cultural institution, Boston Public Library today features a central library and twenty-five neighborhood branches, serving nearly 4 million visitors per year and millions more online. Boston Public Library is a department of the City of Boston, under the leadership of Mayor Michelle Wu. The Egleston Square Branch opened on July 8, 1953, and features a Spanish language collection, a seed library focused on native and local plants and a learning landscape with outdoor seating and a children's garden.
A radically inclusive brass band and all ages music school, School of HONK is powered by volunteer mentor musicians and popular dance tunes from all around the world, and they are bringing their unique moves and grooves to the C1 Kick Back to stir up some fun, inspire our neighbors, and help band our community together. Check out schoolofhonk.org to learn more!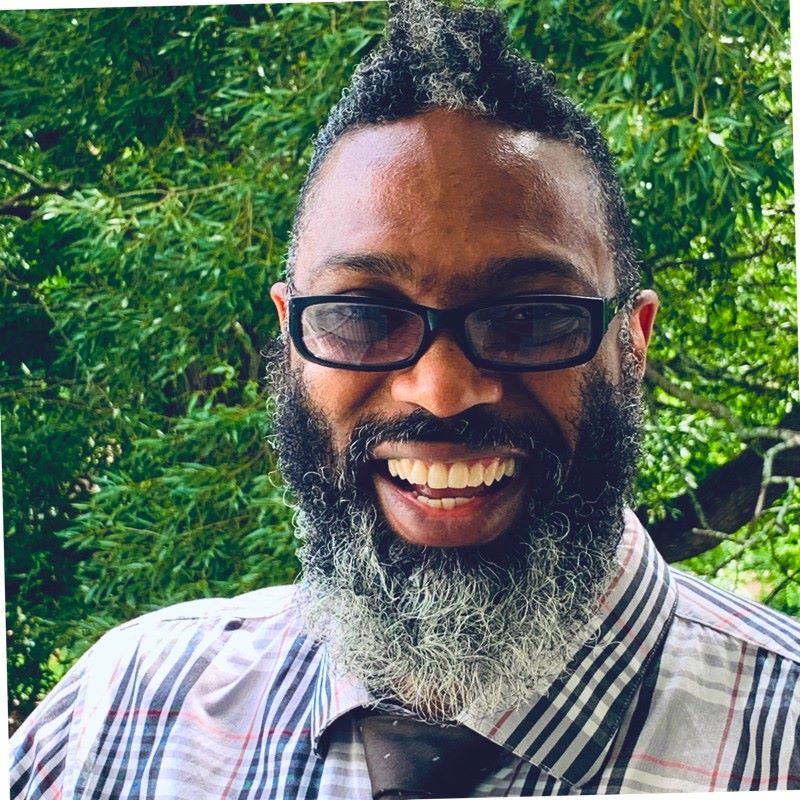 Barrington Edwards, an artist and community activist from Boston, attended the Massachusetts College of Art and earned a BFA in Communication Design and a MSAE in Art Education. Barrington taught art at the Boston Arts Academy for nineteen years. He is an award-winning teacher and artist, a publisher of comics and graphic media, and he works as a freelance artist. He currently teaches Art Education at the Massachusetts College of Art and Design. Barrington consistently works to develop his practice as a maker, social interventionist, and teacher.
RESOURCES & ACTION STEPS
The MIRA Coalition's State Legislative Priorities for 2023-2024 include the Language Access and Inclusion Act, the Safe Communities Act, and the Cover All Kids Act, and other initiatives that strengthen immigrant rights and inclusion in Massachusetts. Contact your legislator today and ask them to co-sponsor these crucial bills!
Last year, Massachusetts welcomed 2,800 new refugees, with 1,300 settling in the Greater Boston Area. Learn more about them, how to help, and available services through the Office of Immigrant Advancement. 
The SEARR Campaign continues a decades-long effort to free the Southeast Asian community from generational cycles of displacement and heal communities from this collective trauma. 
Handcraft makers (knit, sew, quilt, crochet, weave, felt, etc.) can make Welcome Blankets, symbolic and practical gifts of welcome for new refugees coming to the United States. People from ages 4-104, a wide range of immigration/migration histories, and all levels of craftiness have participated as makers for the project. 
The Welcome Project seeks community-based volunteer teachers and one-on-one tutors to teach English for speakers of other languages. Both novice and experienced teachers are welcomed and invited to join us in advocating for the rights of our community.
Read about the refugee experience
Check out BPL's curated list of books in honor of World Refugee Day or the Libraries without Borders list of books in partnership with The Walk to find some new titles to illuminate the immigrant and refugee experience
The fund was created, in partnership with The Boston Foundation and United Way of Massachusetts Bay, to address the acute humanitarian crisis faced by migrants seeking asylum in Massachusetts, and to support the local, trusted community-based organizations directly serving new arrivals in our region.
Click each thumbnail to enlarge. Photos by Lauren Miller.
The C1 Fall Kick Back with Little Amal
is produced by Company One Theatre.
Amal Walks Across America
is produced by
The Walk Productions
in association with the
Handspring Puppet Company
. U.S. Producing Partner
THE OFFICE performing arts+film
. Impact + Outreach
The Soze Agency
. Marketing
Cause Lab
. PR + Communications
DKC
.