There are no tickets
available for purchase
at this time.
Get Tickets
C1 PlayLab is now C1 PlayLab Circuit, a two-pronged approach to new play development that supports writers at all career stages, and provides community-centered professional development opportunities: Writing Labs and Open Circuit.
Our PlayLab Circuit Writing Labs each serve a different population: The Flux Lab Writers work on plays that are being developed towards production, including C1's residencies and commissions; The Surge Lab brings together artivist-playwrights who receive micro-commissions to write responsively; finally, the Volt Lab Writers (formerly PlayLab Unit) are a cohort of early career playwrights who meet monthly in a supportive lab-style setting. Our Open Circuit programs are free artistic and professional development opportunities, including our Virtual Open Write events, and our Field Work convenings (formerly known as PlayLab Bootcamp).
Learn more about PlayLab Circuit's history!
Applications will open in the fall for next season's Volt Lab!
Season 22 Surge Lab Writers
Inda Craig-Galván* with Black Super Hero Magic Mama
Francisca Da Silveira* supported by the National New Play Network
Idris Goodwin* supported by the National New Play Network

Watch Inda, Francisca, and Idris' plays as part of Remaking America: An Inaugural Message to the New Administration!
Season 22 Flux Lab Writers
Kirsten Greenidge, C1 Resident Playwright supported by the Mellon Foundation
Inda Craig-Galván, with Black Super Hero Magic Mama
Francisca Da Silveira, supported by the National New Play Network
Idris Goodwin, supported by the National New Play Network
David Valdes, with Downtown Crossing
Kit Yan & Melissa Li, with the C1 PlayLab Pao Fellowship
Learn more about the Flux Lab Writers!
Season 22 Volt Lab Writers
Robin Berl
Jennifer Bobiwash
Taiga A. Christie
Maru Colbert
Elana Lev Friedland
Thato R. Mwosa
Quentin Nguyen-duy
Alicia Margarita Olivo
Hayley St. James
This season, we're combining our popular Open Circuit programs Open-Writes and Field Work into free, alternating monthly Saturday meetings, and all theatremakers dedicated to new work are welcome!
Open-Write months will continue to feature guest writers who lead attendees through exercises and writing time.
Field Work months will feature a professional development topic relevant to building a career as a civic-minded theatre artist, with guest artists providing a teach-in on that theme, and time for attendees work on their own materials.
We kicked it all off on September 18 with a Digital Writing Retreat led by C1 Mellon Foundation Resident Playwright Kirsten Greenidge. Since we began our Virtual Open-Writes in spring 2020, writers have been asking for space to share work during our sessions, and this event was designed with that in mind.
More details on our upcoming events coming soon!
SEASON 23 OPEN CIRCUIT SCHEDULE
UPCOMING EVENTS:
SAVE THE DATES:
Open Writes
– February 19 — Exercises in the legacy of Maria Irene Fornes
– April 16 — Exercises in Community
– June 18 — Exercises in Comedy
– August 20 — Exercises Outside Realism
Field Work
– January 22 — Play Submission Binge with Pat Gabridge
– March 19 — Creating for Audio & Digital
– May 21 — Crossing Genres & Connecting to Culture: novels, screenplays, and the theatre artist
– July 23 — Beyond Realism: Collaborations, Creations, Processes
Topics and dates are subject to change.
PAST EVENTS:

– September 18 — Digital Writing Retreat
– October 16 — Open-Write with Jacqueline E. Lawton
Check out our Field Work blog for details on our Season 22 convenings.
LOWELL LECTURE
in partnership with Boston Public Library and GBH
On June 17 at 7pm ET, we gathered virtually as a community for an evening with big thinkers on the role and responsibility of the arts in a time of social and cultural crisis. This C1 PlayLab Open Circuit program was produced in partnership with Boston Public Library and GBH.
Ralph Remington, Director of Cultural Affairs, City of San Francisco
Hana Sharif, Artistic Director, Repertory Theatre of St. Louis
Luis Alfaro, award-winning Playwright and Educator
Diep Tran, Arts Journalist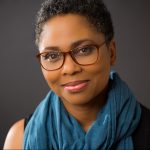 Inda Craig-Galván (she/her) — Flux Lab, Surge Lab
Inda Craig-Galván is a playwright and TV writer, based in Los Angeles. Plays include BLACK SUPER HERO MAGIC MAMA (Geffen Playhouse) and I GO SOMEWHERE ELSE (Playwrights' Arena). Inda received the Kesselring Prize and Jeffry Melnick New Playwright Award for her play WELCOME TO MATTESON! (Ojai Playwrights Conference). Newly commissioned plays with The Old Globe and Primary Stages and two additional world-premieres – THE GREAT JHERI CURL DEBATE and A HIT DOG WILL HOLLER – all just waiting for this pandemic to end.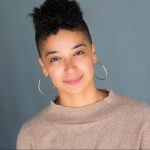 Francisca Da Silveira (she/her) — Flux Lab, Surge Lab
Francisca Da Silveira is a Cape Verdean-American playwright and dramaturg. She received a BFA in Dramatic Writing from New York University's Tisch School of the Arts and a MSc in Playwriting from the University of Edinburgh. Fran is currently the Assistant Literary Director at Geva Theatre Centre in Rochester, an At-Large Ambassador and Affiliated Artist with the National New Play Network, a 2020-2021 Playwrights Realm Writing Fellow, and a member of the Public Theater's 2020-2022 Emerging Writer's Group. www.frandasilveira.com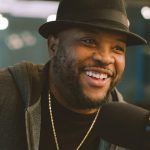 Idris Goodwin (he/him) — Flux Lab, Surge Lab
Idris Goodwin is an award winning break-beat poet, playwright and director of The Colorado Springs Fine Arts Center at Colorado College. In addition to the recently released poetry collection Can I Kick It?, he's had several publications from Haymarket Books including Inauguration co written with nico wilkinson, Human Highlight: Ode To Dominique Wilkins, and the play This Is Modern Art co-written with Kevin Coval. He's appeared on HBO Def Poetry, Sesame Street, NPR, BBC Radio, and the Discovery Channel. His plays include And In This Corner Cassius Clay, How We Got On, Hype Man and This is Modern Art. Idris is the co-host The Same Old New School Podcast on Vocalo Radio.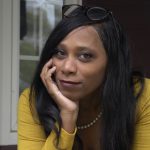 Kirsten Greenidge (she/her) — Flux Lab, C1 Resident Playwright
Kirsten Greenidge's work presents African American experiences on stage by examining the nexus of race, class, and gender. Kirsten (she/her/hers) is currently a Mellon Fellow/Howlround Artist in Residence at Company One Theatre in Boston Massachusetts, where she helps run Company One's playwriting program, PlayLab. She is the author of BALTIMORE, a commission from the Big Ten Consortium at the University of Iowa, which toured to the National Black Theatre Conference; BUD NOT BUDDY, an adaptation of the children's novel by Christopher Paul Curtis, with music by Terence Blanchard, which will be produced this winter at Metro Stage Company in St. Louis; THE LUCK OF THE IRISH (Huntington Theatre Company; LTC3); and MILK LIKE SUGAR (La Jolla Playhouse; Women's Theatre Project; Playwright's Horizons), which was nominated for a Lucille Lortel Award and received an Independent Reviewers of New England Award, and San Diego Critics Award, and an OBIE Award. She is a 2016 winner of the Roe Green Award for new plays from Cleveland Playhouse for LITTLE ROW BOAT; OR, CONJECTURE, a play about Sally Hemings, James Hemings, and Thomas Jefferson, commissioned by Yale Rep. Her play AS FAR AS A CENTURY'S REACH toured to the Edinburgh Fringe Festival in August, after being part of the Royal Exchange's B!RTH Project. She is a proud author of AUDACITY, part of Oregon Shakespeare Festival's EVERY 28 HOUR PLAYS, and she's enjoyed development experiences at Family Residency at the Space at Ryder Farm, the Huntington's Summer Play Festival, Cleveland Playhouse (as the 2016 Roe Green New Play Award recipient), The Goodman, Denver Center Theatre's New Play Summit, Sundance, Bay Area Playwrights Festival, Sundance at Ucross, and the O'Neill. Kirsten is currently working on commissions from Company One, La Jolla Playhouse, OSF's American Revolutions Project, The Goodman, and Playwrights Horizons. She is an alum of New Dramatists, and has proudly graced the Kilroys list of New Plays by women and women identified Playwrights several years running. Her play FAMILIAR, a winner of the Kennedy Center/American College Theatre Festival New Play Award, was presented by Harvard's A.R.T. Institute this winter. She is an alum of Wesleyan University, and the Playwrights Workshop at the University of Iowa. She oversees the Playwriting Program at the School of Theatre at Boston University.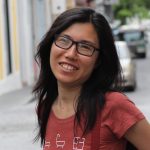 Melissa Li (she/her) — Flux Lab, Pao Fellow
Melissa Li is a composer, lyricist, performer, and writer based in New York and Baltimore. She is a recipient of the Jonathan Larson Award, a Dramatists Guild Foundation Fellow, a 2019 Lincoln Center Theater Writer-in-Residence, a 2019 Musical Theater Factory Maker, a 2019 Macdowell Colony Fellow, and a former Queer|Art|Mentorship Fellow. Musicals include Interstate (New York Musical Festival, Winner "Outstanding Lyrics"), Surviving the Nian (The Theater Offensive, IRNE Award Winner for "Best New Play" 2007), and 99% Stone (The Theater Offensive). Her works have received support from The 5th Avenue Theatre, The Village Theater, Musical Theater Factory, National Performance Network, New England Foundation for the Arts, Dixon Place, and others.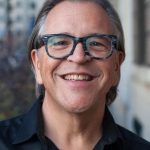 David Valdes (he/him) — Flux Lab
David Valdes is a writer outside Boston. He has been a Company One PlayLab Fellow, Huntington Theatre Company Playwriting Fellow, Cimientos Fellow, and Brother Thomas Artist Fellow. His plays have been fully staged and presented in public readings across the US and UK. He has worked with Orlando Shakes, Fresh Ink, Rochester Rep, Company One, Actor's Theatre of Charlotte, Mixed Blood, Borderlands, Milagros, Boulder Ensemble Theatre Company, Stage Left, Ensemble Studio Theatre, The Theater Offensive, and others. His plays have appeared at the Humana Festival, New York International Fringe Festival, Portland Stage Little Festival of the Unexpected, and New York Theatre Workshop Thursday Studio. His plays have been published and anthologized by Samuel French, and have appeared twice in the National Showcase of New Plays, one of them enjoying a National New Play Network Rolling World Premiere in 2018.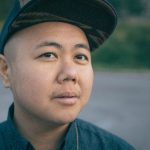 Kit Yan (they/them) — Flux Lab, Pao Fellow
Kit Yan is a transgender, Yellow American, New York based artist, born in Enping, China, and raised in the Kingdom of Hawaii. Kit is a 2019 Vivace Award winner, 2019 Dramatists Guild Foundation Fellow, 2019 Lincoln Center Writer in residence, a 2019 MacDowell Fellow, 2019-2020 Musical Theater Factory Makers Fellow, and a 2019-2020 Playwright's Center Many Voices Fellow. Works include Interstate, which won "Best Lyrics" at the 2018 New York Musical Theater Festival, and Queer Heartache, which won 5 awards at the Chicago and SF Fringe Festivals. Their work has been produced by the American Repertory Theater, the Smithsonian, Musical Theater Factory, the New York Musical Festival, and Diversionary Theater. They have been a resident with the Civilians, Mitten Lab, 5th Avenue Theater, and the Village Theater.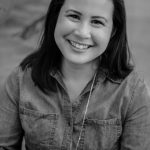 Robin Berl (she/her)
Robin Berl is a writer of truths and fictions large and small whose work is filtered through her experiences as a parent and a mixed race CHamoru woman. Her flash fiction "Signals to Nowhere" was published in Variety Pack and nominated for Best of Net 2020. Her pandemic Valentine's Day play Daddy Daughter Dance was chosen as a winner of the Sandy Spring Theatre Group's short playwriting contest, to be performed via Zoom in February 2020. She graduated from University of Delaware with BAs in both English Literature and Ancient Greek and Roman Studies. She lives in Northern Colorado. "As a writer, I work to both learn and unlearn in order to gain the courage to tell the stories that need to be told through me."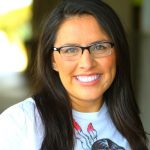 Jennifer Bobiwash (she/her)
Jennifer Bobiwash is Anishinaabekwe from Misswezhaging. She is a First Nations actress, writer, content creator and teaching artist and is Lead Artist of Native Voices At the Autry. Theatre credits include world premieres at Perseverance Theatre, Native Voices, and La Jolla Playhouse, as well as Yale Rep and on tour in Northern Alaska. She is currently writing essays about genetics and identity, creating immersive theater experiences, and working on finishing another sci-fi play. She can be found online at jenniferbobiwash.com. "Goals for the Volt Lab are to gain a better understanding of process and generating work. As well as connecting with other playwrights and talking craft."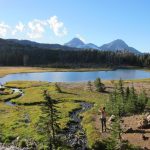 Taiga A. Christie (she/they)
Taiga is a director, playwright and rural health worker operating at the intersection of theater and community health. She is a founding member of Faultline Ensemble, a collective of artists and health workers creating theater to foster community resilience, and is Yale's inaugural Arts and Public Health Fellow. Taiga holds a BA in Theatre/Anthropology from Reed College, an MPH from Yale University, and an EMT certification. She has also studied with Cornerstone Theater, Seka Theatre, Dell'Arte International and Double Edge Theatre. Taiga is committed to rural communities, interdisciplinary ensemble work, queer and trauma informed performance, and accessibility of creative process. "I hope to use this opportunity to develop the craft of my writing, in service to my ensemble's vision of theater as a tool for community health and resilience.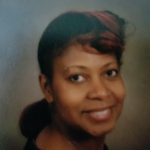 Maru Colbert (she/her)
Dr. Maru Colbert is an engineer, professor, performance artist and activist who conveys life through writing, musicianship, design and dance. She has been in a touring company, a multitude of choirs, in numerous productions as a guest artist and has been a featured speaker for ethnic commemorations. Notably, she has been in three different productions of Ntozake Shange's for colored girls…. and two different plays for Harvard A.R.T. She is a published technical author. Next year, one of her social justice poems will appear in an ethnic publication. While waiting until 2022 to showcase two productions she choreographed, this class is motivation to get a specific writing project done. It is with great anticipation she is embarking on this next, dramatic endeavor. "In this lab I will begin a play that has been knocking on my soul, to be released."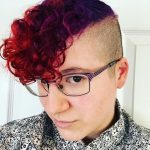 Elana Lev Friedland (they/them)
Elana Lev Friedland writes across genres to create works for the page, stage, and beyond that examine the intersections of gender, sexuality, mental illness, and Jewishness. They were the winner of Redivider Journal's 2020 Blurred Genre Contest and a finalist for Breakwater Review's 2020 Peseroff Prize in poetry. They received an MFA in Creative Writing and a graduate certificate in Jewish Studies from the University of Colorado Boulder, and a BA in English and Theater Arts from Brandeis University. Originally from Skokie, IL, Elana Lev is currently based in Somerville, MA. They serve as the Managing Editor of The Workshop, a community for emerging writers. Find them online at elanalevfriedland.com. "I'm excited to support the development of new work while growing as a playwright within a community focused on creating change in Boston's theatrical landscape."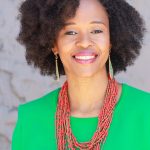 Thato R. Mwosa (she/her)
Thato Mwosa is an award-winning illustrator, screenwriter, playwright, and filmmaker. Her films have been broadcast nationally and internationally. Her feature film, Memoirs of a Black Girl, which she wrote and directed premieres at the Boston Globe's Black History Month Film Festival in February. It has also been selected to screen at the Pan African Film Festival in Los Angeles in late February and the UN Women's Through Women's Eyes Film Festival in March. Thato was a finalist for the 2019 Mass Cultural Art Fellowship in the Dramatic Writing category. She has a dual degree in TV/Film Production and Marketing/Advertising Communications from Emerson College and an MFA in Writing for Stage and Screen from Lesley University. "I'm fairly new to playwriting. I would like to have a deeper understanding of the playwriting process and sharpen my skills as a playwright. I hope to create new work but also revise some of my old scripts."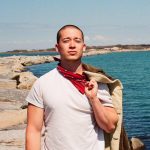 Quentin Nguyen-duy (he/him)
Quentin Nguyen-duy is a recently graduated theatre arts major from Boston University. Alongside being an actor and writer, Quentin is an avid reader of mystery, thriller, horror novels and films. Currently, he is working on a play about Mary Shelley and the conception of Frankenstein, as well as the author's alleged affair with poet Lord Byron. Quentin's semi-autobiographical play Amputees — a show about a Vietnamese Christmas reunion gone terribly wrong — has been produced by the Asian American Theatre Artists of Boston (AATAB) at their Cape Cod event, ArtsEmerson, and Boston University as part of their Fringe Festival. He was last seen at C1 in Qui Nguyen's Vietgone. "I hope to gain a community through C1's Volt Lab, and to help deepen my cohorts' artistic voices, as well as aid in creating a safe space for creative risks."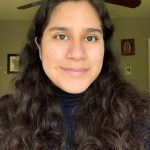 Alicia Margarita Olivo (they/them)
Alicia Margarita Olivo is a Mexican American playwright from the Houston, TX area whose work focuses on the interactions between space, identity, and relationships. Their plays combine naturalistic dialogue and characters with comic book stylizations and aesthetics. Most recently, their one-act play, Count Yourself Among the Lucky, received a virtual reading with Telatúlsa Theater Company. Alicia was part of the 2020 AlterLab First Acts cohort with AlterTheater Ensemble in San Rafael, California. Alicia earned a BA in Theatre Studies and Comparative Race and Ethnicity Studies from Wellesley College. She was a featured storyteller in Company One's fall 2020 Field Work convening. "With Volt Lab, I hope to continue to break the rules of what's expected of mainstream theater, shining a light on the marginalized communities that I am a part of without resorting to tired clichés and harmful tropes."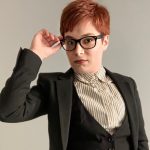 Hayley St. James (they/them)
Hayley St. James is a Boston-born, normally-New York-based playwright, and recent graduate of Marymount Manhattan College. A non-binary lesbian on the autism spectrum, they are deeply passionate about seeing themselves and their communities represented truthfully in all media, theatre first and foremost. In their theatrical work, they strive to marry authentic representation with hyper-theatrical, surreal, meta, and intimate twists. They also have a thing for imaginary friends, ghosts, aliens, and well-handled pop culture references. Influences: John Cariani, Paula Vogel, Caryl Churchill, and Neil Gaiman. Recently, their full-length For Leonora, or, Companions received a developmental industry reading in the 2020 Pride Plays festival co-sponsored by Playbill, and their full-length A Godawful Small Affair had a live-streamed developmental reading as Party Claw Productions' inaugural piece in their Proto-Plays series. "I've been out of Boston for a few years now learning my craft, but I'm back – and honored and thrilled to get to replant my theatrical roots with the help of one of my favorite companies in the city."
Save
Save
Save
Save
Save
Save
Save
Save
Save
Save
Save
Save
Save
SaveSave
SaveSave
SaveSave