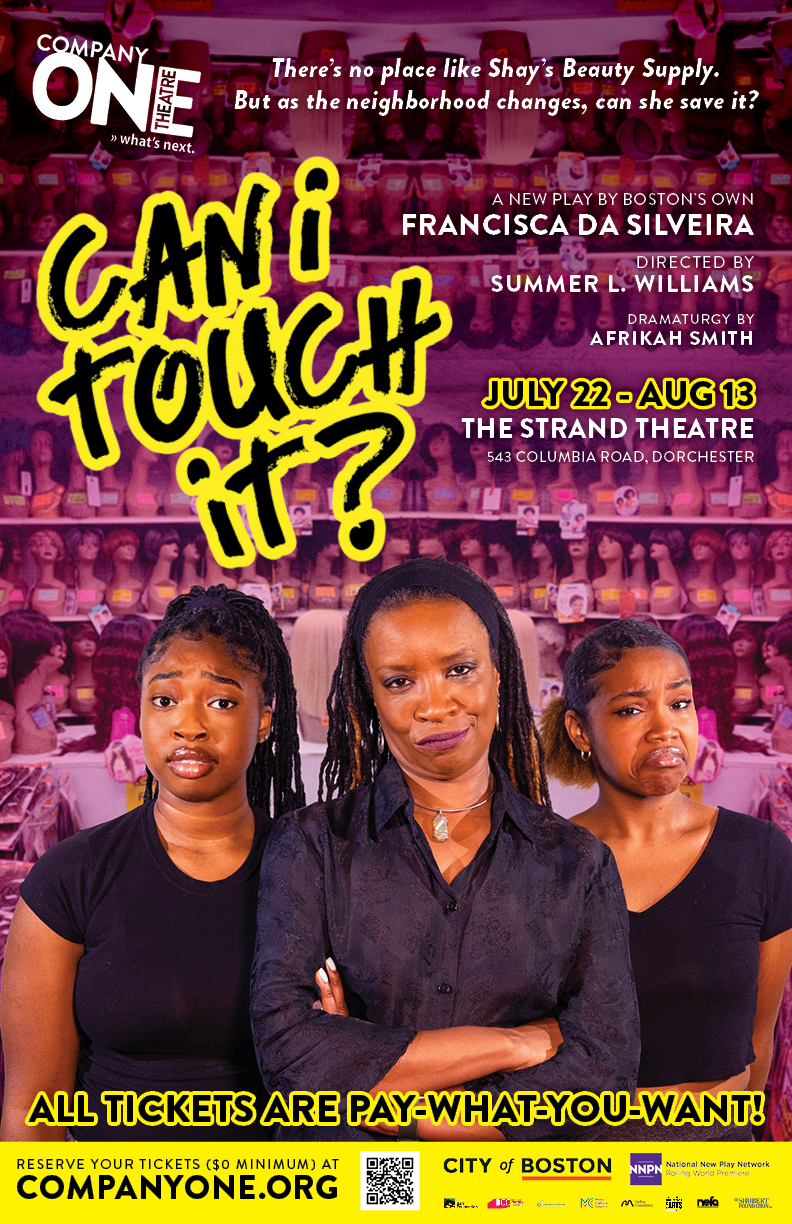 PAST PRODUCTION | SEASON 23

A National New Play Network Rolling World Premiere
can i touch it?
by Francisca Da Silveira
directed by Summer L. Williams
dramaturgy by Afrikah Selah
in partnership with the
City of Boston's Office of Arts and Culture
Jul 22 - Aug 13, 2022

The Strand Theatre (543 Columbia Road, Dorchester)
All tickets are Pay-What-You-Want, with $0 minimum!
Shay Solomon is many things — a business owner, a single mom, a community leader — but there's one thing she's definitely not: a pawn in Patron Bank's efforts to buy up foreclosed real estate in Roxbury and Dorchester. At risk of losing her beauty supply store to the bank, she's caught between the personal fight for her family's livelihood and the systemic fight against gentrification. When pushed to her limits, Shay finds herself in the fantastical, peaceful place women of color have to recede into when they get asked stupid ass questions. 
A hyper-local conversation-starter by Boston's own Francisca Da Silveira, can i touch it? examines Black hair politics, the racial inequities faced by Black-owned businesses, and the tangled web of approaches necessary to create real social change.
Masking and Vaccination Protocols
Masking 
In order to keep our artists and audiences safe, everyone is required to wear a well-fitted mask that fully covers their nose and mouth at all times during this production. We strongly recommend wearing an N95, KN95, or KF94 mask, or double-masking. The only exception to this requirement is for performers while performing.
Vaccination Requirements
Visitors must present proof of full vaccination (two doses of either Pfizer or Moderna, or one dose of J&J). Booster doses are highly recommended.
Visitors ineligible for vaccination, or unable to present proof of vaccination, must take a rapid test to enter the theater.
Need to take a test to see the show? 
A limited number of rapid tests will be available for purchase at the door for

$5 each

.

 

When reserving your ticket, be sure to click the checkbox "I anticipate needing a test at the door."

Rapid tests take at least 15 minutes. Please be sure to arrive

30 minutes

before curtain so that you don't miss the start of the show! 

Patrons will administer rapid tests themselves,with a theatre staff member on hand to observe, time the test, and let the patron know when they are able to enter the theatre.

In order to make sure negative results are as recent as possible, photos of test results will not be accepted in lieu of testing on-site.
If you can't join us in person, don't worry – we are working to make sure a video recording of the production will be available to stream soon!
Protocols are subject to change.
Program notes by Ilana M. Brownstein and Afrikah Selah. For reprinting permissions, or more information, please contact info@companyone.org
To cite these program notes:
Brownstein, Ilana & Afrikah Selah. Program Notes for Company One Theatre, can i touch it?. Francisca Da Silveira, playwright. July 22-August 13, 2022. Accessed [include your access date here]. URL https://companyone.org/wp-content/uploads/2022/07/S23_CITI_Program_Web-reduced.pdf.
Company One Theatre is producing
can i touch it? to AMPLIFY:
community-centered development and affordable housing as paths to address gentrification in Boston's historically BIPOC neighborhoods, including Uphams, Nubian Square, and Roxbury.

the organizations and activists whose work sustains the wellbeing, culture, and small economies of these same neighborhoods.

the CROWN Act, which bans race-based hairstyle discrimination in the workplace and in schools, as part of the ongoing fight against policing of Black women's bodies and behavior.

the unapologetic, politically-comedic voice of Boston-raised, Cape Verdean-American playwright Francisca Da Silveira, whose work is being supported by the National New Play Network Rolling World Premiere program.

[local narratives] + [local artists] + [city-owned cultural spaces] = vital, neighborhood-based public art for all. 
RESOURCES & ACTION STEPS
Take action to support equitable and fair housing in MA!
Support hair justice!
Get resources for your local business!
If you're an aspiring business owner, use the tools at

www.boston.gov/starting-business

to to help start, manage, and grow your business in Boston.

Black professionals and students, Black-owned businesses, and ally organizations can join as a member of

Black Economic Council of MA

(BECMA)

to help advocate for the support and sustainment of Black businesses and residents in Massachusetts.

The

Center for Women & Enterprise

offers comprehensive training, resources, counseling and connections to assist women in starting and growing small businesses.
Spend your dollars at a BIPOC and/or Women-owned business! Use these links to shop online or in person:
PARTNER EVENTS & CONVERSATIONS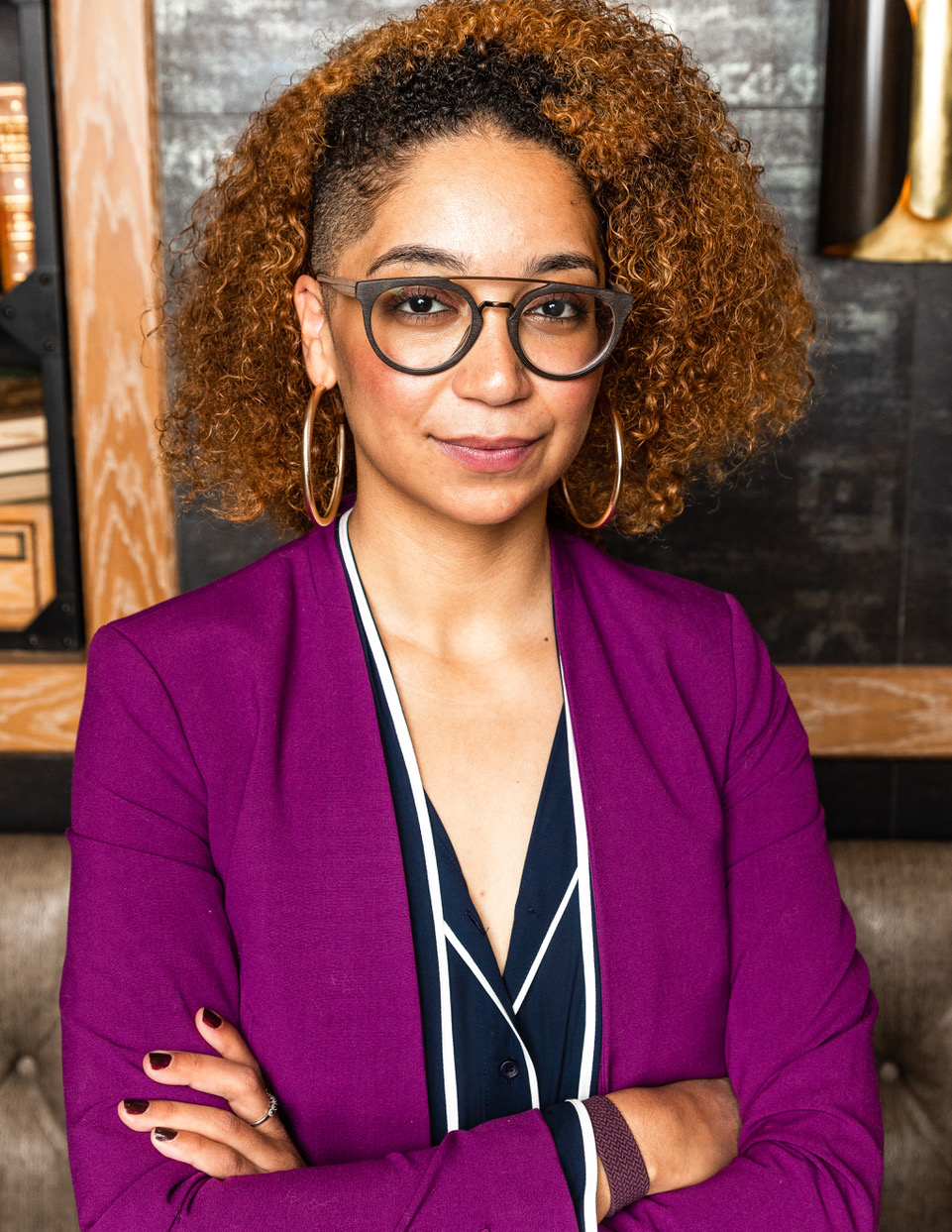 Sunday, Jul 24 at 2pm
Post-Show Conversation
with playwright Francisca Da Silveira
Join us for a conversation with the playwright of "can i touch it?," Boston's own Francisca Da Silveira! Hear what inspired the play and how her experience growing up in Dorchester informs her work as she and dramaturg Afrikah Smith chat about bringing this production to the Strand stage.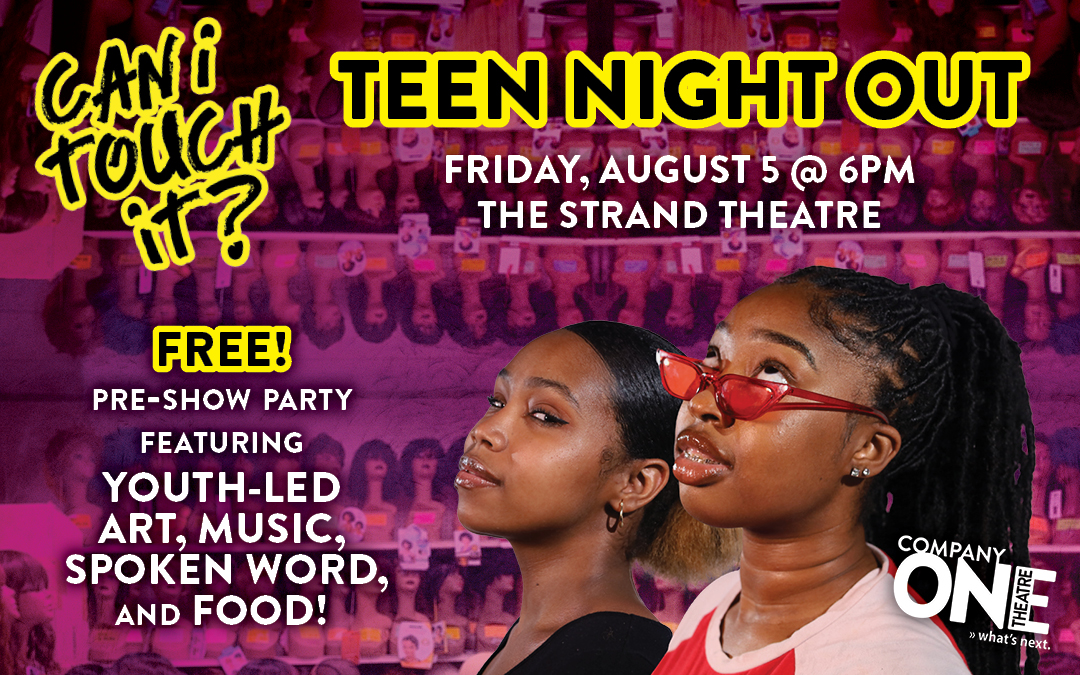 Friday, Aug 5 at 6pm
C1's Teen Night Out (Pre-Show Event)
Starting at 6pm, before 7:30pm performance
C1's Teen Night Out event brings together teens and educators from across the city. Experience "can i touch it?" in community, while considering how theatre can be utilized as a tool for social change in your own communities. Featuring a curated pre-show experience with hands-on activities and light refreshments (Covid-protocols permitting), and more! Interested educators will also be welcomed to join in this special engagement.
Friday, Aug 5 at 7:30pm
Post-Show Conversation
Building Your Community Organizing Starter Pack
Join us for a conversation about how you can work toward change in your community! We'll reflect on the way the community responds to crisis in can i touch it?, and hear from our partners at Boston Ujima Project, Hyde Square Task Force, and Reclaim Roxbury about some of the tools, tips, and resources you can use to identify local causes you care about and make an impact in your neighborhood as we collectively build a more just city for all.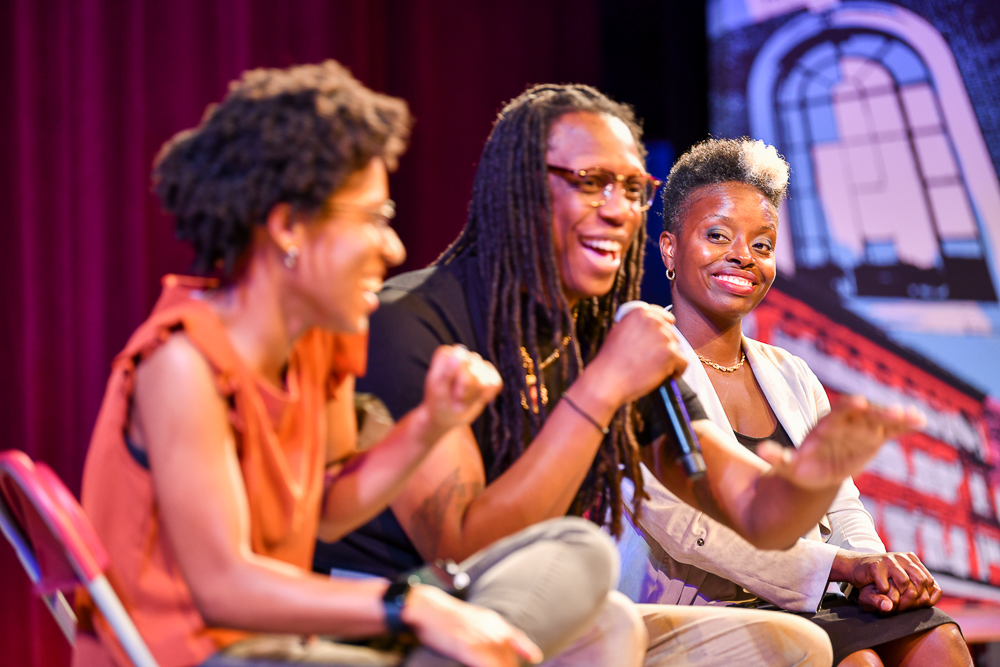 Thursday, Aug 11 at 7:30pm
Post-Show Conversation
Empowering Ownership: Black Business, Community, and Identity in Boston
Join "can i touch it?" dramaturg Afrikah Smith and Black Economic Council of Massachusetts (BECMA) members Kurt Faustin and Judy Cazeau for a dynamic conversation about sustaining Black-owned businesses, finding personal and professional support in Boston, and advocating for policies that advance the vibrant economic and cultural landscape of the city.