Theatre as public art — that's the name of the game this season at C1, with fully Pay-What-You-Want offerings across our events, including our first in-person productions since early 2020!
These two plays unapologetically center Black women and their unique lived experiences in America today. Both will be brought to life by incredible writer/director teams of Black women artists.
Plus: C1 will continue to offer robust virtual programming at the intersection of art and social change — scroll down to learn more!
Black Super Hero Magic Mama
by Inda Craig-Galván
directed by Monica White Ndounou
dramaturgy by Ilana M Brownstein and Regine Vital
in collaboration with American Repertory Theater,
Boston Public Library, and Boston Comics in Color Festival
April 22 – May 21, 2022
Rabb Hall @ Boston Public Library's Central Library in Copley Square
All tickets are Pay-What-You-Want ($0 minimum)
In all the books that Sabrina Jackson reads to her son Tramarion, tragedy's just an origin story, something to propel the heroes into wondrous new worlds. When tragedy strikes in her own life, Sabrina launches herself into a fantastical, technicolor universe where she gets to be the hero. A high-flying adventure that refuses to be held down by the gravity at its core, Inda Craig-Galván's Black Super Hero Magic Mama is a powerful refutation of the disproportionate expectations placed on Black mothers and their sons.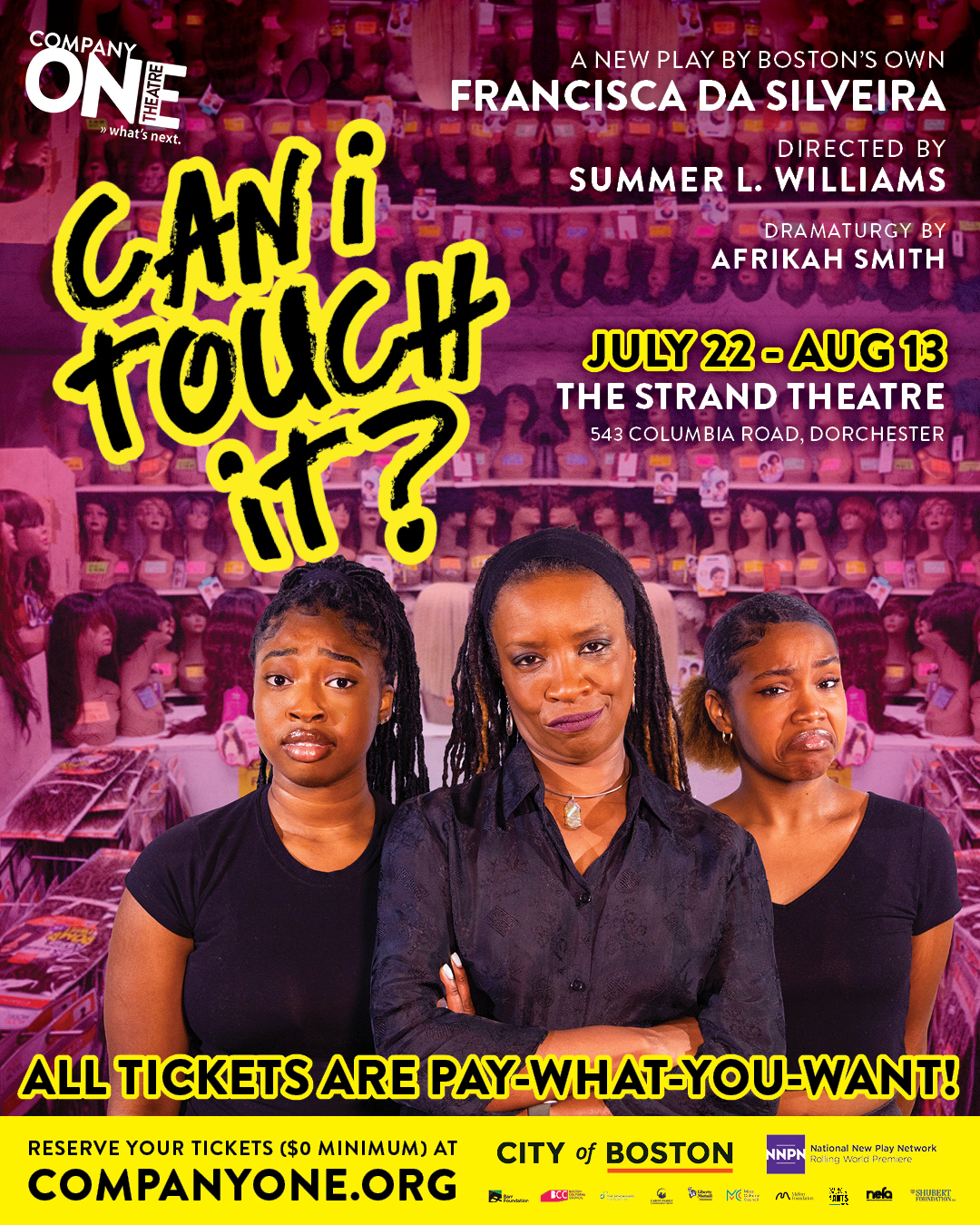 can i touch it?
by Francisca Da Silveira
directed by Summer L. Williams
dramaturgy by Afrikah Smith
in partnership with the City of Boston's Office of Arts & Culture
July 22 – August 13, 2022
The Strand Theatre (543 Columbia Road, Boston)
All tickets are Pay-What-You-Want ($0 minimum)
Shay Solomon is many things — a business owner, a single mom, a community leader — but there's one thing she's definitely not: a pawn in Patron Bank's efforts to buy up foreclosed real estate in Roxbury and Dorchester. At risk of losing her beauty supply store to the bank, she's caught between the personal fight for her family's livelihood and the systemic fight against gentrification. When pushed to her limits, Shay finds herself in the fantastical, peaceful place women of color have to recede into when they get asked stupid ass questions.
A hyper-local conversation-starter by Boston's own Francisca Da Silveira, can i touch it? examines Black hair politics, the racial inequities faced by Black-owned businesses, and the tangled web of approaches necessary to create real social change.
Better Future Series
C1's Better Future Series is a multi-part digital gathering bringing together Boston's artists, community leaders, and policymakers to understand the needs of our neighborhoods and reimagine the future of our city. So far in Season 23, C1 has explored the unique concerns of distinct voting blocs in Boston, spotlighted a radical vision for Trans and Queer folx of color in Boston, in honor of Transgender Day of Remembrance, and showcased artists' resolutions for personal and collective action in 2022, case studies on the intersection of art and social change with local ARTivist organizations, and a new vision for Black moms, community heath, and justice. 
we and other queer goddexxes
Curated by C1 Artist in Residence and PlayLab Circuit Flux Lab writer Micah Rose, alongside co-artist/dramaturg Alison Yueming Qu, we and other queer goddexxes is a season-long series of gatherings that will uplift communal storytelling through ritual, memory, solidarity, and action centering Boston's 2SQTBIPOC (Two Spirit, Queer, Trans, Black, Indigenous, People of Color) communities. we and other queer goddexxes will culminate in a multi-disciplinary performance by Rose in summer 2022. Stay tuned for more details about upcoming gatherings!
Open Circuit Programs
C1's Open Circuit programs, including Field Work and Virtual Open-Writes, provide free public gatherings for people who make new plays who want to grow their skills and vision. Guests and rsvp links to be announced at companyone.org/playlab-circuit.
Professional Development for Actors Virtual Spring Showcase
Tuesday, April 26 at 7pm ET
C1's Professional Development for Actors (PDA) course is designed to empower participants to be creative and collaborative, while developing their voice and building their skills. Eight weeks of class work culminate in this virtual showcase.

© 2022 Company One — Boston Theatre tel: 617.292.7110 — fax: 617.307.4475 — email: info@companyone.org — 539 Tremont St — Boston, MA 02116