Thank you to everyone who took part in Company One Theatre's online auction this past spring! We were floored by your participation and generosity. Every bid, like, or share helped us in our mission to bring boundary breaking theatre to Boston stages.
Didn't get a chance to donate? It's never too late! CLICK HERE to show your support for Company One.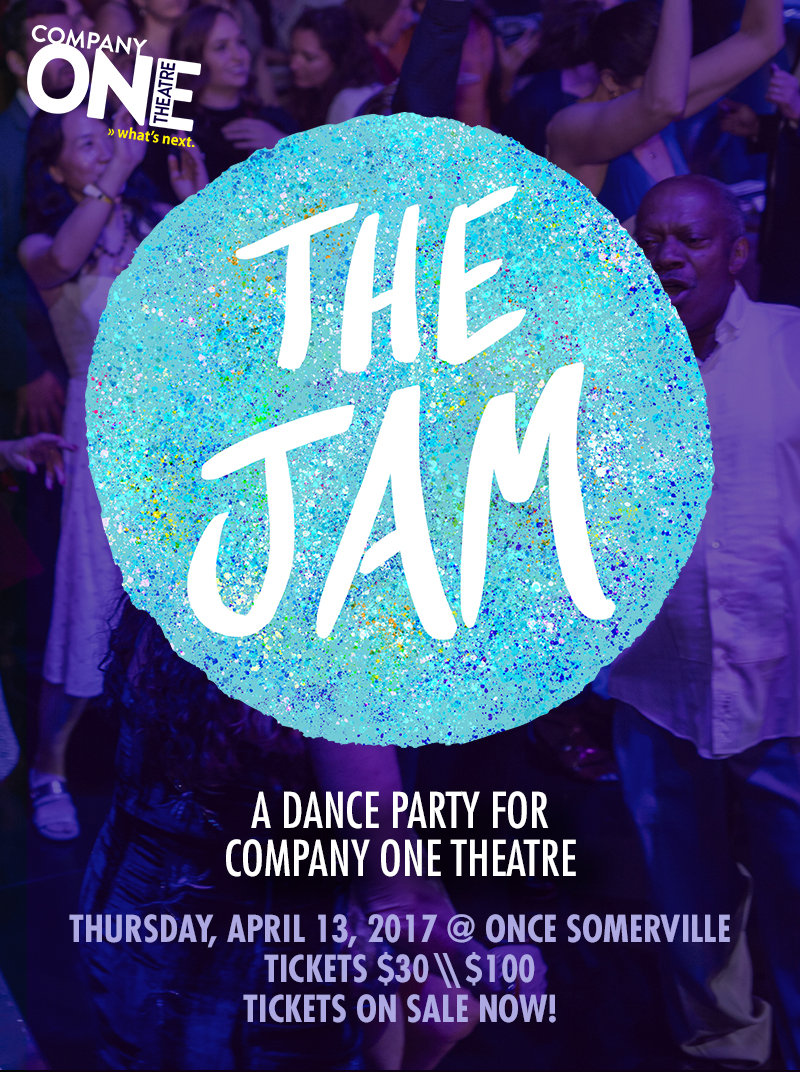 Thank you to everyone who joined Company One Theatre at THE JAM!
In addition to making our Thursday night brighter, your attendance — your support — directly impacts the work we will do today, tomorrow, and the next. We are grateful for the privilege to work in classrooms, in our community, and on Boston stages for the last 18 years, and that work is impossible without the generosity of friends like you. So, for showing up and getting down to benefit socially proactive theatre that creates a more inclusive creative economy, we thank you!
Once again, we give an enthusiastic hat tip to this year's C1 Award recipients: Boston Arts Academy and Kadahj Bennett. Both the institution, BAA, and the remarkable individual, Kadahj, inspire us tremendously, and for that we applaud and thank them.
Interested in supporting C1 even more? CLICK HERE to make a donation!
Company One Theatre is proud to present our annual Lois Roach Theatre Community Award to Boston Arts Academy, and our David Wheeler Award for Emerging Artists to Kadahj Bennett.
Company One Theatre has a long and deep relationship with Boston's only public performing arts high school, Boston Arts Academy. Since 2003, Company One Theatre and Boston Arts Academy have found organic and profound opportunities for collaboration, including the recent performance of EVERY 28 HOURS at the Museum of Fine Arts. The theatre has been honored to work with over 70 BAA leaders, teachers, administrators, and students in our productions, classrooms, on our staff, and on our board. Currently, BAA Founding headmaster Linda Nathan, Founding Theatre Chair Rosalind Thomas Clark, BAA visual archivist Phyllis Bretholtz, current teacher John ADEkoje, and former teacher Mason Sand all sit on the Company One Theatre Board of Directors.
"We are very proud of our partnership with Company One and how we, together, have helped nurture the development of Boston's next generation of artists," says Boston Arts Academy Headmaster Anne Clarke. "Company One shares our commitment to equity and access through the arts and to expanding Boston's artistic scene to reflect the diversity of our communities. Company One has made an enormous contribution to Boston's theater scene, and Boston Arts Academy is thrilled to be part of their story."
"Boston Arts Academy is a home for creative young people, students and alumni alike," says former C1 Teaching Artist and BAA Alum Nicole Olusanya. "Alumni have demonstrated mastery of artistic discipline through visual arts and performance, and they have innovated across sectors because BAA teaches young people the intrinsic value of being an artist, scholar, and citizen. These contributions have significantly impacted our great city of Boston, many more cities across the country and around globe"
"As far as I am concerned, Boston Arts Academy is one of Boston's most important cultural assets," says Artistic Director Shawn LaCount, who previously taught at BAA's theatre program for two years. "BAA is such a special and necessary institution in the city and one that Company One Theatre is proud to call a longstanding partner. Dedicated and passionate artist-educators like Juanita Rodrigues, John ADEkoje, and Maura Tighe nurture some of the city's most exceptionally talented young artists."
One of those talents, Kadahj Bennett, is the honoree of this year's David Wheeler Award. A BAA alum, Bennett is presently employed as a C1 Teaching Artist at Margarita Muniz Academy, and formerly at Fenway High School, the Jeremiah Burke High School, and the Boston Chinatown Neighborhood Center. He has performed in C1's recent productions of How We Got On, Dry Land, An Octoroon, The T Party, and will feature in the upcoming peerless. No single actor has been cast in more Company One productions over the past few seasons than Bennett.
"To be mentioned with the likes of Brandon Green, Obehi Janice, Nik Walker and James Milord; it's an honor akin to the endowment of superpowers. It's a pleasure to keep being hired and allowed the freedom to play," says Kadahj Bennett of being honored. He adds: "Keep marching to the beat of your own drum machines."
"I couldn't be happier to honor Kadahj Bennett with this year's David Wheeler Award for Emerging Artist. I've known Kadahj was a special artist since he was my student as a freshman Theatre major at Boston Arts Academy," says LaCount. "Since graduating from Hamilton college as a POSSE alumni, Kadahj has dedicated himself to art and education in Boston, and no single actor has been cast in more Company One productions over the past few seasons than Kadahj. When he is not making theatre or bringing up the next generation of theatre artists, Kadahj is an accomplished poet and musician. Fronting bands like the Downbeat Keys and Dancelujah are incredible testaments to a man of many talents and one Boston is proud to call it's own."
>>Past recipients of the Lois Roach Award include Abe Rybeck (2016); Joyce Linehan (2015); Rob Orchard (2014); Lydia R. Diamond (2013).
>>Past recipients of the David Wheeler Award include Brandon G Green (2016); Obehi Janice (2015); Nik Walker (2014); Danny Bryck (2013).
Save
Save
Save
Save