There are no tickets
available for purchase
at this time.
Get Tickets
Since ASTRO BOY AND THE GOD OF COMICS is such a dynamic show, we wanted to make sure the lobby captured the spirit of fun and play. A section of wall in the lobby became a chalkboard, where audience members could learn to draw Astro Boy's face, and fill in cartoon panels to complete a story. Across from that, a bulletin board asked them to write and share what they thought of the show, to design their own helpful robot, or to imagine and draw the future of interactions between humans and robots.
The Modern Theatre lobby features historical memorabilia and photos from the theatre's history as a former movie house, making it a great space for THE FLICK. We added an audience response station in the lobby where patrons could clip their questions and comments about the show along a reel of 35mm film.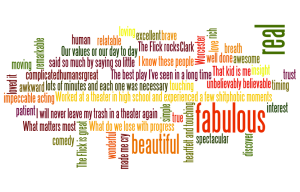 In keeping with the seasonal theme of SPLENDOR, as well as the fact that much of the play deals with the characters in school, dramaturg Ilana Brownstein created a Thanksgiving-themed bulletin board in the lobby. The audience was encouraged to trace their hands and draw turkeys, or to share Thanksgiving memories and thoughts about the show on cardboard leaves.