There are no tickets
available for purchase
at this time.
Get Tickets
Colossal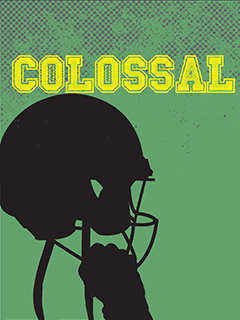 A NNPN Rolling World Premiere
by Andrew Hinderaker
Directed by Summer L. Williams
July 17 – August 15, 2015
Roberts Theatre, Calderwood Pavilion
at the Boston Center for the Arts
Contains strong language – recommended for high school age and above. 
"Exhilarating" — Washington Post

The lights burn bright. The smell of turf hangs thickly in the air. The crowd erupts in thunderous applause. The beauty and brutality of football seduce Mike to stray from the path his father had mapped out for him, but when a snap decision results in a career-ending injury, Mike must tackle the past and make peace with the man he dreamed he would be. Played in four quarters with a half-time show, dance company, and a drumline, COLOSSAL's explosive theatrical storytelling and full-contact physicality carries this unmissable summer event all the way to the end zone.


C1's Take:
Company One is thrilled to be producing Colossal as part of its National New Play Network rolling world premiere with four other companies across the country. A truly epic play where the athleticism and grace of football collide with the emotion of a heartfelt love story, Colossal is sure to inspire, leaving you cheering in the stands.
Highly entertaining ... Williams and her team march it downfield with Belichick-ian precision, toward a big emotional score at the end.
- The Boston Globe
A compellingly physical new work.
- WBUR's The ARTery
Dominates.
- Theater Mirror
This is no flowery-tongued, special-effects-laden work. This is football. This is reality. This is raw, human, stumbling, staggering truth.
- HowlRound
Cast
PLAYWRIGHT & PRODUCTION STAFF
---
Andrew Hinderaker
ANDREW HINDERAKER is a Resident Playwright of Chicago Dramatists, an ensemble member of the Gift Theatre in Chicago, and a three-time Jeff Award Nominee. His plays include, I AM GOING TO CHANGE THE WORLD, DIRTY, KINGSVILLE, and SUICIDE, INCORPORATED, which premiered at the Gift in 2010 and was subsequently produced Off-Broadway at the Roundabout Theatre. Hinderaker's newest play, COLOSSAL, featuring a dance company, a drumline, and a fully-padded football team, was the recent recipient of multiple awards from the Kennedy Center for the Performing Arts. Hinderaker has been hailed as "a hugely-exciting, risk-taking young writer" by the Chicago Tribune's Chris Jones, and as an author of "stupid, soapy melodrama" by a critic he'd prefer not acknowledge by name. His plays have been produced and/or developed by Manhattan Theatre Club, the Goodman Theatre, Steppenwolf, the Araca Group, the Alliance Theatre, Mixed Blood, No Rules Theatre Company, Victory Gardens, Rattlestick, Stage Left, and several others. He currently holds commission from the Roundabout Theatre Company and Marc Platt Productions, and recently completed his M.F.A. in Playwriting at the University of Texas in Austin. Hinderaker is a member of the 2013-2014 Playwrights' Unit at the Goodman Theatre.

Summer L. Williams
Please visit the Company One Theatre Staff page to view bio.

Ramona Ostrowski
Please visit the Company One Theatre Staff page to view bio.

Eva Bond
Please visit the Company One Theatre Staff page to view bio.

Kathryn Lieber
Kathryn, a recent transplant to the Boston area, is excited to be making her Company One Theatre debut with COLOSSAL. She has worked from coast to coast with projects in Pennsylvania, New York, Chicago, San Diego and more. Recent projects include GROUNDED with The Nora Theatre, MARIA CELESTE with Pioneers Go East Collective, and SWEENEY TODD with Saint Ann's School. She has an MFA in Scenic Design from UC San Diego. Credits include JUNE MOON, THE DYBBUK, and HEDDA GABLER. thekathryn.com

Darby Smotherman
Darby Smotherman is the resident sound designer and engineer at The Boston Conservatory where recent designs include COOLSVILLE, THE PAJAMA GAME and ON THE TOWN. She has worked around the world, from Hong Kong to New Zealand, from Alaska to the Dominican Republic. Locally, she has also designed shows for the American Repertory Theatre and ArtsEmerson, among others. She received her Masters Degree in sound design from Boston University and is currently designing MARY POPPINS for New Bedford Festival Theatre.

Meggan Camp
Meggan Camp is currently in her 15th season, serving as the Syracuse University Drama Department's Costumer and as Adjunct Faculty. Her most recent credits include WOLFSKINDER (SU Drama) DAMN YANKEES (Merry Go Round Playhouse) THE THREE LITTLE PIGS (Weston Playhouse) SEUSSICAL (SU Drama) CHARLIE AND THE CHOCOLATE FACTORY(Weston Playhouse Other Stages) LYSISTRATA, AS YOU LIKE IT, BLOOD WEDDING, VIOLET, CRADLE WILL ROCK, CHICAGO, STEEL PIER, MY ONE AND ONLY, INTO THE VERGE, INTO THE WOODS, SWEET CHARITY, ARMS AND THE MAN. North Carolina School of the Arts, MFA.

Annie Wiegand
Annie is a freelance lighting designer who happens to be Deaf. Boston: THE TASTE OF SUNRISE (Wheelock Family Theatre); PHEDRE, OTHELLO (Actors Shakespeare Project), THE FORGETTING CURVE (Bridge Repertory), TRIBES (Speakeasy Stage Company); YOU FOR ME FOR YOU, LOVE PERSON (Company One). New York City: SQUARE PEG, ROUND HOLE (Tectonic Theatre Project, associate); MISS NOWHERE DINER (Akadēmeia Theatre) (Planet Connections Theatre Festivity Best Lighting Design Nominee); THE MEDICINE SHOWDOWN (The Flying Carpet Theatre Company); A HARD WALL AT HIGH SPEED (Astoria Performing Arts Center, associate). Adjunct Professor, Theatre Arts Department, Gallaudet University; Producing Director, New York Deaf Theatre; Lighting Director, The Acting Company Tours 2010-2013. www.anniewiegand.com

Molly FitzMaurice
Molly is a recent import from Chicago thrilled to make her Company One debut. Properties credits include CASCABEL (Lookingglass), THOU PROUD DREAM (Northwestern), HIT THE WALL (The Inconvenience), GHOST BIKE (Buzz22), THE GLASS INWARD (The Island), and NIGHT OF THE MAGICIAN (Screen Door). Her other Chicago loves are Salonathon, a weekly alt-cabaret and arts incubator, and First Floor Theater, where she is an Artistic Associate. A dramaturg by day, Molly is the Literary Apprentice at Huntington Theatre Company.

Samantha Layco
Samantha Layco is excited to be working on her second production with Company One Theatre. Her stage management credit includes CompanyOne: DISPLACED HINDU GODS TRILOGY-SHIV (Assistant Stage Manager), Actors' Shakespeare Project: MEASURE FOR MEASURE (Assistant Stage Manager), HENRY VI PART 2 (Assistant Stage Manager), Boston Public Works: FROM THE DEEP (Assistant Stage Manager) and Nomadic Theatre Company (Portland, OR): ALICE IN WONDERLAND (Stage Manager). She has enjoyed her first theatre season in Boston and is grateful for working with such an amazing community. She studied theatre management at the University of Portland, Portland, OR.

Ashley Welp
Ashley is thrilled to be on her first Company One show. She is a rising Senior at Emerson College. Past credits include ANYTHING TO DECLARE?, XDANCE 2015, FEFU AND HEr FRIENDS, and THE LOVE OF THE NIGHTINGALE with Emerson Stage. She has been a production assistant on AWAKE AND SING! with the Huntington Theater and THE DONKEY SHOW with the A.R.T. She would like to thank her Advisors and friends for their continued support and guidance.

Stephanie Hettrick
Stephanie is a recent transplant to Boston, being originally from Atlanta, GA. She is a graduate of Reinhardt University with a BA in Technical Theatre. She currently works as the Associate Production Manager at the Lyric Stage Company of Boston. She has recently done the props design for Lyric Stage's Production of CITY OF ANGELS as well as assisting on INTIMATE APPAREL. She also works as a freelance stage manager.

Rachel Neubauer
This is Rachel's first production with Company One. Regional: All Shook Up; Mac-Haydn Theatre. Woman In Black; SRT. I Am My Own Wife; NHTP. Fame, Songs for a New World; PDP. Rachel works at Patrick Dorow Productions as Technical Director/Sound Designer, at Mac-Haydn Theatre as Resident Sound Designer, and as a freelance designer and technician throughout New England. Rachel would like to thank her friends and family for their continued support. For more info and upcoming projects visit www.sounddesignbyrachel.org.

Matt Cost
Matt Cost began his career in theater as an undergraduate at Colby College in Waterville, Maine. Since graduating in 2001 he has worked everywhere from Portsmouth, New Hampshire to Macau, China, while currently residing in Quincy, MA. Lighting design is one of his passions, with many credits in Boston, New Hampshire, Maine and beyond. Matt is also a freelance electrician in the greater Boston area, and has been working with Company One for several exciting years now.
CURRICULAR CONNECTIONS PACKET
Students and teachers! The Education Department at Company One Theatre is pleased to share our Curricular Connections Packet for the NNPN Rolling World Premiere of COLOSSAL, by Andrew Hinderaker. The articles, lesson plans, and discussion questions in this packet are designed for you to explore the world of the production.
Want a peak into the rehearsal room? Click HERE to check out our dramaturgy blog for insight into the play and production process. Don't see what your looking for? Ask a dramaturg!
Playwright Andrew Hinderaker and Dramaturg Ramona Ostrowski discuss the journey and appeal of "this pressure-cooker of a play.
July 7, 2015 6:30 PM- STUDIO SESSIONS
Join us for a sneak peek at C1's summer show, COLOSSAL by Andrew Hinderaker. We will start the night with an hour of mingling, bites, and booze (cash bar) before we move to an open rehearsal of the show. Guests will have the opportunity to watch the work in the room and chat with the director and cast. CLICK HERE for more information.
July 19, 2015 3:15- POST-SHOW DISCUSSION WITH THE PLAYWRIGHT
Join us after the first Pay-What-You-Want (tickets available at the door. $6 minimum) performance for a conversation with COLOSSAL playwright Andrew Hinderaker and director Summer L. Williams, led by dramaturg Ramona Ostrowski. CLICK HERE for more information.
July 22, 2015 6:00 PM- BosTEEN ARTIST NIGHT
Company One's BosTEEN Artist Night is BACK! Join us for a night of activities, conversation and a performance of COLOSSAL by Andrew Hinderaker! Like any other, this BosTEEN Artist Night gives young, civically-engaged artists and community members an opportunity to see the show, discuss the underlying themes in the work, and get creative with each other and the cast at a social featuring free refreshments, entertainment, and interactive artistic activities. This time, Company One Theatre will engage students in physical activities and verbal discussions about accessibility, teamwork and allyship. CLICK HERE for more information.
July 26, 2015 3:15 - POST-SHOW DESIGN SHOWCASE
Join us after the second Pay-What-You-Want Sunday matinee for a special behind-the-scenes peek into the making of COLOSSAL! Our talented designers will be on hand to let you into their process through sketches, renderings, and models and to answer questions. CLICK HERE for more information.
July 31, 2015 8:00 PM- CAHLLEGE MIXAH
Join ONERush and college students from all over Boston on Friday, July 31st, for Company One Theatre's Cahllege Mixah Night, a night to hang out with other college students from around the city. This time, catch a performance of the rolling World Premiere of COLOSSAL by Andrew Hinderaker, a play in four quarters with a half-time show, dance company, and a drumline. Then, stick around for our post-game party! CLICK HERE for more information.
August 6, 2015 9:00 PM- POST-SHOW PANEL OF EXPERTS
Join us for a post-show discussion with dramaturg Ramona Ostrowski and members of the incredible community cohort who helped us put this show together: Noe Montez from Tufts University, Sidney Monroe from The Theatre Offensive, and Adrian Hernandez from Boston College High School. The conversation will focus on the themes of the play, giving you insight into both the story and production process! CLICK HERE for more information.
August 13, 2015 8:45- POST-SHOW DISCUSSION WITH THE CAST
Stick around after the show for a discussion with the cast of COLOSSAL! CLICK HERE for more information.
Reviews
July 20, 2015
July 28, 2015
July 21, 2015
July 16, 2015
July 16, 2015
July 22, 2015
July 30, 2015