There are no tickets
available for purchase
at this time.
Get Tickets
The T Party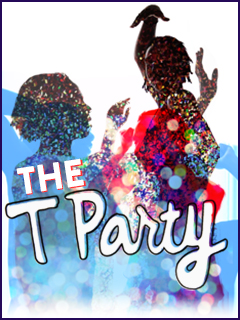 The T Party
A New England Premiere by Natsu Onoda Power
Directed by Natsu Onoda Power
July 15-August 13, 2016
Nancy and Edward Roberts Studio Theatre, Boston Center for the Arts
The party to redefine all parties is coming to Boston — and you're invited. Shake things up. Bend the rules. Break the binary. Through an exhilarating series of scenes that blur the line between audience and actors, real stories and fantastical satire, THE T PARTY casts an exuberant, kinky, and surprisingly tender look at gender expression and sexuality. This wild mash-up of a performance will sweep you off your feet and take you for a ride. The only house rule? Leave your expectations at the door.

"Bracingly original and head-spinning ... "The T Party'' is infused with an embracing warmth that insists on the right of all people not just to live, but to live happily." — The Boston Globe

"Excellent ... Company One has come up with an ace, versatile and multicultural ensemble." - WBUR's The ARTery
C1's Take:
We are thrilled to be collaborating again with Natsu Onoda Power, an artist of enormous vision and heart. Her new play, THE T PARTY, is an exuberant, playful look at gender expression in America. This summer, come party with Company One Theatre as we celebrate community, love, and acceptance.
Cast
PLAYWRIGHT & PRODUCTION STAFF
---
Natsu Onoda Power
Natsu Onoda Power is a Washington DC-based playwright/ adapter/ director/ designer. Recent plays include A Trip to the Moon (writer/ director/ illustrator, Synetic Theatre), Astro Boy and the God of Comics (writer/ director, The Studio Theatre; Company One Theatre). Directing credits include David Henry Hwang's Yellow Face (Theatre J) and Young Jean Lee's Songs of the Dragons Flying to Heaven (The Studio Theatre). Her set design has been seen at Company One, Imagination Stage, Forum Theatre, Synetic Theatre, and The Hub Theatre, among others. She is an Associate Professor in the Program in Theater and Performance Studies at Georgetown University, where she has adapted/ directed War with the Newts (adapted from Karek Capek), On the Origin of Species (adapted from Charles Darwin), The Omnivore's Dilemma (adapted from Michael Pollan), Madness and Civilization (adapted from Michel Foucault), and other productions. Natsu holds a Ph.D. in Performance Studies from Northwestern University, and is the author of God of Comics: Osamu Tezuka and the Creation of Post World War II Manga (The University Press of Mississippi, 2009). She is a member of the Forum Ensemble (Forum Theatre) and the Studio Cabinet (The Studio Theatre).

Phaedra Scott
Please visit the Company One Theatre Staff page to view bio.

Joey Frangieh
Joey is a director and designer. This year he was on Broadway twice as the assistant projection designer for ON YOUR FEET: THE STORY OF EMILIO AND GLORIA ESTEFAN and ALLEGIANCE. He is the designer for the Boston Theater Critics Association, who produce the Elliot Norton Awards. He is the producing artistic director of Boston Theater Company, and the director of the documentary play FINISH LINE: THE UNTOLD STORIES OF THE 2013 BOSTON MARATHON, which opens April 2017. wwww.JoeyFrangieh.com

Madie Hays
Madie Hays is an aspiring set and production designer local to the Boston area. Her credits so far include THE FOURTH GRADERS PRESENT AN UNNAMED LOVE SUICIDE, THE SHIPMENT AND THE LEAR, A BIG MESS, and THEY SHOOT HORSES DON'T THEY? (A.R.T. Institute). She has also acted as production designer on several short films produced by both RedTere Productions and RebMad Pictures. This is her debut production with Company One. Madie holds a BA from Harvard University.

Tyler Kinney
Tyler returns to Company One after costume designing for ASTRO BOY & THE GOD OF COMICS (Elliot Norton Award for Design) Other costume design credits include MERCHANT OF VENICE (Shakespeare & Co.); RICHARD II, OTHELLO, HENRY VI PART 2, HENRY VIII (IRNE Award, Best Costume Design) FAST COMPANY, ONE MAN TWO GUVNORS, THE TEMPERAMENTALS, MEET VERA STARK (Lyric Stage Company); APPROPRIATE, BAD JEWS, NEXT TO NORMAL, STRIKING 12 (SpeakEasy Stage Company); TESTAMENT OF MARY, MUCKRAKERS, COLLECTED STORIES (New Rep); SWEET CHARITY, MEET ME IN ST LOUIS, MARVELOUS WONDERETTES (Stoneham Theatre); BENT, BOYS IN THE BAND (Zeitgeist). Mr. Kinney is a graduate of Emerson College. He also designs for local universities and works in the Massachusetts film industry TylerKinney.com

Justin Paice
Past C1 Shows include: WE'RE GONNA DIE, SHOCKHEADED PETER , ASTROBOY AND THE GOD OF COMICS. Other credits include: SEARCHING FOR SIGNAL(Touch Performance Art), ACOUSTICA ELECTRONICA (Touch Performance Art), THE SHIPMENT (ART Institute), A BRIGHT NEW BOISE (ART Institute), THE FOURTH GRADERS PRESENT (ART Institute), and THE ROCKY HORROR SHOW (Gold Dust Orphans/Oberon). He is thankful for everyone, but most of all for his wife Ashley.

Lee Schuna
Lee Schuna is a sound designer, composer, producer, and recent graduate of the Music Industry program at Northeastern University. New to the world of theatre, his first production was THE HEIDI CHRONICLES, directed by Bridget Kathleen O'Leary (Northeastern Theatre Dept.). He has also created music for short films, including Jamie Schefen's IMAGINARY LINES and Theji Jayaratne's COURAGE. He is currently working on an album under the alias Analogue Self to be released on his pet record label, Human Nature Records.

Haley Fluke
Please visit the Company One Theatre Staff page to view bio.

Eileen Herman-Hasse & Raul Nieves
Eileen and Raul, owners of Dance Caliente are very actively encouraging the world to Latin and Ballroom Dance via local group and private lessons, interactive performances, and collaborations. Recently they were Lead Teachers for opening night of Boston Celebrity Series, 'let's Dance Boston' on the Rose Kennedy Greenway; Hosts of Boston Center for the Arts, 'Fred and Ginger Dance Party'; Recipients of 10 Massachusetts Local Cultural Council Grants to choreograph and perform 'Dancing through the Decades with Dance Caliente' (designed for senior populations) and 'Dance Caliente's Children's Latin Dance Workshops' (using animal imagery!). Eileen holds an MA in Dance Education from Columbia University and Raul is a former medal winner of Latin Competitions and the force behind 'Oon ka Ah'. To learn more: www.DanceCaliente.com

Cesara Walters
Cesara Walters (Stage Manager) is making her backstage Boston debut with Company One. Previous stage management credits with theatres in Texas and London include LES MISERABLE, SPAMALOT, AMOUR, CABARET, HAIRSPRAY, WEST SIDE STORY, SINGIN' IN THE RAIN, FIDDLER ON THE ROOF, THE 25TH ANNUAL PUTNAM COUNTY SPELLING BEE, and HOW TO SUCCEED IN BUSINESS WITHOUT REALLY TRYING. Cesara is currently finishing her BA in Stage Management at Rose Bruford College in London, England.

Billy Cowles
In May, Billy graduated from Emerson College with a BFA in Stage and Production Management. Boston Ballet credits include: CLOSE TO CHUCK REPERTORY, CINDERELLA, THIRD SYMPHONY OF GUSTAV MAHLER, 50th ANNIVERSARY GALA. Huntington Theatre Company credits include: SMART PEOPLE, CAN YOU FORGIVE HER. Emerson Stage credits include: LIZZIE STRANTON, MIDDLETOWN, BIG LOVE, O BEAUTIFUL. Other credits include CYCLOPS at Oberon Night Club. This is Billy's first show with Company One, and he'd like to thank everyone involved in the production.

Hatim Azly
Hatim is excited to join the Company One Theatre team as a first-time Assistant Stage Manager! This will be his first experience working on a professional theatre production, but he brings 4+ years of stage management experience from a performance venue space. He has primarily worked with independent NY/NJ artists and groups, including for SNAPSHOT, TALKING BAND, NJ's SHAKESPEARE LIVE, CLARENCE DARROW TONIGHT!, GOOD MORNING ANITA HILL, TEDDY TONIGHT! and many more.

Ashmita Malkani
Ashmita is currently an undergraduate student at Emerson College in Boston, MA, and is studying Stage and Production Management. She is originally from Singapore, and has recently worked on productions such as OEDIPUS AND EURYDICE (SAS), THE MIRACULOUS JOURNEY OF EDWARD TULANE (Emerson Stage), and TROILUS AND CRESSIDA (Emerson Shakespeare Society). She is happy to be joining Company One this summer as their Stage Management Intern.
 >>POST-SHOW PROGRAMMING | Immediately following listed the showtime
Closing the Gap: A Conversation on Intergenerational LGBTQ History
Thursday, August 4th at 7:30pm
Join the Massachusetts Institute for Psychoanalysis' John Rosario-Perez and cast members of THE T PARTY for an engaging, intergenerational panel on the history of the gay rights movement, from the Stonewall riot to present-day challenges and triumphs.
THE T PARTY Cahllege Mixah
Saturday, August 6th at  8pm
The celebration isn't over after The T Party! You're invited to a spoken word open mic event sponsored by Company One's ONERush, happening immediately after the August 6th performance and open to all college students. Come share your own story or just sit back and listen to the skills of our featured artists as they share their own experiences of gender and sexual identity expression – spoken word style. Participate by providing support and enjoying complimentary refreshments, or get up there and share your own story! Student tickets only $15 – get yours now!
Join the Party: An Interactive Experience
Sunday, August 7th at  2pm
Curious about everything that goes into bringing a performance to life? Enter THE T PARTY set after the performance to check out specific design elements from the show, and learn more about how they were created.
Gender Play After Party with The Theatre Offensive
Wednesday, August 10th at 7:30pm 
Ain't no party like a C1 party, cause a C1 party don't stop! Join us after the performance to dance, eat, laugh, play, and have your expectations challenged with members of The Theatre Offensive family, the cast of THE T PARTY, and your fellow show attendees.
RSVP HERE: http://www.thetheateroffensive.org/happenings//5783db5b3f5f8903008c01b2
Want a peak into the rehearsal room? Click here to check out our dramaturgy blog for insight into the play and production process. Don't see what your looking for? Ask a dramaturg!
Stay tuned for information on special events!
Reviews
July 21, 2016
July 19, 2016
July 17, 2016
July 20, 2016
July 18, 2016