There are no tickets
available for purchase
at this time.
Get Tickets
The Elaborate Entrance of Chad Deity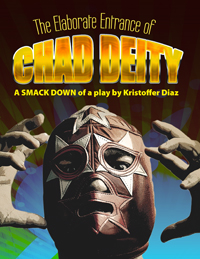 A Boston Premiere by Kristoffer Diaz
Directed by Shawn LaCount
Dramaturgy by Ilana M. Brownstein and Jessie Baxter
July 28 – August 25, 2012
Roberts Theatre @ Calderwood Pavilion
Having just won the Obie for Best New American Play, this Pulitzer finalist is as hilarious as it is relevant. Mace is a professional wrestler. He's a really good professional wrestler. He's not the champion though — that's the impossibly charismatic Chad Deity. When Mace discovers a young Indian-American Brooklyn kid whose charisma rivals that of the champ, Mace decides to get him a job in the company. Only problem is, the boss has a very specific plan for the duo! A serious minded comedy about wrestling, geopolitics, and raisin bread.
This dynamite show is like Tarantino tackling the WWF.
- New York Post
Has the delicious crackle and pop of a galloping, honest-to-God, all-American satire
- New York Times
Flashy, fleshy and ridiculously entertaining
- New York Daily News
Awards
IRNE Award Winner - Best Set Design
Elliot Norton Award Winner - Outstanding Design, Midsize, Small or Fringe Theater
Elliot Norton Award Winner - Outstanding Director, Small or Fringe Theater
Elliot Norton Award Winner - Outstanding Production by a Small Theatre
Elliot Norton Award Winner - Outstanding Actor Small or Fringe Theater
Cast
PLAYWRIGHT & PRODUCTION STAFF
Kristoffer Diaz
Playwright

Shawn LaCount


Director

Joey Thomas


Stage Manager

Brian Phillips


Wrestling Coach

Daniel Burmester


Assistant Director

Molly Burman


Assistant Stage Manager

Hillary Spiritos


Stage Management Intern

Jason Ries


Set and Props Designer

Jen Rock


Lighting Designer

Arshan Gailus


Sound Designer

Kendra Bell


Costume Designer

Olivia Sebesky


Projection Designer

Jessie Baxter


Dramaturg

Alyssa McKeon


Production Manager

Mark Abby VanDerzee


Technical Director

Alexandra Herryman


Assistant Production Manager

Courtney Nelson


Assistant Production Manager

Caroline Brown


Production Assistant

Eric Norris


Sound Board Operator
---
Kristoffer Diaz
Kristoffer Diaz is a playwright and educator, living and working in Brooklyn, NY. His full-length plays, including The Elaborate Entrance of Chad Deity (finalist for the 2009 Pulitzer), Welcome to Arroyo's, Rebecca Oaxaca Lays Down a Bunt, Fucking Vigwan, and#therevolution have been produced and developed at Center Theatre Group, The Goodman, Second Stage, Victory Gardens, American Theatre Company, The Atlantic, InterAct, Mixed Blood, The Orchard Project, Hip-Hop Theater Festival, The Lark, Summer Play Festival, Donmar Warehouse, and South Coast Repertory. Kristoffer was one of the creators of Brink!, the apprentice anthology show at the 2009 Humana Festival of New American Plays. He is a playwright-in-residence at Teatro Vista, a recipient of the Jerome Fellowship, the Future Aesthetics Artist Regrant and the Van Lier Fellowship (New Dramatists), and a member of the Ars Nova Play Group. He is one of the co-founders of The Unit Collective (Minneapolis). Kristoffer is currently working on a commissions for the Center Theatre Group, The Goodman/Teatro Vista, and Oregon Shakes. As an educator, conference presenter, and dramaturg, Kristoffer has worked with El Puente Academy for Peace and Justice, the International Thespian Festival, Florida Thespians, Cleveland Play House, No Passport, Austin Scriptworks/Latino Playwright Initiative, Rising Circle Productions, Future Aesthetics Artist Dialogue, the Association for Theatre in Higher Education, and the Playwrights Center. His journalistic profiles of playwrights Jorge Ignacio Cortinas, Janet Allard, and Rajiv Joseph have appeared in the Brooklyn Rail. His one-act play The Trophy Thieves: A High School Love Story is published by Playscripts, and his play Welcome to Arroyo's will be published in 2009-10 as part of the first critical anthology of hip-hop theater. His self-published poetry chapbook, Fly Girls and Other Poems, is available from via lulu.com and amazon.com. Kristoffer holds a BA from New York University's Gallatin School of Individualized Study, an MFA from NYU's Department of Dramatic Writing, and an MFA from Brooklyn College's Performing Arts Management program.
Dramaturgy: Plays in Context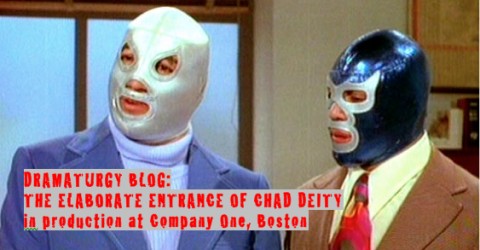 Download the Production Program!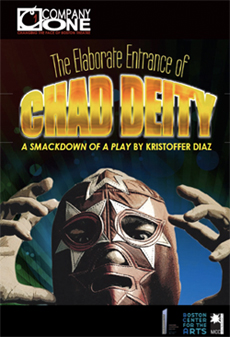 Stay tuned for information on special events!
Reviews
August 16, 2012
August 8, 2012
August 8, 2012
August 3, 2012
August 2, 2012
August 1, 2012
July 31, 2012
July 31, 2012
July 31, 2012
July 23, 2012
July 9, 2012