There are no tickets
available for purchase
at this time.
Get Tickets
Edith Can Shoot Things And Hit Them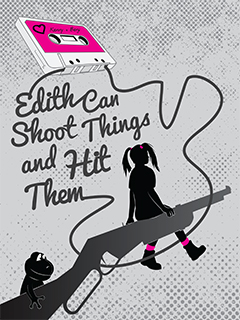 Celebrating the plays of A. Rey Pamatmat with the Huntington Theatre Company
A New England Premiere by A. Rey Pamatmat
Directed by Shawn LaCount
June 4, 2015 – June 27, 2015
Calderwood Pavilion, Deane Hall
With no parents, little food, and nothing in the bank account, 12-year-old Edith, her brother Kenny, and a giant stuffed frog are doing just fine, thank you very much. Making the rules up as they go, Kenny gets more than mix-tapes from his new friend, Benji, and Edith ends up shooting something for real. Funny and full of heart, this coming of age story explores the gap between childhood and whatever comes next.
C1's Take:
A. Rey Pamatmat has written a fabulous play full of heart, humor, and what it means to be grown up.  We're so happy to be collaborating with the Huntington Theatre in order to premiere two of Pamatmat's works in Boston this spring and to introduce audiences to such an exciting, unique theatrical voice.   
Cast
PLAYWRIGHT & PRODUCTION STAFF
---
Maria Jan Carreon
Maria is delighted to be working with Company One! Recent credits include THE GREAT WAR THEATRE PROJECT (TC Squared Theatre Company), OH, SHIP! ABOARD THE SHIP and TOP GIRLS (Bad Habit Productions). She has taught acting classes with Newton Community Education and John Robert Powers Talent Agency of New England, and holds a BA in Theater Education and Acting from Emerson College. Maraming salamat (many thanks!) to A. Rey Pamatmat for his beautiful work, and the pamilya for their undying support!

Gideon Bautista
Pleased, humbled, and grateful to make his Company One debut. Local Credits: MIDSUMMER NIGHT'S DREAM (Bottom), MUCH ADO ABOUT NOTHING (Claudio) It's A Fiasco; HANDICAPPING (Terry) Fresh Ink; US DRAG (Evan) Apollinaire Theatre; MINDY & BRENDA (Brenda) N.A. Theater; PETER PANSY the Gold Dust Orphans. He performs monthly in COMEDYCAZI at Comicazi, and is a playwright at the TC Squared Theatre Writer's Lab. B.A. Acting & Theatre Education at Emerson College, Michael Chekhov Actors Studio Boston.

Eddie Shields*
Eddie is thrilled to be working with Company One! Other credits: NYC; Playwrights Horizons, Everyday Inferno Theater, Rebel Theater Company, Mettawee River Theater Company; Comedy of Errors (Dromio of. Ephesus) with Actors' Shakespeare Project, The Seagull (Treplev), A View from the Bridge (Rodolpho) at Brandeis Theater Company. Eddie is a resident director at the Brooklyn based Rebel Theater Company. MFA in Acting from Brandeis University. *appearing courtesy of Actor's Equity Association
A. Rey Pamatmat
A. Rey Pamatmat's play AFTER ALL THE TERRIBLE THINGS I DO will be presented at the Milwaukee Repertory and Huntington Theatres in the 2014 – 15 season. His newest play A POWER PLAY; OR, WHAT'S-ITS-NAME was presented at the 2014 O'Neill Playwrights Conference after being developed at the A.R.T. Institute and Berkeley Rep's Ground Floor. His short SOMETHING IN THE WATER played at The Flea Theatre as part of the world premiere of THE MYSTERIES last spring, and his 10-minute play SOME OTHER KID continues to be presented throughout the United States this year as part of The New Black Fest's Facing Our Truth: 10-Minute plays about Trayvon, Race, and Privilege. Rey was recently the 2012 – 13 Hodder Fellow in Playwriting at Princeton University and the 2011 – 12 Playwright of New York (PoNY) Fellow at The Lark Play Development Center. His play EDITH CAN SHOOT THINGS AND HIT THEM began a rolling world premiere at the Actors Theatre of Louisville's 2011 Humana Festival of New American Plays, earned the 2012 Steinberg/ATCA New Play Award Citation and a 2013 GLAAD Media Award nomination, and continues to play across the United States. It was translated into Spanish as part of The Lark's U.S.-Mexico Exchange and was presented at the Semana Internacional de la Dramaturgia in Guadalajara. Rey's play THUNDER ABOVE, DEEPS BELOW was developed at the O'Neill Playwrights Conference before its world premiere by Second Generation. Both plays were 2013 Lambda Literary Award Finalists in the LGBT Drama Category. Waterwell's New Works Lab premiered Rey's play A SPARE ME at the Professional Performing Arts School in New York. His play DEVIANT was produced by the Vortex Theatre Company, and his shorts have been produced by the Actors Theatre of Louisville, The Yale Summer Cabaret, Vampire Cowboy, HERE, and the Perry-Mansfield Performing Arts Camp. His work has been selected as a finalist at the O'Neill Playwrights Conference (PURE in 2009, EDITH in 2010, and THE SHOTGUN MESSAGE in 2012), featured in HX Magazine's Top Ten Plays (DEVIANT), and nominated for two NYIT Awards including Outstanding New Script (DEVIANT). His work is published by Samuel French, Playscripts, and Cambria Press. Rey's work has been developed at New Work Now! at The Public Theater, NewSCRipts at South Coast Repertory, The McCarter Lab, Victory Gardens' Ignition Festival, Playwrights' Horizons, The Magic Theatre's Virgin Play Series and Asian Explosion, Ars Nova, Ma-Yi Theatre Company, The Lark, Rattlestick, E.S.T., New Dramatists, The American Theater Company, the National New Play Network Showcase at The Curious Theatre, the National Asian American Theater Conference at The Guthrie, and the Savannah College of Art and Design. He has been commissioned by South Coast Rep, the Actors Theatre of Louisville, the E.S.T./Sloan Science and Technology Project, Ma-Yi, The Flea, Mabou Mines, The New Black Fest, 2g, Waterwell, Vampire Cowboys, and Perry-Mansfield. Rey is Co-Director of the Ma-Yi Writer's Lab, and is a past recipient of the Princess Grace Award for Playwriting, a Princess Grace Special Projects Grant, a NYFA Playwriting Fellowship, and a Truman Capote Literary Fellowship. B.F.A.: NYU, Drama. M.F.A.: Yale School of Drama, Playwriting.

Shawn LaCount
Please visit the Company One Theatre Staff page to view bio.

Alexandra Juckno
Please visit the Company One Theatre Staff page to view bio.

Rafael Jaen
Recent credits include: Lyric Stage's SWEENEY TODD, and UMass Boston's YOU CAN'T TAKE IT WITH YOU. He serves at the USITT Board of Directors and he is the national Design-Technology Vice-Chair for the Kennedy Center ACTF. He is the recipient of the Kennedy Center Golden Medallion for Excellence in Theater Education. He is an Assistant Professor at UMASS Boston and he is the author of SHOWCASE (USITT Golden Pen 2012 nomination). Member USA 829. Website: www.rafaeljaen.biz

Ed Young
Ed (Jake) Young is a local sound designer and composer. He is very pleased to be back with Company One after designing THE FLICK (Elliot Norton Award Best design/outstanding production), HOW WE GOT ON (Elliot Norton Nomination Outstanding Production), BENGAL TIGER AT THE BAGHDAD ZOO, and HOOKMAN. His work has been heard locally, via various theatre companies, and abroad including the Cannes Film Festival, EMM Festival, The Hangar Theatre, and elsewhere.

Molly FitzMaurice
Molly is a recent import from Chicago thrilled to make her Company One debut. Properties credits include CASCABEL (Lookingglass), THOU PROUD DREAM (Northwestern), HIT THE WALL (The Inconvenience), GHOST BIKE (Buzz22), THE GLASS INWARD (The Island), and NIGHT OF THE MAGICIAN (Screen Door). Her other Chicago loves are Salonathon, a weekly alt-cabaret and arts incubator, and First Floor Theater, where she is an Artistic Associate. A dramaturg by day, Molly is the Literary Apprentice at Huntington Theatre Company.

Kevin Deane Parker
Kevin is glad to be returning to Company One Theatre, having previously worked on SHOCKHEADED PETER, THE FLICK, WE ARE PROUD..., SPLENDOR, and HOW WE GOT ON. Other credits: THE ADDAMS FAMILY, OF MICE AND MEN, PINKALICIOUS (Boston Children's Theatre); NECESSARY MONSTERS, CARRIE (SpeakEasy Stage Company); THE REAL THING, CLOSER, GROSS INDECENCY (Bad Habit Productions). Kevin was an intern with New Repertory Theatre and Broadway in Boston. He holds a BS in Industrial Engineering from Northeastern University. www.kevindeaneparker.com

Arysbells Figueredo
Off-Broadway: THE MEMORY SHOW (Transport Group). NYC/Regional: FAR FROM HEAVEN (SpeakEasy Stage Company), THINGS I LEFT ON LONG ISLAND (FringeNYC), BOTCH, TRADE PRACTICES (HERE), SWING STATE (NYMF), NEXT TO NORMAL (Musically Human), 35MM (Very Intense Productions). International: BABY (Edinburgh Festival Fringe). Other credentials: MTC's Paul A. Kaplan Theatre Management Program, Barrington Stage Company's Stage Management Apprenticeship. BA from the University of Florida. Actor's Equity Member Candidate. Many thanks to my love Joey for always cheering me on from the audience.

Sara Hutchins
Sara is excited to be working with Company One. Other credits include: COLUMBINUS (Northeastern University), THE CONFERENCE OF THE BIRDS (Brandeis University), SWEENEY TODD (Lyric Stage), THE SOUND OF MUSIC (New Bedford Festival Theatre), ROMEO AND JULIET (Boston Theatre Company). Sara was a production intern for Speakeasy Stage Company. She will be receiving a BA in Theatre from Northeastern University in January.

Nicholas Chen
Nick is an incoming Junior at Boston University's College of Fine Arts School of Theater Design and Production majoring in Sound Design and a minor in Lighting Design. He originally started Technical Theater in high school in Singapore. Wishing to develop his skills he applied to a variety of schools in the North East deciding on Boston University. During his time at BU he has been a part of a variety of productions including Pacific Overtures, Columbinus, The Human Comedy, and Wit.
Students and teachers! The Education Department at Company One Theatre is pleased to share our Curricular Connections Packet for the New England Premiere of EDITH CAN SHOOT THINGS AND HIT THEM by A. Rey Pamatmat.  The articles, lesson plans, discussion questions, and resources in this packet are designed for you to explore the world of the production.
June 7, 2015 2:00PM- Pay-What-You-Want and Post Show Discussion
Spend as little as $6 to see a matinee performance of EDITH CAN SHOOT THINGS AND HIT THEM and stick around for a rousing post-show with Ma-Yi Writers Lab, the largest resident company of Asian-American playwrights. Co-hosted by the Huntington, the conversation will be moderated by Mike Lew, co-director of the Ma-Yi Writers Lab!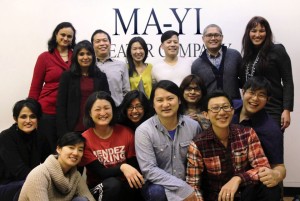 June 11, 2015 5:30pm- Growing Up Gaysian Night!
Join Company One Theatre and Boston Community Activist Hung Nguyen for a night of identity discussion and delicious eats, followed by a performance of EDITH… Click here for more information!
June 14, 2015 2PM- Pay-What-You-Want and Post Show Discussion
A Pay-What-You-Want ($6 minimum) performance followed by a post-show discussion with the actors and design team, where they'll discuss their inspirations behind their designs for EDITH CAN SHOOT THINGS AND HIT.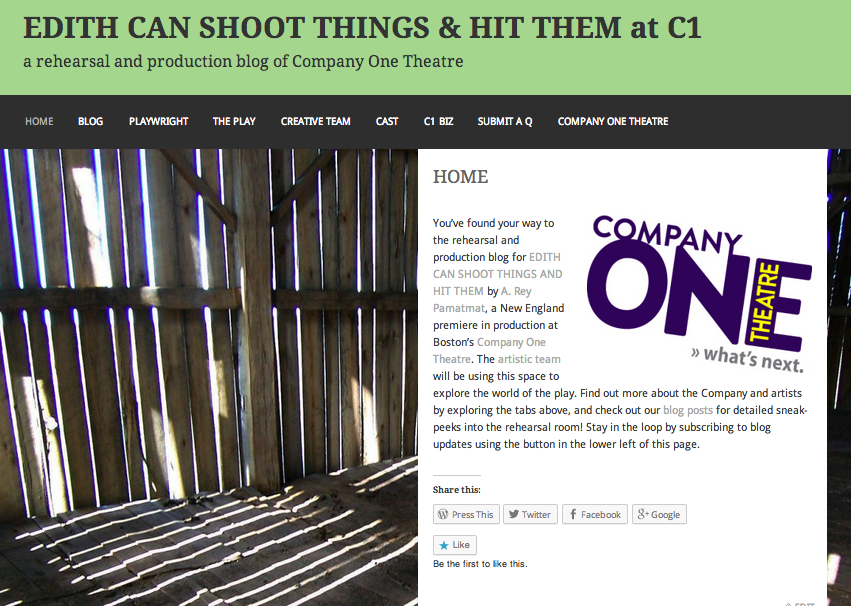 Reviews
June 23, 2015
June 22, 2015
June 24, 2015
June 18, 2015
June 12, 2015
June 14, 2015
May 26, 2015
May 21, 2015