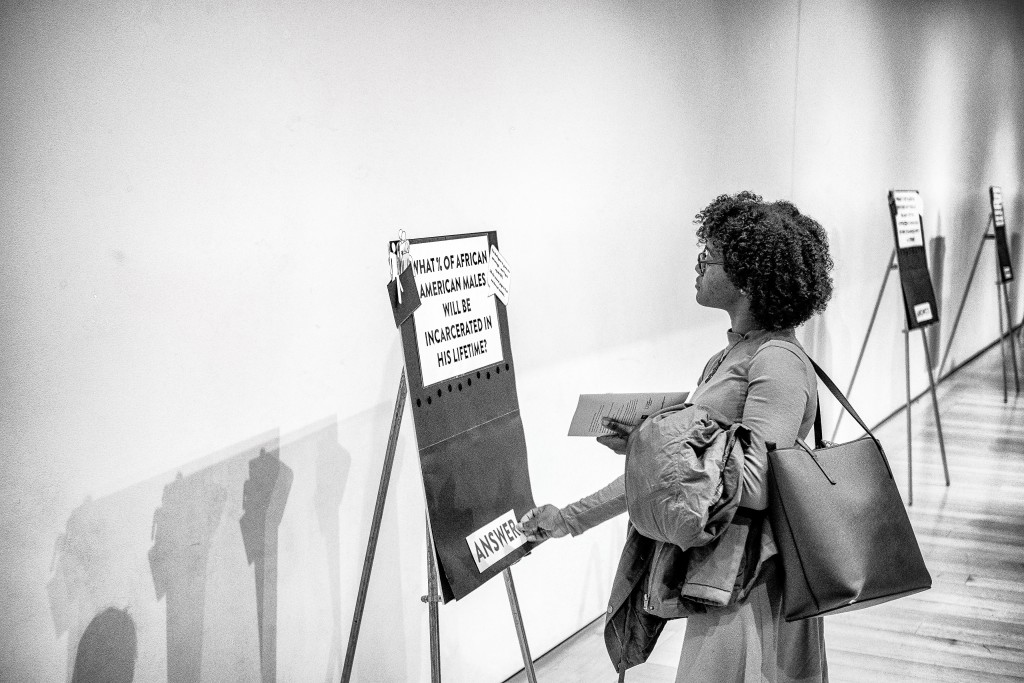 With a significant change in our country's leadership, there is concern for our city and nation's most vulnerable communities. Since many of us at times can feel powerless, our dramaturgs and engagement staff are continually compiling resources that may empower us all to fight against our changing government. We will periodically share this ever growing list of events, protests, volunteer opportunities, and community meetings — many of which are hosted by our peers in the #BosArts community — so that together we can set our nation on a course towards inclusivity and safety for all its citizens. These lists will include a range of post-election resources, from concrete action items to performances centered around issues of social justice. If you would like to submit an event or resource, please email hspivey@companyone.org.
CURRENT ACTION ITEMS
BOSTON WOMEN'S MARCH FOR AMERICA | January 21, 2017
Peaceful protest beginning at 11:00am at the Boston Common's "Carty Parade Ground" on corner of Beacon and Charles Streets.
CHALLENGING TRUMPISM, WARS & MILITARISM | 

January 22, 2017
Find more information about the event on Mass Peace Action's
event site
.
BLACK LIVES MATTER: MUSIC, RACE, AND JUSTICE | February 3 & 4,

 2017
A music forum conference hosted at Harvard. Read more information on
their website
.
COMBATING ISLAMOPHOBIA: ORGANIZING AS A UNIFIED FORCE  | February 4, 2017
Find more info about the event here.

PRESIDENTS' DAY PROTEST FOR DEMOCRACY | February 15, 2017
Join the growing grassroots movement to pass a constitutional amendment to ensure corporate money does not overwhelm our democracy and clarify that the First Amendment is for people — not corporations. Protest at Harvard Square (meet at the Harvard Square T Station), Cambridge, Mass. at 1 p.m.
#WERISE
#WeRise is a day for activism, inspiration, learning, and movement building. This is a day for discussion, panels, and workshops revolving around social justice and our role as citizens.
RESOURCES
A MESSAGE FROM THE ATTORNEY GENERAL…
"The Attorney General's goal is to make it as easy as possible for residents to contact us. Any Massachusetts resident who has witnessed or experienced bias-motivated threats, harassment or violence may call the Attorney General's hotline or fill out a civil rights complaint form at this link. Residents may also contact the AG's Office through our Facebook and Twitter. The hotline number is 1-800-994-3228."
If you experience a hate crime or know of a person who has, keep this number saved somewhere so you have a place to report it!
ON CALLING YOUR REPRESENTATIVES
Do it. Here is a document that includes a phone script, party leadership info, our representatives numbers, and tips/strategies. It's awesome.
Social anxiety/phone anxiety keeping you from picking up the phone? Echo Through The Fog shared a comic with resources that could help you overcome some of the challenges that might keep you from picking up the phone and dialing.
RESOURCES FOR INSPIRATION AND SELF-CARE
Citizen Archive — A public list of action items that's updated regularly
Mass Peace Action — List of events and action items
#Our100 — An open letter to Our Nation from 100 women of color leaders
Jezebel's list of Pro-Women, Pro-Immigrant, Pro-Earth, Anti-Bigotry Organizations That Need Your Support
The Huffington Post's list, organized by action: Volunteer, Practice Self-Care, and Donate
Concrete Suggestions in Preparation for January (Available in English and Spanish)
An interactive self-care guide
How to encrypt your life in less than an hour
A Harm Reductionist Guide for Web Security
DIY Guide to Feminist Cypersecurity
REALLY POSTPONEMENT ANNOUNCEMENT
As we take time out to be with loved ones this week, we wanted to pause for a moment to take stock of where we are as a community.
As an organization operating at the intersection of art and social change, Company One Theatre believes in the power of theatre to change the world and help set our nation on a course towards inclusivity and safety for all its citizens. We recognize, however, that theatre is only one tool at our disposal. Over the years, we have made it a tradition to share activism resources internally, and we feel that in the wake of the election some of you may find these action items and events useful in your efforts to support change. We will be updating this list and sharing through social media monthly, so please check back in (you can click the link to view now). And please, if you are so inclined, feel free to contribute to the list.
We hope these resources can help start to fill the pressing need for direct action against misogyny, racism, transphobia, Islamophobia, homophobia, xenophobia, anti-Semitism, and fear. In this vein, we recognize that many members of our C1 family are feeling compelled to take this direct action off the stage and outside the walls of a theatre during Inauguration weekend.
For this reason, Company One Theatre has decided to postpone the opening of Jackie Sibblies Drury's new play REALLY from January 20th to the 25th. We will pause the hustle for ticket sales, release our artists, and give space for our staff and audiences to act — whether that action is to join the Women's March on Washington, participate in one of the sister marches here in Boston or another city, or to work with one of the many grassroots organizations who tirelessly and consistently work to upend systems of oppression..
Please know that Company One Theatre will continue to embrace, support, hire, produce, and elevate artists of color, female artists, artists with nonbinary gender identities, and differently-abled artists. You can bet we will continue to tell radical, yet inclusive stories loudly for a multiplicity of audiences and communities. We believe that there is always hope, possibility, and love — together.
Sincerely and with Love,
Company One Theatre
PAST ACTION ITEMS
VISION FOR BLACK LIVES | November 19 – December 8, 2017
This is a series of workshops that's goal is to create a plan to improve the lives of Black people.
November 19th: End the War on Black People with Anti-Racism Collaborations
December 1st: Political Power with Knapsack
December 3rd: Invest-Digest with Anti-Racism Collaboration
December 8th: Community Control
For full workshop details, visit this website: http://masspeaceaction.org/event/vision-for-black-lives-workshops/
TRUE STORY THEATER: NOW WHAT? | December 1, 2017
True Story Theater travels around Massachusettes to create dialogue and open perspectives with their audiences. They collect true stories from audience members, then use their improvisation skills to retell the stories. On December 1st, the theme of the performance is "Bridge Building Across Political Divisions."
For full performance details, visit this website: http://truestorytheater.com/event/bridge-building-across-political-divisions/
LESLEY UNIVERSITY'S CALL FOR ART
Boston LGBTQIA Artist Alliance is working with Lesley University to create an exhibit that reflects on the queer communities' relationship to language. If any visual artists come to mind, please share this event with them!
It would be great if everyone could pass this event along to three people: https://www.facebook.com/events/328275560886425/
—