There are no tickets
available for purchase
at this time.
Get Tickets
Voyeurs de Venus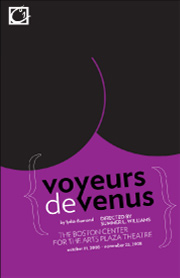 Written by Lydia R. Diamond
Directed by Summer L. Williams
October 31 – November 22, 2008
The Plaza Theatre @ The Boston Center for the Arts
Company One is proud to present the Boston premiere of Lydia Diamond's dazzling new play VOYEURS DE VENUS. Sara is an African-American scholar of pop culture trying to write a book about Saartjie Baartman, better known as the 19th-century sideshow sensation The Hottentot Venus. As the two women's worlds collide, Sara faces a struggle: can she reveal the truth about Saartjie and still write a bestseller? While Sara navigates a treacherous course involving her white husband and her black lover — who is also her publisher, she is forced to confront her own racial identity. Sexy, bold and dangerous, VOYEURS DE VENUS is sure to be one of the season's most piercing dramas.

Lydia Diamond is a Huntington Theatre playwriting fellow and adapted last season's hit show THE BLUEST EYE.
It is a tough, challenging, complicated piece of work. It is also an essential one. And in Company One's production . . . directed with acuity and grace by Summer L. Williams, it is receiving the staging it deserves. At times frightening, at times moving, and at times startlingly funny, this "Voyeurs de Venus" is never less than riveting to watch.
- The Boston Globe
Awards
Elliot Norton Award Winner - Outstanding Director, Small/Fringe Company
Cast
PLAYWRIGHT & PRODUCTION STAFF
Lydia R. Diamond
Playwright

Summer L. Williams


Director

Jarrod Bray


Set Designer

Chris Fournier


Lighting Designer

Jennifer Varekamp


Costume Designer

Arshan Gailus


Sound Designer

Basia Goszczynska


Props Designer

Cedric Crowe


Choreographer

Gabi Logan


Stage Manager

Lauren Arnold


Assistant Stage Manager

Vawnya Nichols


Assistant Stage Manager

Ilana M. Brownstein


Dramaturg

Cheryl Turski


Dialect Coach

Sarah Cohan


Production Manager

Mark Abby VanDerzee


Technical Director
---
Lydia R. Diamond
Lydia R. Diamond's plays include: Stick Fly (produced by Alicia Keys under the direction of Kenny Leon, will open on Broadway at the Cort theatre on November 18, 2011; '10 Irne Award - Best Play, '10 LA Critics Circle Awards, '10 LA Garland Award - Playwriting, '08 Susan S. Blackburn Finalist, '06 Black Theatre Alliance Award - Best Play), Voyeurs de Venus ('06 Joseph Jefferson Award - Best New Work, '06 BTAA - Best Writing), The Bluest Eye ('06 Black Arts Alliance Image Award - Best New Play, '08 American Alliance for Theatre and Education Distinguished Play Award), The Gift Horse ('05 Theadore Ward Prize, Kesselring Prize 2nd Place), Harriet Jacobs, Stage Black, and Lizzie Stranton (2008 Boston University Playwriting Initiative Commision). Theatres include: Arena Stage, Chicago Dramatists, Company One, Congo Square, Everyman Theatre Company, Goodman Theatre, Hartford Stage, Huntington Theatre Co., Jubilee Theatre, Kansas City Rep, L.A. Theatre Works, Long Wharf, Lorraine Hansberry Theatre, McCarter Theatre Co., Mo'Olelo Theatre Co., MPAACT, New Vic, Playmakers Rep, Plowshares Theatre Co., Providence Black Rep, Steppenwolf, TrueColors, The Matrix, Underground Railway Theatre, Actors Theatre of Louisville, and The Contemporary American Theatre Festival. Lydia's plays have been produced at Universities around the country including: Duke University, Howard University, Emerson College, Boston University, Northwestern University, University of Wisconsin, Columbia College Chicago, Spelman College, University of California - San Marcos, and University of Maryland. Lydia has been commissioned by: Steppenwolf, McCarter, Huntington, Actor's Theatre of Louisville/Victory Gardens, Humana, Boston University, and The Roundabout. Stick Fly and Harriet Jacobs are published by NU Press, Bluest Eye, Gift Horse, Stage Black - Dramatic Publishing. Lydia was a 2007 TCG/NEA Playwright in Residence at Steppenwolf, an 06/07 Huntington Playwright Fellow, 2009 NEA/Arena Stage New Play Development Grant Finalist, is a TCG Executive Board Member, a Resident Playwright at Chicago Dramatists, an Honorary Doctorate of Arts Recipient from Pine Manor College, and a recent recipient of the Huntington Theatre's 2011 Wimbley Award.
Stay tuned for information on special events!
Reviews
December 22, 2008
November 14, 2008
November 11, 2008
November 7, 2008
November 3, 2008
November 3, 2008
November 3, 2008
November 2, 2008