There are no tickets
available for purchase
at this time.
Get Tickets
The Brother/Sister Plays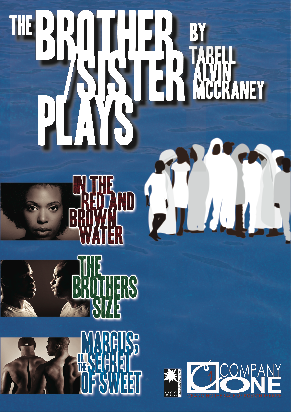 Directed by Megan Sandberg-Zakian and Summer L. Williams
Dramaturgy by Philip Berman and Corianna Moffatt
October 28 – December 3, 2011
The Plaza Theatre @ The Boston Center for the Arts
Tarell Alvin McCraney's The Brother/Sister Plays are dangerous, modern-day stories of kinship, love, heartache and coming-of-age. McCraney speaks with authenticity about a world that is gritty and lyrical, urban and mythic. One of the most startling new American theatrical voices of the 21st century, McCraney is thrilling audiences internationally by pushing the boundaries of language, form, and sexuality in provocative and poetic ways.

THE TRILOGY WILL BE PRESENTED IN TWO PARTS

Produced on alternating nights, you can experience
Part 1: IN THE RED AND BROWN WATER one night, and
Part 2: THE BROTHERS SIZE and MARCUS; OR THE SECRET OF SWEET the other!

IN THE RED AND BROWN WATER
Oya can run faster than anyone, but not fast enough to escape her fate. When pressed to choose between her dying mother and her dreams of escape, she makes a life-changing decision. Her journey from the promise of youth to the complicated yearnings of womanhood is a joyous, raucous, brazenly theatrical experience.

THE BROTHERS SIZE
Am I my brother's keeper? After a homecoming in the bayous of Louisiana, the Size brothers, Ogun and Oshoosi, try to start fresh. This haunting, funny, and heartbreaking tour de force probes sexuality, coming of age, and the bonds of family as the brothers struggle to discover identity and to unearth a new sense of freedom.

MARCUS; OR THE SECRET OF SWEET
Sixteen year-old Marcus is having some startlingly "sweet" dreams that feel more like a bad omen. As the Louisiana air thickens, Marcus begins asking questions about the father he never met, and getting closer to a secret they both share. MARCUS, with its warmth, myth, humor, and Louisiana patois, is a magical coming-of-age story about the storms of sexuality and identity.
Should not be missed!
- The Boston Globe
Spellbinding from the start!
- Bay State Banner
POWERFUL...will linger in your mind long after you leave the theater!
- EdgeBoston
Award-worthy performances!
- The Boston Metro
Awards
IRNE Award Winner - Best Supporting Actor (Drama)
IRNE Award Winner - Winner Best Play (Midsize)
Elliot Norton Award Winner - Outstanding Actor, Small/Fringe Theater
Cast
PLAYWRIGHT & PRODUCTION STAFF
Tarell Alvin McCraney
Playwright

Megan Sandberg-Zakian


Director

Summer L. Williams


Director

Erin Basile


Production Stage Manager

Madeleine Laupheimer


Assistant Stage Manager

Marjorie Scarff


Assistant Stage Manager

Erik Diaz


Set Designer

Aaron Mack


Sound Designer

Sarah Nelson


Costume Designer

David Roy


Lighting Designer

Alexandra Herryman


Props Designer

Clarice Laverne-Thompson


Vocal Coach

Phil Berman


Dramaturg

Michael Best


Assistant Technical Director

Corianna Moffatt


Dramaturg

Liz Hayes


Dialect Coach

Mark Abby VanDerzee


Technical Director

Alyssa McKeon


Production Manager

Joey Thomas


Artistic Associate

Saul Slezas


Master Electrician

Karthik Subramanian


Assistant Production Manager
---
Tarell Alvin McCraney
Tarell Alvin McCraney's plays include Wig Out! (Sundance Theatre Lab, Vineyard Theatre, and the Royal Court Theatre) and The Brother/Sister Plays: In the Red and Brown Water (Kendeda Graduate Playwriting Competition; premiered at the Alliance Theatre), The Brothers Size (premiered at The Public Theater in association with the Foundry Theatre and in London at the Young Vic), and Marcus; or The Secret of Sweet (premiered in a coproduction by McCarter Theatre Center and The Public Theater). Other productions of The Brother/Sister Plays include those by Steppenwolf Theatre Company, American Conservatory Theater, Seattle Repertory Theatre, Marin Theatre Company, Magic Theatre, and The Studio Theatre, among others. McCraney's plays also include Without/Sin; Run, Mourner, Run; and The Breach, written with Catherine Filloux and Joe Sutton (commissioned and premiered by Southern Repertory Theater in New Orleans).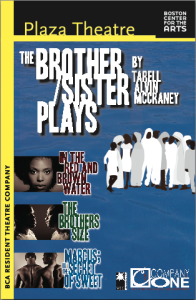 Stay tuned for information on special events!
Reviews
November 16, 2011
November 15, 2011
November 14, 2011
November 3, 2011
November 1, 2011
November 1, 2011
October 31, 2011
October 28, 2011