peerless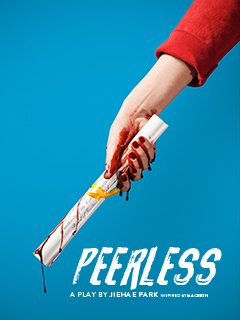 A Boston Premiere by Jiehae Park
Directed by Steven Bogart
Presented in collaboration with the Boston Public Library in conjunction with the Library's "All the City's a Stage: A Season of Shakespeare"
April 27 – May 27, 2017
Twin high school seniors L and M are dead-set on attending not just an Ivy League school, but the Ivy League school. With their perfect SAT scores, perfect hair, and "perfect" minority status, they think acceptance should be guaranteed. When a rival student emerges with a personal tragedy to make an admissions officer weep, however, the twins will do anything to knock out the competition. Does that include murder most foul? Mean Girls meets Macbeth in this dark comedy, which sets one of Shakespeare's bloodiest plays against the backdrop of competitive college admissions.

Radically inclusive, totally affordable. All tickets for peerless are Pay-What-You-Want, with a suggested $10 donation, no minimum required. though a your ticket donation goes to Company One and directly contributes to the future of financially accessible theater in Boston.

>>Spread the word: #ConspireWithC1
C1's Take:
"To stage the first-ever live theatre run at the BPL is an honor. And it marks what we hope will be an example to the rest of Boston's artistic and cultural institutions of what we can achieve together as an intersectional community."
From the collaborators: "Today's library spaces can be brought to life with innovative partnerships. In our first year post-renovation, this pilot program with Company One's Theatre performances will undoubtedly bring new energy and dynamism to the Central Library for all to enjoy," said David Leonard, President of the Boston Public Library. "It's yet another way of making Shakespeare come to life."
A bright, loud, colorful and caustic comedy
- The Hartford Courant
Cast
PLAYWRIGHT & PRODUCTION STAFF
Jiehae Park


Playwright

Steven Bogart


Director

Haley Fluke


Dramaturg

Josh Glenn-Kayden


Assistant Director
Vivian Yee
Stage Manager
Miranda Giurleo
Costume Designer
Emmett Buhmann
Lighting Designer
JiYoung Han
Scenic Designer
Lee Schuna
Sound Designer

Projections Designer


Seifallah Cristobal

Stephanie Hettrick


Properties Designer
Aisha Stewart
Assistant Stage Manager
Kayla Heal
Assistant Stage Manager

Read Davidson


Assistant Lighting Designer

Beverly Diaz


Choreographer
---

Stay tuned for information on special events!