peerless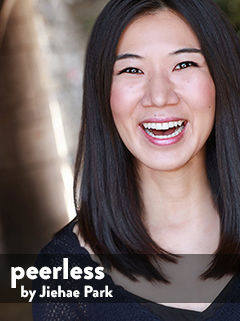 A Boston Premiere by Jiehae Park
Directed by Steven Bogart
In Partnership with All the City's A Stage at the Boston Public Library
April 27 – May 28, 2017
Twin high school seniors L and M are dead-set on attending not just an Ivy League school, but the Ivy League school. With their perfect SAT scores, perfect hair, and "perfect minority status," they think acceptance should be guaranteed. When a rival student emerges with a personal tragedy to make an admissions officer weep, however, the twins will do anything to knock out the competition. Does that include murder most foul? Mean Girls meets the Bard in this dark and zany black comedy, which sets one of Shakespeare's bloodiest plays against the backdrop of competitive college admissions.
C1's Take:
Company One Theatre is thrilled to enter a new collaborative partnership with The Boston Public Library, one that brings the first full-scale theatrical production to Rabb Hall in the Central Library.
A bright, loud, colorful and caustic comedy
- The Hartford Courant
Cast
PLAYWRIGHT & PRODUCTION STAFF
---
Miranda Giurleo
Miranda Kau Giurleo's previous Company One designs include DRY LAND, SHOCKHEADED PETER, SHE KILLS MONSTERS, LOVE PERSON, NEIGHBORS, GRIMM, THE GOOD NEGRO, and AFTER THE QUAKE. Area credits include: THE CONVERT, MATCHLESS & THE HAPPY PRINCE, ROOTS OF LIBERTY (Underground Railway Theater); THE SCOTTSBORO BOYS (SpeakEasy Stage Company) MEASURE FOR MEASURE, AS YOU LIKE IT, TWO GENTLEMEN OF VERONA (Actors' Shakespeare Project); TOTALITARIANS, LETTICE AND LOVAGE, THE NEW ELECTRIC BALLROOM, FIGHTING OVER BEVERLY, PONIES, OUR SON'S WEDDING (Gloucester Stage Company).

Emmett Buhmann
Emmett Buhmann is assistant Professor of Theatre at Bridgewater State University. Area lighting designs include work with BSU's Family Performing Art Center, Suffolk University, and The Uncommon Theatre Company. Lighting Design credits include ROSSUM'S UNIVERSAL ROBOTS, STILL LIFE WITH IRIS, WEST SIDE STORY (University of California-Irvine); ART (Snowy Range Summer Theatre); LES MISERABLES (Balagon Theatre); HUMBLE BOY, RENT (Texas Tech University); NEXT TO NORMAL (HUB Theatre); ASSASSINS, SEUSSICAL THE MUSICAL, YOUNG FRANKENSTEIN, THREE PENNY OPERA (Bridgewater State University.)

Lee Schuna
Lee Schuna is a freelance sound designer, composer, music producer, and graduate of the Music Industry program at Northeastern University. Thrilled to be working on another C1 production, his credits include THE HEIDI CHRONICLES (Northeastern University), THE T PARTY (C1), SIGNIFICANT OTHER (SpeakEasy), REALLY (C1), KING STAG (Tufts), and GRAND CONCOURSE (SpeakEasy). He is also currently working on experimental electronic music to be released on his pet record label, Human Nature Records.
Stay tuned for information on special events!
Coming Soon