There are no tickets
available for purchase
at this time.
Get Tickets
peerless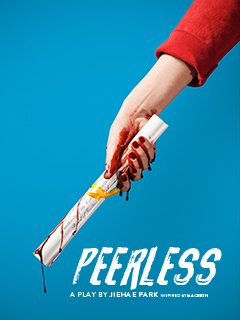 A Boston Premiere by Jiehae Park
Directed by Steven Bogart
Presented in collaboration with the Boston Public Library in conjunction with the Library's "All the City's a Stage: A Season of Shakespeare"
April 27 – May 27, 2017
90 minutes with no intermission
Twin high school seniors L and M are dead-set on attending not just an Ivy League school, but the Ivy League school. With their perfect SAT scores, perfect hair, and "perfect" minority status, they think acceptance should be guaranteed. When a rival student emerges with a personal tragedy to make an admissions officer weep, however, the twins will do anything to knock out the competition. Does that include murder most foul? Mean Girls meets Macbeth in this dark comedy, which sets one of Shakespeare's bloodiest plays against the backdrop of competitive college admissions.

Radically inclusive, totally affordable. All tickets for peerless are Pay-What-You-Want, with a suggested $10 donation, no minimum required. though a your ticket donation goes to Company One and directly contributes to the future of financially accessible theater in Boston.

>>Spread the word: #ConspireWithC1
C1's Take:
"To stage the first-ever live theatre run at the BPL is an honor. And it marks what we hope will be an example to the rest of Boston's artistic and cultural institutions of what we can achieve together as an intersectional community."
From the collaborators: "Today's library spaces can be brought to life with innovative partnerships. In our first year post-renovation, this pilot program with Company One's Theatre performances will undoubtedly bring new energy and dynamism to the Central Library for all to enjoy," said David Leonard, President of the Boston Public Library. "It's yet another way of making Shakespeare come to life."
"...the play works on multiple levels: as ink-dark comedy; as an ingenious, spookily atmospheric psychological drama; and as a chilling parable about the soul-warping price of extreme ambition.
- The Boston Globe
A bright, loud, colorful and caustic comedy
- The Hartford Courant
Cast
PLAYWRIGHT & PRODUCTION STAFF
---
Jiehae Park
Jiehae Park's plays include PEERLESS (Yale Rep premiere, Cherry Lane Mentor Project, Marin Theatre Co, Barrington Stage, Company One Theatre, Moxie, First Floor) and HANNAH AND THE DREAD GAZEBO (Oregon Shakespeare Festival premiere, 2017). She is one of the writers of WONDROUS STRANGE (2016 Humana/ATL). Development: Sundance Theatre-Makers, Berkeley Rep's Ground Floor, Soho Rep, Playwrights Horizons, the Public's EWG, I73, NYTW, Old Globe, Dramatists Guild Fellowship, Ojai Conference, Playwrights Realm, BAPF, and the amazing Ma-Yi Writers Lab. Awards/recognitions: Leah Ryan, Princess Grace, Weissberger, ANPF Women's Invitational (Grand Prize), two years of the Kilroys List. Commissions: Playwrights Horizons, McCarter, Williamstown, Geffen, OSF, MTC/Sloan. Residencies: MacDowell, Yaddo, Hedgebrook, McCarter/Sallie B. Goodman. She is a NYTW Usual Suspect, Lincoln Center Theater New Writer in Residence, and 2016-17 Hodder Fellow at Princeton. As a performer recently: SLEEP (Ripe Time/The Play Co) and EVERY ANGEL IS BRUTAL (Clubbed Thumb Summerworks). BA, Amherst; MFA, UCSD.

Steven Bogart
Steven Bogart is a playwright, stage director, teacher and visual artist. He also leads workshops in collaborative playwriting around the state of Massachusetts and has created over 50 devised theatre pieces. Bogart has directed for the American Repertory Theater (CABARET, THE BOSTON ABOLITIONIST PROJECT), Boston Playwrights' Theater (Ginger Lazarus's BURNING, Dan Hunter's LEGALLY DEAD), Company One Theatre (DRY LAND, SHOCKHEADED PETER), Liars and Believer's (LUNAR LABYRINTH), Brandeis University (CABARET), and Wheelock Family Theatre (PINOCCHIO). He has collaborated on projects with Robert Brustein, James Carroll, Neil Gaiman, Kate Snodgrass, and Amanda Palmer. He is a 2015 Massachusetts Cultural Council fellow in playwriting, and was a 2009 Massachusetts Cultural Council Grant recipient in playwriting. He has participated in the Kennedy Center Summer Playwriting Intensive, and The Freedom Art Theater Retreat where he worked with other playwrights, designer and dramaturges. He lives with his wife, Amory, in Maynard, Massachusetts.

Haley Fluke
Please view Haley's bio on the C1 Staff page.

Josh Glenn-Kayden
Please view Josh's bio on the C1 Staff page.

Vivian Yee
Vivian Yee is a lady of many talents and interests, but she always feels most at home wearing her stage management hat. She embraces the opportunity to represent Asian-Americans in theatre on PEERLESS with C1 with a full heart. Favorite productions in various roles include: SHOCKHEADED PETER (Company One), PRISCILLA DREAMS THE ANSWER (Fresh Ink Theatre Company), BLOOD WEDDING (Northeastern University), TAMING OF THE SHREW (Actors' Shakespeare Project), BOBBY GOULD IN HELL (Fortnight Collective), MOLASSACRE (Northeastern University). She is a proud graduate of Northeastern University.

Miranda Giurleo
Miranda Kau Giurleo's previous Company One designs include DRY LAND, SHOCKHEADED PETER, SHE KILLS MONSTERS, LOVE PERSON, NEIGHBORS, GRIMM, THE GOOD NEGRO, and AFTER THE QUAKE. Area credits include: THE CONVERT, MATCHLESS & THE HAPPY PRINCE, ROOTS OF LIBERTY (Underground Railway Theater); THE SCOTTSBORO BOYS (SpeakEasy Stage Company) MEASURE FOR MEASURE, AS YOU LIKE IT, TWO GENTLEMEN OF VERONA (Actors' Shakespeare Project); TOTALITARIANS, LETTICE AND LOVAGE, THE NEW ELECTRIC BALLROOM, FIGHTING OVER BEVERLY, PONIES, OUR SON'S WEDDING (Gloucester Stage Company).

Emmett Buhmann
Emmett Buhmann is assistant Professor of Theatre at Bridgewater State University. Area lighting designs include work with BSU's Family Performing Art Center, Suffolk University, and The Uncommon Theatre Company. Lighting Design credits include ROSSUM'S UNIVERSAL ROBOTS, STILL LIFE WITH IRIS, WEST SIDE STORY (University of California-Irvine); ART (Snowy Range Summer Theatre); LES MISERABLES (Balagon Theatre); HUMBLE BOY, RENT (Texas Tech University); NEXT TO NORMAL (HUB Theatre); ASSASSINS, SEUSSICAL THE MUSICAL, YOUNG FRANKENSTEIN, THREE PENNY OPERA (Bridgewater State University.)

JiYoung Han
Peerless is her first design with CompanyOne. Boston area credit includes Golda's Balcony, Good and Assassins(New Repertory Theatre), Doubt(Stoneham Theatre); Our Class (Boston Center for American Performance); Much Ado about Nothing (Arts After Hours); Chicago (Reagle Musical Theatre); Owen Wingrave, The Cracking Hour, Il Matrimonio Segreto, Intimate Apparel, The Learned Ladies, God's Ear (Boston University). Assistant Designer credit includes: Sunset Boulevard (Broadway Revival and English National Opera), Carousel(English National Opera), Sweeney Todd(English National Opera), Marriage of Figaro(Chicago Lyric Opera), The Daughter of Regiment( Washington National Opera), Candide(The Glimmerglass Festival), Siege of Calais(The Glimmerglass Festival), The Critic/The Real Inspector Hound(Guthrie Theatre and Shakespeare Company at Harman Center for the Arts) among many others. She received an MFA in Scenic Design from Boston University. She is originally from Seoul, Korea.

Lee Schuna
Lee Schuna is a freelance sound designer, composer, music producer, and graduate of the Music Industry program at Northeastern University. Thrilled to be working on another C1 production, his credits include THE HEIDI CHRONICLES (Northeastern University), THE T PARTY (C1), SIGNIFICANT OTHER (SpeakEasy), REALLY (C1), KING STAG (Tufts), and GRAND CONCOURSE (SpeakEasy). He is also currently working on experimental electronic music to be released on his pet record label, Human Nature Records.

Projections Designer
SeifAllah Salotto-Cristobal (Projection Designer) has been designing for over a decade. He holds a MFA in Lighting and Projection Design from the University of Missouri-Kansas City. His career has taken him across the country designing for many companies in Opera, Dance and Theatre. Seif works full time at Advanced Lighting & Production Services in Sales and is fortunate that his full time career allows him to continue designing. Seif would like to thank his amazing wife for her unwavering support.

Stephanie Hettrick
Stephanie Hettrick: Stephanie is thrilled to be back with Company One after previously working on COLOSSAL as an Assistant Stage Manager. She freelances around the city as both a props master and a stage manager. Her most recent projects include ORLANDO (Suffolk University), LOS MEADOWS (Boston Public Works), and BARBEQUE (Lyric Stage). She also works full time at the Lyric Stage Company of Boston as the Associate Production Manager and resident "prop-tart." Enjoy!

Aisha Stewart
Aisha Stewart is excited to be working with Company One on PEERLESS. Her second show with C1, she just closed REALLY and is happy to jump right into another production. She has had the pleasure of working at all levels of production in her professional career as a Theater-Artist and is eager to lend her passion and creativity to the Boston scene. It has been a pleasure working with this cast and crew. Thank you to everyone who made this happen.

Olivia Viola
BOSTON: Emerson College: LIVING WILL (ASM); RICHARD III (ASM); XDANCE (ASM). WASHINGTON, D.C.: Capital Fringe Festival 2016: SONG READER: THE MUSICAL (SM, Clandestine Arts). Education: BFA Stage & Production Management, Emerson College '18.

Beverly Diaz
Beverly is a theatre artist from Northern Virginia, who received her BFA in Theatre Arts Performance and minor in dance from Boston University in 2016. Recent artistic credits include acting in TC Squared's Playwright Salons, performing on the steps of the Boston Public Library with Bridge Repertory Theater as part of ALL THE CITY'S A STAGE, and her senior thesis, AXIS, an original, devised movement theatre piece.

Brenna Fitzgerald
Brenna Fitzgerald is thrilled to return to Company One. Recent local credits include Mika in LAB RATS with Brown Box Theatre, Rose in THE FLICK with Company One (Nominated Elliot Norton Award for Outstanding Actress In A Small Company), and 44 PLAYS FOR 44 PRESIDENTS with Bad Habit Productions. Brenna holds a BA in theatre education from Emerson College and is an SAFD certified actor-combatant (unarmed combat). She would like to thank the entire company for their amazing work and her friends and family for their unwavering support.

Deb Marcus
Debra Marcus is a BU graduate, sound designer, and audio engineer. Favorite past design credits include INTO THE WOODS, THE LARAMIE PROJECT, THIS IS OUR YOUTH, and DOG SEES GOD (Boston University). She currently works with The Theater Offensive's True Colors Troupe. PEERLESS is her first C1 show. Thanks and love go out to her sister, parents, and grandmothers and to Alyssa, Jesse, Sara, and Olivia.
>>POST-SHOW PROGRAMMING
Want to extend your #ConspireWithC1 experience? Join us after any Saturday matinee performance for an in-depth look at the themes of the play and a discussion about the artistic process!
Saturday May 13th | PEERLESS From All Vantage Points
Stick around after the 2pm show for a panel discussion on all things peerless! Hear perspectives on the play from a wide variety of experts, including: Shakespeare-enthusiast Erika Boeckeler from Northeastern University, Sharon Greenfield from the Massachusetts Institute for Psychoanalysis, Amee Naik from Breakthrough Greater Boston, Sheila Lee from ASPIRE, and Chris Hahm from AWARE.
Saturday May 20th | Teens Tackle Teen Stress: A Panel With Boston GLOW
Join us in conversation with Boston GLOW teens as they unpack peerless and talk through the pressures facing high school students today. They've got some tried-and-true ways to manage stress they want to share with you!

Saturday May 27th | The Art of College Admissions
Applying to colleges soon and wondering what the process will be like? Hear from our friends at Hyde Square Task Force about the college application and admissions process! Get the inside scoop from mentors and mentees, and learn some tips and tricks along the way.
>>YOUNG PERSON'S GUIDE TO PEERLESS
Take a look at the C1 Apprentices' guide to peerless, complete with additional resources for high school students. Click here to read more!
Want a peek into the rehearsal room? Click here to check out our dramaturgy blog for insight into the play and production process. Don't see what you're looking for? Ask a dramaturg!

Save
Save
Save
Save
Save
Save
Save
Save
Save
Save
Save
Save
Save
Save
Stay tuned for information on special events!
Reviews
May 22, 2017
May 20, 2017
May 3, 2017
May 2, 2017
April 26, 2017
April 27, 2017
April 23, 2017