There are no tickets
available for purchase
at this time.
Get Tickets
No Room For Wishing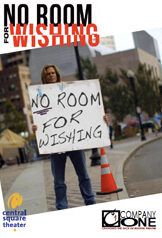 Written and Performed by Danny Bryck
Directed by Megan Sandberg-Zakian
Produced in collaboration with Central Square Theatre
September 13-22, 2012
Boston Center for the Arts
Black Box Theatre
September 30-October 9, 2012
Central Square Theater
Studio Theater
Compiled from interviews and live recordings during the occupation of Dewey Square in Fall 2011, NO ROOM FOR WISHING follows Occupy Boston from its formation, through clashes with the police, infighting among the activists, legal battles and collective victories, to its eviction by the City of Boston.

One of Boston's most dynamic young theater makers portrays dozens of real-life characters in this fiercely immediate, up-close-and-personal encounter with our city, our nation, and ourselves.
Cast
PLAYWRIGHT & PRODUCTION STAFF
Danny Bryck


Playwright

Megan Sandberg-Zakian


Director

Jennifer Howard


Stage Manager

Kelsey Hodgins


Assistant Stage Manager

Phil Berman


Dramaturg

Michael Best


Set Designer

Zachary Cosenza


Lighting Designer

Ben Scheff


Sound Designer

Courtney Nelson


Production Manager

Mark Abby VanDerzee


Technical Director
---
Danny Bryck
Danny Bryck is an actor, writer and theatre artist hailing from Amherst, Massachusetts. Boston theatre credits include RENT with New Repertory Theatre, TROILUS AND CRESSIDA and CYMBELINE with Actors' Shakespeare Project, BREAKING THE CODE with Underground Railway Theater, the title role in CYRANO DE BERGERAC in both English and Spanish with Apollinaire Theatre Company, the title role in HEDWIG AND THE ANGRY INCH with Blue Spruce Theatre, THE REAL INSPECTOR HOUND with The Publick Theatre, THE CORN IS GREEN with the Huntington Theatre Company, THE DONKEY SHOW with American Repertory Theater, THE NUTCRACKER at Stoneham Theatre, the title role in ROMEO AND JULIET with Shakespeare Now!, CARNY KNOWLEDGE with Fort Point Theatre Channel, and ANIMAL FARM with New Repertory Theatre. Danny is an Artistic Associate with Whistler in the Dark Theatre, where he has performed in A NUMBER, FAMILY STORIES and the Irne award-winning TALES FROM OVID, which will enjoy a restaging at ArtsEmerson in November. He has personally been nominated for two Irne Awards, for best actor in HEDWIG AND THE ANGRY INCH and best supporting actor for BREAKING THE CODE. Danny has also performed off and off-off Broadway at New World Stages and with New Perspectives Theatre Company, can be seen in a small handful of independent films, including the Rasmussen Brothers' DARK FEED, and appeared on the daytime drama AS THE WORLD TURNS. Danny is also Whistler in the Dark's resident dialect coach, and has provided dialect and vocal coaching for Company One, Underground Railway Theatre, Holland Productions, Stoneham Theatre, and others, as well as coaching privately. He has worked as a teaching artist with the Huntington Theatre Company, Apollinaire Theatre Company, Company One, and numerous high schools and summer programs in Massachusetts. His play LOVE IN THE TIME OF TIME TRAVEL, co-written with A. Vincent Ularich, was given a staged reading at Oberon, the second stage of the American Repertory Theatre. He has been developing NO ROOM FOR WISHING since October of 2011, working with Occupy Boston and performing readings and workshops of the show at various theaters and festivals in Boston and New York. Danny holds a BFA from Boston University's School of Theatre and has studied at the London Academy of Music and Dramatic Art.
Follow the C1 Dramaturgy Blog:

Watch a Video Timeline of Occupy Boston:
Stay tuned for information on special events!