There are no tickets
available for purchase
at this time.
Get Tickets
HYPE MAN: a break beat play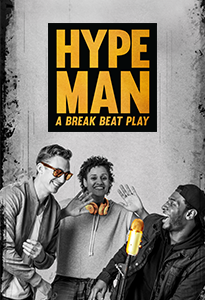 a new play by Idris Goodwin
directed by Shawn LaCount
Jan 26 – Feb 24, 2018
@ Boston Center for the Arts, Plaza Theatre
#MicDropWithC1
Frontman Pinnacle and his hype man Verb have been making Hip-Hop together since they were kids. Now that they've got top-notch beatmaker Peep One in the mix, the group is finally on the verge of making it big—until the police shooting of an unarmed black teenager shakes the trio to its core, and forces them to navigate issues of friendship, race, and privilege. The latest from break beat poet and playwright Idris Goodwin (HOW WE GOT ON), HYPE MAN asks us: who has the responsibility to speak up in the face of social injustice?


C1's Take:
"I want to use the theatre as a venue to wrestle with our national sicknesses but also a place to nod heads in unison, as we collectively imagine towards liberation. HYPE MAN, this latest entry into my break beat plays series, exemplifies this desire." – Idris Goodwin, playwright
>> Company One Theatre is producing HYPE MAN to AMPLIFY:
– Accountability and a commitment to continuously challenge the notion of white allyship

– Advocacy for female artists of color in male-dominated industries

– ARTivism and the responsibility of artists to respond to calls to action through their creative platforms

– Partnership between arts organizations to create mentoring and leadership opportunities for youth

– Black Lives Matter as a movement that is and will continue to grow, protest, and fight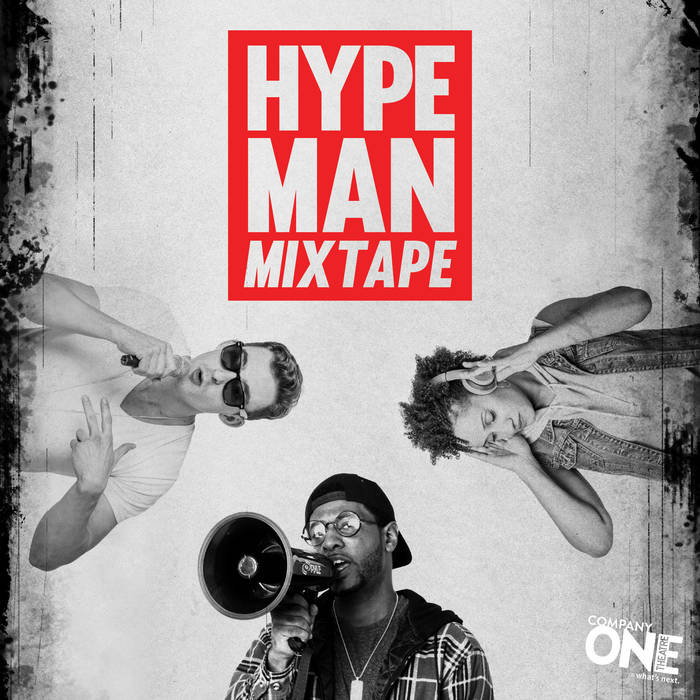 Now available on Bandcamp, the HYPE MAN Mixtape features music from the play, as well as additional tracks from associated artists, including playwright Idris Goodwin, actor/music director/beatmaker Kadahj Bennett, and more!
"★★★★★... Hype Man is theater at its urgent, vital best. See it and see it again."
- DigBoston
""Company One's production sizzles with the kind of dynamism that can result — if we're lucky — when a playwright with a distinctive voice and an urgent message teams up with a theater troupe whose aesthetic and sense of mission are as sharply defined as his."
- The Boston Globe
"Riveting... The whole show crackles with energy... Something HYPE MAN gets right, where other overtly politically minded plays often go wrong, is that its action is rooted in the engrossing relationships among its three characters."
- WBUR's The ARTery
"Sharply directed. Incredibly well-acted. Absolutely of-the-moment."
- WGBH Arts Editor Jared Bowen
"The play hits you squarely and clearly where we all live right now – on the edge of painful change, where anger is easy, voices are many, and connection is hard... Best thing onstage now. No hype."
- Joyce Kulhawik
"With this world premiere production, director Shawn LaCount achieves what Company One Theatre so often does: Viscerally powerful, socially important, and artistically innovative theater. So: See this? Let's be clear -- it's not even something to question. See this."
- EDGE Boston
Awards
Elliot Norton Winner - Outstanding Production, Small Theater
Elliot Norton Winner - Outstanding New Script

HYPE MAN Music Video - The Boy Shinin'
Cast
PLAYWRIGHT & PRODUCTION STAFF
---
Kadahj Bennett
Kadahj is psyched to reunite with Goodwin for another C1 experience. Recent credits include PEERLESS, THE T PARTY, AN OCTOROON, DRY LAND, HOW WE GOT ON (Company One), AKEELAH AND THE BEE (Wheelock Family Theatre) and a feature in THE HALLS web series (Beyond Measure Productions). Hamilton College & the Boston Arts Academy grad; Kadahj is a Teaching Artist in the Boston Area. Bennett serves as the writer/lyricist/vocalist for Dancelujah (hiphop/fusion). Luminary Artist for the Isabella Stewart Gardner Museum.

Rachel Cognata
A returned Boston native, Rachel is excited to be working with Company One in their 19th season. She is a graduate of Boston Arts Academy, a longtime collaborating organization of C1 and a recent graduate of Tufts University. She most recently played Girlfriend in Company One's production of REALLY and is currently working on a ensemble devised play with Liars and Believers theater company. Favorite past projects also include INNER CITY BLUES and THE LARAMIE PROJECT. Rachel is thrilled and honored to be working with C1 again on the world premiere of Idris Goodwin's HYPE MAN.

Michael Knowlton*
Michael is thrilled to return to Company One. Past C1 credits include Splendor and Bengal Tiger At The Baghdad Zoo (Company One). Other recent credits Come Back Little Sheba and Our Town (Huntington Theatre Company); Distant Neighbors (Fresh Ink); Coriolanus (Commonwealth Shakespeare); References to Salvador Dali Make Me Hot (Wellfleet Harbor Actors Theatre); The Last Days of Judas Iscariot (Wax Wings). Michael currently resides and grew up in Boston and has been a regular cast member of Boston's Shear Madness since 2015. *appearing courtesy of Actors' Equity Association
Shawn LaCount
Shawn is a proud co-founder of Company One Theatre. Recent directorial credits include the regional premieres of Jackie Sibblies Drury's REALLY; Young Jean Lee's WE'RE GONNA DIE (The American Repertory Theatre /Company One Theatre); A. Rey Pamatmat's EDITH CAN SHOOT THINGS AND HIT THEM (Elliot Norton Award Nominee for Outstanding Director and Outstanding Production); Annie Baker's THE FLICK (Elliot Norton Award, Outstanding Production); the world premiere of Kirsten Greenidge's SPLENDOR (IRNE Award nominee, Best New Play); the Boston premieres of BENGAL TIGER AT THE BAGHDAD ZOO by Rajiv Joseph; THE ELABORATE ENTRANCE OF CHAD DEITY by Kristoffer Diaz (Elliot Norton Award for Outstanding Director and Outstanding Production); Annie Baker's THE ALIENS (Elliot Norton Award for Outstanding Director and Outstanding Production); the world premiere of GRIMM (IRNE Award nominee for Best New Play); the Boston premiere of THE OVERWHELMING by JT Rogers (Elliot Norton Award Nominee, Outstanding Production); the Boston premiere of Haruki Murakami's AFTER THE QUAKE (Elliot Norton Award Nominee, Outstanding Production); Stephen Sondheim's ASSASSINS (IRNE nomination for Best Director and Best Musical); and the Boston premiere of Noah Haidle's MR. MARMALADE (Elliot Norton Award Nominee, Outstanding Director/Outstanding Drama). Shawn holds an MA Ed. in theatre Education from Clark University and an MFA in Directing from The University of Massachusetts, Amherst. He has taught at Emerson College, Boston Arts Academy, Huntington Theatre Company, Tufts University, Stage One and the University of Massachusetts, Amherst. Shawn is deeply grateful to the entire C1 family and especially grateful to his wife Jessica and his children Shiloh and Levi.

Idris Goodwin
IDRIS GOODWIN is an award winning playwright, poet, performer and essayist. His play HOW WE GOT ON developed at the O'Neill National Playwrights Conference, premiered in Actors Theater's 2012 Humana Festival, and is being produced at theatres across the country. It is the first in his "break beat play" series which includes The REALNESS and HYPE MAN, winner of the 2017 Blue Ink Playwriting Award. His play AND IN THIS CORNER CASSIUS CLAY received the 2017 Distinguished Play Award from The American Association of Theater and Education. Other widely produced plays include BLACKADEMICS, THIS IS MODERN ART co-written with Kevin Coval, and BARS AND MEASURES. Goodwin is one of seven playwrights featured in the widely presented HANDS UP!, an anthology commissioned by The New Black Fest and published by Samuel French. His one act BLACK FLAG was produced Off Broadway. THE WAY THE MOUNTAIN MOVED, commissioned as part of Oregon Shakespeare's groundbreaking American Revolutions Series, will world premiere in 2018. He's had work commissioned by or in development with The Public Theatre, Steppenwolf Theater, The Kennedy Center, Seattle Children's Theater, Berkeley Rep's Ground Floor Program, La Jolla Playhouse, The Lark Playwriting Center, The Playwrights's Center and New Harmony Project. Idris's work has received support from the NEA, Mellon and Ford Foundations, and is the recipient of InterAct Theater's 20/20 Prize. "These Are The Breaks" (Write Bloody, 2011), his debut collection of essays and poetry, was nominated for a Pushcart Prize. Goodwin's poetry has featured on HBO, The Discovery Channel, Sesame Street and National Public Radio. Goodwin is an assistant professor in The Department of Theatre and Dance at Colorado College.

Kadahj Bennett
Kadahj is a freelance beat maker, sound designer, audio engineer and graduate/facilitator from ZUMIX inc. Kadahj is also the front man of 2 bands; The Downbeat Keys (pop, Brooklyn) and Dancelujah (hip hop/funk, Boston), opening for such acts as Talib Kweli, BADBADNOTGOOD and Jon Bon Jovi. He is elated to work with Company One in this capacity. He is also working in collaboration with the ISGM on a collection inspired by Boston's gentrification boom.

Jessie Baxter
Please view Jessie's bio on the C1 Staff page.

Aislinn Brophy
Aislinn Brophy is a Boston-based actor, playwright, and director. Recently, she has worked as the Assistant Director on Harvard's production of THE OWL ANSWERS. She holds an A.B. in Theater, Dance & Media from Harvard. Undergraduate directing credits include her original plays DRYSIDE and CRYSTAL'S, as well as ONCE UPON A MATTRESS. Undergraduate acting credits include the Poet in A DREAM PLAY, Beneatha in A RAISIN IN THE SUN and a vocalist in SHE, a new musical at A.R.T.'s OBERON.

Tatiana Gil
Please view Tatiana's bio on the C1 Staff page.

Cassandra Cacoq
Cassandra Cacoq is an artist and designer who hails from Boston, MA. Trained as a chemist, she holds a M.S. in chemistry from the University of Oregon and a B.S. in chemistry from Simmons College. For the past 5 years, she has been honing her craft as a designer. She recently earned a certificate in Fashion Design from the Massachusetts College of Art and Design. Her interests include fabric manipulation, textile design, millinery and costume design.

Jen Rock
Jen Rock (Lighting Design) is pleased to be joining Company One again. Previous design credits with Company One Include: Edith Can Shoot Things and Hit Them, Splendor, The Flick. Based in Connecticut, Jen is the Professor of Lighting Design at Eastern Connecticut State University. As a freelance designer, Jen has worked Off-Broadway and around Southern New England in a variety of professional and academic theatres. Her work includes credits at Actors Shakespeare Project, Lyric Stage Company, Speakeasy Stage, Commonwealth Shakespeare Company, The Brown University/ Trinity Rep Consortium, The University of Rhode Island, and Providence College. Jen is the recipient of two Elliot Norton Awards for Excellence in Design and is the Resident Designer for Crossroads Repertory Theatre in Terre Haute, Indiana.

Lawrence Moten
New York: RAISIN, Astoria Performing Arts Center; HI, ARE YOU SINGLE? Public Theatre UNDER THE RADAR Festival; HARRY & THE THIEF, Habitat; THE SEAGULL, Atlantic Acting School. Regional: THE ROYALE, Merrimack Repertory Theatre, 8 seasons at Williamstown Theatre Festival, THE MODEL AMERICAN, FIRST IMMIGRANT, THE MAIDS, DENTAL SOCIETY MIDWINTER MEETING. Film/Television: "THE FIRST DATE" (Production Design). Education: BFA Theatrical Production Arts: Design Concentration, Ithaca College. Member: Wingspace Theatrical Design. Guest Lecturer of Set Design: Princeton University Fall 2017.

Lee Schuna
Lee Schuna is a freelance sound designer, composer, recording engineer, and graduate of the Music Industry program at Northeastern. Lee is thrilled to join Company One again after working on THE T PARTY, REALLY, and PEERLESS. His other credits include: THE KING STAG (Tufts), EVERYMAN (Apollinaire), SIGNIFICANT OTHER and GRAND CONCOURSE (Speakeasy). Lee is currently collaborating with fellow queer artist Anjimile on new music to be released on his pet record label, Human Nature Records. http://humannaturerecords.com

Cesara Walters
Cesara Walters is a Boston based Director, Stage Manager, and Properties Designer/Fabricator, and received her BA from Rose Bruford College in London, England. Her most recent directorial credit was with the Promenade Opera Project and their production of JUSTICE OR MERCY. Most recent stage management credits include THE DROWSY CHAPERONE with Stoneham Theatre's the young company, CIRQUE OF THE DEAD with the Boston Circus Guild, and REVOLT and THE T PARTY with Company One Theatre.

Sarah Schneider
Sarah Schneider is a Boston-based stage manager and theatre artist. Area credits include ROMEO & JULIET (Commonwealth Shakespeare Company), A DOLL'S HOUSE (Huntington Theatre Company), EMMELINE and CENDRILLON (BU Opera Institute), ELF THE MUSICAL JR. (Next Generation Theatre Company), DAYS OF ATONEMENT (Israeli Stage), PLANK (Alley Cat Theater), THE LIBERTINE and NOT JENNY (Bridge Repertory Theater), and IMAGINING MADOFF (New Repertory Theatre/BCAP). Sarah is a recent graduate of Boston University where she earned her BFA in Stage Management. sarahschneidersm.com.

Bridget Anderson
Bridget Anderson (assistant stage manager) is excited to be making her Company One debut. Recent credits include Company Stage Manager for ENCORE! with Chamber Theatre Productions. She is often seen backstage at The Lyric Stage Company of Boston, working as an ASM for STAGE KISS, FAST COMPANY, and BUYER & CELLAR. Bridget is a graduate of Syracuse University's BFA Stage Management program.

Misha Shields
Misha Shields (Choreographer) Past C1 credits include, WE'RE GONNA DIE, REVOLT, and REALLY. Off-Broadway credits include, BAGHDADDY (Chita Rivera Award Nominee/St. Luke's Theater), WONDERLAND (Atlantic Theater), and THE ORION EXPERIENCE (XL Nightclub). Other credit highlights include, I WAS MOST ALIVE WITH YOU, MILK LIKE SUGAR, DOLL'S HOUSE, RIPCORD (Huntington), EMMA! (Stageworks Media workshop), ZOMBIES ON BROADWAY! (RKO Theatricals workshop), SPELLING BEE, MERRILY WE ROLL ALONG (APAC), COMPANY (St. Bart's Players), BRIDGES OF MADISON COUNTY (SpeakEasy), ROCKY HORROR (Yale), CABARET, and SUNDAY... (Boston Conservatory). Love to Ben and Little. www.mishashields.com

Alix Strasnick
Alix Strasnick is excited to be back working with Company One. Past credits with Company One include We are Proud to Present a Presentation, The Flick, You for Me for You, She Kills Monsters and Love Person. Currently Alix holds the position of Associate Technical Director at Boston Lyric Opera, as well as Stage Supervisor at the Des Moines Metro Opera. Alix has technical directed for many theaters in Boston including SpeakEasy Stage Company, Jose Mateo Ballet Theatre, and many more.

Debra Marcus
Debra Marcus is a freelance audio engineer, sound designer, choral singer, and transcriptionist. She holds a BA in music and psychology from Boston University and is so happy to be returning to collaborate with Lee and Company One after working on PEERLESS. Favorite past credits include INTO THE WOODS, THE LARAMIE PROJECT, and DOG SEES GOD. Thanks and love go out to her sister, parents, grandmothers, Alyssa, Jesse, and her partner, Olivia.
>>POST-SHOW PROGRAMMING
Want to extend your #MicDropWithC1 experience? Join us after one of these performances for an in-depth look at the themes of the play and a discussion about the artistic process!
Stay tuned for information on special events!
Reviews
January 30, 2018
January 30, 2018
January 30, 2018
January 30, 2018
January 31, 2018
February 1, 2018
February 7, 2018
February 7, 2018