There are no tickets
available for purchase
at this time.
Get Tickets
Green Eyes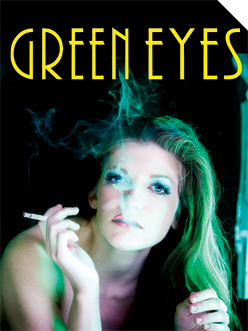 A Boston Premiere by Tennessee Williams
Directed by Travis Chamberlain
Produced in Collaboration with Chris Keegan and The Kindness
January 18 – February 12, 2012
The Ames Hotel
A Boston premiere at Boston's premiere boutique hotel! Straight from its sold-out run in New York City, Company One is proud to present Travis Chamberlain's highly acclaimed site-specific production of Tennessee Williams' GREEN EYES at The Ames Hotel. Written in 1970 but unpublished for almost 40 years, this "lost" erotic thriller graphically reveals the impact of war through the sexual fantasies of a newlywed couple honeymooning in New Orleans. He's a soldier, traumatized by his participation in the war; she's a ravenous woman determined to satisfy the darkest recesses of her most deviant desires. Starring the acclaimed NYC actress Erin Markey - "a kittenish vixen whose sexual pliancy hides an iron will" (The New York Times) - GREEN EYES transforms a honeymoon suite into a psychosexual battleground where desire and violence blur and become indistinguishable. With only 25 seats available per show, this is an exclusive theatrical event you do not want to miss!
TAUTLY STRUNG and TEASINGLY AMBITIOUS!
- Theatre Mania
GORGEOUS: a short, ELOQUENT evening that feels complete, complex, and ENTIRELY SATISFYING!
- The New Yorker
A PITCH-PERFECT TRIUMPH! Leaves you pondering long after the curtain
- Backstage
Awards
IRNE Award Winner - Best Visiting Performer
IRNE Award Winner - Best Visiting Production
Elliot Norton Award Winner - Outstanding Actress, Small/Fringe Theater
Cast
PLAYWRIGHT & PRODUCTION STAFF
---
Alan Brincks
Alan is an actor, director, and freelance scenic carpenter. Alan most recently tackled the role of Iago in Othello at the Secret Theatre, NYCNYCNYC. Alan has also appeared on the regional theatre circuit with Nebraska Shakespeare in Hamlet, A Midsummer Night's Dream, Romeo and Juliet, and Two Gentleman of Verona the Musical; as well as with Virginia Stage Company in A Christmas Carol, and Hansel and Gretel's Grimm Tale. Alan has studied with Shakespeare's Globe in London, and he received his BFA in Theatre Arts from Nebraska Wesleyan University where in 2010 he returned to direct The Last Five Years with his wife Faith Fossett as musical director.

Sheldon Brown
Sheldon is a B.F.A Acting major at Emerson College. His credits include numerous productions at Emerson including Paraff in & Nursing under the direction of Shawn LaCount. His other credits include the Peter Brook production of the Grand Inquistor through ArtsEmerson.

Erin Markey
Erin is a writer/performer, actress, and singer. She is a company member of Half Straddle, was a series regular on Jeffery and Cole Casserole (LOGOLOGO TVTV), and appears monthly in Our Hit Parade with Bridget Everett, Neal Medlyn and Tony-nominated Kenny Mellman. Her solo musical Puppppy Love: A Stripppper's Tail played to sold-out houses at Performance Space 122. She performs regularly at Joe's Pub (The Public Theater), and has shown work at the New Museum, Ars Nova, Comix, The Solomon R. Guggenheim Museum, and the Highline Ballroom. In 2011, she originated the role of Mrs. Claude Dunphy in the New York City premiere of Tennessee Williams' Green Eyes. Markey recently premiered her newest musical solo piece, The Dardy Family Home Movies By Stephen Sondheim by Erin Markey, with the San Francisco Film Society.
Learn more about the world of the play on the GREEN EYES blog:

Check out the GREEN EYES program: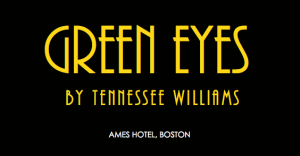 Stay tuned for information on special events!
Reviews
January 27, 2012
January 24, 2012
January 24, 2012
January 24, 2012
January 22, 2012
January 21, 2012
January 20, 2012
January 20, 2012
January 12, 2012