There are no tickets
available for purchase
at this time.
Get Tickets
Dry Land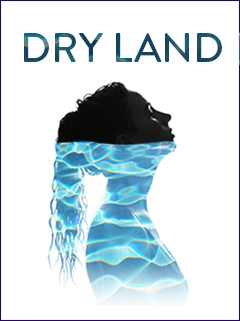 A Boston Premiere by Ruby Rae Spiegel
Directed by Steven Bogart
October 2 – 30, 2015
Plaza Theatre, Boston Center for the Arts
Emerging as the Lena Dunham of the theatre world, 21-year-old playwright Ruby Rae Spiegel — a finalist for the Susan Smith Blackburn prize — writes a brazen, no-holds-barred play about that time in your life when no one else can possibly understand what you're going through. A story about abortion, bad jokes, bathing suits, and friendship, DRY LAND, a New York Times critics' pick, is a brave portrayal of the contemporary American teenager that epitomizes What's Next in American theatre.

"Tender, caustic, funny and harrowing, often all at the same time." — New York Times

"Watching Ruby Rae Spiegel's ruthlessly honest DRY LAND, you wonder: Girls, how did theater miss you?!? Everything else belongs to them: film, television, fiction. Yet it takes Spiegel's simple, fierce play to put a young woman's capacity for pain center stage — and the choice feels thrilling, even political." — Time Out New York
C1's Take:
We are ecstatic to introduce rising star Ruby Rae Spiegel to Boston audiences with her new play, DRY LAND under the direction of Steven Bogart (SHOCKHEADED PETER). Spiegel fearlessly presents one of the lesser told, but not lesser known, experiences of being a young woman. This story of teenage girls entering adulthood is devastating, riveting, and full of heart.
"If you want to see what all the fuss about Company One is about, "Dry Land" is a great place to start. It's a gem ... Just perfect."
- Ed Siegel, WBUR's The ARTery
"'Dry Land' showcases a major new talent ... fresh and authentic ... remarkably assured craftsmanship ... " — Boston Globe
- Don Aucoin, Boston Globe
Cast
PLAYWRIGHT & PRODUCTION STAFF
---
Ruby Rae Spiegel
Ruby Rae Spiegel is from Brooklyn, New York. Her first play, Carrie & Francine, was selected for the Off-Broadway Summer Shorts 5 Festival. Her most recent play, DRY LAND, was produced at the HERE Arts Center by downtown theater company, Colt Coeur, and was developed at New York Stage and Film's Powerhouse Summer Theater Session as well as the Ojai Playwrights Conference. Ruby is a graduate of Young Playwrights Inc. and Yale College.

Steven Bogart
Steven Bogart is a playwright, stage director, teacher and visual artist. He also leads workshops in collaborative playwriting around the state of Massachusetts and has created over 50 devised theatre pieces. Bogart has directed for the American Repertory Theater(Cabaret), (The Boston Abolitionist Project), Boston Playwrights' Theater(Ginger Lazarus's, Burning, Dan Hunter's, Legally Dead), Company One(Shockheaded Peter), Liars and Believer's(Lunar Labyrinth), and Brandeis University (Cabaret), Wheelock Family Theatre(Pinocchio), He has collaborated on projects with Robert Brustein, James Carroll, Neil Gaiman, Kate Snodgrass, Amanda Palmer. He is a 2015 Massachusetts Cultural Council fellow in playwriting, and was a 2009 Massachusetts Cultural Council Grant recipient in playwriting. He has participated in the Kennedy Center Summer Playwriting Intensive, and The Freedom Art Theater Retreat where he worked with other playwrights, designer and dramaturges. He lives with his wife, Amory in Maynard, Massachusetts.

Jessie Baxter
Jessie Baxter is a Boston-based dramaturg specializing in new work and nerdery of all kinds. Her Company One credits include THE ELABORATE ENTRANCE OF CHAD DEITY, THE FLICK, THE CHRONICLES OF KALKI, BRAHMAN/I, and the XX PlayLab. She is also the Literary Director and Co-Founder of Fresh Ink Theatre, a small company specializing in new work by New England-based playwrights, where she has done developmental work on projects by Walt McGough, Patrick Gabridge, MJ Kaufman, and Emily Kaye Lazzaro, among others. Jessie earned a BA in Theatre Studies from Emerson College, and received the 2010 National Dramaturgy Award at the Kennedy Center American College Theatre Festival for her work on INCORRUPTIBLE by Michael Hollinger. She has previously worked at The Playwright's Center, The Eugene O'Neill Theatre Center, and The Denver Center Theatre Company, and is a proud member of the Literary Managers and Dramaturgs of America.

Josh Glenn-Kayden
Josh is a Somerville, MA native and recent Tufts University graduate. Recent directing credits include Boston Theater Marathon pieces for A.R.T. and Company One Theatre, Shotz Boston, and the Mad Dash (Fresh Ink/Interim Writers). Recent assistant directing credits include Annie Baker's THE FLICK and the world premiere of Kirsten Greenidge's SPLENDOR at Company One Theatre and THE LIGHT PRINCESS, PIRATES OF PENZANCE, and HANSEL AND GRETEL at A.R.T. Previously, Josh was the Literary Intern at A.R.T., where he line produced projects by Tommy Smith and Tony Speciale. At Tufts, he directed Tony Kushner's TERMINATING, EAST COAST ODE TO HOWARD JARVIS, and ONLY WE WHO GUARD THE MYSTERY SHALL BE UNHAPPY as his senior thesis. Other Tufts directing credits include PIPPIN and Tennessee Williams' THE CHALKY WHITE SUBSTANCE.

Daisy Long
Daisy is excited to be doing her first show with Company One! New York-based lighting designer. Recent credits include: MACBETH (AMERINDA); UNITED FRONT (Primary Stages/Fordham University); THE NOMAD; SMOKE (The Flea); GHOST STORIES (Cloud City/Tiny Little Band); THE ELEPHANT IN EVERY ROOM I ENTER (La MaMa); YOU'RE NOT TOUGH (HERE Arts Center); PLATONOV; DREAM OF A BUTTERFLY (Columbia University); PHAETON; THE TROJAN WOMEN; THE HOUSE OF BERNARDA ALBA (NYU). www.daisylong.com

Miranda Kau Giurleo
Miranda Kau Giurleo's previous Company One designs include SHOCKHEADED PETER, SHE KILLS MONSTERS, LOVE PERSON, NEIGHBORS, GRIMM, THE GOOD NEGRO, and AFTER THE QUAKE. Area credits include: A VIEW FROM THE BRIDGE (Brandeis Theater Company); ROOTS OF LIBERTY (Underground Railway Theater); MEASURE FOR MEASURE, AS YOU LIKE IT, TWO GENTLEMEN OF VERONA (Actors' Shakespeare Project); MATT AND BEN (Central Square Theater); THE NEW ELECTRIC BALLROOM, FIGHTING OVER BEVERLY, PONIES, DEAR LIAR, OUR SON'S WEDDING, THE HEIDI CHRONICLES (Gloucester Stage Company).

Andrew Duncan Will
Andrew Duncan Will is very excited to be working with Company One for the first time!. Most recent local credits include THE GOAT (Bad Habit), THREE (Boston Public Works), CLYTEMNESTRIAD (Fresh Ink), DETROIT (Apollinaire), THE AMISH PROJECT, STRONGER THAN THE WIND, and GOD BOX (New Repertory), SIXY MILES TO SILVER LAKE and FUFU AND OREOS (Bridge Rep), INTO THE WOODS, DEAR ELIZABETH, ONE MAN TWO GUVNORS, and SWEENEY TODD (Lyric). Andrew holds an MFA in Sound Design from Boston University.

Sarah Winters
Sarah Winters is a freelance artist based in Somerville, with a focus on intermodal arts and collaboration, combining mediums of visual and performance arts. Theater credits include costume design for Stoneham Theatre's Young Company, costume design for 'SHIVER' with Project: Project, scenic, props and costume design for 'THE CLYTEMNESTRIAD' with Fresh Ink Theatre Co., scenic and costume design with Oxford Street Players: Shakespeare at Lesley University as well as costume & wardrobe support with Actors' Shakespeare Project. Sarah is thrilled to be working with C1 this fall. Upcoming events & art can be found at www.sarahmwinters.com

Lynn Wilcott
Previous C1 special effects credits include GREEN EYES and HOOKMAN. Other effects credits include MOJO, BLACKADDER II: LIVE, BLACKADDER GOES FOURTH: LIVE and ACT A LADY (Theatre on Fire), GOREFEST VII, VIII, IX, and X (Improv Boston); and several short films with Team We're Making a Movie for the Boston 48 Hour Film Project. She would like to thank her gorgeous family and hilarious friends for their continued support and inspiration.

Ariel Welch
Ariel is thrilled to join the DRY LAND team. This past season she served as the Assistant to the Managing director with Company one Theatre. She received a BFA from The Theater School at DePaul University in Chicago, IL and is excited to be back in Boston. Her recent Boston area stage management works include THE WIZARD OF OZ and CHICAGO with Weston Drama Workshop, SHELTER OF LAST RESORT for the XXPlaylab workshop series with Company One and The Boston Center for the Arts, THE LITTLE BLUE ONE with Juventas New Music Ensemble, and THE FLICK with Company One.

Erin Lerch
Erin is a recent graduate of Boston University with a BFA in Stage Management. Recent SM credits include Blood Wedding (Apollinaire),The Adding Machine (Boston University), Sickle, Broken and She Eats Apples (Boston Playwrights' Theatre). She is also a budding playwright: Her 10-minute play Clockwork was produced as part of the 2014 Boston Theater Marathon and was selected as a KCACTF Region 1 Semifinalist. Another short play of hers, Event Horizon, was recently read as part of the Slingshot: New Works series at STAGEright in Seattle. She is excited to be a part of this production and to be working with Company One for the first time!

Emily Brown
Emily is a recent graduate from McGill University, where she majored in English Drama. During her time in Montreal she studied and worked in theatres in a variety of capacities, including stage management, production management, technical design, directing, collaborative development, and performance. Emily moved to Boston as a theatre practitioner who pursues shows that inspire community dialogue and engagement. She is thrilled to be an assistant stage manager for Company One's production of Dry Land!

Sarah Elizabeth Bedard
is an actor, fight choreographer, theatre educator and is excited to be joining Company One again! Previous acting credits include Company One (Shockheaded Peter), Actor's Shakespeare Project (Phèdre), Berkshire Theatre Festival (A Christmas Carol), and Bad Habit Productions (Translations, Arcadia). Fight credits include Hamlet, The Outsiders, Othella, The Princess Bride, Taming of the Shrew and Cabaret .Sarah earned at M.F.A. in Acting from Brandeis. This summer, Sarah directed Pinocchio at Stoneham Theatre's Young Company. sarahelizabethbedard.com
"It felt really important to me to make them teenagers dealing with a problem that's political and immediate. I was interested in going to that really hot space and trying to find empathy and truth and specificity with it, because every teenage abortion story is specific and has to do with specific people." Click HERE to read the the interview.
Want a peak into the rehearsal room? Click HERE to check out our dramaturgy blog for insight into the play and production process. Don't see what your looking for? Ask a dramaturg!
>>DIVE IN | POST-SHOW EVENT SERIES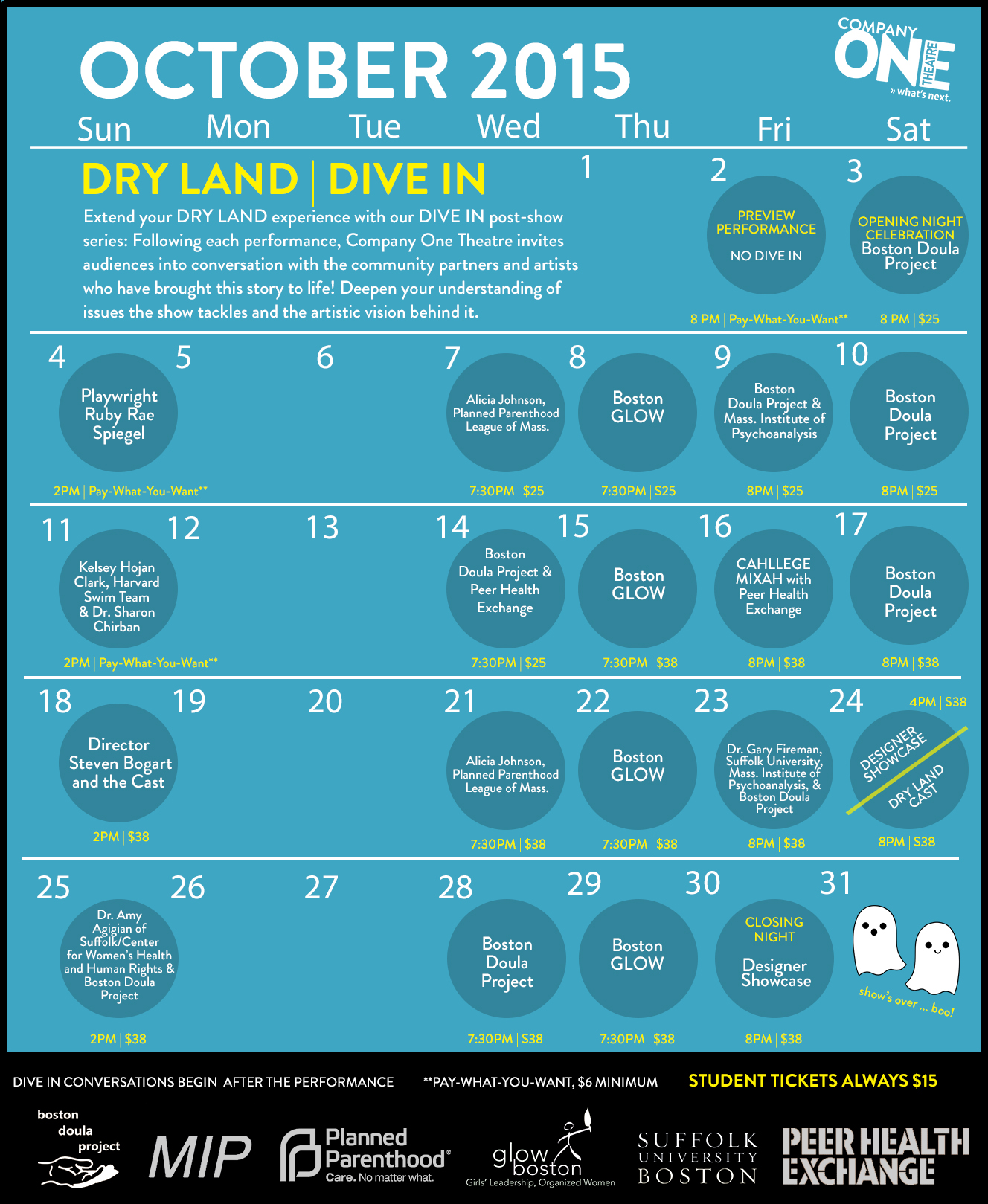 >>ABOUT OUR COMMUNITY PARTNERS 
Amplifying Performance Consulting, LLC
APC is a psychology practice committed to helping a wide range of individuals.  APC addresses the needs of athletes, patients with eating disorders, performers with disordered eating and financial executives.  Combining the tools from clinical and sport psychology, APC aims to improve well-being in both the personal and professional domains. amplifyingperformance.com
Boston Doula Project
The Boston Doula Project provides free, compassionate and empowering support to people experiencing abortion. We promote the doula model of physical, emotional, spiritual and informational support for people throughout the full spectrum of reproductive experiences. bostondoulaproject.org
Boston GLOW
Boston GLOW empowers girls and women to confidently use their voices and become leaders in our communities. Girls' Leadership (GL) identifies and rewards motivated female youth who possess powerful ideas through scholarship, micro-grant, and mentoring programs. Boston GLOW's Organized Women (OW) engages and inspires a network of women at issue-focused events and in numerous service and leadership training opportunities that help them reach their full potential. bostonglow.org
Massachusetts Institute of Psychoanalysis
Founded in 1987, MIP offers a training program in psychoanalysis and a one year postgraduate fellowship program. We are an open organization providing a community in which anybody with an interest in psychoanalysis may become a member and participate. MIP offers free psychoanalytic programs where analysts of local, national and international reputation dialogue about comparative positions on topics of current interest and the relevance of psychoanalysis in the larger world. mipsa.org
Planned Parenthood Advocacy Fund of Massachusetts
The Planned Parenthood Advocacy Fund of Massachusetts (PPAF) is the advocacy and political arm of the Planned Parenthood League of Massachusetts (PPLM). Formed in 1984, PPAF believes that working within the political process is critical to advancing PPLM's mission to increase access to sexual and reproductive health services and comprehensive sexuality education for women, men, and families across Massachusetts. www.pplmvotes.org
Peer Health Exchange
Peer Health Exchange's mission is to give teenagers the knowledge and skills they need to make healthy decisions. We do this by training college students to teach a comprehensive health curriculum in public high schools that lack health education. Our vision is that, one day, all teens will have the knowledge and skills they need to make healthy decisions. peerhealthexchange.org
Suffolk/Center for Women's Health and Human Rights
The Center for Women's Health and Human Rights (CWHHR) at Suffolk University is the first academic institute in the United States to focus on women's health and human rights in the social sciences, arts and humanities, and public policy. Founded in 2003, the CWHHR is committed to furthering the dignity and wellbeing of women and girls everywhere by exploring and extending the linkages between women's health and human rights. suffolk.edu
Stay tuned for information on special events!
Reviews
October 7, 2015
October 7, 2015
October 17, 2015
December 31, 1969
October 5, 2015
September 14, 2015
October 23, 2015