There are no tickets
available for purchase
at this time.
Get Tickets
An Octoroon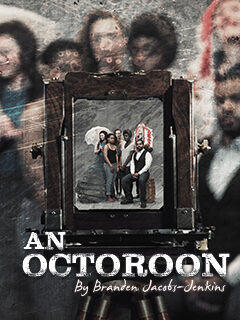 A New England Premiere
By Branden Jacobs-Jenkins
Directed by Summer L. Williams
January 29 – February 27, 2016
A co-production with ArtsEmerson
Jackie Liebergott Black Box Theatre, Paramount Center
The hottest play of 1859 is back! Sort of …

There's trouble at the plantation: No one is falling in love with who they should be, someone has been murdered, and, unless the mail comes soon, all hope is lost! Branden Jacobs-Jenkins (author of Neighbors, Appropriate) radically revises a 19th century melodrama — complete with blushing Southern belles, dastardly schemes, and budding forbidden romances — for today's "post-racial," spectacle-obsessed world. Winner of the 2014 Obie Award for Best New American Play, An Octoroon is an incendiary, subversively funny exploration of identity, jammed with sensation and surprises!

"Ingenious… If you see "An Octoroon,'' you're likely to find that it stays with you." - The Boston Globe

"Hilarious and harrowing... This decade's most eloquent theatrical statement on race in America today." — The New York Times

"A wildly imaginative new work by Branden Jacobs-Jenkins … it insists that making theater can be the best way to talk back to history" — The Village Voice
C1's Take:
We are honored to produce this mega-hit direct from its sold out New York production. Reuniting director Summer L. Williams and playwright Branden Jacobs-Jenkins, who previously collaborated on the explosive NEIGHBORS, AN OCTOROON is a wildly comedic and clever look at race in America from the 1800s to present that asks how far we've truly come.
From The Collaborators
"AN OCTOROON confirms that we're on very shaky ground whenever we attempt to tell stories about the history of race in America, and as two theater companies who recognize the reality of that shaky ground, we're committed to presenting challenging theater that can deepen our understanding and further our conversations of race in the city of Boston." — Polly Carl, ArtsEmerson's Creative Director
Awards
Elliot Norton Winner - Outstanding Actor, Small or Fringe Theater
Elliot Norton Winner - Outstanding Director, Small or Fringe Theater
Cast
PLAYWRIGHT & PRODUCTION STAFF
---
Branden Jacobs-Jenkins
Branden Jacobs-Jenkins' plays include Neighbors (The Public Theater), Appropriate (Actors Theatre of Louisville, Victory Gardens Theater, Woolly Mammoth Theatre Company, and Signature Theatre in New York, Spring 2014), An Octoroon (Soho Rep, Spring 2014), and War. He is currently a Residency Five playwright at Signature Theatre and a Lila Acheson Wallace Fellow at The Juilliard School. Additionally, his work has been or will be seen at the Vineyard Theatre, The Matrix Theatre in Los Angeles, Company One in Boston, and the HighTide Festival in the United Kingdom. He has taught at New York University and Queens University of Charlotte, and his honors include a Paula Vogel Award, a Helen Merrill Award, and the inaugural Tennessee Williams Award. He holds an M.A. in Performance Studies.

Summer L. Williams
Please visit the Company One Theatre Staff page to view bio.

Ramona Ostrowski
Please visit the Company One Theatre Staff page to view bio.

Christopher Brusberg
Christopher has worked regionally with the following Boston area companies: New Repertory Theatre, Lyric Stage Company, Central Square Theater, Guerilla Opera, A.R.T. Institute, Boston Midsummer Opera, Boston Center for American Performance, and Boston Opera Collaborative. Chris has also designed with the following educational institutions: Vassar College, Cal Lutheran University, The Boston Conservatory, Northeastern University, and Worcester State College. In addition to designing Chris has assisted designers at Opera Boston, Commonwealth Shakespeare Company, and The Huntington Theater Company.

Amanda Mujica
Amanda is making her Company One debut. She is delighted to be working with Summer Williams again, having designed costumes for Lyric Stage's INTIMATE APPAREL. Most recently, Amanda has been designing for Boston's newest opera company-- Odyssey Opera; her work includes POWDER HER FACE, THE ZOO, MISS HAVISHAM'S WEDDING, and WATER BIRD TALK. She is a Boston-based designer and seamstress creating pieces for dance, special events and film. She earned a B.S. History, Carnegie Mellon University. www.amandamujicadesign.com

Christopher & Justin Swader
Christopher & Justin are New York-based scenic designers and thrilled to be returning to Boston. Company One: THE DISPLACED HINDU GODS TRILOGY. Recent NY designs include: THE TALL GIRLS (Luna Stage), THE TEMPEST (Classical Theatre of Harlem), A FOREIGN BODY (The Orchard Project), CLYBOURNE PARK (Shadowland Theatre), A PERFECT GANESH (Luna Stage), THE 7 1/2 MYSTERIES OF TOULOUSE MCLANE (Park Avenue Armory / Trusty Sidekick), DUTCHMAN (Classical Theatre of Harlem). Graduates of Ball State University. www.cjswaderdesign.com

David Wilson
David Wilson has designed lighting or sound for over 350 productions of opera, theater, concert and dance. Company One designs include NEIGHBORS and BOOK OF GRACE. Other designs include Actors' Shakespeare Project, Boston Playwrights, Central City Opera, Commonwealth Shakespeare Co, Company One, Dibble Dance, Gloucester Stage, Lyric Stage, Merrimack Rep, Moonbox, New Rep, Nora, North Shore Music Theater, Reagle Music Theater, Stoneham, Shakespeare and Co and Wheelock Family Theater. He has been nominated multiple times for IRNE, Norton and other awards, and received the Norton Award for Outstanding Design, Large Company for CSC's COMEDY OF ERRORS. DW-Design.com

Anita Shriver
Anita Shriver previously worked with Company One on THE FLICK (Elliot Norton Award: Outstanding Design). Previous properties design credits include: Guerilla Opera's GALLO (ArtsImpulse Theatre Award: Best Opera), GIVER OF LIGHT, BOVINUS REX. Previous set design credits include: Bridge Rep Theatre's SIXTY MILES TO SILVER LAKE, FUFU & OREOS; Fresh Ink Theatre's 123. In addition to various theatre design projects, Anita also works with Koo de Kir Interior Architecture providing high-end interior design to residential and commercial clientele.

Johnathan Carr
This is Johnathan Carr's first show with Company One. Credits include: PIPPIN (American Repertory Theater), BY THE WAY MEET VERA STARK, INTO THE WOODS, RED HOT PATRIOT, CITY OF ANGELS (Lyric Stage Company); H4 (Resonance Ensemble, NYC); SAME RIVER (Strike Anywhere Performance Ensemble, NYC); THE MAN WHO MISTOOK HIS WIFE FOR A HAT (Harvard); THE HOME FRONT, A CIVIL WAR CHRISTMAS (Wellesley College). He also organizes the Boston chapter of StoryCode.

Kevin Parker
Kevin is glad to be returning to Company One Theatre, having worked in technical direction (SHOCKHEADED PETER, THE FLICK), production management (WE ARE PROUD TO PRESENT…, SPLENDOR, HOW WE GOT ON), and stage management (EDITH CAN SHOOT THINGS AND HIT THEM) with C1 in the past. Last summer, Kevin was the Technical Director for Gloucester Stage Company. He has also worked with SpeakEasy Stage, Boston Children's Theatre, and Bad Habit Productions, among many other Boston companies and schools. Kevin is the Student Activities Coordinator at Concord Academy, and holds a BS in Industrial Engineering from Northeastern University. www.kevindeaneparker.com

Karen Kopryanski
Karen is thrilled to be coaching for Company One for the first time. She has served on the voice and speech faculty at The Boston Conservatory for ten years, teaching voice, dialects, devising theatre, and Shakespeare in the BFA and MFA programs. She has coached for Actor's Shakespeare Project, Williamstown Theatre Festival, Commonwealth Shakespeare Company, Boston College, Tufts University, and the Moscow Art Theatre; and has taught at the American Repertory Theatre, Harvard Extension School, Brandeis University, Suffolk University, Teachers as Scholars, the Museum School for the Fine Arts, and Indiana University. Karen received her MFA from the American Repertory Theatre/Moscow Art Theatre Institute for Advanced Theatre Training, is an Associate Teacher of Fitzmaurice Voicework, and a member of AEA and VASTA.

Lynn Wilcott
Lynn is thrilled to be back with C1! She previously designed the special effects for GREEN EYES, HOOKMAN, and most recently, DRY LAND. Other effects credits include MOJO, BLACKADDER II: LIVE, BLACKADDER GOES FOURTH: LIVE and ACT A LADY (Theatre on Fire), GOREFEST VII, VIII, IX, and X (Improv Boston); and several short films for the Boston 48 Hour Film Project. She would like to thank her gorgeous family and hilarious friends for their continued support and inspiration.

Andrew Kenneth Moss
Andrew is pleased to make his Company One debut with AN OCTOROON. Previous Boston Credits: A LITTLE NIGHT MUSIC (The Huntington Theatre Company), DON GIOVANNI (Boston Lyric Opera), I PURITANI (BLO). International Credits: PORGY & BESS (75th Anniversary International Tour), ARMIDA (The Metropolitan Opera), WEST SIDE STORY (Agder Teater Norway). Regional Credits: FOREVER DUSTY (New World Stages), DEAD MAN WALKING (Central City Opera), CARMEN (CCO), SHOW BOAT (Denver Center). Often found walking his two dogs with his amazing wife.

Julie Langevin
Julie Marie Langevin (Production Stage Manager): Julie is psyched to be back at C1, where she made her professional Boston stage management debut. Past C1 shows include: SHE KILLS MONSTERS, BENGAL TIGER…, AND HOOKMAN. Other favorite productions include: APPROPRIATE, MOTHERS AND SONS, & NECESSARY MONSTERS (SpeakEasy Stage), PLAYHOUSE CREATURES (Maiden Phoenix), THE UNBLEACHED AMERICAN & THE SECRET GARDEN (Stoneham Theatre), A CHORUS LINE & ANNIE (Interlakes Summer Theatre). Julie is currently the Associate Production Manager for SpeakEasy Stage in Boston.

Lindsey Anderson
Lindsey is thrilled to be working on her first show with Company One. Past credits include DISTANT NEIGHBORS (Sound Designer) SHIVER (Sound Designer) CLYBOURNE PARK (Sound Designer) and CHALK (Assistant Stage Manager). When she's not assistant stage managing or sound designing, she can be found at a concert, eating pizza and/or suggesting new music for people. She's beyond thankful to her friends and family for their support, and to Company One for this rad opportunity!

Emily Brown
Emily is a recent graduate from McGill University, where she majored in English Drama. During her time in Montreal she studied and worked in theatres in a variety of capacities, including stage management, production management, technical design, directing, collaborative development, and performance. Emily moved to Boston as a theatre practitioner who pursues shows that inspire community dialogue and engagement. She is thrilled to be an assistant stage manager for Company One's production of An Octoroon!

Tehya Saylor
Tehya is a senior at Boston University. She is trilled to have the opportunity to work on AN OCTOROON, her first show with Company One. During Tehya's time at BU she has worked on many productions with Stage Troupe and BU On Broadway. Most recently she worked as a technical director for SEUSSICAL, DIRTY ROTTEN SCOUNDRELS and WHO'S AFRIAD OF VIRGINIA WOOLF and as a stage manager for YOU'RE A GOOD MAN CHARLIE BROWN.

Mike Kilduff
Mike Kilduff Is a Local Artist working in the Boston and South Shore area. Mike has BFA in Theatre Technology and Design from The University of the Arts in Philadelphia. During the 2014 and 2015 seasons Mike has worked as the resident sound designer and engineer at Riverside Theatre Works in Hyde park, where notably he worked on Le Mis and Scrooge The Musical. Mike loves the history, culture and art present throughout Boston.
Want a peak into the rehearsal room? Click here to check out our dramaturgy blog for insight into the play and production process. Don't see what your looking for? Ask a dramaturg!
>>POST SHOW PANELS
Following the Sunday, February 14th performance: Dramaturg Ramona Ostrowski and guests Lynne Layton from the Massachusetts Institute for Psychoanalysis and Professor Sunil Swaroop of Emerson College will explore the ways that depictions of race and nationality can inform American perceptions of identity and belonging.
Stay tuned for information on special events!
Reviews
February 1, 2016
February 2, 2016
February 4, 2016
February 4, 2016
February 1, 2016
January 28, 2016
January 25, 2016
October 29, 2015
January 1, 2016