There are no tickets
available for purchase
at this time.
Get Tickets
1001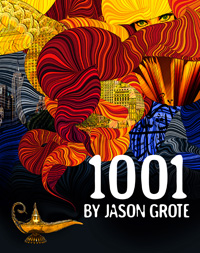 Written by Jason Grote
Directed by Megan Sandberg-Zakian
July 15 – August 13, 2011
The Plaza Theatre @ The Boston Center for the Arts
A seductive fever-dream of a play, Grote's kaleidoscopic reinvention of the "Arabian Nights" proves to be a timely tale as America reflects on the 10 year anniversary of 9/11. 1001's rich fantasia conjures a storybook world that dissolves, at a moment's notice, into an apocalyptic, 21st-century landscape. Stories like "Sinbad the Sailor" and "Aladdin and His Magic Lamp" come to life, making 1001 an explosive, brilliant work about America, the power of story, and identity.
EXPLOSIVE... BRILLIANT... work about America, narrative, the Middle East and identity.
- Time Out New York
...funny, moving... Like Scheherazade's tales, 1001 is endlessly compelling
- Boston Globe
...always fascinating... '1001' is an ambitious and risk-taking play
- Los Angeles Times
Endlessly compelling!
- The Boston Globe
Dynamic, intellectually agile 1001, a postmodern epic about the cultural narratives that shape our lives.
- Time Out New York
Cast
PLAYWRIGHT & PRODUCTION STAFF
Jason Grote
Playwright

Megan Sandberg-Zakian


Director

Shannan Smith


Stage Manager

Jennifer Samel


Assistant Stage Manager

Annie McGuire


Assistant Stage Manager

Cristina Todesco


Set Designer

David Roy


Lighting Designer

Arshan Gailus


Sound Designer

Elisabetta Polito


Costume Designer

Jason Ries


Props Designer

Arielle Kaplan


Fight Choreographer

Murshida Khadija (Chishti) Goforth


Semazenbashi/Dance Master

Phil Berman


Dramaturg

Liz Hayes


Dialect Coach

Mark Abby VanDerzee


Technical Director

Michael Best


Assistant Technical Director

Alyssa McKeon


Production Manager

Karthik Subramanian


Assistant Production Manager

Joseph Thomas


Assistant Production Manager

Jeff Ryder


House Manager

Jessi Milch


Sound Engineer
---
Jason Grote
Jason Grote is a Brooklyn-based playwright, screenwriter, humorist, and librettist. His best-known play is 1001, a deconstruction of the tales of the Arabian Nights. 1001 has received seventeen productions since 2007, at The Denver Center Theater, Page 73 Productions (New York), Theater @ Boston Court (Los Angeles), The Contemporary American Theater Festival (West Virginia), Mixed Blood Theater (Minneapolis), Collaboraction (Chicago), Company One (Boston), Rorschach Theater (Washington DC), Just Theater (Berkeley), New York University, UC San Diego, DePaul University, The New School, Montclair State University, University of Wisconsin-Milwaukee, St. Lawrence University, and Howard Community College. 1001 was previously developed or read at Soho Rep, The Denver Center, The O'Neill, Page 73, New York Theater Workshop, New Dramatists, Baltimore Centerstage, and Shotgun Players, and a published version is currently available from Samuel French. It has been honored with an SF Bay Area Critics Circle Award; an Ovation Award from The Denver Post; and "Best New Play" (for 1001) from Westword. 1001 has also been included in critics' year-end top ten lists in The Huffington Post, Time Out New York, Time Out Chicago, The Rocky Mountain News, and The Boulder Daily Camera, was nominated for Best New Play of 2008 by L.A. Weekly, and was listed as the 72nd Most Important American Play in a national poll of theater professionals conducted by The Denver Post. It is currently being adapted into a musical, Scheherazade, with book and lyrics by Grote and music by Marisa Michelson, with support from New Dramatists, TheatreWorks (Palo Alto), Montclair State University's New Works Initiative.
Stay tuned for information on special events!
Reviews
July 26, 2011
July 22, 2011
July 20, 2011
July 20, 2011
July 19, 2011
July 18, 2011
July 15, 2011
July 14, 2011
July 17, 2011