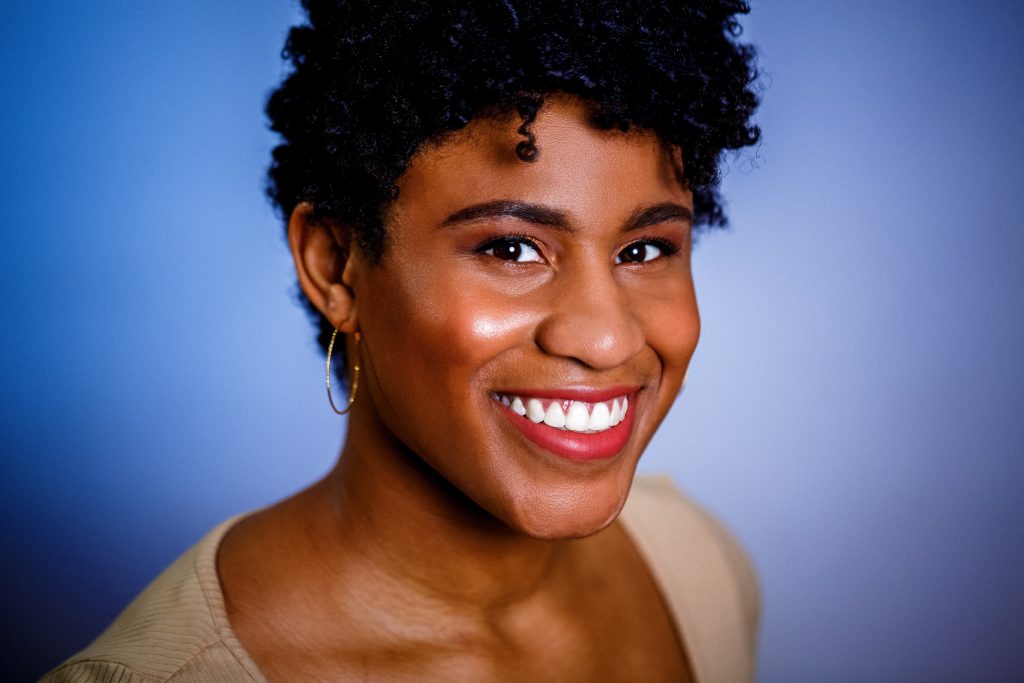 What's your role at C1? What project are you most proud of?
I am the Artistic Associate and NNPN Producer in Residence. I am one of 6 Producers in Residence in the National New Play Network's program that places early career producers at different companies across the country. My position at C1 has allowed me to work in casting, assistant directing and producing.
Working on our fundraiser production of Hype Man is something that I am very proud of. I curated all of the post shows for the three nights. The first evening was a conversation with Hpe Man's playwright, Idris Goodwin and Violence in Boston's Monica Cannon-Grant, moderated by Kirsten Greenidge. The second evening was a night of Idris Goodwin's break beat poetry from his book Can I Kick it? The final evening was a performance from Kadahj Bennet (Verb in Hype Man) and his band Dancelujah. It felt like each evening was unique, but was paired so nicely with the production. I am proud of the flow of the evenings and the content I was able to curate.
We're talking about a 'Better Future.' What's your vision for a better future in Boston?
I would love to see a Boston that is more unified. As someone who is relatively new to this city (went to Boston University for undergrad and have lived here for two years after graduating), I still feel like I am getting to know this city. What I have experienced is that this city is very divided. There is a lot of richness in Boston that I wish was highlighted more. My hope is that there is a greater sense of community and listening to others.
What is a play you'd love to direct and why?
In Issa Rae's book The Misadventures of Awkward Black Girl, she has a great quote: "Girls, New Girl, 2 Broke Girls. What do they all have in common? The universal gender classification, "girl," is white. In all three of these successful series, a default girl (or two) is implied and she is white. That is the norm and that is what is acceptable. Anything else is niche." This quote feels really core to my work as a director and producer. I am really invested in telling stories that get at the specific issues that black women face, but also subvert the idea that our narratives are "niche." For me, that's with comedy. I would love to do what Issa Rae is doing with TV for theatre. BLKS by Aziza Barnes is play I would love to dig into. When watching interviews with Barnes, I know she is engaging with writing black women in the same vein as Issa Rae.
I also really want to develop a movement/ensemble based piece on black women and music. Growing up, I was an athlete along with being an actor. Being someone who is fully in their body is something that comes naturally to me. Not sure what the piece would be about yet, but I am interested in exploring.
This episode of Better Future focuses on summertime—what would you be up to as a teen during the summer?
As a teenager, I was actually a camp counselor for several summers. I started working at 16 – I have always been very hardworking. The school I went to from first to eighth grade also had a summer camp and I used to look forward to going back to that community. I had a group of friends who were also counselors and we used to all go back and work there together. I consistently worked as a counselor for 4th grade students. I always loved working with kids and ensuring they had the best summer possible.
Besides working all summer, I also made room for fun too! I grew up in a suburb, so there is a lot less to do than there is in a city. Me and my friends would always catch every movie and get froyo. Looking back at my experience with my campers and as a teen, I recognize how much privilege we all had. I was able to live a leisurely summer with friends and work a job that didn't pay a ton. In my work now, I want to ensure that all kids have the access and fun that I had during the summer growing up.