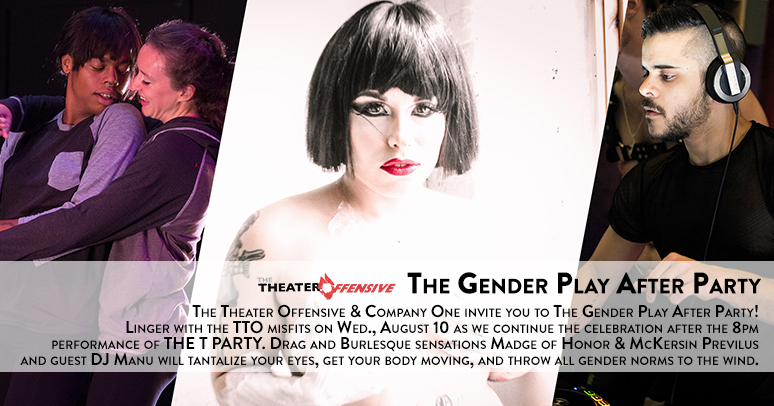 The Theater Offensive and Company One invite you to The Gender Play After Party! Linger with the TTO misfits on Wednesday, August 10 as we continue the celebration after Company One's newest '90s prom hit THE T PARTY. Burlesque sensations Madge of Honor and McKersin Previlus and guest DJ Manu will tantalize your eyes, get your body moving, and throw all gender norms to the wind.
The bar will be open, and guests are encouraged to dress in their favorite 90s prom attire. Remember: gender "rules" do not apply.
A ticket to the 7:30 PM showing of THE T PARTY is required for entry and can be purchased here: http://bit.ly/295uWrW
About the show
The party to redefine all parties is coming to Boston — and you're invited. Shake things up. Bend the rules. Break the binary. Through an exhilarating series of scenes that blur the line between audience and actors, real stories and fantastical satire, THE T PARTY casts an exuberant, kinky, and surprisingly tender look at gender expression and sexuality. This wild mash-up of a performance will sweep you off your feet and take you for a ride. The only house rule? Leave your expectations at the door.
About the performers 
Madge of Honor is a queer performance artist whose work centers the body as a site of both socialization and rebellion. Madge uses femininity, sexuality, and spectacle to expose and confront social conventions, constructions, and our collective fantasies/pathologies about race and gender. Their practice evolved from and continues to incorporate the nightclub traditions of drag and burlesque.
After graduating from MMMMaven, manu. hasn't stopped exploring sounds. His sets usually include deep, bass, techno and experimental music, and dynamic shifts where unexpected beats interact with sensual vibes. He is also known for his continued collaborations with art and dance projects in Boston, including Urbanity Dance, Don't Ask Don't Tell, Houseboi, Zuesday, Boyfriends. manu. is also the music director of Darkroom, a platform to display photography using unconventional forms at alternative spaces and combining photography with other artistic expressions.
Growing up without the means for dance classes, McKersin started absorbing every form of dance he could find from patient friends and eventually a youth program while in High School. With Ethnic-Haitian dance already in his vocabulary, he started building a bigger arsenal with Hip-Hop, Jazz and Tap. In college he started trading work hours for classes and started studying Ballet and modern intensively. At the moment, he is leading workshops throughout various parts of the country orientated towards social justice, the roots of African American culture and movement, all while working with the city to implement more youth and arts programs. He is currently aiming to launch a project next fall that shows the connection between the stigmatization of mental illness among men in inner city communities and crime, using the arts.