There are no tickets
available for purchase
at this time.
Get Tickets
#StaffChat: Accessibility in Theatre
Staff chat posts feature articles and news that the C1 team discusses as part of our weekly all-staff meeting. We'd love to hear your thoughts too — hit us up on Facebook or Twitter!

♦♦♦♦♦
Believe it or not, the C1 team is already gearing up for our upcoming summer show, COLOSSAL by Andrew Hinderaker! To prep for our early conversations about the play, we've been looking for resources about accessibility. It's important for all of us to feel comfortable with the language we're using as we head into the audition, workshop, and production process for the play. This week, the staff is looking at a few articles and tips for interacting with people with physical disabilities:
One thing that's key is making sure you're using person-first language — language that puts the focus on the individual, rather than on a disability. Here's a helpful chart!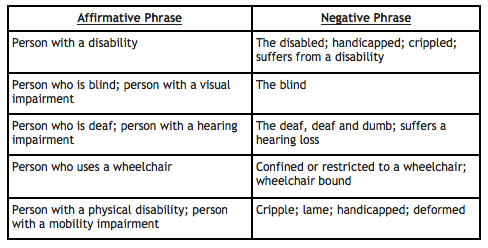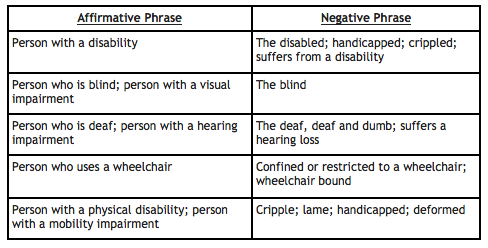 As Zachary Fenell, the author of this article from Huffington Post writes:
No matter the word you use, aim to showcase the person. Ideally a person's name will always come before his or her condition. So I'm Zachary Fenell, an author with cerebral palsy. Not, an author with cerebral palsy, Zachary Fenell. Introducing name first, condition second will maintain a person-first narrative.
In the Christian Science Monitor, Lee Lawrence writes about attitudinal barriers that prevent people with disabilities from participating in the arts:
Many assume, for example, that the visual arts are only of interest to people with sight, deaf people have no way to appreciate music, or an older person with Alzheimer's can derive no benefit from a museum experience or an arts workshop. Yet the popularity of specialized tours and descriptive audio guides in museums or the use of performance interpreters to render in sign language the complexities of music show that it is not the disability that keeps people from participating. It is because nobody had thought they wanted or deserved access.
Finally, we have a fascinating interview with Mat Fraser from American Horror Story: Freak Show. Many of the "freaks" on the show are played by actors with disabilities, or "radically outsider bodies," which has raised some questions and representation and exploitation. Mat's feeling, though, is that "We're not used to people with 'radically outsider' bodies like myself, so visibility is the number one thing." He speaks strongly about his distaste for people trying to use him and his life as "inspiration porn":
What I don't dig is people telling me, just because I'm disabled and think I have a right to equality, that should make me inspiring…If people feel inspired by me, then go for it, guys. I'm happy to help, but I'm not inspiring just because I'm disabled and want equality. I should be called "normal" for that—and you guys should want the same thing, too.
Here are a few of the questions we'll be discussing at the next staff meeting:
— What are we doing to overcome physical or attitudinal barriers that prevent people from experiencing our work?
— What can we do to encourage our production teams, audiences, and press to use person-first language?
— Do you think COLOSSAL could be considered "inspiration porn"? Why or why not?
— Mat talks about how, in film and TV, characters with disabilities are often played by actors without those disabilities. Is a problem in theatre as well? Do different artistic mediums present different challenges when trying to cast people with disabilities?
— How can we infuse these concepts into the company in a long-term way?