There are no tickets
available for purchase
at this time.
Get Tickets
#StaffChat: Next Theatre (Chicago) Closing
Staff chat posts feature articles and news that the C1 team discusses as part of our weekly all-staff meeting. We'd love to hear your thoughts too — hit us up on Facebook or Twitter!

♦♦♦♦♦
On her Bitter Gertrude blog early last month, theatre artist Melissa Hillman's post "The Most Important Thing in Theatre You're Not Talking About" brings up an issue in the non-profit world that could use wider attention:
THEATRES ARE CLOSING.

Nonprofit theatres all over the country are in trouble. While larger theatres are doing better than they were during the recession, a jaw-dropping amount of small, indie theatres and even midsize theatres are in trouble.
Her post came on the heels of an announcement from Next Theatre that they would be shutting down mid-season. Hillman gives an interesting perspective to the news reported by Chicago Times and American Theatre Magazine and at this week's staff meeting, we'll be looking at a few articles about Next Theatre as a case study for the issues Hillman discusses:
Next Theatre was a mid-sized Equity company based in Evanston, Illinois, a college town just outside Chicago. During its 34 years of operation, the theatre had several prominent artistic successes:
In Next's three-plus decades in Evanston, it made significant marks on Chicago's up-and-coming "Off Loop" theatre scene, some of them as deserving of attention as its only slightly older sibling, Steppenwolf. Next had the Chicago premiere of Larry Kramer's The Normal Heart in 1986, and the debut production of eventual Pulitzer winner Tracy Letts's first play, Killer Joe, in 1993 (reportedly scheduled for a Broadway run next year). And it developed Loewith and Joshua Schmidt's musical adaptation of Elmer Rice's The Adding Machine, which debuted in 2007. David Cromer's production of that last play went from Next's 145-seat former school auditorium to considerable Off-Broadway and regional success.
So what went wrong? In her article, Hillman points to a few issues that she sees as trends among comparably sized theatres that close up shop – mismanagement, lower funding from grants and individuals, lack of competitive salaries, and unpredictable audiences. From the reporting following Next Theatre's closing, it's clear that a few if not all of those problems were present in this case. A plagiarism controversy during the artistic directorship of Jason Southerland, who was subsequently fired, damaged the theatre's reputation in major ways. Financial troubles were also part of the theatre's last years, with a huge drop in subscriptions and debt of nearly $80,000 in back rent, "as the result of mishandling of finances by recently departed managing director Jon Arndt." Location proved a similarly challenging obstacle to the company, Reporter Chris Jones noting "one big reason Next failed was not because it did risky work or had low budgets, but because it was trapped in a space that was fundamentally limiting and depressing." American Theatre reported similarly:
Audiences, critics and several generations of Next staffers blamed its current home, a small auditorium in the Noyes Cultural Arts Center, a former school with low street visibility, as a factor in the theatre's inability to grow its subscriber base, budget and ambitions the way some of its neighbors in the northern suburbs of Chicago have.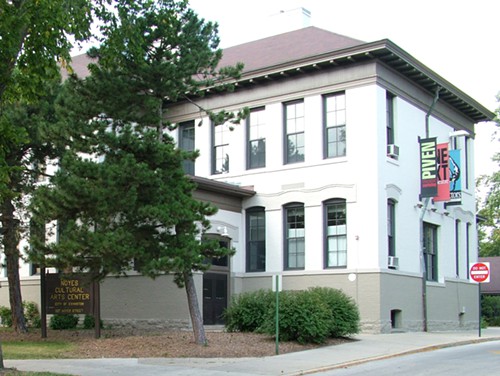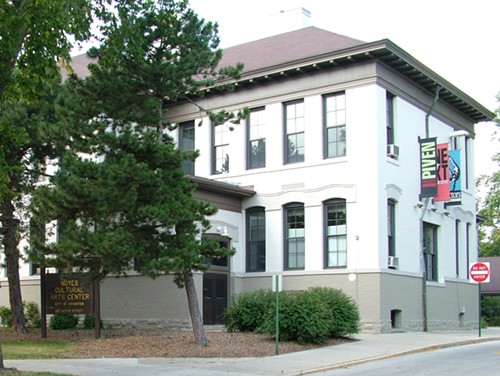 Next Theatre was an important force for new and challenging work in its community, and their closing is powerful warning of how quickly an organization can go from competitive to closed for good. But what can be done about it?
In Hillman's post, she wraps up with a few suggestions for how theatre artists can support companies so they can survive in the face of financial and audience challenges. First, we have to support theatre by paying for our tickets whenever we can, by making our attendance count by posting about it on social media, and by bringing friends. That's the easy part though. Hillman goes on to articulate the real challenge we, as an artistic community, have to tackle daily:
Yes, we all already contribute to the theatre community through our underpaid work as artists (and I include tech and bloggers and everyone in that). But if you want the theatres you love to be there next season, now is the time to do a little bit more. Because it's not "mismanagement." It's the reality of making small nonprofit theatre in this economy… The next step is harder: Rethinking how theatre is made, what a "theatre" is, and how we can reinvent ourselves to face a changing economy. There are more nonprofit theatres than there is money to support them. Period. What do we do about that? Can we do anything about that? Should we? These are the hard questions. These are discussions we need to be having.
So to begin that discussion, we'll be talking through some questions together:
— What feels like the most important takeaway from the reporting of Next Theatre's closing?
— When looking at the challenges faced by Next Theatre, do any of them seem like the main problem that led to closing, or was it a combination of factors?
— Of the organizational challenges Hillman notes – mismanagement, lower funding from grants and individuals, lack of competitive salaries, and unpredictable audiences – which feels the most relevant to our company? What about Boston theatre in general?
— What is our biggest organizational challenge? What are we doing about it?