There are no tickets
available for purchase
at this time.
Get Tickets
You For Me For You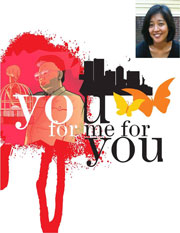 A New England Premiere by Mia Chung
Directed by M. Bevin O'Gara
January 18 – February 16, 2013
The Plaza Theatre @ The Boston Center for the Arts
Two sisters strike a dangerous bargain to flee their homeland. It costs more than money to make the passage, but The Crossing always does. When faced with a world of new shoes, intelligent phones, and forty-two ways to treat your cough, can a sister's promise bridge the gaps of time and space? Playwright Mia Chung conjures an imaginative, and unexpectedly funny journey about defecting from North Korea to America, and back again.


"One of the most imaginative young writers of her generation"
- -Howard Shalwitz Artistic Director of Woolly Mammoth Theatre, D.C.
Cast
PLAYWRIGHT & PRODUCTION STAFF
Mia Chung
Playwright

M. Bevin O'Gara


Director

Tyler Catanella


Assistant Director/Choreographer

Tyler Monroe


Dramaturg

Annie Wiegand


Lighting Designer

Adrienne Carlile


Costume Designer

Brendan Doyle


Sound Designer

Alexander Grover


Props Designer

Jon Savage


Set Designer

Andrew Remillard


Production Stage Manager

Madeleine Laupheimer


1st Assistant Stage Manager

Katherine Humbert


2nd Assistant Stage Manager

Alexandra Herryman


Production Manager

Mark Abby VanDerzee


Technical Director
---
Mia Chung
Mia Chung is the author of You for Me for You, Exquisite Corpse, Page Not Found, an adaptation of The Orphan of Zhao, and We Spend Our Lives. In Fall 2012, the world premiere of You for Me for You will be produced by Woolly Mammoth Theatre, in association with Ma-Yi Theatre Company and supported by an NEA grant. Honors include a Rhode Island State Council on the Arts (RISCA) 2012 Playwriting Fellowship, a TCG 2011 Global Connections grant, 2011 Jane Chambers Award (Honorable Mention), and a Millay Colony residency. She is a member of New Dramatists, a fellow of the Playwrights Realm, a member of the Ma-Yi Writers Lab, and was a member of the inaugural Civilians' R&D Group. Her work has been developed by Ma-Yi Theater Company, Magic Theatre, Bay Area Playwrights Festival, Mu Performing Arts, and Brandeis Theater Company. She received a Sloan commission and a Creative Arts Council grant. She attended Yale; the University of Dublin, Trinity College; and Brown.
Visit the You for Me for You Dramaturgy Blog

February 3, 2013 3:30pm- Join the C1 Book Club!
Join us on Sunday, February 3rd for a post-show conversation about NOTHING TO ENVY: Ordinary Lives in North Korea, in which George Polk Award and Robert F. Kennedy Award-Winning Journalist Barbara Demick offers a never-before-seen view of a country and society largely unknown to the rest of the world. In the book, Demick follows the lives of six people: a couple of teenaged lovers courting in secret, an idealistic woman doctor, a homeless boy, a model factory worker who loves Kim Il Sung more than her own family and her rebellious daughter.
The conversation will be moderated by Shira Millikowsky, director of Company One's upcoming SHE KILLS MONSTERS, who spent time living in South Korea near the North Korean border. Purchase tickets to the February 3rd 2pm show of YOU FOR ME FOR YOU, or just join us for the conversation after the show around 3:30pm. Click here to read an exerpt from NOTHING TO ENVY.
Read the YOU FOR ME FOR YOU Program
Reviews
January 7, 2013
February 4, 2013
February 6, 2013
January 30, 2013
January 26, 2013
January 30, 2013
January 22, 2013
January 21, 2013
January 19, 2013
January 14, 2013