There are no tickets
available for purchase
at this time.
Get Tickets
WE'RE GONNA DIE | THE AFTERLIFE REMOUNT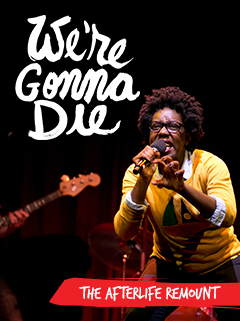 We're Gonna Die By Young Jean Lee
Original music by Young Jean Lee, Tim Simmonds, Mike Hanf, Nick Jenkins, and Benedict Kupstas
Directed by Shawn LaCount
Music Direction by Steve Sarro
October 4 – October 8, 2016
On Wednesday, October 5, We're Gonna Die will be followed by an exclusive post-show performance of Grown-Up StoryTime.
It's time to get real and rock out about the one thing we all have in common … Again! After a sold-out run in April 2016, WE'RE GONNA DIE returns to Club OBERON for five shows only. Boldly exploring the less awesome moments of life through song, storytelling and stand-up, this OBIE-Award-winning cabaret event is the smartest and most life-affirming way to contemplate the inevitable!

C1's Take:
Because of overwhelming and humbling demand, WE'RE GONNA DIE — a weird and wonderful piece from visionary Young Jean Lee, performed with extraordinary charisma by our actor-in-residence Obehi Janice — lives on! After a successful New England tour, we are thrilled to remount this production with our initial collaborators at the American Repertory Theater's OBERON.
A four-piece band backs Janice's character as she takes the audience on an existential and infinitely rousing journey that's ultimately life-affirming.
- WGBH
I suspect that joining my voice with those of my fellow audience members, chanting 'We're gonna die' over and over will remain one of the most inexplicably pleasurable experiences of my theatergoing life.
- Vogue
Cast
---
Obehi Janice
www.obehijanice.com​
OBEHI JANICE is an actress, writer, and comedian from Lowell, Massachusetts, and is the TCG Fox Foundation Resident Actor at Company One Theatre. Recent credits include AN OCTOROON (Company One & ArtsEmerson), MR G (Underground Railway Theater), her solo play FUFU & OREOS (Bridge Rep), ARABIAN NIGHTS (Central Square Theater), IT FELT EMPTY (Theatre on Fire), and SPLENDOR (Company One). She is a graduate of Georgetown University. The Improper Bostonian named her "Boston's Best Actress" in 2014. *Appearing courtesy of Actor's Equity Association

Steve Sarro
Steve Sarro is excited to be making his debut with Company One. His recent credits include music directing GOD HATES MUSICALS (Ministry of Theater) and serving as music assistant for BIG FISH (SpeakEasy). He regularly performs as music director for Mainstage and Touring Company shows at ImprovBoston in Cambridge where he also teaches musical improv, and he is also a music director for Artbarn Community Theater in Brookline.

Thom Dunn
thomdunn.net
Thom Dunn rocks out and tells stories, professionally. He is a published poet and comic book author, a playwriting fellow at the Huntington Theatre Company, and a staff writer for Upworthy; when he's not doing that, he's writing, recording, and/or performing in various musical projects. Thom enjoys Oxford commas, metaphysics, and romantic clichés (especially when they involve whiskey), and he firmly believes that Journey's "Don't Stop Believing" is the single greatest atrocity ever committed against mankind.

Shahjehan Khan
Shahjehan, a Massachusetts native, has been performing in one way or another for more than 20 years. He is currently a working actor and educator with The Improbable Players, and most notably is a founding member of The Kominas, a South-Asian punk band that has toured all over the world since 2005. We're Gonna Die is his first foray into performing with a professional theatrical ensemble as a musician, and he'd like to thank Company One for this incredible opportunity.

Ethan Selby
Ethan is thrilled to be involved in his first production with Company One and third project working with Steve Sarro. He has been playing drums since he was thirteen years of age with the same drumset that he is playing for this show. He has played for several different rock bands throughout his career as well as many musical productions including BOSTON'S UNSCRIPTED MUSICAL PROJECT (BUMP), IMPROV BOSTON'S GOREFEST 2014, and IMPROV BOSTON'S HOLIDAY SHOW. He thanks you for supporting live theatre and hopes you enjoy the show.
On Wednesday, October 5, We're Gonna Die will be followed by an exclusive post-show performance of Grown-Up StoryTime.
Want a peak into the rehearsal room? Click here to check out our dramaturgy blog for insight into the play and production process. Don't see what your looking for? Ask a dramaturg!
Stay tuned for information on special events!
Reviews
April 23, 2016
April 21, 2016
April 14, 2016
April 4, 2016
March 12, 2016