There are no tickets
available for purchase
at this time.
Get Tickets
VIETGONE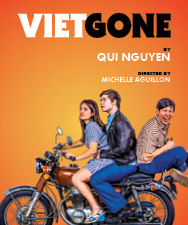 by Qui Nguyen (She Kills Monsters)
directed by Michelle Aguillon
in partnership with Pao Arts Center
April 26 – May 25
Boston Center for the Arts Plaza Theatre
#RomComWithC1
Qui's parents always told him they fell in love at first sight—but really, it was just a hook up. After the fall of Saigon. In a refugee camp. In Arkansas. 

A kinda-true love story with a hip-hop heart, Vietgone is a hilarious ride from Marvel Studios writer Qui Nguyen, who mixes music and memory to pin down his own origin story.

"Exuberantly youthful... a punch-drunk mash-up of hip-hop, road movies, sex farce and Vietnamese-American history. Oh, also kick-ass fights." — Time Out New York
C1's Take:
Company One Theatre is producing VIETGONE to amplify…
– Asian and Asian American characters who are honest, raw, powerful, human, funny, clever — who are lovers, fighters, and survivors.
– The complexities of the Vietnam/American War and the ways personal and "official" versions of historical events differ.
– Refugee narratives that embrace a wide range of human experiences and emotions.
– Making connections that transcend wartime, cross language barriers, and overcome generational divides.
– The vibrancy and depth of Boston's myriad Asian-heritage communities and the work of collaborators like Pao Arts Center.
Cast
PLAYWRIGHT & PRODUCTION STAFF
---
Michelle Aguillon
Michelle has been a theater artist in the Boston area for 23 years. Her directing credits include SYLVIA with Theatre Uncorked at Deane Hall in the Calderwood Pavilion; THE JOY LUCK CLUB, TO KILL A MOCKINGBIRD (DASH/EMACT Best Production 2018), DISGRACED and TRUE WEST (DASH/EMACT Best Production 2014) with the Concord Umbrella Arts Center; TERRA NOVA, OF MICE AND MEN (Quannapowitt Players), MARJORIE PRIME, PILLOWMAN (NH Regional Festival representing MA – Best Director 2018), RABBIT HOLE (EMACT State Festival Best Production & Best Director 2014), GOOD PEOPLE, KIMBERLY AKIMBO, SENSE AND SENSIBITLIY, LOOKING FOR NORMAL, A MIDSUMMER NIGHT'S DREAM, G.R. POINT (IRNE Best Director 2004 with Hovey Players; PROOF (Nora Theatre Company/Central Square Theater), RETURN TO MORALITY (Titanic Theater, Central Square Theater), RAPTURE BLISTER BURN (Vokes Theater), GOD OF CARNAGE, ANTON IN SHOW BUSINESS (Acme Theater), MISS SAIGON, SECRET GARDEN (Turtle Lane Playhouse), GODSPELL (Metro Stage Company), and multiple short plays for the Annual Boston Theater Marathon since its inception in 1998. Michelle has also acted in various stage productions, industrial films, and commercial work. Favorite stage roles include Beatrice Carbone in A VIEW FROM THE BRIDGE, Yelena Andrevyevna in UNCLE VANYA, Female Greek Chorus in HOW I LEARNED TO DRIVE, Elizabeth Proctor in THE CRUCIBLE, Viola in TWELFTH NIGHT, and Poopay in COMMUNICATING DOORS (IRNE Best Actress 2002). She studied acting and theater arts at San Francisco State University, California State University at Long Beach, and the National Theater of London.

Kadahj Bennett
Kadahj is thrilled to be back in the production room at C1. Previously, Bennett was nominated for an award for his role as music director for HYPE MAN. Bennett is an award-winning actor, educator, performer, poet, storyteller and musician in the Boston area. Bennett has been a Teaching Artist in the community for the past 6 years. He's a Luminary Artist at the Gardner Museum and an Artist in Residence with the Freshman Arts Program at Harvard University.

Misha Shields
Misha Shields (Choreographer) Past C1 credits include WE'RE GONNA DIE, HYPE MAN, REVOLT, and REALLY. Off-Broadway credits include, BAGHDADDY (Chita Rivera Award Nominee/St. Luke's Theater), WONDERLAND (Atlantic Theater), and THE ORION EXPERIENCE (XL Nightclub). Other regional credit highlights include, LOCH NESS (Adirondack Theatre Festival), I WAS MOST ALIVE WITH YOU, MILK LIKE SUGAR, DOLL'S HOUSE, RIPCORD (Huntington), EMMA! (Stageworks Media workshop), ZOMBIES ON BROADWAY! (RKO Theatricals workshop), BRAWLER (Boston Playwrights' Theatre & Kitchen Theatre), SPELLING BEE, MERRILY WE ROLL ALONG (APAC), COMPANY (St. Bart's Players), BRIDGES OF MADISON COUNTY (SpeakEasy), and ROCKY HORROR (Yale). Upcoming in 2019: YERMA (Huntington), and LOCH NESS (Finger Lakes Musical Theatre Festival). Love to Ben and Shea. www.mishashields.com

Qui Nguyen
Qui Nguyen is a playwright, screenwriter, and co-founder of the OBIE Award-winning Vampire Cowboys Theatre Company of NYC. His plays include Vietgone (2016 Harold and Mimi Steinberg/ATCA New Play Award, 2016 LADCC Tim Schmitt Award, 2016 Edward M. Kennedy Prize finalist); War is F**king Awesome (Frederick Loewe Award); She Kills Monsters (2014 AATE Distinguished Play Award, 2012 GLAAD Media Award nom); Soul Samurai (2009 GLAAD Media Award nom), and the critically acclaimed Vampire Cowboys shows: The Inexplicable Redemption of Agent G, Alice in Slasherland, Fight Girl Battle World, Men of Steel, Six Rounds of Vengeance, and Living Dead in Denmark. Recent awards include a 2016 Daytime Emmy Award for Outstanding Writing in a Preschool Animated Program (Peg+Cat) and a 2015 New York Community Trust Helen Merrill Playwriting Award. He is proud member of the WGA, The Dramatists Guild, The Playwrights Center, Ensemble Studio Theatre, and The Ma-Yi Writers Lab. He's an alumni of New Dramatists and Youngblood. For television, he's written for PBS's Peg+Cat and SYFY's Incorporated. Currently, he's a screenwriter for Marvel Studios.

Jessie Baxter
View Jessie's bio here

Jasmine Brooks
View Jasmine's bio here

Jessica Scout Malone
View Jessica's bio here

Izmir Ickbal
Izmir is thrilled and honored to be making his scenic design debut with Company One. A New York based designer, credits include A Christmas Carol in Harlem (Classical Theater of Harlem), Dead Are My People (Noor Theater), Queen (Hot! Festival, Dixon Place), Serious Adverse Effects (National Black Theatre), Happy Days starring Diane Wiest (Theater For A New Audience). Other credits include Big River (Unquowa Repertory Theater), Love's Labour's Lost (Elm Shakespeare Company); Nanyang: the musical (International Festival of Arts, Singapore); MFA, Yale. More info: izmirickbal.com

Debra Kim Sivigny
Debra Kim Sivigny is thrilled to be working at Company One. As a costume and set designer based in Washington DC, her recent credits include scenery for HUCK FINN'S BIG RIVER (Adventure Theatre), SHE A GEM (Kennedy Center), and costumes for SING TO ME NOW (Rorschach Theatre). She won a Helen Hayes Award for Outstanding Scenic Design for her work on FORGOTTEN KINGDOMS at Rorschach Theatre, and is a five-time nominee. As a member of the Welders playwrights collective, she wrote and set designed HELLO, MY NAME IS... an immersive event about Korean adoptees. BA: Middlebury College, MFA: University of Maryland. She is an Asst. Professor of Scenic and Costume Design at George Mason University. Website: debsivigny.com

Jennifer Fok
Jen is a New York City based Lighting Designer for theatre and dance. Select designs have been seen at Lincoln Center Education, HERE Arts Center, Flint Repertory Theatre, Portland Stage, Intar, Teatro Sea, Detroit Public Theatre, Theatre At Monmouth, The Flea, NCPA Beijing, Stella Adler, Queens Theatre, Ars Nova, Luna Stage, Wild Project, Bushwhick Starr, Jack, Martha Graham Studio, Ithaca College, Bates Dance Festival, among others. BFA, Ithaca College. More info: www.jenfok.carbonmade.com

Aubrey Dube
Aubrey is a Boston University alumni from Botswana. His sound Design credits include Vinegar Tom, Monster, Serious Money, Pentecost, Big Love, The Imaginary Invalid, In the Next Room/Vibrator play, Man of La Mancha, Delirium, Daddy Issues, A Taste of Honey, The Hothouse, Cabaret, The Labrynth of Desire, GOOD, The Bell Curve and Winter People.

Kelly Smith
KELLY SMITH (Properties Designer) Kelly is a multi-hyphenate artist with a focus on new and contemporary work. Selected properties designs have been seen at Fresh Ink, Sleeping Weazel, Titanic Theatre, BrownBox Theatre Project, Hub Theatre, and PF Pictures among others. Her writing has been featured with theatreKapow (RAINING ALUMINUM), ShotzBoston, Story Club Boston, Belt It Out, and One Minute Play-Festival. Kelly produced the Irish backroom bar series SOLAS NUA, the heartwarming GROWNUP STORYTIME at Aeronaut Brewery, and is a founder of AKA Theatre.

Nate DeMare
Nate is excited to return to Company One after serving as Technical Director for MISS YOU LIKE HELL. He's been working as a Carpenter professionally for about 4 years, and in that time has been across the country and back working for various companies across the lower 48 States.

Jadira Figueroa
Jadira is excited to be returning to Company One for this production. Her previous stage managing credits include With a Stroke of a Pen (Stage Manager) MISS YOU LIKE HELL, LOS COLORES DE AMOR, CROSSING FLIGHT(Assistant Stage Manager), SPECULUM, BOLA de NIEVE, GUMDROPS & THE FUNNY UNCLE and TURTLES (Stage Manager)to name a few. Jadira has managed throughout the years to find her place within the theatre community of Boston by working with Spanish and English speaking artists, feeling privileged to have this wonderful mix influence her work.
Post-Show Conversations
Wednesday 5/1 – Post-show conversation with Loan Dao, Associate Professor of Asian American Studies and Transnational Cultural and Community Studies at UMassBoston, speaking with us about the Vietnamese refugee experience and life at Fort Chaffee
Wednesday 5/8 – Post-show conversation with Loan Dao, Annie Le, and Michael Rosegrant speaking with us about AAPI representation, breaking down cultural stereotypes, and Boston's Vietnamese community today
Wedneday 5/15 – Post-show conversation with the cast of Vietgone
Past Events: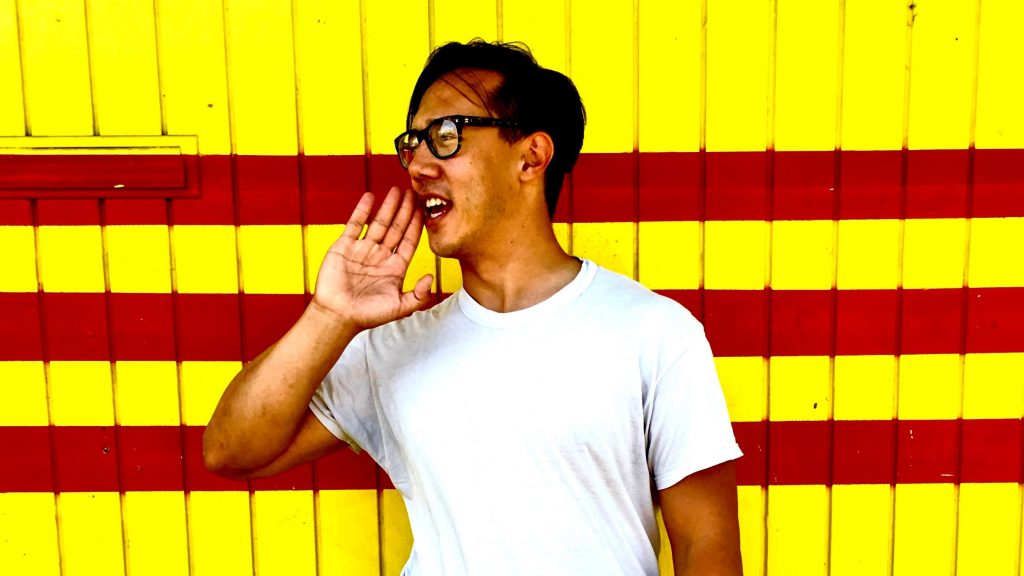 No-No Boy live in concert with guests from Vietgone
Saturday, April 13 at Pao Arts Center
Acclaimed songwriter and musician Julian Saporiti brings his No-No Boy project, an innovative blend of music and scholarship, to Pao Arts Center. Working from years of doctoral research at Brown University, Saporiti has transformed Asian American histories into an immersive multimedia concert using original folk songs and archival projections to create what NPR has called "an act of revisionist subversion." This concert will focus on a selection of songs from Saporiti's vast catalogue which highlight his family's history as Vietnamese refugees, as well as a suite of songs which look at diverse stories from North America's Chinatowns.
Plus: members of the VIETGONE cast and creative team will join Julian for a conversation after the concert!
Click here to reserve your spot!
Stay tuned for information on special events!
Coming Soon