There are no tickets
available for purchase
at this time.
Get Tickets
The Superheroine Monologues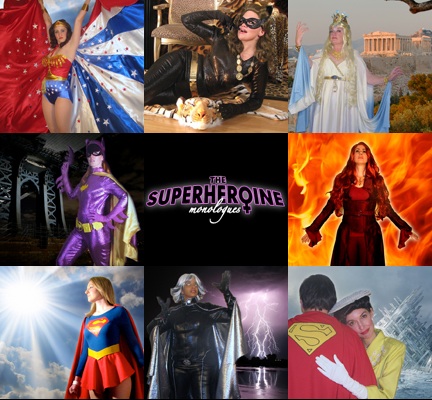 By John Kuntz and Rick Park
Directed by Greg Maraio
In collaboration with Phoenix Theatre Artists
APRIL 10 – 26, 2009
Following last season's wild romp AFTER SCHOOL SPECIAL, Company One and Phoenix Theatre Artists are proud to bring back the playwright team of John Kuntz and Rick Park. What do you get when you put Wonder Woman, Super Girl, Storm, Lois Lane and the world's most beloved spandex clad females on the same stage? An ass-whooping evening of theatre! Touching, funny and always campy SUPERHEROINE MONOLOGUES is an action packed parody that starts in 1940 and travels through the decades. You already know that they can stop speeding bullets, control the weather, and scratch your eyes out, but these dynamic divas promise to answer all the questions you never dreamed to ask.
Awards
IRNE Award Winner - Best Costumes
Cast
PLAYWRIGHT & PRODUCTION STAFF
---
John Kuntz
John Kuntz is a founding company member of the Actors Shakespeare Project, where he was seen as Peter Quince in A Midsummer Nights Dream, multiple roles in Timon of Athens, Don Pedro/Verges in Much Ado About Nothing, Trinculo in The Tempest, Pandaulf in King John, Tamora in Titus Andronicus, Autolycus in The Winter's Tale, Lucio/Froth in Measure for Measure, Sebastian in 12th Night, Bertram/The Clown in All's Well That Ends Well, and the title role in Richard III. NY credits include Mrs. Daigle in The Bad Seed (Ohio Theatre), Kurt in Jump/Rope (which he also wrote) with Square Peg Productions at Urban Stages, and his one-person shows Starfuckers (Ohio Theatre and NY Fringe) and Freaks! (Solo Arts Group). Recent Boston credits include Heisenberg in Copenhagen and multiple roles in the world premiere of The Communist Dracula Pageant (ART); Janet and Frick in After School Special (which he also wrote) and the title role in Mr. Marmalade (Company One); numerous productions of The SantaLand Diaries (IRNE Award – Best Solo Performance); Katurian in the New England premiere of The Pillowman, Estragon in Waiting for Godot, the title role in Scapin, Austin in True West and the Emcee in Cabaret (all with The New Repertory Theatre), Aston in The Caretaker, 20 roles in How I Got That Story and multiple roles in Mere Mortals (all with The Nora Theatre Company); Jane/Lord Edgar in The Mystery of Irma Vep, Carl in The Baltimore Waltz, Nathan Leopold in Never the Sinner, and 40 roles in Fully Committed (all with The Lyric Stage), Voice #1 in Betty's Summer Vacation (The Huntington Theatre Company) and three seasons with Commonwealth Shakespeare, appearing in Henry V (Fluellen), 12th Night (Sir Andrew) and Hamlet (Guildenstern/Osric). Film: The Red Right Hand (Roger), Anathema (Neil; Best Actor Award - Festival Du Cinema du Bruxelles). John is the author of 14 full-length plays, including The Superheroine Monologues (co-written with Rick Park), Sing Me to Sleep, Freaks, Starfuckers, After School Special, My Life with the Kringle Kult, Miss Price, The Blue Hotel, Glitterati, Emerald City, Jasper Lake, Jump/Rope and Actorz with a Z. He received both an Elliot Norton Award and New York International Fringe Festival Award for his solo show Starfuckers and his plays Sing Me To Sleep and Freaks! both received Elliot Norton Awards for "Outstanding Fringe Production". He was an inaugural Playwrighting Fellow with the Huntington Theatre Company and a Fellow at the O'Neill Center in 2007. His play Jasper Lake received both the Michael Kanin and Paula Vogel National Playwrighting Awards, with productions at the Kennedy Center (Washington DC) and the New York Fringe Festival. His newest solo show, The Salt Girl, was recently performed at the Boston Playwrights Theatre, directed and designed by David Gammons. He teaches at Suffolk University and is on the faculty of The Boston Conservatory.

Rick Park
Acting credits: Queenie Bartlett, THE THIRD STORY (Titanic Theatre Company); Dillon, THE FRIENDS OF EDDIE COYLE (Stickball Productions); Judge Vaughn Walker, 8 (A.R.T.); Pfeiffer, VALHALLA (Zeitgeist Stage); Gary, GAGARIN WAY (Sugan Theatre); Dopey, BALM IN GILEAD (Speakeasy Stage); The Shark, SWIMMING IN THE SHALLOWS (Coyote Stage); Linda, O MICE AND MINK (Gold Dust Orphans); Bob, TOAST (Centastage); Hoops Daddy, MISS MARGARET LARUE IN MILWAUKEE (Boston Playwrights'); and 800+ performances as Tony Whitcomb in SHEAR MADNESS
Stay tuned for information on special events!