There are no tickets
available for purchase
at this time.
Get Tickets
The Pain and The Itch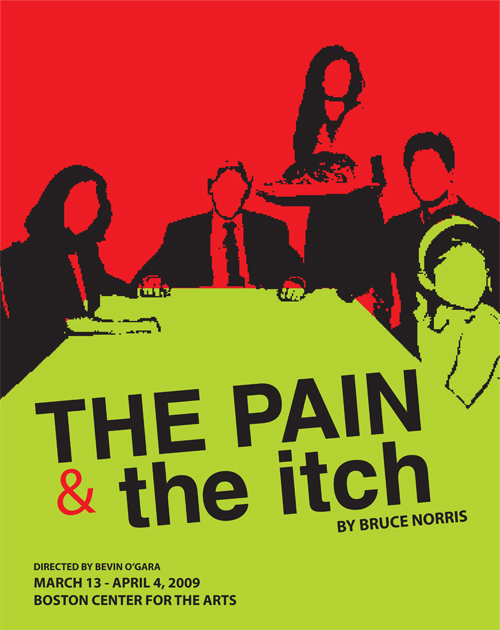 Written by Bruce Norris
Directed by M. Bevin O'Gara
March 13 – April 4, 2009
The Plaza Theatre @ The Boston Center for the Arts
Company One is proud to present the Boston premiere of Bruce Norris's controversial play THE PAIN AND THE ITCH, featuring Nancy E. Carroll. With a young daughter in serious need of attention and a ravenous creature possibly prowling the upstairs bedrooms, what begins as an average Thanksgiving for one privileged family unravels into an exposé of disastrous choices and less-than-altruistic motives. THE PAIN AND THE ITCH is a scathing satire of the politics of class and race, a compelling, painfully human examination of denial and its consequences. Following sold out runs at Chicago's Steppenwolf Theatre and New York's Playwright's Horizons, Company One is proud to stage this highly anticipated Boston premiere.
A great evening of theatre and I challenge you to keep your jaw from dropping.
- BroadwayWorld.com
Sharp...merrily dark satire.
- The Boston Globe
Darkly funny...wallop of a play...sharp, funny dialogue.
- The Boston Herald
Skillfully crafted and SCATHINGLY FUNNY
- The Phoenix
THE ACTING IS SUPERB.
- The Theatre Mirror
Cast
PLAYWRIGHT & PRODUCTION STAFF
Bruce Norris
Playwright

M. Bevin O'Gara


Director

Cristina Todesco


Set Designer

James McNamara


Lighting Designer

Angela Jajko


Costume Designer

Aaron Mack


Sound Designer

Basia Goszczynska


Props Designer

Jordan Harrison


Video Designer

Sarah Cohan


Production Manager

Mark Abby VanDerzee


Technical Director

Amanda LaForge


Assistant Stage Manager

Robyn Jones


Assistant Stage Manager

Charles Haugland


Dramaturg

Meghan Dalton


Assistant Director

Stacy Garland


Assistant Costume Designer
---
Bruce Norris
Bruce Norris' Clybourne Park won the Tony Award for Best Play in 2012, the Olivier and Evening Standard Awards (London) for Best Play, 2011, and the Pulitzer Prize for Drama, 2011. Other plays include The Infidel (2000), Purple Heart (2002), We All Went Down to Amsterdam (2003), The Pain and the Itch (2004) and The Unmentionables (2006), and A Parallelogram (2010), all of which had their premieres at Steppenwolf Theatre, Chicago. Two new plays, titled The Low Road and Domesticated, respectively, will premiere in 2013 at the Royal Court Theatre, London and at Lincoln Center Theatre, New York. His work has also been seen at Playwrights Horizons (New York), Lookingglass Theatre (Chicago), Philadelphia Theatre Company, Woolly Mammoth Theatre (Washington, D.C.), Staatstheater Mainz (Germany), and the Galway Festival (Ireland), among others. He is the recipient of the Steinberg Playwright Award (2009), and The Whiting Foundation Prize for Drama (2006), as well as two Joseph Jefferson Awards (Chicago) for Best New Work. As an actor he can be seen in the films A Civil Action and The Sixth Sense, and the recent All Good Things. He lives in New York.
Stay tuned for information on special events!
Reviews
March 29, 2009
March 27, 2009
March 25, 2009
March 24, 2009
March 23, 2009
March 21, 2009
March 17, 2009
March 16, 2009
March 12, 2009
March 8, 2009
March 16, 2009