There are no tickets
available for purchase
at this time.
Get Tickets
The Mountain Song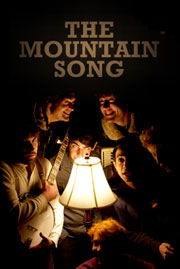 A World Premiere written and performed by celebrated ensemble theatre, PigPen
Co-produced with PigPen
June 10 – 25, 2011
Hall A @ The Calderwood Pavilion
Company One is proud to present the world premiere of PigPen's THE MOUNTAIN SONG. The future of ensemble theatre in America, PigPen creates atmospheric theatrical fables with their own unique blend of live music, puppetry, shadow play, choreographed movement, and clever lighting effects. Formed at Carnegie Mellon University's School of Drama, PigPen has gone on to perform professionally in playhouses around the country and were the runaway hit receiving top honors at last year's NY Fringe Festival. THE MOUNTAIN SONG tells the tale of an epic journey across rivers, mountains, and deserts, in search of long-lost family.
Fast-paced, wonderfully acted, and full of wit and humor
- Vineyard Times Review
As the Fringe audience filed out after the show, old-timers remarked that seeing PigPen had given off the same excitement they had experienced when they had the pleasure of seeing Blue Man Group and the Flying Karamazov Brothers for the first time.
- Newsvine.com
Awards
IRNE Award Winner - Best Visiting Production
Cast
PLAYWRIGHT & PRODUCTION STAFF
PigPen Theatre Ensemble


Playwright
---
Stay tuned for information on special events!
Reviews
June 18, 2011
June 16, 2011
June 15, 2011