There are no tickets
available for purchase
at this time.
Get Tickets
The Book of Grace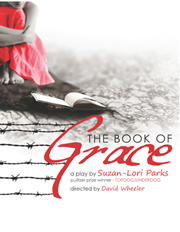 Written by Suzan-Lori Parks
Directed by David Wheeler
April 15 – May 7, 2011
The Plaza Theatre @ The Boston Center for the Arts
Fiercely intimate and explosive, THE BOOK OF GRACE weaves together the lives of three people bound by love and longing, passion and ambition. Pulitzer Prize-winning playwright Suzan-Lori Parks (TOPDOG/UNDERDOG) draws a portrait of a family shattered by betrayal when a young man returns home to South Texas to confront his estranged father and his new young wife. Company One is proud to collaborate with legendary Boston director David Wheeler on this dynamic New England premiere by one of America's most celebrated playwrights.
Suzan-Lori Parks continues to take on weighty, thorny topics too seldom addressed in the theater these days...
- Ben Brantley, The New York Times
It's good, visceral theater, with Parks' intensity and edgy dialogue...
- The Bergen Record
Fresh insights, startling images, fiery speeches, and moments of genuine passion. remind you that Parks is the real deal.
- Adam Green, VOGUE
Awards
IRNE Award Winner - Best Director of a Drama (Midsize)
Cast
PLAYWRIGHT & PRODUCTION STAFF
Suzan-Lori Parks
Playwright
David Wheeler
Director

Lewis Wheeler


Assistant Director

Joey Thomas


Stage Manager

Andrew Remillard


Assistant Stage Manager

Madeleine Laupheimer


Assistant Stage Manager

Erik Diaz


Set Designer

Kenneth Helvig


Lighting Designer

David Wilson


Sound Designer

Alyssa McKeon


Production Manager

Karthik Subramanian


Assistant Production Manager

Michael Best


Assistant Production Manager

Tristan Raines


Costume Designer

Jason Weber


Projection Designer

Liz Panneton


Properties Designer

Lindsay Forde


Assistant Scenic Designer

Ted Hewlett


Fight Choreographer:
---
Suzan-Lori Parks
Named one of TIME magazine's "100 Innovators for the Next New Wave," Suzan-Lori Parks is one of the most exciting and acclaimed playwrights in American drama today. She is the first African American woman to receive the Pulitzer Prize in Drama for the Broadway hit Topdog/Underdog and is a MacArthur "Genius" Award recipient. She has also been awarded grants by the National Endowment for the Arts, the Rockefeller Foundation, the Ford Foundation, the New York State Council on the Arts and the New York Foundation for the Arts. She is recipient of a Lila-Wallace Reader's Digest Award, a CalArts/Alpert Award in the Arts (Drama) for 1996, a Guggenheim Foundation Grant and and is an alumnae of New Dramatists. Her work is the subject of the PBS Film "The Topdog Diaries." Suzan-Lori Parks' talks are part performance, part storytelling – always high energy, with an inspired sense of humor. In 2007 her project 365 Plays/365 Days was produced in over 700 theaters worldwide, creating one of the largest grassroots collaborations in theater history. Her numerous plays include Topdog/Underdog, In the Blood (2000 Pulitzer Prize finalist), Venus (1996 OBIE Award), The Death of the Last Black Man in the Whole Entire World, Fucking A, Imperceptible Mutabilities in the Third Kingdom (1990 OBIE Award for Best New American Play), and The America Play. Her first feature-length screenplay was Girl 6 written for Spike Lee. She's written screenplays for Brad Pitt, Denzel Washington, including Girl 6 written for Spike Lee, and adapted Zora Neale Hurston's classic novel Their Eyes Were Watching God which premiered on ABC's Oprah Winfrey Presents. Parks's well-reviewed first novel Getting Mother's Body (Random House, 2003) is set in the west Texas of her youth and follows the scrappy Beede family as they embark on a riotous road trip in hopes of recovering a fortune of jewels – rumored to be buried with a long-dead relative. She is at work on the Ray Charles musical, Unchain My Heart as well as on a new novel. In November 2008 Suzan-Lori Parks became the first recipient of the master writer chair at the Public Theater, a three-year residency in which she was also a visiting arts professor in dramatic writing at New York University's Tisch School of the Arts. The Public Theater presented her play, titled, Father Comes Home from the Wars (Parts 1, 8 & 9) in June 2009; and her play The Book of Grace premiered during the 2009-10 season at the Public Theater. Her new meditation on the creative process, Watch Me Work, has been "performed" in New York at the Public and at Zach Theatre in Austin. Holding honorary doctorates from Brown University, among others, Suzan-Lori credits her writing teacher and mentor, James Baldwin, for starting her on the path of playwrighting. One of the first to recognize Parks' writing skills, Mr. Baldwin declared Parks "an astonishing and beautiful creature who may become one of the most valuable artists of our time." "Her dislocating stage devices, stark but poetic language and fiercely idiosyncratic images transform her work into something haunting and marvelous." —TIME magazine

David Wheeler
On Broadway, he directed Richard III with Al Pacino, and The Basic Training of Pavlo Hummel, for which Mr. Pacino won the Tony Award for Best Actor. Regional theatres include the Guthrie Theatre, Alley Theatre, Paper Mill Playhouse, Berkeley Rep, Arizona Theatre Company, Pittsburgh Playhouse, and the Charles de Rochefort Theatre in Paris, where he directed the French premiere of Edward Albee's The Zoo Story. As the artistic director of the Theatre Company of Boston (TCB) from 1963 to 75, Mr. Wheeler directed over eighty productions. Among these were ten by Pinter, seven by Brecht, five by Albee, nine by Beckett, two by O'Neill, and numerous works by new writers such as Ed Bullins, Jeffrey Bush, John Hawkes, Adrienne Kennedy, and Sam Shepard. Through these productions and others, he helped to launch the careers of then-unknown actors including Paul Benedict, Larry Bryggman, John Cazale, Stockard Channing, Blythe Danner, Robert DeNiro, Robert Duvall, Hector Elizondo, Spalding Gray, Paul Guilfoyle, Dustin Hoffman, Al Pacino, Jon Voight, Ralph Waite, and James Woods. His film The Local Stigmatic (with Mr. Pacino)—adapted from the play by Heathcote Williams—was presented at the Montreal Film Festival and screened at the Whitney Museum and the MOMA. It was released in 2006. Mr. Wheeler's honors include the Elliot Norton Award for his work on No Man's Land and on Misalliance, the St. Botolph Club Foundation's Award for Distinction in the Performing Arts, and the Rodgers and Hammerstein Award. He has taught and directed at Harvard University, Boston University, MIT, Brandeis, Barnard, Colorado College, and Circle-in-the-Square. He has directed student productions at U.N.C. Chapel Hill, U.C. Irvine and Long Beach, and Évora, Portugal. After receiving his masters at Harvard, Mr. Wheeler trained with José Quintero in New York during the great "O'Neill years" of the 1950's.
Stay tuned for information on special events!
Reviews
April 23, 2011
April 23, 2011
April 21, 2011
April 19, 2011
April 18, 2011
April 17, 2011
April 15, 2011
December 31, 1969