There are no tickets
available for purchase
at this time.
Get Tickets
She Kills Monsters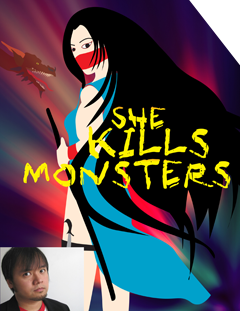 A New England Premiere by Qui Nguyen
Directed by Shira Milikowsky
Fight Direction by Robert Najarian
April 13 – May 11, 2013
The Plaza Theatre @ The Boston Center of the Arts
After the totally-weird Tilly dies, oh-so-average Agnes doesn't know what to make of the geekery her sister left behind. In an effort to understand the gulf between them, she embarks on a quest of Tilly's own design, rife with hostile faeries, randy ogres, awkward high schoolers, and broadswords. Will Agnes discover her inner badass, or will the bugbears get her first? Qui Nguyen, resident playwright of Brooklyn's Vampire Cowboys theatre, serves up a comedic nerdgasm – an homage to the outcast in all of us.
Cast
PLAYWRIGHT & PRODUCTION STAFF
Qui Nguyen
Playwright

Shira Milikowsky


Director

Robert Najarian


Fight Director

Julie Marie Langevin


Stage Manager

Phil Berman


Dramaturg

Chris Robichaud


RPG & Community Consultant

Miranda Giurleo


Costume Designer

Justin Paice


Lighting Designer

Erik Diaz


Set Designer

Aaron Mack


Sound Designer

Alexandra Herryman


Puppet Designer

Sam Sewell


Props Designer

Roxie Myrhum


Puppet Coach

Annie McGuire


Assistant Stage Manager

Rachel Shaw


Assistant Stage Manager

Joshua McTaggart


Assistant Director

Karthik Subramanian


Production Manager

Katherine Clanton


Assistant Production Manager

Mark Abby VanDerzee


Technical Director
---
Qui Nguyen
Qui Nguyen is an award-winning playwright, screenwriter, and Co-Founder/Co-Artistic Director of the OBIE Award winning Vampire Cowboys Theatre Company of New York City. Scripts include She Kills Monsters (The Flea); Krunk Fu Battle Battle (East West Players); Bike Wreck (Ensemble Studio Theatre); Trial By Water (Ma-Yi Theater); Aliens Versus Cheerleaders (Keen Teens); Soul Samurai; The Inexplicable Redemption of Agent G (Ma-Yi Theater & Vampire Cowboys); Lush Valley (HERE Arts Center); and the critically acclaimed Vampire Cowboys productions of Alice in Slasherland; Fight Girl Battle World; Men of Steel; and Living Dead in Denmark. His scripts are published by Samuel French, Broadway Play Publishing, and Playscripts.com. Honors include a 2013 Mellon Residency; 2012 & 2009 GLAAD Media Award nominations (She Kills Monsters and Soul Samurai); 2008 & 2006 NY Innovative Theatre Award nominations for Best Production (Fight Girl Battle World and Living Dead in Denmark); 2012 ITBA Patrick Lee Award for Outstanding Off-Off Broadway Show & 2010 nom in the same category (She Kills Monsters and Alice In Slasherland); named a 2012 TCG Young Leader of Color; 2007 Comiccritique.com citation for Best Adaptation of Comics into other Media (Men of Steel); 2004 NYTheatre.com's People of the Year; and cited as a "Downtown Playwright to Watch" by TIME OUT NEW YORK. He is a proud resident artist at New Dramatists, a core member of The Playwrights' Center, an alumnus of Youngblood, and a member of Ensemble Studio Theatre and The Ma-Yi Writers Lab. He's currently the Playwright-in-Residence at Mixed Blood Theatre in Minneapolis courtesy the Mellon Foundation. His company, Vampire Cowboys, is the only theatre organization to be officially sponsored by NY Comic Con.

Check out Director of New Work Ilana Brownstein's great interview with playwright Qui Nguyen, in front of a live audience!

Welcome to the dramaturgy blog for Company One's upcoming production of SHE KILLS MONSTERS by Qui Nguyen! Here you'll find context, resources, images, videos, rehearsal photos, design process updates, quips, anecdotes and immense geekery.

SPECIAL EVENTS!
All events are free and held post-show, and all are invited to attend regardless of whether you attend the ticketed performance beforehand.
Sunday, April 14 – discussion with playwright Qui Nguyen, moderated by C1 Director of New Work, Ilana M. Brownstein
Saturday, April 20 & Sunday, April 21 – to celebrate Boston's Comic Con, come to the show in cosplay and be entered to win an SKM shirt!
Sunday, April 21 – pay-what-you-can performance and discussion with the SKM cast, moderated by dramaturg Phil Berman
CONVERSATIONS WITH GEEK-MASTER CHRIS ROBICHAUD:
Friday, April 19: A Very Brief History of Dungeons & Dragons, or, How Gary Gygax and Dave Arneson Changed the World
Wednesday, April 24: Dungeons & Dragons in the 80s: From ET: The Extra-Terrestrial to the The Church Lady
Friday, May 3rd: Save vs. Death: Some Philosophical Themes in Dungeons & Dragons
Wednesday, May 8: The Future of Dungeons & Dragons: Tabletop Games, Video Games, and the Age of the Geeks
Christopher Robichaud teaches ethics and social epistemology at the Harvard Kennedy School of Government. He is an avid player of board games and table-top roleplaying games who has brought a lifetime of gameplay into his teaching, having designed the first zombie pandemic simulation game for policy students at Harvard. He is currently editing the volume Dungeons & Dragons and Philosophy, due out next summer, and is writing his own horror roleplaying game, Midnight Syndicate, based on the albums of the band of the same name.
Stay tuned for information on special events!
Reviews
April 26, 2013
April 19, 2013
April 18, 2013
April 18, 2013
April 16, 2013