There are no tickets
available for purchase
at this time.
Get Tickets
REVOLT. SHE SAID. REVOLT AGAIN.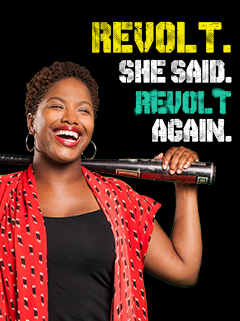 A New England Premiere by Alice Birch
From the Director of AN OCTOROON, Summer L. Williams
October 21 – November 19, 2016
Want to extend your #RevoltWithC1 experience? There will be post-show programming following every Thursday evening performance.
Plaza Theatre, Boston Center for the Arts
A little #EffYourBeautyStandards #DeleteYourAccount #LeanIn
Maybe some #FreeTheNipple #MasculinitySoFragile #Lemonade
A lot of #MelaninOnFleek #BlackGirlMagic #YesAllWomen
Always #AskHerMore #GirlsLikeUs #SaidNoWomanEver
Forever #SquadGoals

REVOLT. SHE SAID. REVOLT AGAIN. morphs language and explodes boundaries to explore the myriad ways women are styled, shaped, and confined to fit society's expectations, asking us: What happens when we rebel?
C1's Take:
Combining sharp humor and raw emotion in vignettes that swing wildly between the real, the surreal and the self-aware, REVOLT is as multifaceted and untamable as the subject matter it celebrates. Stylishly tackling workplace power dynamics, sexual politics, and societal expectations, REVOLT sinks in, takes hold, and is impossible to forget.
Original, trenchant, and scorching ... razor-sharp direction... superbly versatile cast...
- The Boston Globe
Playful, wild, and jagged...
- New York Times
A cluster-bomb of subversion.
- The Telegraph
Cast
PLAYWRIGHT & PRODUCTION STAFF
---
Alice Birch
Alice Birch is the co-winner of the 2014 George Devine Award for Revolt. She said. Revolt again., winner of the Arts Foundation Award for Playwriting 2014, and was one of the BBC Writersroom 10 for 2014. Writing includes We Want You To Watch (National Theatre), Many Moons (Finalist, Susan Smith Blackburn Prize) Little Light (Orange Tree), Little on the inside (Almeida / Clean Break), So Much Once (24 Hour Celebrity Gala Old Vic), Open Court Soap Opera (Royal Court), Salt (Comedie de Valence) and Flying the Nest (BBC Radio 4). She is currently under commission to Clean Break, Pentabus Theatre, Young Vic, Paines Plough and the Royal Court Theatre; and was a screenwriter in one of the final selected filmmaking teams for 2014's iFeatures, Creative England's low-budget filmmaking initiative supported by the BBC, the BFI and Creative Skillset. She has been nominated for the 2015 Friedrich Luft Prize. In 2016, Alice was selected as one of the Creative England 50, a shortlist of individuals and companies judged to be the country's most inventive, innovative, and creative minds.

Summer L. Williams
Ms. Williams has been with Company One since its inception in 1998. An active member of the Board of Directors, Summer is a producer, director and educator for Company One. Her most recent directing credits include SHELTER OF LAST RESORT by Miranda Craigwell as a part of XX PlayLab 2014, the New England Premiere of Jackie Sibblies Drury's WE ARE PROUD TO PRESENT A PRESENTATION ABOUT THE HERERO OF NAMIBIA, FORMERLY KNOWN AS SOUTHWEST AFRICA FROM THE GERMAN SUDWESTAFRIKA BETWEEN THE YEARS 1884-1915, Idris Goodwin's HOW WE GOT ON and Lynn Nottage's BY THE WAY, MEET VERA STARK at the Lyric Stage Company of Boston. Regional credits: THE BROTHERS SIZE and MARCUS; OR THE SECRET OF SWEET as part of the THE BROTHER/SISTER PLAYS (2012 Elliot Norton Award nominated for Outstanding Production and winner of the 2012 IRNE Award for Best Play), NEIGHBORS, GRIMM, THE GOOD NEGRO, VOYEURS DE VENUS (Winner of 2009 Elliot Norton Award for Outstanding Director), THE BLUEST EYE (IRNE and Elliot Norton Award nominated), THE LAST DAYS OF JUDAS ISCARIOT, SPELL #7 (IRNE nominated), JESUS HOPPED THE A TRAIN (2004 Elliot Norton Award for Best Fringe Production) TWILIGHT: LOS ANGELES 1992 (IRNE nominated). Ms. Williams has also directed for the Boston Playwrights' Theatre, Clark University, Brandeis University, The Theatre Offensive and Huntington Theatre Company. She is a teacher of drama and director at Brookline High School and holds a BA in Theatre, as well as a MA Ed. in Theatre and Urban Education. Ms. Williams serves as a member of the Board of Directors of both Stage Source and The Coolidge Corner Theatre.

Jessie Baxter
Jessie Baxter is a Boston-based dramaturg specializing in new work and nerdery of all kinds. Her Company One credits include THE ELABORATE ENTRANCE OF CHAD DEITY, THE FLICK, THE CHRONICLES OF KALKI, BRAHMAN/I, and the XX PlayLab. She is also the Literary Director and Co-Founder of Fresh Ink Theatre, a small company specializing in new work by New England-based playwrights, where she has done developmental work on projects by Walt McGough, Patrick Gabridge, MJ Kaufman, and Emily Kaye Lazzaro, among others. Jessie earned a BA in Theatre Studies from Emerson College, and received the 2010 National Dramaturgy Award at the Kennedy Center American College Theatre Festival for her work on INCORRUPTIBLE by Michael Hollinger. She has previously worked at The Playwright's Center, The Eugene O'Neill Theatre Center, and The Denver Center Theatre Company, and is a proud member of the Literary Managers and Dramaturgs of America.

Hayley Spivey
Please view Hayley's bio on the C1 Staff page.

Allyssa Jones
Allyssa Jones is an award-winning vocalist, composer and educator with five solo recordings to her credit. Her local theatre collaborations include original music and music direction for The Lyric Stage (MR. BURNS, INTIMATE APPAREL), Apollinaire Theatre Company (¡BOCON!/INVASION, PEGGY PICKETT SEES THE HAND OF GOD), OWLL Theatre (HIDDEN FACES OF COURAGE), Boston Public Works (TURTLES), and Company One (WE ARE PROUD TO PRESENT, GRIMM: CRY BABY JONES, TWILIGHT: LOS ANGELES 1992). Jones serves as Executive Director for 3050 Music Group.

Stephanie Brownell
Stephanie K. Brownell is an interdisciplinary writer, artist and educator based in Boston. She translates French to English. She's an introvert, but will talk your ear off about speculative fiction, intersectional feminism, or France. Selected costume design: RESTRICTED, SICKLE (Boston Playwrights); FROM THE DEEP, TURTLES (Boston Public Works); EYES SHUT. DOOR OPEN. (Wax Wings); RADIUM GIRLS (Flat Earth); JULIUS CAESAR (Bridge Rep); AMAHL AND THE NIGHT VISITORS (Milwaukee Opera Theatre); JULIET (Carroll University). BA: Carroll University. MFA: Boston University. Skbrownell.com

Jessica Elliott
Jessica is a lighting designer based on the East Coast. She has had the privilege to design and assist on a variety of productions in and around the Boston and New York City areas. Recent credits include: CAPTIVA (NYC), TWO COMPANIES ONE STAGE (NYC), THE MUSHROOM CURE (NYC – Off-Broadway), THE LOWER FREQUENICES (Tour), A CONFEDERACY OF DUNCES (1st Assistant – The Huntington Theatre Company). Jessica is thrilled to be making her Company One debut with REVOLT. SHE SAID. REVOLT AGAIN.

Brynna Bloomfield
Brynna Bloomfield is excited to be working with Company One. Brynna is a local set designer, mask maker and artist who has worked with the Lyric Stage Company, Speakeasy Stage, The Nora Theater Company, Shakespeare and Company, Commonwealth Shakespeare Company, Act Roxbury, as well as designing productions at local colleges and high schools. She is a founding board member of Israeli Stage. Ms. Bloomfield is on the faculty at Emerson college and designs and teaches arts-integrated curriculum in middle and high schools. You can view her work at brynnabloomfield.com.

Andrew Duncan Will
Andrew Duncan Will is very excited to return to Company One, after designing DRY LAND last year. Recent local credits include: COMPANY, SONDHEIM ON SONDHEIM (Lyric Stage); A MAN OF NO IMPORTANCE, SPEECH AND DEBATE, SIX DEGREES OF SEPARATION, THE GOAT, OR WHO IS SYLVIA? (Bad Habit); FROM THE SEA TO SOMEWHERE ELSE (Flotsam); THE LAST SCHWARTZ (Gloucester Stage); THAT TIME THE HOUSE BURNED DOWN, IT'S NOT ABOUT MY MOTHER, and THE CLYTEMNESTRIAD (Fresh Ink); HARD AND FAST (Boston Public Works).

Nick Robinette
Nick is thrilled to be making his Boston debut with Company One. He is a recent graduate of Fitchburg State University where his credits include Properties Design for NOISES OFF and Scenic Design for THE CRUCIBLE and MUCH ADO ABOUT NOTHING. His most recent work includes Properties Artisan at the Berkshire Theatre Group and Paint Charge for Stoneham Theatre's production of LAURA.

Lynn Wilcott
Lynn is designing special effects for the fifth (!) time with C1, having previously worked on GREEN EYES, HOOKMAN, DRY LAND, and AN OCTOROON. She has also designed effects for Theatre on Fire and Improv Boston; as well as several short films for the Boston 48 Hour Film Project. She would like to thank her gorgeous family and hilarious friends for their continued support and inspiration. XXXX to her Most Favored Weirdo.

Cesara Walters
Cesara Walters (Stage Manager) is returning to the Company One family having just finished stage managing THE T PARTY. Previous stage management credits with theatres in Texas and London include LES MISERABLE, SPAMALOT, AMOUR, CABARET, THE CRUCIBLE, VINEGAR TOM, HAIRSPRAY, WEST SIDE STORY, SINGIN' IN THE RAIN, FIDDLER ON THE ROOF, THE 25TH ANNUAL PUTNAM COUNTY SPELLING BEE. Cesara recently moved to the Boston area and is enjoying all of the artistic and theatrical opportunities the city has to offer.

Geena Forristall
Geena is a freelance stage manager in Boston/NYC. She is particularly passionate about accessible and transformative performance art, with an interest in immersive and devised theatre, modern dance, and theatre for deaf audiences. Geena has worked with Commonwealth Shakespeare Company, the 2015-2016 international tour of Kultar's Mime, Weston Drama Workshop, Shakespeare Now, Bay Colony Shakespeare Company, and Punchdrunk NYC/Emursive's Sleep No More. Geena holds a BFA in Theatre Arts Production from Hofstra University. www.gmforristall.com.

Micaela Slotin
Micaela is delighted to finally be working with Company One after many years of admiring their work. She recently finished a summer at Barrington Stage Company, where she worked on PRESTO CHANGE-O, KIMBERLY AKIMBO, PEERLESS, and BROADWAY BOUNTY HUNTER. Other Boston area theatre credits include KING LEAR (CSC) and MILK LIKE SUGAR (Huntington). She is currently finishing her BA in Drama at Tufts University.

Misha Shields
Misha is thrilled to be back at C1 after choreographing last season's production of, WE'RE GONNA DIE, at A.R.T.'s Oberon Theatre. Choreography credit highlights include: WHO'S YOUR BAGHDADDY? (Actor's Temple, NY), I WAS MOST ALIVE WITH YOU (Huntington Theatre), MILK LIKE SUGAR (Huntington Theatre), THE ORION EXPERIENCE (XL Nightclub, NY), MERRILY WE ROLL ALONG (APAC, NY), ROCKY HORROR (Yale), PUTNAM COUNTY SPELLING BEE (APAC, NY), THE TRAVELS (NYMF, NY), COMPANY (Fordham) CABARET and SUNDAY IN THE PARK... (Boston Conservatory). Love to Ben. www.mishashields.com
>>Want to extend your #RevoltWithC1 experience? There will be post-show programming following every Thursday evening performance. Click here for the full schedule.
>>Click here to read an exclusive interview with REVOLT Director Summer L. Williams.
>> Check out the Production Blog to keep up with our artistic team during rehearsals and tech week!
>> Watch the official #RevoltWithC1 trailer for a taste…
Stay tuned for information on special events!
Reviews
October 23, 2016
October 25, 2016
September 1, 2016
August 4, 2016