There are no tickets
available for purchase
at this time.
Get Tickets
REALLY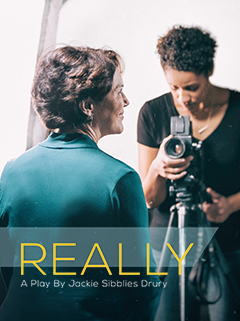 EXTENDED BY POPULAR DEMAND!
A New England Premiere by Jackie Sibblies Drury
Directed by Shawn LaCount
In Partnership with Matter & Light Fine Art
January 25 – March 5th 2017**
Location: Matter & Light Fine Art, a gallery in SoWa
In a studio filled with photographs, two very different women work to process the disappearance of a charming, volatile artist. But which of them really knew him? Staged in SOWA's intimate Matter & Light gallery, this striking, lyrical new work follows the people he left behind as they sort through his remaining photos—which offer confounding clues into to the person they both loved. Through sound and silence, flash and shutter, REALLY explores the elusive way in which photography freezes a moment in time, and what effect that image has on memory.

>>POST-SHOW DISCUSSIONS

GRIEF AND HEALING: A DISCUSSION
Friday, March 3rd | Immediately following the 7pm performance
Join us after this performance for a post-show panel about grief, healing, and the role of photography in these processes. We will discuss these themes as they appear in REALLY, and local experts will share their thoughts.


C1's Take:
Over the last few seasons Company One has been able to reach more people and create with more innovation thanks to some profound collaborations. This season takes our partnerships to the next level — Season 18 marks historic strides in cross-functional relationships between theatre and other cultural landmarks in Boston and beyond. Producing REALLY with Matter & Light Fine Art is the epitome of these exciting collaborative endeavors.
From the collaborators: "The question of what exactly art is good for – capturing reality? Evading it? Critiquing it? – is a profound and perennial one. We're ecstatic to be exploring this question with such a smart, principled group, whose members care so much about the role that art plays in the human story." — Ian Marcus Corbin, Director of Matter & Light
Stylishly contemplative ... REALLY is unusually clearsighted about the ambiguities of its subject.
- New York Times
Cast
PLAYWRIGHT & PRODUCTION STAFF
---
Rachel Cognata
A Boston native, Rachel is ecstatic to return to the city and to the stage to work with Company One in their 18th season. She has been a lover of the theater since a young child, beginning as a member of Tufts children theater, moving on to graduate from Boston Arts Academy (2003) and continuing to maintain a close relationship with the art form she fell in love with. Rachel is excited to reunite with C1 and to return to her roots on the stage.

Kippy Goldfarb*
Kippy Goldfarb has performed a wide range of characters including Helen (Absence), Mary (Reconsidering Hannah), Vivian Bearing (Wit), Regina (The Little Foxes), Linda Loman (Death of a Salesman), Miss Maudie (To KIll a Mockingbird), and Sharon (Book of Days). She has appeared with many New England Theatres, including Boston Playwrights' Theatre, The Huntington Theatre Company, Wheelock Family Theatre, Wellfleet Harbor Actors Theatre, Worcester Foothills Theatre, The Lyric Stage Company, Vineyard Playhouse, and Nora Theatre Company. She has performed nationally at Paper Mill Playhouse and San Diego Repertory Theatre, and internationally in Ireland, Russia, and France. She appeared as Francine Doyle in Gone Baby Gone and as Aunt Elise in In the Tradition of My Family. Ms. Goldfarb is also a fine art, theatre, portrait, and special events photographer. She is honored to be part of this creative adventure with Company One. *Member of AEA

Alex Portenko
Alex Portenko is proud to be part of this production with Company One. Recent credits include: THE TOTALITARIANS with Gloucester Stage Co., THE MERRY WIDOW with the Boston Lyric Opera, SIX DEGREES OF SEPARATION with Bad Habit Productions, and THE NORMAL HEART with Salem Theatre Co. He holds a B.F.A. in Theatre Arts from Salem State University and appeared in their productions of SERVANT OF TWO MASTERS, CAT ON A HOT TIN ROOF, BIG LOVE & TWELFTH NIGHT. Coincidentally, Alex is also a professional photographer.
Jackie Sibblies Drury
Jackie Sibblies Drury is a Brooklyn based playwright. Her plays include We Are Proud to Present a Presentation About the Herero of Namibia, Formerly Known as South West Africa, From the German Sudwestafrika, Between the Years 1884-1915, Really, and Social Creatures. Jackie's plays have been presented by New York City Players and Abrons Arts Center, Soho Rep, Victory Gardens, Trinity Rep, Matrix Theatre, Woolly Mammoth, Undermain Theatre, InterAct Theatre, Actors Theater of Louisville, Available Light, Company One, and The Bush Theatre in London, among others. Her work has been developed at Sundance, The Ground Floor at Berkeley Rep, Manhattan Theatre Club, Ars Nova, A.C.T., The Soho Rep Writer/Director Lab, New York Theatre Workshop, PRELUDE.11&14, The Civilians, The Bushwick Starr, The LARK, The Magic Theatre, The Bay Area Playwrights Festival and The MacDowell Colony. Jackie was a dramaturg for Futurity by Cesar Alvarez and The Lisps, Zero Cost House by Pig Iron Theatre Company & Toshiki Okada and The Garden by Nichole Canuso Dance Company. She received a 2015 Windham-Campbell Literary Prize in Drama,a 2012-2013 Van Lier Fellowship at New Dramatists, and was the inaugural recipient of the 2012-2014 Jerome Fellowship at The LARK. Jackie is a NYTW Usual Suspect and a 2015 United States Artists Gracie Fellow.

Shawn LaCount
Shawn is a proud co-founder of Company One Theatre. Recent directorial credits include the regional premiere of Annie Baker's THE FLICK (Elliot Norton Award, Outstanding Production); the world premiere of Kirsten Greenidge's SPLENDOR (IRNE Award nominee, Best New Play); the Boston premieres of BENGAL TIGER AT THE BAGHDAD ZOO by Rajiv Joseph; THE ELABORATE ENTRANCE OF CHAD DEITY by Kristoffer Diaz (Elliot Norton Award for Outstanding Director and Outstanding Production); Annie Baker's THE ALIENS (Elliot Norton Award for Outstanding Director and Outstanding Production), the world premiere of GRIMM (IRNE Award nominee for Best New Play), the Boston premiere of THE OVERWHELMING by JT Rogers (Elliot Norton Award nominee for Outstanding Drama, Fringe); the Boston premiere of Haruki Murakami's AFTER THE QUAKE (Elliot Norton Award nominee for Outstanding Drama, Fringe); Stephen Sondheim's ASSASSINS (IRNE nomination for Best Director and Best Musical); the Boston premiere of Noah Haidle's MR. MARMALADE (Elliot Norton Award nominee for Outstanding Director/Outstanding Drama); the Boston premiere of AFTER ASHLEY by Gina Gionfriddo; and Anthony Burgess' A CLOCKWORK ORANGE (featuring original music by the Dresden Dolls). Local academic directing credits include Adam Rapp's PARAFFIN and NURSING at Emerson Stage. Shawn holds an MA Ed. in theatre Education from Clark University and an MFA in Directing from The University of Massachusetts, Amherst. He has taught at the Boston Arts Academy, Huntington Theatre Company, Tufts University, Stage One and the University of Massachusetts, Amherst. Shawn is deeply grateful to the entire C1 family and of course to his wife Jessica, his sisters Terri & Cacia, and his children Shiloh and Levi.

Ilana M. Brownstein
Ilana M Brownstein is a dramaturg and educator specializing in new plays, social justice, and public arts advocacy. She is the Director of New Work and a senior dramaturg with Company One Theatre; the Founding Dramaturg at Playwrights' Commons; and on faculty at the BU School of Theatre. Previously, she created the Playwriting Fellows program and Breaking Ground Festival at The Huntington, programs recently celebrated by a 2013 regional Tony Award. Productions with C1 include Jackie Sibblies Drury's REALLY, Young Jean Lee's WE'RE GONNA DIE, Aditi Kapil's DISPLACED HINDU GODS TRILOGY and LOVE PERSON, The Tiger Lillies' SHOCKHEADED PETER, Natsu Onoda Power's ASTRO BOY AND THE GOD OF COMICS, Kirsten Greenidge's SPLENDOR, Rajiv Joseph's BENGAL TIGER AT THE BAGHDAD ZOO, Lauren Yee's HOOKMAN, and Lydia R. Diamond's VOYEURS DE VENUS. She produces the Company One PlayLab program, which has provided script and professional development to 39 playwrights since 2011. She holds an MFA in Dramaturgy (Yale), and a Directing BA (College of Wooster). Ilana is a Kilroys nominator for The List, is on the Advisory Board for HowlRound/A Center for The Theatre Commons, and is a two-time winner of the LMDA Elliott Hayes Award for excellence in dramaturgy (2008, 2014).

Francisca Da Silveira
Francisca Da Silveira is a Playwright who graduated with honors from New York University's Tisch School of the Arts in May 2014. She was born in Cape Verde and moved to Boston with her family at four years old. She studied abroad in London her junior year of college and the connection and love she developed for the city caused her to return for six months after graduating from NYU. Fran is greatly inspired and influenced by Anton Chekhov and Alan Bennett. Aside from writing plays, she also hopes to inspire youth to use creative outlets in order to spread knowledge and affect change. She is passionate about education and works as an AmeriCorps program associate at the Dearborn 6-12 STEM Academy.

Amanda Mujica
Amanda returns to CompanyOne having previously designed AN OCTOROON. She is a Boston-based freelance costume designer and seamstress. Recent theater productions include INTIMATE APPAREL and MR. BURNS (Lyric Stage) and BOOTYCANDY (Speakeasy Stage). In addition to theater, she has designed for dance, film, and opera; most recently designing Odyssey Opera's 2015 Spring Festival productions of THE ZOO, THE BEAR and POWDER HER FACE. She earned a B.S. in History from Carnegie Mellon University. amandamujicadesign.com

Jennifer J. Fok
Jennifer is a New York City - based lighting designer for theatre and dance. Select credits include designs with HERE, Intar, TerraNova, Strindberg Rep, Teatro SEA, Stella Adler, Cre·Art, Hudson Theatre Works, Dixon Place, Met Breuer, Ars Nova, Red Caravan, Theatre 167, Wild Project, Secret Theatre, Stella Adler, Queensborough Community College, Ithaca College, Access Theatre, Target Margin, Martha Graham Studio. Other Boston credits include Assistant Designer at New Rep and Off The Grid. www.jasonfok.com

Ben Lieberson
Ben is a Boston-based scenic, lighting, and properties designer. Recent designs include BRILLIANT TRACES, LAB RATS, THE TAMING OF THE SHREW, and ECHOES (Brown Box Theatre Project), THE GOOD BODY and LAUGHING WILD (Hub Theatre Company), MURPH (Open Theatre Project), TALES OF A FOURTH GRADE LESBO (Flat Earth Theatre), DRUNK ENOUGH TO SAY I LOVE YOU (Artists' Theater of Boston), IT'S NOT ABOUT MY MOTHER (Fresh Ink Theatre), and FAR AWAY (Whistler in the Dark). www.benlieberson.com

Lee Schuna
Lee Schuna is a freelance sound designer, composer, music producer, and recent graduate of the Music Industry program at Northeastern University. Excited to be working with C1 again, his production credits include THE HEIDI CHRONICLES (Northeastern University Theatre Department), MUD BLUE SKY (Bridge Rep), THE T PARTY (C1), and SIGNIFICANT OTHER (SpeakEasy). He is also currently working on experimental electronic music to be released on his pet record label, Human Nature Records.

Emily Brown
Emily is relatively new to Boston after completing her BA in English Drama at McGill University. Since arriving here she has worked with Company One Theatre as an assistant stage manager on DRY LAND and AN OCTOROON, and as the stage manager on WE'RE GONNA DIE. She has also been the assistant production manager at Moonbox Productions and The Theatre Offensive. She is thrilled to be back at Company One as the stage manager for REALLY!

Aisha Stewart
Aisha is thrilled to be a part of C1's 18th season and excited to be back in Boston. The last four years have been spent living on Cape Cod and working at The Cotuit Center for the Arts, New Classics Company and the Cape Symphony Orchestra. She has Directed VENUS IN FUR and TUNA CHRISTMAS; Stage Managed COMPANY, CENTER OF GRAVITY, THREE VIEWINGS and BUTTERBALL. She is really looking forward to Assistant Stage Managing REALLY.

Ryuji Suzuki
Ryuji is a Boston photographer whose portfolio centers at personality portraits and conceptual photography. His photography career started with street photography on black-and-white film in 1990s, and gradually transitioned to include corporate photography and creative projects. He studied how people become awkward when being photographed through years of portrait and headshot work, to engineer a process to minimize it. This experience is given a new and exciting context through working as the photography consultant in the present show. http://beaupix.com | http://suzuki.photo
>>THE #FOCUSWITHC1 EXPERIENCE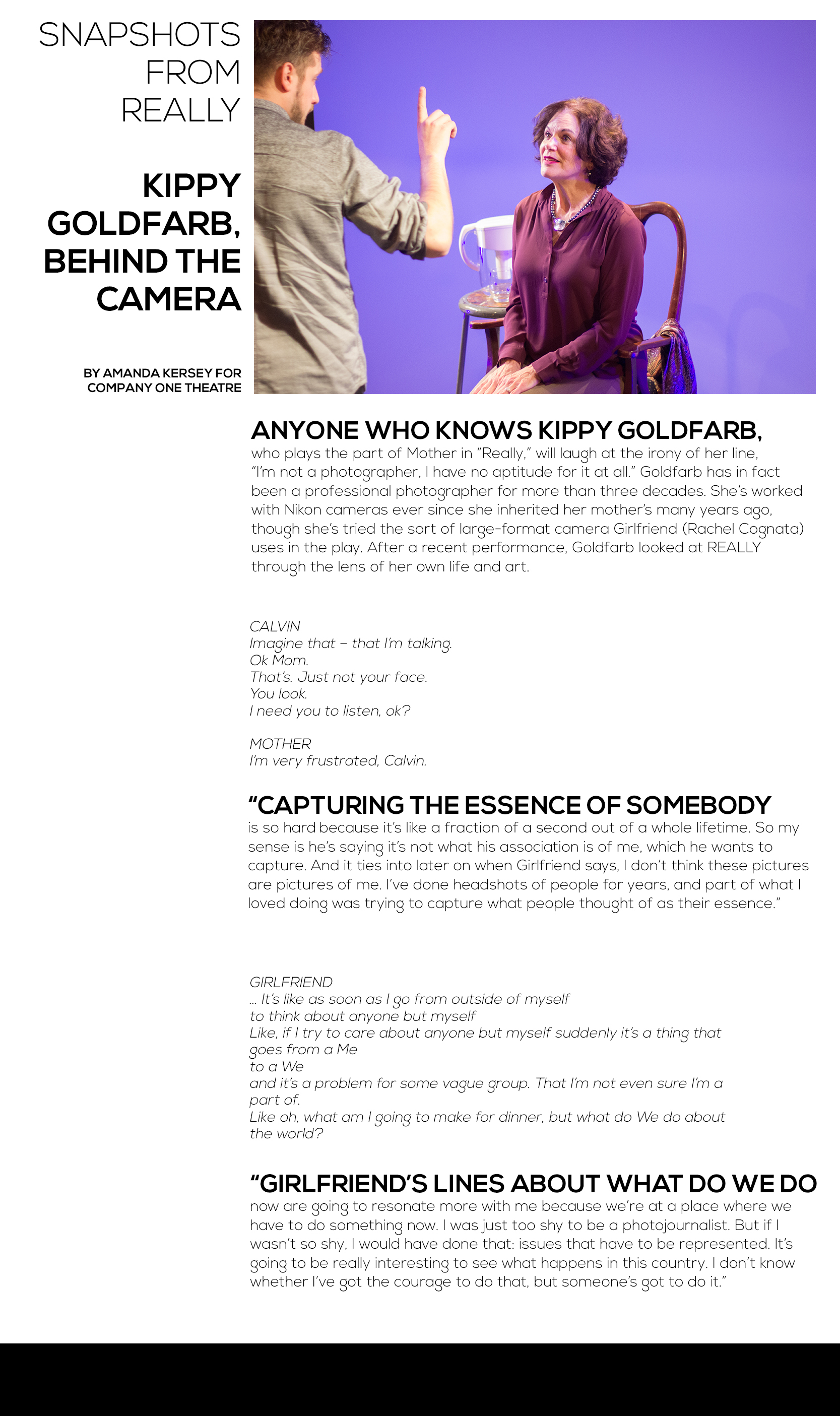 Stay tuned for information on special events!
Reviews
January 27, 2017
January 30, 2017
January 31, 2017
February 2, 2017
February 1, 2017
February 2, 2017
January 19, 2017
January 24, 2017
January 2, 2017