There are no tickets
available for purchase
at this time.
Get Tickets
Out of the Box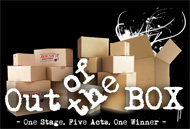 August 14, 2012
Roberts Theatre @ Calderwood Pavilion
A competitive multimedia event of extravagant, show stopping brilliance spanning over three nights, Out-of-the-Box brings performance to the next level. Using a theme for each evening, local performers from all backgrounds — actors, musicians, dancers, poets, puppeteers and everything in between — will converge in a multimedia cabaret, the likes of which the Boston theatre scene has never seen. A winner will arise from the dust, judged completely by you, the audience.
Coming Soon
Stay tuned for information on special events!
Coming Soon