There are no tickets
available for purchase
at this time.
Get Tickets
NOW ON TOUR: We're Gonna Die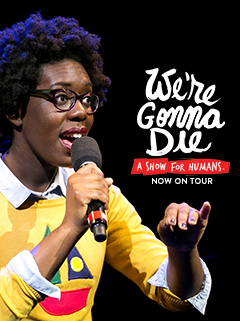 After a sold-out run at Club OBERON, Company One Theatre is taking We're Gonna Die on the road!
By Young Jean Lee
Directed by Shawn LaCount | Music direction by Steve Sarro
Starring Obehi Janice | Featuring the musical stlyings of Thom Dunn, Shahjehan Khan, Steve Sarro, & Ethan Selby
"Who knew a show about the grim and poignant facts of life's tenacious, provisional nature could be so much fun?"— WBUR's The ARTery
"I suspect that joining my voice with those of my fellow audience members, chanting 'We're gonna die' over and over will remain one of the most inexplicably pleasurable experiences of my theatergoing life." — Vogue
It's time to get real and rock out about the one thing we all have in common: WE'RE GONNA DIE. Playwright Young Jean Lee blends storytelling, stand-up, music, and theater into a funny, sweet, and darkly weird song cycle that lets us know we may be miserable, but at least we won't be alone. Boldly exploring the less awesome moments of life with outrageous humor and powerful insight, this Obie-award winning cabaret-style event moves audiences to a charged collective catharsis. Come experience the smartest and most life-affirming way to contemplate the inevitable!

Cast
PLAYWRIGHT & PRODUCTION STAFF
---
Want a peak into the rehearsal room? Click here to check out our dramaturgy blog for insight into the play and production process. Don't see what your looking for? Ask a dramaturg!
Stay tuned for information on special events!
Reviews
April 23, 2016
April 21, 2016
April 14, 2016
April 15, 2016
March 12, 2016