There are no tickets
available for purchase
at this time.
Get Tickets
Miss You Like Hell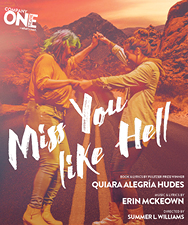 book & lyrics by Quiara Alegría Hudes
(In the Heights, Water by the Spoonful)
music & lyrics by Erin McKeown
directed by Summer L. Williams
co-produced with American Repertory Theater as part of the A.R.T. Breakout series
January 10 – 27, 2019 @ OBERON
#RoadTripWithC1
16-year-old Olivia hasn't seen her mother Beatriz in years, but—surprise!—mom just showed up in the middle of the night, with a pickup truck, the promise of the open road . . . and an immigration hearing looming at journey's end.

C1 returns to OBERON with a powerful new musical odyssey about a daughter who gets to stay, a mother who might have to leave, and the border wall that could come between them. Quiara Alegría Hudes and Erin McKeown's Miss You Like Hell explores how many miles we can travel with the help of courageous neighbors and beautiful strangers.

"A fresh take on the American road story, filled with people and ideas we rarely get to see onstage." - The New York Times

C1's Take:
Company One is producting MISS YOU LIKE HELL to amplify:
– #FamiliasUnidas #FamiliesBelongTogether is not just a rallying cry—it's a right.
– The necessary redefining of "American" to be more inclusive and unbound by borders.
– Kindness and hospitality as powerful tools in paving the way for a more just society.
– The hard work of grassroots organizations that fight for immigrant justice both in Boston and beyond.
– We affirm the declaration of our playwright Quiara Alegría Hudes, who says that no matter how "othered" her characters may appear in the traditionally wealthy white spaces of theatre, they categorically belong on our collective stages.
Cast
PLAYWRIGHT & PRODUCTION STAFF
---
Quiara Alegría Hudes
Quiara Alegría Hudes is a writer, strong wife and mother of two, barrio feminist, and native of West Philly, U.S.A. Hailed for her work's exuberance, intellectual rigor, and rich imagination, her plays and musicals have been performed around the world. They include WATER BY THE SPOONFUL, winner of the Pulitzer Prize for Drama; IN THE HEIGHTS, winner of the Tony Award for Best Musical and Pulitzer finalist; and ELLIOT, A SOLDIER'S FUGUE, another Pulitzer finalist. Her most recent musical, MISS YOU LIKE HELL, appeared Off-Broadway at New York's Public Theater. Originally trained as a composer, Hudes writes at the intersection of music and drama. She has collaborated with renowned musicians including Nelson Gonzalez, Michel Camilo, Lin-Manuel Miranda, Erin McKeown, and The Cleveland Orchestra. Hudes recently founded Emancipated Stories. It seeks to put a personal face on mass incarceration by having inmates share one page of their life story with the world.

Erin McKeown
Erin McKeown (pronounced "MICK-yone") is a musician, writer, and producer known internationally for her prolific disregard of stylistic boundaries. She has released 10 full length albums over the last 20 years, all the while refining her distinctive and challenging mix of American musical forms. Her first musical, MISS YOU LIKE HELL, opened Off-Broadway at The Public Theater in 2018, where it was nominated for 5 Drama Desk Awards, including Best Lyrics, Best Music and Best Orchestrations. Leading her own band, she has performed at Bonnaroo, Glastonbury, and the Newport Folk Festivals. A familiar presence on NPR and the BBC, McKeown's songs have also appeared in numerous commercials and television shows. While a student at Brown University, Erin was a resident artist at Providence, RI's revolutionary community arts organization AS220. A 2011-2012 fellow at Harvard's Berkman Klein Center For Internet & Society, she is also the recipient of a 2016 writing fellowship from The Studios of Key West and a 2018 residency at the Virginia Center for the Creative Arts.

Summer L. Williams
Summer L. Williams is a Co-Founder and Associate Artistic Director of Company One Theatre in Boston. Her most recent directing credits include LEFTOVERS by Josh Wilder with Company One, WIG OUT! by Tarell Alvin McCraney with Company One in collaboration with A.R.T., SMART PEOPLE at Kitchen Theatre Company in Ithaca, NY and Geva Theater in Rochester, NY, BARBECUE at Lyric Stage Company of Boston, REVOLT. SHE SAID. REVOLT AGAIN. at Company One Theatre, BOOTYCANDY at SpeakEasy Stage Company, AN OCTOROON and COLOSSAL with Company One Theatre—Winner of the 2016 Elliot Norton Award for Outstanding Director for both productions. Regional credits: INTIMATE APPAREL at Lyric Stage Company of Boston; SHIV as a part of THE DISPLACED HINDU GODS TRILOGY; Shelter of Last Resort by Miranda Craigwell as a part of XX PlayLab 2014; the New England Premiere of Jackie Sibblies Drury's WE ARE PROUD TO PRESENT A PRESENTATION ABOUT THE HERERO OF NAMIBIA, FORMERLY KNOWN AS SOUTHWEST AFRICA FROM THE GERMAN SUDWESTAFRIKA BETWEEN THE YEARS 1884-1915; Idris Goodwin's HOW WE GOT ON; Lynn Nottage's BY THE WAY, MEET VERA STARK at the Lyric Stage Company of Boston; THE BROTHERS SIZE and MARCUS; OR THE SECRET OF SWEET as part of THE BROTHER/SISTER PLAYS (2012 Elliot Norton Award nominated for Outstanding Production and winner of the 2012 IRNE Award for Best Play); NEIGHBORS; GRIMM; THE GOOD NEGRO; VOYEURS DE VENUS (Winner of 2009 Elliot Norton Award for Outstanding Director); THE BLUEST EYE (IRNE and Elliot Norton Award nominated); THE LAST DAYS OF JUDAS ISCARIOT; SPELL #7 (IRNE nominated); JESUS HOPPED THE A TRAIN (2004 Elliot Norton Award for Best Fringe Production); and TWILIGHT: LOS ANGELES 1992 (IRNE nominated). Ms. Williams has also directed for the Boston Playwrights' Theatre, Clark University, Brandeis University, The Theatre Offensive and Huntington Theatre Company.

Erik D. Diaz**
Erik is thrilled to be back at C1 working with Summer on MISS YOU LIKE HELL after designing this past summer's production of LEFTOVERS. Regional credits: DOUBT—IRNE Nom. (OSTC); PETER AND THE STARCATCHER (Playhouse on the Square); MOTHERS AND SONS—IRNE Nom. (Speakeasy); KING AND I (NSMT); IN THE HEIGHTS (CMT-San Jose); HENRY V (Kingsmen Shakespeare); LUMBERJACKS IN LOVE—IRNE Nom. (GBTC); and SPAMALOT (Sharon Playhouse). TV: HGTV's DESIGNED TO SELL, CBS–WBZTV. Erik is a proud member of USA Local 829 and teaches technical theatre and design at the Noble and Greenough School. DesignByDiaz.com

Danielle Domingue Sumi
Danielle is treasured for ingenuity and leadership in theatrical production. Inspired by diversity, humility and spirituality; Danielle has created with international companies including East West Players, LA Master Chorale, LA Philharmonic, Perm Opera, Teatro Real, English National Opera and LA Opera. Recent design credits: AS WE BABBLE ON with East West Players and LAGRIME DI SAN PIETRO with LA Master Chorale. Assistant design: Bernstein's MASS (LA Philharmonic). Costume supervision: ALLEGIANCE (EWP and JACCC).

Justin Paice
Justin's past credits include WIG OUT!, THE T PARTY, SHOCKHEADED PETER , ASTROBOY AND THE GOD OF COMICS (Company One); FAR AWAY, THE MAN WHO (Harvard TDM); ACOUSTICA ELECTRONICA (Touch Performance Art); VIOLET, THE SHIPMENT, A BRIGHT NEW BOISE (ART Institute); and THE ROCKY HORROR SHOW (Gold Dust Orphans/Oberon).

Rachel Neubauer
Rachel is thrilled to be working on this project at Company One. Select Regional Credits: ALL SHOOK UP, THOROUGHLY MODERN MILLIE, MacHaydn Theatre; WOMAN IN BLACK, Seacoast Repertory Theatre; CABARET (Asst. Dir. Nicole Fosse), Pentangle Arts Council; I AM MY OWN WIFE, New Hampshire Theatre Project; THE WIZ, Lyric Stage Company of Boston. In addition to freelancing Rachel works at MacHaydn Theatre as Sound Supervisor. Sounddesignbyrachel.org

David Coleman
David returns to C1 after serving as the Vocal Director for WIG OUT! He received his Bachelor of Music at Boston University and his MA at Tufts University. He serves as Choral Director at Dana Hall School and Tufts University. Past music direction credits include CABARET (Boston Children's Theater), THE WIZ (Eastern Nazarene College). Associate Music Director credits include VIOLET (SpeakEasy), BEST OF BOTH WORLDS (American Repertory Theater). Rehearsal Pianist credits include THE GERSHWINS' PORGY AND BESS (A.R.T), WAITRESS (A.R.T.), CROSSING (A.R.T.). He has also worked with with Audra McDonald, Bobby McFerrin, Patti Labelle, and Ryan Gosling and performed at Symphony Hall, Carnegie Hall, and the White House. He is the recipient of three 2013 New England Urban Music Awards, and the 2007 Thomas Dorsey Award from New England Conservatory.

Mayra Hernandez
Mayra Hernandez was born and raised in Boston. She trained at Boston Arts Academy and Smith College, where she earned BAs in Dance and Sociology. She has worked with Fly by Night Dance Theatre, BoSoma Dance Company, Brayton Dance, Continuum Dance Project and Anna Myer & Dancers. Throughout Mayra's dance career she has had the opportunity to work with world renown, influential choreographers such as Paul Taylor, Mark Morris, Ronald K. Brown, and many others. Having taught dance at local community centers, dance schools, and afterschool programs, Mayra currently serves the needs of dancers and future choreographers at Brookline High School. Mayra is also a registered yoga teacher, and is pursuing her MEd in Community Arts at Lesley University. Mayra is thrilled to work alongside fierce director Summer L. Williams!

Noe Montez
Noe is Associate Professor and Director of the PhD in Theatre and Performance Studies at Tufts University. Previously, he served as Literary Manager and Dramaturg at Cleveland Play House. Recent credits include world premieres of Natalya Baldyga and Meg Taintor's I HAVE SEEN HORIZONS (Opera House Arts), Michael Bloom's adaptation of Austen's EMMA (Cleveland Play House), as well as thirty other shows staged across the United States. Noe serves as Vice President of the C1 Board of Directors.

Carmen Catherine Alfaro
Carmen Catherine is a Boston-based Latina stage manager, assistant lighting designer and electrician, and esta bien emocionado to be returning to Company One after stage managing LEFTOVERS. She enjoys being a part of contemporary and diverse work. She is a recent graduate of Boston University with a BFA in Stage Management & Lighting Design. Other recent stage management credits include PERMADEATH (ASM, White Snake Projects), and SCHOENBERG IN HOLLYWOOD (PA, Boston Lyric Opera). carmencalfaro.com

Jadira Figueroa
Jadira is excited and proud to be working with Company One in this production. Her previous stage managing credits include LOS COLORES DE AMOR (Assistant Stage Manager), CROSSING FLIGHT, SPECULUM, BOLA de NIEVE, GUMDROPS & THE FUNNY UNCLE and TURTLES to name a few. Jadira has managed throughout the years to find her place within the theatre community of Boston by working with Spanish and English speaking artists, feeling privileged to have this wonderful mix influence her work.

LeeAnna Studt
LeeAnna is elated to spend the beginning of her second year in Boston working with Company One! Previous Company One credits are HYPE MAN, WIG OUT!, and LEFTOVERS. Some 2k18 favorites include JAGGED LITTLE PILL (Carpenter - American Repertory Theater), PIPPIN (Dance Captain / Ensemble - Footlight Club), CAT IN THE HAT (ASM - Boston Children's Theater), THE REVOLUTIONISTS (Electrician / Carpenter - Central Square Theater). Love to those who grew me; especially Mama, Papa, D, and the Z's.

Stephanie Engel
Stephanie is a PhD student in Theatre and Performance Studies at Tufts University. She has previously worked in literary development for the Eugene O'Neill Theater Center and the Guthrie Theater; as well as Mixed Blood Theatre, a place where she operated as a freelance dramaturg, led post-show discussions for the 2016/2017 season, and conducted outreach work under the theater's Radical Hospitality mission, a program providing no-cost access to theatre for residents across the Twin Cities.

Nate DeMare
Nate's excited to be working with Company One for his first Technical Director position. He's been working as a Carpenter professionally for about 4 years, and in that time has been across the country and back working for various companies across the lower 48 States.

Paul Alperin
Paul Alperin met the love of his life (his cello) in North Carolina in 1998. Favorite shows on which they previously worked together include SHAKESPEARE IN LOVE (SpeakEasy), MAN OF NO IMPORTANCE, PLAY ON (Bad Habit), VIOLET, LIGHT IN THE PIAZZA, NINE (AFD), PARADE (Umbrella), WEST SIDE STORY (Moonstruck), THE LAST FIVE YEARS (Ram's Head), LITTLE WOMEN (BoCo@Berklee), SPRING AWAKENING (Suffolk University), and SWEENEY TODD (Pentucket Players). Thanks to Rebekah and Newton whose tail wags make every day meaningful.

Job Salazar Fonesca
Formerly a violinist in the Monterrey Symphony Orchestra (OSUANL) and Opera Nuevo Leon, Job was showcased in the Chamber Music Festival of Nuevo Leon, Festival Internacional de Musica Mexicana, CONARTE. Other festival credits include Brevard Music Center, Festival Del Sole in Napa, California. Presently he is a member of The Unitas Ensemble, Boston's Latin Orchestra, Harvard Baroque Chamber Orchestra, La Donna Musicale and Rumbarroco. He has been invited to the Vancouver Early Music Festival, The International Baroque Institute at Longy School of Music of Bard College in Boston and at The Twin Cities Early Music Festival in Saint Paul, Minnesota. Currently he has been honored as the Joseph L. Horner Scholar at The Longy School of Music of Bard College, also a member of Early Music America and the American Federation of Musicians.

Nick Laramore
Nick is a guitarist and multi-instrumentalist from St. Louis, Missouri. Since moving to Boston three years ago, Nick has found himself busy playing in pit-orchestras all over New England's Musical Theatre scene, as well as playing with various Singer-Songwriters and pickup bands around Boston. When not playing music, Nick enjoys cycling, baking, and stand-up comedy. Follow Nick on instagram @nick.larimore.

Caroline Leguía
Caroline Leguía is honored to be joining the C1/A.R.T. family for the Boston premiere of MISS YOU LIKE HELL! Caroline studied violin with Susan Jarvis and viola with Lisa Suslowicz at NEC Prep/Walnut Hill School and Ed Gazouleas at BU. Favorite shows include A MAN OF NO IMPORTANCE and PLAY ON! (Bad Habit Productions), NEWSIES (Weston Drama Workshop), and NEXT TO NORMAL (Arts After Hours). When not playing or teaching, Caroline resides in Quincy with her fiancé Patrick and their two cats, Scamper and Furball.

Hector Saint-Hilaire
Hector Saint-Hilaire, Drums Hector Saint-Hilaire holds a BM from Berklee College of Music. Trained in hand percussion, orchestral, and contemporary drums, theatre credits include DOGFIGHT (Speakeasy) and SEUSSICAL (Wheelock Family Theater). Hector has worked with Ben Young, Jamie Lynn Hart, and various orchestras, with performances at Berklee, Boston College, and Symphony Hall.

Sahil Warsi
From New Delhi, India—and based out of Boston—Sahil Warsi is a professional acoustic and electric bassist. He works and performs with a number of notable orchestras and jazz ensembles in and around the Greater Boston Area. He is currently the Principal Bassist for the Metrowest Symphony Orchestra, and founder of the Newbury Music Group. He is also an active teacher, and graduated from the Berklee College of Music where he studied Jazz Composition and Double Bass Performance.
Stay tuned for information on special events!