There are no tickets
available for purchase
at this time.
Get Tickets
Love Person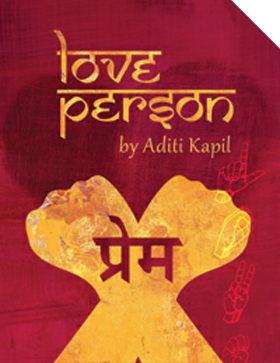 A Boston Premiere by Aditi Brennan Kapil
Directed by M. Bevin O'Gara
Dramaturgy by Ilana M. Brownstein
May 25 – June 23, 2012
The Plaza Theatre @ The Boston Center for the Arts
Love Person is a transcendent four-part love story told in Sanskrit, American Sign Language, English and email. Two couples are rocked to their cores when love unexpectedly transcends sexual orientation, physical attraction, and social structures. Free, a Deaf woman in a relationship with Maggie, accidentally strikes up a correspondence with Ram, a B.U. professor of Sanskrit and love-interest of Free's sister Vic. The four find themselves inextricably bound by technology, translation, and the breakdown of language itself.
Heart-pounding attraction, intense all-night conversations - Love Person captures the giddiness of new love affairs!
- American Theatre Magazine
Startling and evocative!
- Twin Cities Daily Planet
Cast
PLAYWRIGHT & PRODUCTION STAFF
Aditi Brennan Kapil
Playwright

M. Bevin O'Gara


Director

Christopher Robinson


ASL Community Liaison/Interpreter Coordination

Erin Basile


Production Stage Manager

Joey Thomas


Assistant Director

Emily Hart


1st Assistant Stage Manager

Annie McGuire


2nd Assistant Stage Manager

Joey Heyworth


Rehearsal Assistant Stage Manager

Dahlia Al-Habieli


Set Designer

Annie Wiegand


Lighting Designer

Jason Weber


Sound Designer

Miranda Giurleo


Costume Designer

Alexandra Herryman


Properties Designer

Amelia Gossett


Projection/Video Designer

Pax McCarthy


Deaf Consultant

Jessica Doonan


Interpreter Coordination

Alberto Sifuentes


ASL Coach

Ilana M. Brownstein


Dramaturg

Corianna Moffatt


Assistant Dramaturg

Alyssa McKeon


Production Manager

Karthik Subramanian


Associate Production Manager

Michael Best


Technical Director

Alexandra Herryman


Assistant Production Manager

Courtney Nelson


Assistant Production Manager
---
Aditi Brennan Kapil
ADITI KAPIL is an actress, writer, and director, of Bulgarian and Indian descent. She was raised in Sweden, and resides in Minneapolis, MN. She is a graduate of Macalester College with a BA in English and Dramatic Arts, has performed extensively in the Twin Cities and around the country, her writing has been nationally produced to critical acclaim. Her play 'Love Person' received the 2009 Stavis Playwriting Award. Her latest play, 'Agnes Under the Big Top, a tall tale,' was selected as a Distinguished New Play Development project by the NEA as administered by Arena Stage, and recently premiered at Mixed Blood Theatre and Long Wharf Theatre.
This 18-minute video was created by dramaturg Ilana M. Brownstein, and was designed to loop silently as part of the lobby display for Company One's production of Love Person by Aditi Brennan Kapil.  It features interviews with the actors and inspirational images from the design process.
Check out the LOVE PERSON DRAMATURY BLOG:

Read the LOVE PERSON Program: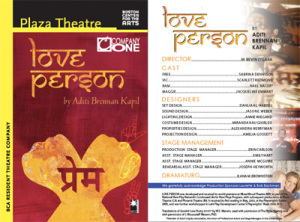 Stay tuned for information on special events!
Reviews
June 13, 2012
May 31, 2012
December 31, 1969
May 29, 2012
May 29, 2012
May 26, 2012
May 20, 2012