There are no tickets
available for purchase
at this time.
Get Tickets
LEFTOVERS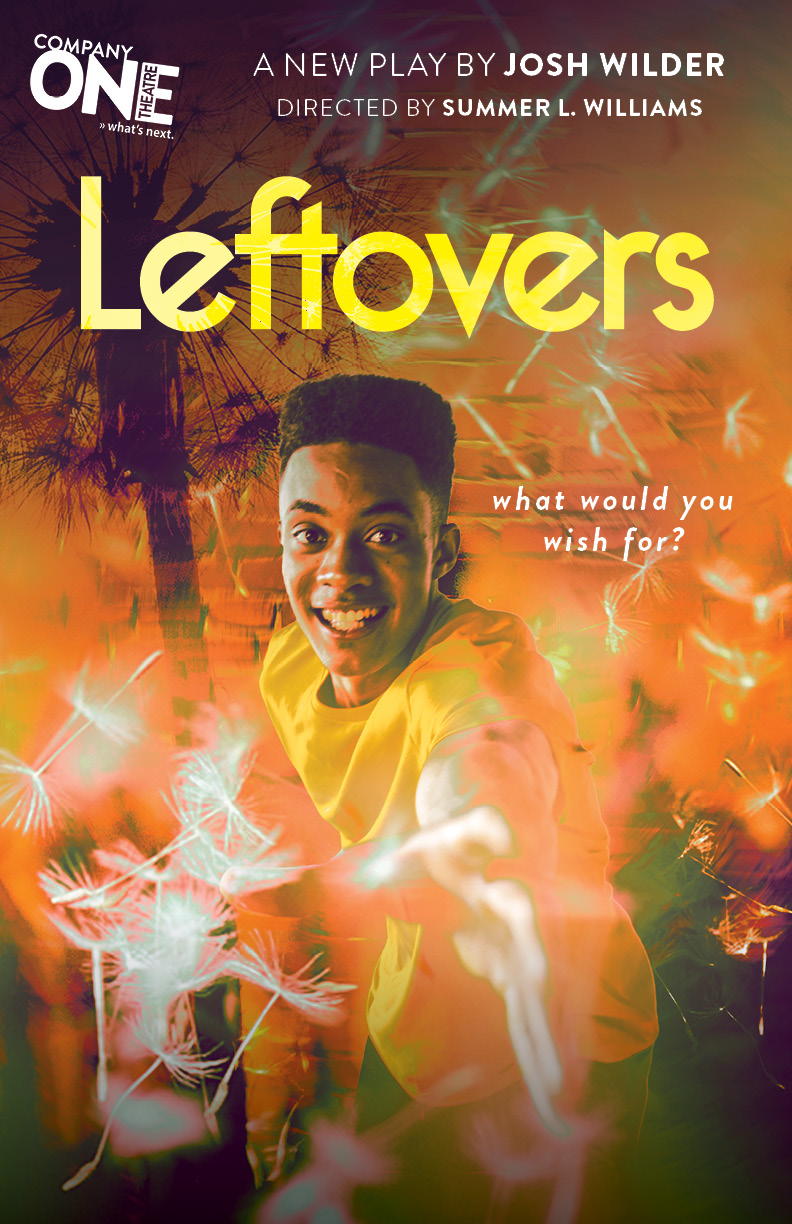 By Josh Wilder
Directed by Summer L. Williams
Developed by C1 PlayLab
July 21 – August 18, 2018
@ The Strand Theatre (543 Columbia Road, Boston)
#ClimbWithC1
Jalil and Kwamaine just want their family to be "Cosby Show Happy," but that kind of life doesn't seem to be in the cards—until an enormous dandelion sprouts in front of their South Philly home and wishes start falling from the sky. Seizing the possibility of no longer feeling like the city's leftovers, the brothers begin to dream their way out of the cycle of poverty that has governed their lives, and find themselves on an adventure they never could have imagined.

All tickets for Leftovers are Pay-What-You-Wish. $0 minimum, $10 suggested, $50 you're a hero! Your ticket donation directly contributes to the future of financially accessible theater in Boston.

Recommended for ages 12 & up | Contains adult language and difficult parent-child relationships.
C1's Take:
Company One Theatre is producing LEFTOVERS to AMPLIFY:

Ways to address the historical and systemic inequities that have led to today's cycle of poverty.

Forgiveness, and the dangers of perpetuating the "absent black father" myth.

That the power to dream, wish, and be the hero of your own journey is not reserved for white people.

The vital role local organizations have in combating gentrification and revitalizing communities from within.

"Yes we can!" for black and brown young men in a world that says "no you can't."
"As a young Black man I felt like my dreams and my environment were at war … Writing this play helped me understand why people in my neighborhood gave up, and it helped me heal the wounds I accumulated in my pursuit of my own dreams." – Josh Wilder
As the capstone of Company One's 19th season, Leftovers is a triumphant finish... It's Wilder's writing, brought to life by a committed cast of talented actors, which shines brightest here... He creates a true and touching story from these seemingly disparate elements and, in the process, he proves himself an emerging playwright to watch.
- WBUR's The ARTery
An inventive and emotionally involving experience... In this strange new reality, it might just be possible for certain dreams — most of them small, one of them life-transforming — to come true.
- The Boston Globe
Ought to be seen by anyone who cares about the future of American theater. ... There is extraordinary value in having a play about a black family by a black playwright playing in a black neighborhood. This is what we need more of, and this is why Company One remains perhaps the most vital theater in our fair city. And with all performances pay-what-you-wish, there's no reason to miss it.
- DigBoston
Cast
PLAYWRIGHT & PRODUCTION STAFF
---
Josh Wilder
Josh Wilder (he/him/his) is a playwright from Philadelphia. His work has been developed at various theaters and festivals across the country including The Fire This Time Festival, New York Theatre Workshop, The Drama League, Oregon Shakespeare Festival, 2015 O'Neill National Playwrights Conference, and Milwaukee Rep. Recent commissions include, LOVE'S LABOUR'S LOST for Play On! at Oregon Shakespeare Festival; and SHE A GEM for The Kennedy Center. He is the recipient of the Holland New Voices Award, Lorraine Hansberry Award, and an ASCAP Cole Porter Prize. Josh is a former 2014 Jerome Fellow and 2013 Jerome Many Voices Fellow at The Playwrights' Center; has been in residence at The Royal Court Theatre; Sundance at UCross; and served as Co-Artistic Director at The Yale Cabaret. MFA: Yale School of Drama.

Summer L. Williams
Summer L. Williams (she/her/hers) is a Co-Founder and Associate Artistic Director of Company One Theatre in Boston. Her most recent directing credits include Wig Out! by Tarell Alvin McCraney with Company One and OBERON at A.R.T.; Smart People at Kitchen Theatre Company in Ithaca, NY and Geva Theater in Rochester, NY; Barbecue at Lyric Stage Company of Boston; Revolt. She Said. Revolt Again. at Company One Theatre; Bootycandy at SpeakEasy Stage Company; An Octoroon and Colossal with Company One Theatre—Winner of the 2016 Elliot Norton Award for Outstanding Director for both productions. Regional credits: Intimate Apparel at Lyric Stage Company of Boston; Shiv as a part of The Displaced Hindu Gods Trilogy; Shelter of Last Resort by Miranda Craigwell as a part of XX PlayLab 2014; the New England Premiere of Jackie Sibblies Drury's We Are Proud To Present A Presentation About The Herero Of Namibia, Formerly Known As Southwest Africa From The German Sudwestafrika Between The Years 1884-1915; Idris Goodwin's How We Got On; Lynn Nottage's By The Way, Meet Vera Stark at the Lyric Stage Company of Boston; The Brothers Size and Marcus; Or The Secret Of Sweet as part of The Brother/Sister Plays (2012 Elliot Norton Award nominated for Outstanding Production and winner of the 2012 IRNE Award for Best Play); Neighbors, Grimm; The Good Negro; Voyeurs De Venus (Winner of 2009 Elliot Norton Award for Outstanding Director); The Bluest Eye (IRNE and Elliot Norton Award nominated); The Last Days Of Judas Iscariot; Spell #7 (IRNE nominated); Jesus Hopped The A Train (2004 Elliot Norton Award for Best Fringe Production); and Twilight: Los Angeles 1992 (IRNE nominated). Ms. Williams has also directed for the Boston Playwrights' Theatre, Clark University, Brandeis University, The Theatre Offensive and Huntington Theatre Company.

Tatiana Gil
Tatiana Isabel (she/her/hers) is a queer Latinx Boston-based artist activist with a passion for new play development, devised work, telling under-told stories, and coffee. After studying at the Neighborhood Playhouse School of Theater in New York City, Tatiana moved to Boston to pursue her undergraduate degree at Boston University. She graduated in May 2017 with a degree in theatre arts and is currently the Dramaturgy Fellow at Company One Theatre. She has recently completed an artist residency with The Theatre Offensive, where she wrote, workshopped, and had a staged reading of her new full length play, LITHOSPHERE HEART. Her most recent passion project is Yo Soy LOLA, whose mission is to raise awareness of the multidimensional Latina experience and build a platform that unites Latinas to tell our stories, change our narrative, and give back to our communities. She is a committee member and the theatrical deviser/playwright in this newly formed movement.

Miranda Giurleo
Miranda (she/her/hers) has previously designed PEERLESS, DRY LAND, SHOCKHEADED PETER, SHE KILLS MONSTERS, LOVE PERSON, NEIGHBORS, GRIMM, THE GOOD NEGRO, and AFTER THE QUAKE with C1. Area credits include: THE CONVERT, MATCHLESS & THE HAPPY PRINCE, ROOTS OF LIBERTY (Underground Railway Theater); THE SCOTTSBORO BOYS (SpeakEasy Stage Company); CHILL, THE ROYALE, A CHRISTMAS CAROL (Merrimack Repertory Theatre); RICHARD III, MEASURE FOR MEASURE, AS YOU LIKE IT (Actors' Shakespeare Project); and THE EFFECT, TOTALITARIANS, and THE NEW ELECTRIC BALLROOM (Gloucester Stage Company).

Aja Jackson
This May, Aja (she/her/hers) completed her MFA at Boston University. She also holds a BFA from the University of Nebraska—Lincoln in lighting design. Recently Aja designed HEAR WORD! NIJA WOMAN TRUE TALK at the American Repertory Theatre. Other shows include SHAKESPEARE IN LOVE (Omaha Playhouse), THE LAST WIFE (WAM Theatre), and was the designer for the site-specific company, NOURISHMENT. She has also worked with The Santa Fe Opera (NM), The Public Theater (NYC), The Lighting Design Group (NYC), The Huntington Theatre Company (BOS); and the Boston Lyric Opera (BOS).

Kailey Bennett
Kailey (she/her/hers) graduated from Bowdoin College in 2014 with a BA in Visual Arts and minor in Earth and Oceanographic Sciences. Since moving to Boston, she has worked with numerous opera and theatre companies including, Guerilla Opera, Opera Del West, Odyssey Opera, the North End Music and Performing Arts Center, TC Squared Theatre, Boston Baroque, and Wheelock Family Theatre. She works primarily in Stage and Production Management, and in Properties. Highlights from 2018 include: CROSSING FLIGHT (TC Squared Theatre), BEAUTY AND THE BEAST (Wheelock Family Theatre), FIDELIO (Boston Baroque), and SWEENEY TODD (Theater UnCorked). This is her first production with Company One Theatre.

Erik D. Diaz
Erik (he/him/his) is thrilled to be back at C1 working with Summer on LEFTOVERS. Regional credits: DOUBT—IRNE Nom. (OSTC); PETER AND THE STARCATCHER (Playhouse on the Square); MOTHERS AND SONS—IRNE Nom. (Speakeasy); KING AND I (NSMT); IN THE HEIGHTS (CMT-San Jose); HENRY V (Kingsmen Shakespeare); LUMBERJACKS IN LOVE—IRNE Nom. (GBTC); and SPAMALOT (Sharon Playhouse). TV: HGTV's DESIGNED TO SELL, CBS–WBZTV. Proud member of USA Local 829. Erik lives in Attleboro with his wife, Holly, and sons, Ezra and Zander. designbydiaz.com

Anna Drummond
Anna (she/her/hers) has received 4 nominations and 3 EVVY wins for the category of Outstanding Sound Design for the Stage (2015 – A PLANET ALL YOUR OWN, 2016 – ALCHEMY OF DESIRE/DEAD MAN'S BLUES, 2017 – THE HOBBIT, ECHO). Recent projects include PROWESS, Brown/Trinity Rep; EURYDICE, Brown/Trinity Rep; MORTALITY PLAY, Emerson Shakespeare Society; IN THE RED AND BROWN WATER, Flawless Brown. Anna is a graduate of Emerson College with a Sound Design/Audio Post-Production whose freelance work includes voiceover narration, podcast, audiobook editing, production, mixing and SFX curation.

Carmen Alfaro
Carmen (she/her/hers) is a Boston-based Latinx stage manager, assistant lighting designer and electrician. She strongly believes in the power of diverse work, and is grateful to have been a part of this production. She is a recent graduate of Boston University with a BFA in Stage Management & Lighting Design. Recent stage management credits include PELLEAS ET MELISANDE (Boston University Opera Institute), INITMATE APPAREL and AUORA BOREALIS 16 (Boston University). carmencalfaro.com

Baron Pugh
Baron (he/him/his) is a recent scenic design MFA graduate from Boston University. Select credits include: Lyric Stage Company of Boston: THE WIZ; Threshold Stage Company: THE CLEAN HOUSE; Barnstormers Theatre: DRIVING MISS DAISY; Boston University: GOD'S EAR, FAITHLESS, GHOSTS, THE HOTHOUSE, THE MERCHANT OF VENICE, LA TRAGÉDIE DE CARMEN; Shakespeare Theatre of New Jersey – Next Stage Ensemble: THE TRIUMPH OF LOVE, ROMEO AND JULIET. BaronPughDesign.com.

Nada Shaaban
Nada (she/her/hers) is a senior at Framingham State University. She's thrilled to be back with Company One Theatre as an Assistant Stage Manager for LEFTOVERS, having previously worked at C1 as a Production Apprentice and a program supervisor. Nada is currently the Technical Chair for FSU's theatre organization, The Hilltop Players. Her various production and technical work have gotten her nominated as a Stage Manager in The Kennedy Center American College Theatre Festival. Her aspirations include an endless supply of vegan desserts and Tim Burton aesthetics!

Sarah Shiner
Sarah (she/her/hers) received her degree in Sociology and Theater Production from the University of Connecticut. She has worked on productions such as HAIRSPRAY, THE THREE MUSKETEERS, and CHICAGO, and has a background in new play development. Sarah is excited to be a part of her first production with Company One Theatre!

Camila Ramirez-Arau
Camila Ramirez-Arau is a recent MIT graduate with a B.S. in Mechanical Engineering. She is thrilled to be working as the Assistant Technical Director with Company One as her first professional theater experience. She has done set design and technical directing for many shows with the MIT Shakespeare Ensemble, including QUEEN LEAR, THE TEMPEST, and ROMEO AND JULIET. She is currently the Technical Director for their summer production of SHE KILLS MONSTERS.

Kyle Hicks
Kyle (he/him/his) is very proud that his first professional theater experience is with Company One on the LEFTOVERS production team. He is a rising senior majoring in Communication at Framingham State University. After acting in school productions—OUR TOWN, 12 ANGRY MEN, HEATHERS THE MUSICAL to name a few—he was an assistant stage manager for A PIECE OF MY HEART as well. Kyle is so humbled to have sat next to super talents and see this beautiful piece to fruition.

Karly Foster
Karly Foster (she/her/hers) studies Theater and Psychology at Bridgewater State University where she recently designed costumes for THE SWAN, masks for CONFERENCE OF THE BIRDS, worked wardrobe for THE IMPORTANCE OF BEING EARNEST, and has assisted in costume construction and crafts for several other productions. In addition to her work in costumes, Karly has appeared onstage at BSU in CLOSET LAND in the role of The Woman, and as Ensemble in GYPSY.
Post-Show Events and Conversations
Sunday, July 22 – Conversation with playwright Josh Wilder, moderated by Ilana M. Brownstein

Thursday, August 9 – devised performance and conversation with youth from our community partner Hyde Square Task Force

Saturday, August 11 – featuring community partner ZUMIX, including a performance from Project Method of an original song inspired by LEFTOVERS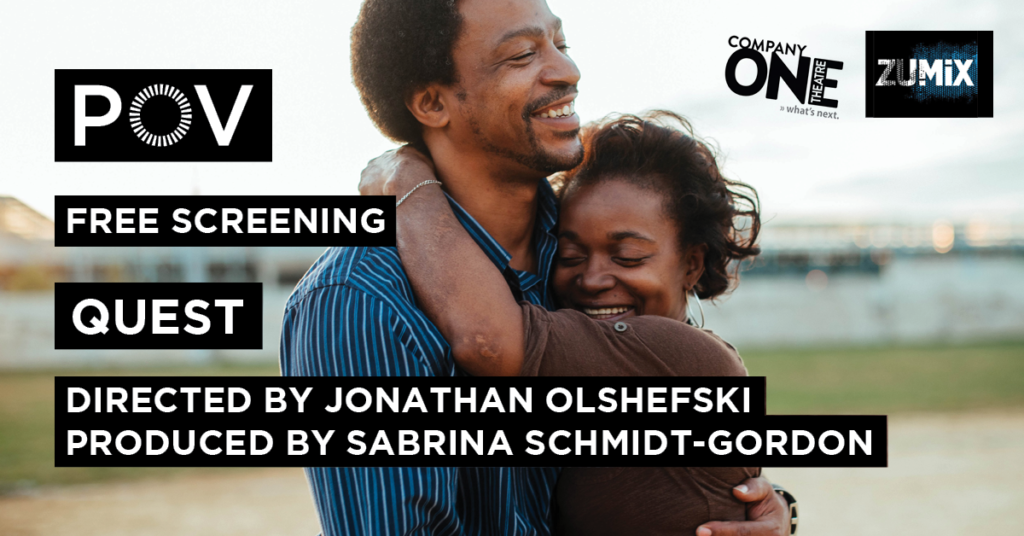 Company One Theatre and ZUMIX present a one-night-only FREE community film screening, in conjunction with C1's production of LEFTOVERS, to amplify another Philly-based story that showcases themes of disappointment, hope, and forgiveness.
QUEST Documentary
directed by Jonathan Olshefski
produced by Sabrina Schmidt-Gordon
WHEN: Wednesday, August 8 at 6:30pm
WHERE: ZUMIX (260 Sumner St, East Boston)
RSVP >> goo.gl/forms/NWaltYU1CguCznzI2
Filmed with vérité intimacy for nearly a decade, QUEST is the moving portrait of a family from North Philadelphia. Beginning during the Obama presidency, Christopher "Quest" Rainey and his wife, Christine'a "Ma Quest," raise a family while nurturing a community of hip-hop artists in their basement home music studio. Epic in scope, QUEST is a vivid illumination of race and class in America and a testament to love, healing and hope.
Watch the trailer >> www.pbs.org/pov/quest/
Official Selection, 2017 Sundance Film Festival.
A co-production of ITVS and American Documentary | POV.
This event is a collaboration with POV, the award-winning independent non-fiction film series on PBS. www.pbs.org/pov
Stay tuned for information on special events!
Reviews
July 24, 2018
July 23, 2018
July 25, 2018