There are no tickets
available for purchase
at this time.
Get Tickets
HYPE MAN – Limited Return Engagement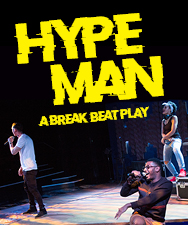 HYPE MAN: a break beat play
by Idris Goodwin
directed by Shawn LaCount
dramaturgy by Jessie Baxter
Limited Return Engagement to Support Company One Theatre's New Play Development
November 14, 15, 16 at 7pm @ OBERON
"★★★★★… Hype Man is theater at its urgent, vital best. See it and see it again." – DigBoston
Winner of 2 Elliot Norton Awards: Outstanding New Script and Outstanding Production
>> Company One Theatre is producing HYPE MAN to AMPLIFY:
– Accountability and a commitment to continuously challenge the notion of white allyship

– Advocacy for female artists of color in male-dominated industries

– ARTivism and the responsibility of artists to respond to calls to action through their creative platforms

– Partnership between arts organizations to create mentoring and leadership opportunities for youth

– Black Lives Matter as a movement that is and will continue to grow, protest, and fight
Frontman Pinnacle and his hype man Verb have been making Hip-Hop together since they were kids. Now that they've got top-notch beatmaker Peep One in the mix, the group is finally on the verge of making it big—until the police shooting of an unarmed black teenager shakes the trio to its core, and forces them to navigate issues of friendship, race, and privilege. Returning for THREE NIGHTS ONLY after acclaimed runs in Boston and Minneapolis, Hype Man asks us: who has the responsibility to speak up in the face of social injustice?


Cast
PLAYWRIGHT & PRODUCTION STAFF
---
Kadahj Bennett
Kadahj is psyched to reunite with Goodwin for another C1 experience. Recent credits include PEERLESS, THE T PARTY, AN OCTOROON, DRY LAND, HOW WE GOT ON (Company One), AKEELAH AND THE BEE (Wheelock Family Theatre) and a feature in THE HALLS web series (Beyond Measure Productions). Hamilton College & the Boston Arts Academy grad; Kadahj is a Teaching Artist in the Boston Area. Bennett serves as the writer/lyricist/vocalist for Dancelujah (hiphop/fusion). Luminary Artist for the Isabella Stewart Gardner Museum.

Rachel Cognata
A returned Boston native, Rachel is excited to be working with Company One in their 19th season. She is a graduate of Boston Arts Academy, a longtime collaborating organization of C1 and a recent graduate of Tufts University. She most recently played Girlfriend in Company One's production of REALLY and is currently working on a ensemble devised play with Liars and Believers theater company. Favorite past projects also include INNER CITY BLUES and THE LARAMIE PROJECT. Rachel is thrilled and honored to be working with C1 again on the world premiere of Idris Goodwin's HYPE MAN.

Michael Knowlton*
Michael is thrilled to return to Company One. Past C1 credits include Splendor and Bengal Tiger At The Baghdad Zoo (Company One). Other recent credits Come Back Little Sheba and Our Town (Huntington Theatre Company); Distant Neighbors (Fresh Ink); Coriolanus (Commonwealth Shakespeare); References to Salvador Dali Make Me Hot (Wellfleet Harbor Actors Theatre); The Last Days of Judas Iscariot (Wax Wings). Michael currently resides and grew up in Boston and has been a regular cast member of Boston's Shear Madness since 2015. *appearing courtesy of Actors' Equity Association
Idris Goodwin
IDRIS GOODWIN is an award winning playwright, poet, performer and essayist. His play HOW WE GOT ON developed at the O'Neill National Playwrights Conference, premiered in Actors Theater's 2012 Humana Festival, and is being produced at theatres across the country. It is the first in his "break beat play" series which includes The REALNESS and HYPE MAN, winner of the 2017 Blue Ink Playwriting Award. His play AND IN THIS CORNER CASSIUS CLAY received the 2017 Distinguished Play Award from The American Association of Theater and Education. Other widely produced plays include BLACKADEMICS, THIS IS MODERN ART co-written with Kevin Coval, and BARS AND MEASURES. Goodwin is one of seven playwrights featured in the widely presented HANDS UP!, an anthology commissioned by The New Black Fest and published by Samuel French. His one act BLACK FLAG was produced Off Broadway. THE WAY THE MOUNTAIN MOVED, commissioned as part of Oregon Shakespeare's groundbreaking American Revolutions Series, will world premiere in 2018. He's had work commissioned by or in development with The Public Theatre, Steppenwolf Theater, The Kennedy Center, Seattle Children's Theater, Berkeley Rep's Ground Floor Program, La Jolla Playhouse, The Lark Playwriting Center, The Playwrights's Center and New Harmony Project. Idris's work has received support from the NEA, Mellon and Ford Foundations, and is the recipient of InterAct Theater's 20/20 Prize. "These Are The Breaks" (Write Bloody, 2011), his debut collection of essays and poetry, was nominated for a Pushcart Prize. Goodwin's poetry has featured on HBO, The Discovery Channel, Sesame Street and National Public Radio. Goodwin is an assistant professor in The Department of Theatre and Dance at Colorado College.

Shawn LaCount
Shawn is a proud co-founder of Company One Theatre. Recent directorial credits include the regional premieres of Jackie Sibblies Drury's REALLY; Young Jean Lee's WE'RE GONNA DIE (The American Repertory Theatre /Company One Theatre); A. Rey Pamatmat's EDITH CAN SHOOT THINGS AND HIT THEM (Elliot Norton Award Nominee for Outstanding Director and Outstanding Production); Annie Baker's THE FLICK (Elliot Norton Award, Outstanding Production); the world premiere of Kirsten Greenidge's SPLENDOR (IRNE Award nominee, Best New Play); the Boston premieres of BENGAL TIGER AT THE BAGHDAD ZOO by Rajiv Joseph; THE ELABORATE ENTRANCE OF CHAD DEITY by Kristoffer Diaz (Elliot Norton Award for Outstanding Director and Outstanding Production); Annie Baker's THE ALIENS (Elliot Norton Award for Outstanding Director and Outstanding Production); the world premiere of GRIMM (IRNE Award nominee for Best New Play); the Boston premiere of THE OVERWHELMING by JT Rogers (Elliot Norton Award Nominee, Outstanding Production); the Boston premiere of Haruki Murakami's AFTER THE QUAKE (Elliot Norton Award Nominee, Outstanding Production); Stephen Sondheim's ASSASSINS (IRNE nomination for Best Director and Best Musical); and the Boston premiere of Noah Haidle's MR. MARMALADE (Elliot Norton Award Nominee, Outstanding Director/Outstanding Drama). Shawn holds an MA Ed. in theatre Education from Clark University and an MFA in Directing from The University of Massachusetts, Amherst. He has taught at Emerson College, Boston Arts Academy, Huntington Theatre Company, Tufts University, Stage One and the University of Massachusetts, Amherst. Shawn is deeply grateful to the entire C1 family and especially grateful to his wife Jessica and his children Shiloh and Levi.

Kadahj Bennett
Kadahj is a freelance beat maker, sound designer, audio engineer and graduate/facilitator from ZUMIX inc. Kadahj is also the front man of 2 bands; The Downbeat Keys (pop, Brooklyn) and Dancelujah (hip hop/funk, Boston), opening for such acts as Talib Kweli, BADBADNOTGOOD and Jon Bon Jovi. He is elated to work with Company One in this capacity. He is also working in collaboration with the ISGM on a collection inspired by Boston's gentrification boom.

Jessie Baxter
Please view Jessie's bio on the C1 Staff page.

Aislinn Brophy
Aislinn Brophy is a Boston-based actor, playwright, and director. Recently, she has worked as the Assistant Director on Harvard's production of THE OWL ANSWERS. She holds an A.B. in Theater, Dance & Media from Harvard. Undergraduate directing credits include her original plays DRYSIDE and CRYSTAL'S, as well as ONCE UPON A MATTRESS. Undergraduate acting credits include the Poet in A DREAM PLAY, Beneatha in A RAISIN IN THE SUN and a vocalist in SHE, a new musical at A.R.T.'s OBERON.

Tatiana Gil
Tatiana Isabel is a Boston based actor, writer, and mover with a passion for new work development, devised work, telling under told stories, and coffee. After studying at the Neighborhood Playhouse School of Theater in New York City, Tatiana moved to Boston to pursue her undergraduate degree. She is currently completing her final year at Boston University's School of Theatre and will be receiving a BFA in Theatre Arts. Upon graduation in May 2017, she hopes to fully immerse herself in the community as a Boston artist. Hobbies include reading Latinx writers like Junot Diaz, Diane Guerrero, and Pablo Neruda, watching foreign films, hiking, going on New England adventures, and frequenting as many coffee shops or half empty mood-lit bars as she can with note book and firey pen in hand.

Cesara Walters
Cesara Walters is a Boston based Director, Stage Manager, and Properties Designer/Fabricator, and received her BA from Rose Bruford College in London, England. Her most recent directorial credit was with the Promenade Opera Project and their production of JUSTICE OR MERCY. Most recent stage management credits include THE DROWSY CHAPERONE with Stoneham Theatre's the young company, CIRQUE OF THE DEAD with the Boston Circus Guild, and REVOLT and THE T PARTY with Company One Theatre.
Join us on Thursday 11/14 for a post-show conversation with Boston activist Monica Cannon-Grant in dialogue with playwright Idris Goodwin!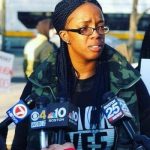 Monica Cannon-Grant is the founder of the local grassroots organization Violence in Boston, whose mission is to improve the quality of life & life outcomes of individuals from disenfranchised communities by reducing the prevalence of violence and the impact of associated trauma.
Idris Goodwin is a creative voice for change impassioned by art for social good. He harnesses the power of written and spoken word to build more diverse and equitable spaces for all. Goodwin is a playwright, director, break beat poet and educator. His poetry was featured on HBO Def Poetry, Sesame Street, NPR, BBC radio and The Discovery Channel.
Stay tuned for information on special events!
Coming Soon