There are no tickets
available for purchase
at this time.
Get Tickets
GRIMM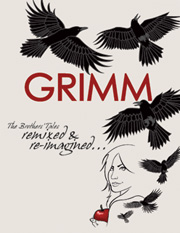 Written by Lydia R. Diamond, Marcus Gardley, Melinda Lopez, Kirsten Greenidge, John Kuntz, John ADEkoje and Gregory Maguire
Directed by Shawn La Count and Summer L. Williams
July 16 – August 14, 2010
Roberts Theatre @ The Calderwood Pavilion
The most exciting theatrical event of the season! GRIMM is a brand-new collection of short plays by Boston's most celebrated playwrights inspired by their favorite Grimm's fairytales. Looking for a sweet, soothing tale to carry you away toward dreamland? Look somewhere else. These stories, originally by the Brothers Grimm, have been remixed, re-imagined and given a fresh Boston twist! Featuring new work by Melinda Lopez (SONIA FLEW), Lydia R. Diamond (STICK FLY, VOYEURS DE VENUS), Kirsten Greenidge (THE LUCK OF THE IRISH), Marcus Gardley (DANCE OF THE HOLY GHOSTS), John Kuntz (SALT GIRL), John ADEkoje (6 ROUNDS/6 LESSONS) and Gregory Maguire (WICKED)!

Delicious, seductive and surprising. You do not want to miss this sensational world-premiere!

a fanciful and entertaining flight of imagination
- The Boston Globe
Alternately serious, silly, creepy, soulful, and surreal
- The Boston Globe
envelope-pushing as ever...
- The Boston Globe
emotionally absorbing
- The Boston Globe
Company One's lively new stage adaptation of some of the tales by the Brothers Grimm, are as different as the battery of seven Boston-area playwrights who mobilized their talents for this ambitious undertaking
- The Boston Globe
instantly intriguing
- EDGE Boston
The fairy tales they tackle are deep and perplexing, full of lust and danger--perfect fodder for contemporary reinvention.
- EDGE Boston
note-perfect!
- EDGE Boston
it's a glossy, funny revisitation of a popular literary means for sorting through life's terrors--warts, evil step-mothers, and all.
- EDGE Boston
Awards
IRNE Award Winner - Best Supporting Actress, Drama
Cast
PLAYWRIGHT & PRODUCTION STAFF
Lydia R. Diamond
Playwright
Marcus Gardley
Playwright
Melinda Lopez
Playwright
Kirsten Greenidge
Playwright
John Kuntz
Playwright
John ADEkoje
Playwright
Gregory Maguire
Playwright

Shawn LaCount


Director

Summer L. Williams


Director

Alycia Marucci


Stage Manager

Michael Best


Assistant Stage Manager

Corey Williams


Assistant Stage Manager

Ben Elkin


Assistant Stage Manager

Sarah Cohan


Production Manager

Greg Josselyn


Artistic Associate

Alyssa McKeon


Assistant Production Manager

Jillian Levine


Assistant Production Manager

Karthik Subramanian


Production Assistant

Mark Abby VanDerzee


Technical Director

Cristina Todesco


Set Designer

Miranda Giurleo


Costume Designer

John R. Malinowski


Lighting Designer

Arshan Gailus


Sound Designer

Joa Stenning


Props Master

Liana Thompson


Dramaturg

Chelsea Kerl


Costume Assistant

Joel Turnham


Master Electrician
---
Stay tuned for information on special events!
Reviews
August 1, 2010
July 30, 2010
December 31, 1969
July 28, 2010
July 26, 2010
July 25, 2010
July 23, 2010
July 23, 2010
July 22, 2010
July 22, 2010
July 20, 2010
July 17, 2010
July 16, 2010
July 12, 2010