GREATER GOOD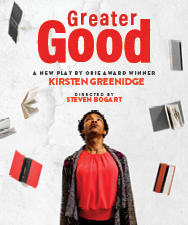 by Kirsten Greenidge (Splendor, Milk Like Sugar)
directed by Steven Bogart
dramaturgy by Ilana M. Brownstein
in collaboration with American Repertory Theater
presented as part of A.R.T. Breakout
with support from the Mellon Foundation's National Playwright Residency Program
administered in partnership with HowlRound
July 17 – August 17
Commonwealth School
(151 Commonwealth Avenue, Boston)
#GetSchooledWithC1
Welcome to Gleason Street—where the teachers are underpaid, the head of school is overwhelmed, and we do NOT talk about that thing that happened at the last parents council meeting (so don't bother asking about it).

As the audience tours the struggling elementary school, each classroom explored and each encounter witnessed could upend our assumptions about the ways we educate, govern, and collectively strive toward the greater good. Equal parts playful and provoking, Obie Award winner Kirsten Greenidge's Greater Good is a one-of-a-kind theatrical experience.

"Greenidge seems to have an uncanny sense of the world around her." 
— The Boston Globe

C1's Take:
>> Company One Theatre is producing Greater Good to AMPLIFY:
– that "access" isn't equal for all, especially at the intersections of education, governance, and democracy.
– questions about who holds the keys to power, from the local PTA, to the highest political offices.
– institutional and individual struggles to live up to a mission.
– the ways liberalism and progressivism often avoid the convergence of race and class.
– the culmination of Kirsten Greenidge's 3-year term as C1's Mellon Foundation Resident Playwright, celebrating the ways she breaks theatrical and narrative norms regarding representation and inclusivity.
Cast
PLAYWRIGHT & PRODUCTION STAFF
---
GREATER GOOD Studio Session
This is your chance to get a sneak peek into the rehearsal process of Greater Good, a brand new site-specific theatrical experience that will move audiences through the halls and classrooms of Back Bay's Commonwealth School this summer.
Join us at minni, a creative community space in the heart of the SoWa art and design district, on Tuesday, June 18 at 7pm.
Learn about this one-of-a-kind immersive play from C1's OBIE Award-winning Resident Playwright Kirsten Greenidge, how it will move audiences from space to space throughout the performance, and why C1 is so excited to bring it to life this summer.
Studio Sessions are free and open to the public, but registration is required to save your space.
Stay tuned for information on special events!
Coming Soon