There are no tickets
available for purchase
at this time.
Get Tickets
Downtown Crossing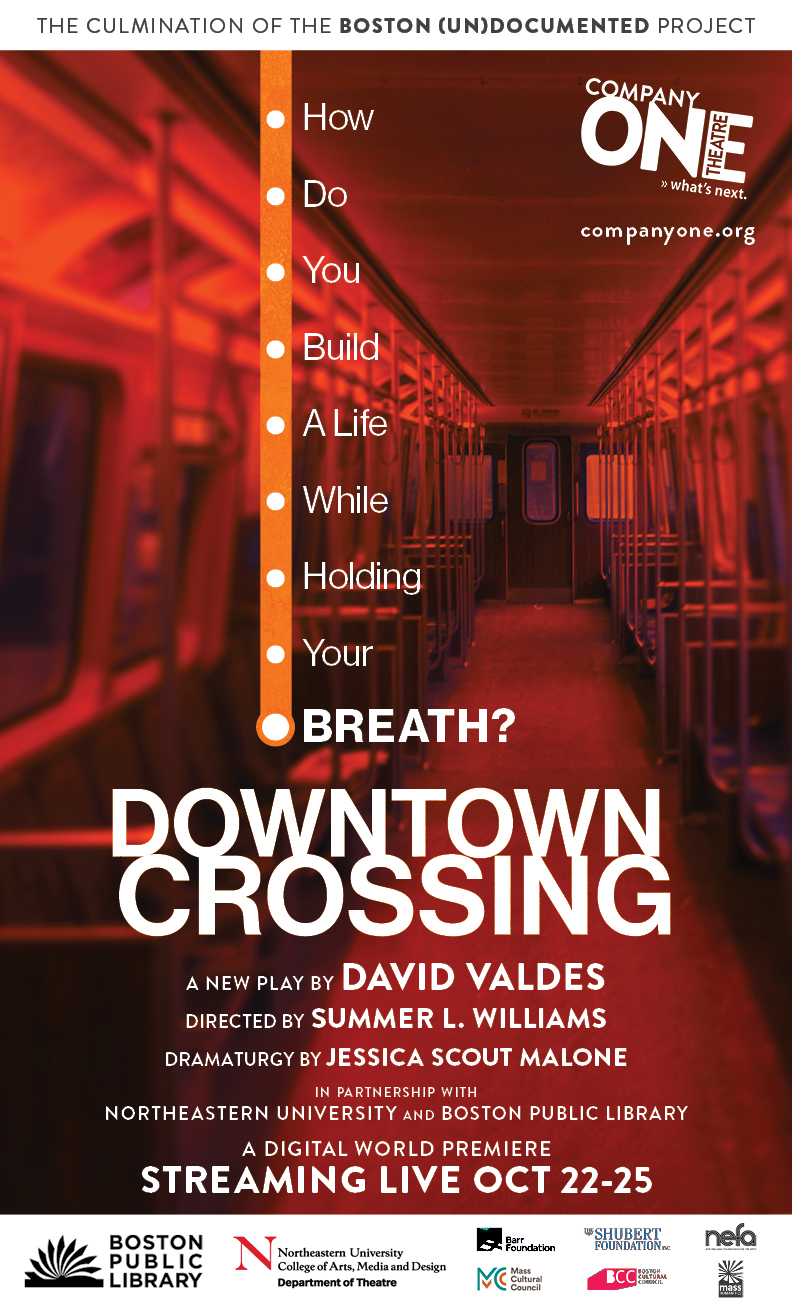 DOWNTOWN CROSSING
by David Valdes
directed by Summer L. Williams
dramaturgy by Jessica Scout Malone
in partnership with Northeastern University
and Boston Public Library
with support from the
Center for the Humanities at Tufts University
A Digital World Premiere
Streamed Live October 22-25, 2020
Performance recording now available to rent!
On Marathon Monday, seven undocumented Bostonians cross paths on the Orange Line. When their train is delayed due to police action at Downtown Crossing, they share their stories — both hopeful and heart wrenching — in intimate, intersecting monologues that spotlight what it's like to build a life while holding your breath.

DOWNTOWN CROSSING is the culmination of C1's two-year Boston (un)Documented Project, during which C1 PlayLab alum David Valdes — supported by a partnership between Company One and the Boston Public Library — interviewed current and former undocumented immigrants, DACA recipients, immigrant rights advocates, community organizers, and family members of the undocumented from the Greater Boston area. With this fully realized virtual production — rehearsed and performed entirely online — C1 brings its long commitment to the pioneering of new theatrical forms to the digital space.

All tickets to DOWNTOWN CROSSING live performances were Pay-What-You-Want, with no minimum.

"Makes you sit up and pay attention." — Broadway World on David Valdes' LAST CATASTROPHIST
C1's Take:
>> Company One Theatre is producing Downtown Crossing to AMPLIFY:
– the experiences and bravery of those whose voices are silenced due to immigration status or fear of deportation

– Boston's history and position as a border city

– actions we can take to combat xenophobia and the "rising costs" of naturalization

– organizations like Agencia ALPHA, MIRA, and RAICES who work to support and defend immigrant rights

– institutions like the Boston Public Library and all public libraries who provide access to all, no matter their status, race, class or creed

– the fight to guarantee the right to vote as a human right

What makes digital theatre exciting? Dramaturg Jessica Scout Malone asked Downtown Crossing playwright David Valdes and director Summer L. Williams.



What do you hope audiences will take away from Downtown Crossing? Dramaturg Jessica Scout Malone asked playwright David Valdes and director Summer L. Williams.
Cast
PLAYWRIGHT & PRODUCTION STAFF
---
David Valdes
David Valdes is a writer outside Boston. He has been a Company One PlayLab Fellow, Huntington Theatre Company Playwriting Fellow, Cimientos Fellow, and Brother Thomas Artist Fellow. His plays have been fully staged and presented in public readings across the US and UK. He has worked with Orlando Shakes, Fresh Ink, Rochester Rep, Company One, Actor's Theatre of Charlotte, Mixed Blood, Borderlands, Milagros, Boulder Ensemble Theatre Company, Stage Left, Ensemble Studio Theatre, The Theater Offensive, and others. His plays have appeared at the Humana Festival, New York International Fringe Festival, Portland Stage Little Festival of the Unexpected, and New York Theatre Workshop Thursday Studio. His plays have been published and anthologized by Samuel French, and have appeared twice in the National Showcase of New Plays, one of them enjoying a National New Play Network Rolling World Premiere in 2018.

Summer L. Williams
Summer L. Williams is a Co-Founder and Associate Artistic Director of Company One Theatre in Boston, and award-winning director. Her most recent directing credits include Wolf Play at Company One Theatre; School Girls, or The African Mean Girls Play at SpeakEasy Stage Company; Miss You Like Hell by Quiara Alegría Hudes and Erin McKeown with Company One Theatre and OBERON at American Repertory Theater; the World Premiere of Leftovers by Josh Wilder with Company One Theatre; Wig Out! by Tarell Alvin McCraney with Company One and OBERON at A.R.T.; Smart People at Kitchen Theatre Company in Ithaca, NY and Geva Theater in Rochester, NY; Barbecue at Lyric Stage Company of Boston—Winner of the 2018 Elliot Norton Award for Outstanding Director; Revolt. She Said. Revolt Again. at Company One Theatre; Bootycandy at SpeakEasy Stage Company; An Octoroon and Colossal with Company One Theatre—Winner of the 2016 Elliot Norton Award for Outstanding Director for both productions. Regional credits: Intimate Apparel at Lyric Stage Company of Boston; Shiv as a part of The Displaced Hindu Gods Trilogy; Shelter of Last Resort by Miranda Craigwell as a part of XX PlayLab 2014; the New England Premiere of Jackie Sibblies Drury's We Are Proud To Present A Presentation About The Herero Of Namibia, Formerly Known As Southwest Africa From The German Sudwestafrika Between The Years 1884-1915; Idris Goodwin's How We Got On; Lynn Nottage's By The Way, Meet Vera Stark at the Lyric Stage Company of Boston; The Brothers Size and Marcus; Or The Secret Of Sweet as part of The Brother/Sister Plays (2012 Elliot Norton Award nominated for Outstanding Production and winner of the 2012 IRNE Award for Best Play); Neighbors, Grimm; The Good Negro; Voyeurs De Venus (Winner of 2009 Elliot Norton Award for Outstanding Director); The Bluest Eye (IRNE and Elliot Norton Award nominated); The Last Days Of Judas Iscariot; Spell #7 (IRNE nominated); Jesus Hopped The A Train (2004 Elliot Norton Award for Best Fringe Production); and Twilight: Los Angeles 1992 (IRNE nominated).

Jessica Scout Malone
Jessica Scout Malone (she/her) is a dramaturg at Company One and a Boston-based fight choreographer. Whether working with playwrights, actors, or creative teams, her focus is always on building confidence and fostering joy. Her work can be seen with companies like Anthem Theatre, Boston Playwrights' Theatre, Brown/Trinity Rep, Sparkhaven Theatre, and New Repertory Theatre. She is a member of the Society of American Fight Directors (SAFD) and currently training with Intimacy Directors and Coordinators (IDC). Jess holds a BFA in Theatre Arts from Boston University. jessicascoutmalone.com.

Ilana M. Brownstein
Ilana M. Brownstein (she/her/hers) is the Director of New Work at C1, and a parent-artist specializing in new plays, social justice, and public advocacy. She is the Founding Dramaturg at Playwrights' Commons. Previously, she created the Playwriting Fellows program and Breaking Ground Festival at The Huntington; led the dramatic literature and dramaturgy curriculum at Boston University for 10 years; and has served as a freelance dramaturg for new play festivals, including The O'Neill, New Harmony, and the Kennedy Center among others. Dramaturgy with C1 includes works by Kirsten Greenidge, Jackie Sibblies Drury, Young Jean Lee, Aditi Kapil, Natsu Onoda Power, Lauren Yee, Mia Chung, Tarell Alvin McCraney, Josh Wilder, Kristoffer Diaz, A. Rey Pamatmat, Qui Nguyen, and Idris Goodwin. She is the senior dramaturg for the C1 PlayLab program, which has provided script and professional development to 40+ playwrights over 8 seasons. She is a member of the 2019 NAS Creative Community Fellows Cohort, artEquity's 2017 anti-racism facilitator cohort, and holds an MFA in Dramaturgy from Yale. Ilana has been a Kilroys nominator, served on the National Advisory Board for HowlRound, and is a two-time winner of the LMDA Elliott Hayes Award for excellence in dramaturgy. imbturgy.wordpress.com

Tarik Jones
Tarik Jones (ASSISTANT DIRECTOR) is in his final semester at Northeastern University. He has previously directed at National Theater Institute where he studied last semester. Tarik's Northeastern acting credits include The Three Sisters, Everyman, and HAIR. His credits at National Theater Institute include Weekend with Grandpy, Radio Play, and Scarlet and Shadows (director). He co-founded and has produced at New Renaissance Theatre Company at Northeastern. Tarik is currently composing for musicals and producing original music. @tarik_jones. tarikjones.co.

Anna Birnholz
Anna is a second year Cultural Anthropology and Theatre major at Northeastern University. Raised in Florida, she spent her childhood participating in ballet classes and competition theatre groups. Anna is passionate about investigating the intersection of performance and social justice and is thrilled to be exploring the world of dramaturgy through this production. She would like to thank her dramaturg mentor, Jess, the cast and crew of Downtown Crossing, and the entire Company One team for being so welcoming and supportive.

Leanna Keyes
Leanna Keyes (Streaming Producer, Visual Designer) is a multi-hyphenate theater professional. As a producer, she has pioneered systems for digital live events (performances, galas, conferences), with clients from Hawaii to Maine. As a playwright, her most famous work is DOCTOR VOYNICH AND HER CHILDREN. That play is included in The Methuen Drama Book of Trans Plays, due out next spring. Learn more about her plays and digital live events business, Transcend Streaming, at leannakeyes.com.

Danielle Domingue Sumi
DANIELLE A. DOMINGUE SUMI, COSTUME DESIGNER is treasured for ingenuity and leadership in theatrical production. Inspired through diversity and humility; Danielle has created with many international companies. Recent design: AHMAL AND THE NIGHT VISITORS (LACHSA, Los Angeles), MISS YOU LIKE HELL (Company One Theater, Boston), AS WE BABBLE ON (EWP, Los Angeles), LAGRIME DI SAN PIETRO (LAMC, Los Angeles); assistant design: BERNSTEIN'S MASS (LAP, Los Angeles), THE INDIAN QUEEN (Perm Opera, Teatro Real, ENO); supervision: ALLEGIANCE THE MUSICAL (EWP with JACCC, Los Angeles).

Aubrey Dube
Aubrey Dube's previous design credits include TRAYF, GOOD (New Rep), VINEGAR TOM, MONSTER, SERIOUS MONEY, PENTECOST (PTP/NYC); BIG LOVE, THE IMAGINARY INVALID, IN THE NEXT ROOM, and MAN OF LA MANCHA (Middlebury College); A TASTE OF HONEY (Boston Center for American Performance); DELIRIUM, DADDY ISSUES, and THE HOTHOUSE (Boston University); WINTER PEOPLE (Boston Playwrights Theatre); FENCES (The Umbrella Theatre) and VIETGONE (Company One). Aubrey holds an MFA in Sound Design from Boston University. Originally from Botswana, he now lives in Boston.

Victoria Rojo
Victoria Rojo (she/her) is delighted to be joining Company One for her first digital production. She is a fifth year Experience Design and Theatre combined major at Northeastern University. Past credits include MARY STUART with Northeastern University as production stage manager, BLITHE SPIRIT with Northeastern University as props master, and SPRING AWAKENING with NUStage Musical Theatre Company as production stage manager, among others. Additional information can be found at victoria-rojo.squarespace.com

Bianca Estensen-Tijerino
Bianca Estensen Tijerino is in their 4th and last year at Northeastern University, where they study Theater Production and Design. They previously worked as a Production Assistant Intern at Speakeasy Stage Co. and have been a Production Assistant at Boston Midsummer Opera since 2018. This is the first time Bianca has worked with Company One, and the first time they have acted as props manager! Bianca hopes to graduate this spring in pursuit of a career in the music industry.

Emma Nafz
Emma Nafz is a third-year student at Northeastern University pursuing a BA in Theatre Production and Design. They are incredibly excited to be working on their first show with Company One! Previous stage management credits include: David Byrne's AMERICAN UTOPIA (Colonial Theatre), TITUS ANDRONICUS (Shakespeare Theatre of New Jersey), THE BRIDGES OF MADISON COUNTY (American Theater Group), ACCOMPLICE! (Bickford Theatre).

Mads Massey
Mads Massey (they/them) is proud to be the newly appointed Production Manager for Company One Theatre. They recently relocated from Cleveland to Boston to work for C1. Mads is a graduate of Kent State University where they studied Theatre Management and Business Management. They have worked on the production management teams at Williamstown Theatre Festival, STAGES St. Louis, and Moonbox Productions. Mads is also a StageSource member and collaborator in the Gender Explosion initiative. To learn how to support the gender fluid community visit www.stagesource.org/page/GenderExplosion

Antonio Ocampo-Guzman
Antonio Ocampo-Guzman is an actor, director, and theatre teacher originally from Bogotá, Colombia. He has been at Northeastern since 2007 and received tenure in 2013. He teaches all levels of acting, voice and improvisation. He serves as the Chair of the Department of Theatre, and as the Program Coordinator for the Masters in Creative Practice Leadership.

Marti McIntosh
Marti McIntosh has enjoyed a successful career as a professional stage manager on Broadway, Off-Broadway, and in America's most prestigious regional theatres. Broadway credits include Thurgood, Oleanna, On Golden Pond, Well, and Dracula. Off Broadway credits include Avenue Q and productions at Lincoln Center Theater, Manhattan Theatre Club, Daryl Roth Theatre, Cherry Lane Theatre, Naked Angels, and Signature Theatre Company. Regional credits include the Kennedy Center, Center Theatre Group, Philadelphia Theatre Company, Westport Country Playhouse, and New York Stage and Film. Marti has also toured nationally with The Music of Andrew Lloyd Webber and On Golden Pond. She spent five seasons on the stage management staff of the Tony Award-winning Huntington Theatre Company; four seasons at the Williamstown Theatre Festival; and two seasons in the production and general management departments at ArtsEmerson. Marti has a BFA in Stage Management from Boston University's College of Fine Arts and her MS in Arts Administration from BU's Metropolitan College.

Herbert Moore
Herbert Moore most recently worked as a Carpenter for the Tony Award winning Alley Theatre in Houston, Texas. Additional Regional Theatre credits include working multiple seasons as an electrician for the Kansas City Repertory Theatre and Dallas Theatre Center. Herbert has spent several years working at Stephens College in the School of Performing Arts as the Scene Shop Foreman and the Okoboji Summer Theatre as the Facilities Manager and Lighting Supervisor. Through his time at Stephens and Okoboji he has also been a guest artist as an actor and lighting designer for multiple shows. Herbert has also spent time as Stage Staff working abroad for Royal Caribbean Cruises Lines. Herbert has a BFA in Theatre Arts from Stephens College.

Margaret Koerber
Margaret Koerber is a passionate and talented artist who loves to collaborate and make costumes an integral part of the storytelling of theatre. As the costume shop supervisor at Northeastern, she works with designers and students to create all of the different costumes for each department production. In addition to her work in the costume shop, she teaches the course Fashion Construction and Pattern Making, as part of the Global Fashion Studies minor. Margaret has worked at award-winning opera and theater companies throughout New England, including the Long Wharf Theatre and the Glimmerglass Festival. She has worked as a freelance costume crafts artisan and had the pleasure of producing costumes for Broadway productions including Hamilton and 1984. This past summer she was a Draper at the Barrington Stage Company in Pittsfield, MA and produced costumes for West Side Story, The Chinese Lady, Typhoid Mary, and The Royal Family of Broadway. Margaret received her B.A. from Bates College and her M.F.A. in Costume Production and Design at Boston University. A portfolio of her work can be found at margaretkoerber.squarespace.com.

Mätthew Williams
Mätthew Williams has been an active member of the Boston Technical Theater community since 2012. Prior to starting at Northeastern, Williams spent two seasons working as the Assistant Technical Director at the Boston Conservatory at Berklee. He has also freelanced with a wide variety of theater and production companies throughout the city, working as a Technical Director, carpenter, stagehand, electrician, sound and video engineer, and production manager. Williams has his BFA from Emerson College in Theatrical Design and Technology, with a concentration in Technical Direction.
Get ready for an incredible lineup of performances, conversations, and opportunities to take action:
Thursday, October 22
7pm – Downtown Crossing Opening Night Performance (Get Tickets)
Friday, October 23
12pm – Who's in the Fight? – Meet some of our partner organizations working for racial, social, and economic justice in Boston, including Agencia ALPHA and AARW. (RSVP Today)
6pm – Pre-Show Hour of Action – A chance for audience members to join us in our virtual lobby to take action and share conversation before the show!
7pm – Downtown Crossing Performance (Get Tickets)
Saturday, October 24
6pm – Pre-Show Hour of Action – A chance for audience members to join us in our virtual lobby to take action and share conversation before the show!
7pm – Downtown Crossing Performance with post-show celebration and conversation with members of the the cast (Get Tickets)
Sunday, October 25
2pm – Downtown Crossing Performance with post-show conversation with playwright David Valdes, led by dramaturg Jessica Scout Malone (Get Tickets)
(All times are Eastern Daylight Time)
October 13, 2020 7pm EDT- Studio Session on Instagram Live
Join dramaturg Jessica Scout Malone in conversation with playwright David Valdes and director Summer L. Williams for a behind the scenes look at Downtown Crossing.
This live event focused on the development of the play from the spark of an idea, to David's research/interview process, to a fully realized digital production.
Explore the Digital Program with resources, information about our community partners and ways to take action, and an interview with playwright David Valdes!
Coming Soon