There are no tickets
available for purchase
at this time.
Get Tickets
Christmas Belles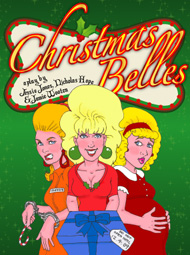 Written by Jessie Jones, Nicholas Hope & Jamie Wooten
Directed by Greg Maraio
December 4 – December 19, 2009
Boston Playwrights' Theatre
It's Christmas-time in the small town of Fayro, Texas, and the infamous Futrelle Sisters Frankie, Twink and Honey Raye are not exactly in a festive mood. A cranky Frankie is weeks overdue with her second set of twins. Twink, recently jilted and bitter about it, is in jail for inadvertently burning down half the town. And hot-flash-suffering Honey Raye is desperately trying to keep the Tabernacle of the Lamb's Christmas Program from spiraling into chaos. If y'all bring the eggnog, we'll provide all the belly-laughs! Ho-ho!

Dont miss it!!!
- Variety
The funniest thing since GREATER TUNA!
- The Lake County News, Lake County, CA
The play kept the audience laughing all night with the writers' witty humor.
- Garner News, Garner, NC
This hilarious comedy has been making audiences all over the country merry and bright!
- The Malibu Times, CA
Cast
PLAYWRIGHT & PRODUCTION STAFF
Jessie Jones


Playwright

Jamie Wooten


Playwright

Nicholas Hope


Playwright

Greg Maraio


Director/Costume Design/Set Design

Deirdre Benson


Stage Manager

Kirsten Opstad


Lighting Design

Jared Fennelly


Sound Design/Set Design/Graphics and Poster

Katie Higgins


Dialect Coach
---
Stay tuned for information on special events!
Reviews
December 10, 2009
December 31, 1969