There are no tickets
available for purchase
at this time.
Get Tickets
Astro Boy and The God of Comics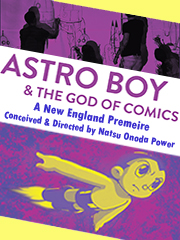 A New England Premiere
Conceived and Directed by Natsu Onoda Power
July 18, 2014 – August 16, 2014
The Plaza Theatre @ The Boston Center for the Arts
Lauded for its technical and artistic genius, ASTRO BOY AND THE GOD OF COMICS serves up live animation, interactive video, and a 1960s dream of the future. Astro Boy – a crime-fighting, sweet-faced robot – and his creator, Osamu Tezuka – the real-life Father of Manga and "Walt Disney of Japan" – explore the intersections of science, art, and family. Director and Playwright Natsu Onoda Power's high-octane, convention-breaking ASTRO BOY was called "one of the Top 3 Best Theater Experiences in 2012" by The Washington Post.
C1's Take:
This sensational, multimedia, experimental theatre piece, devised with an ensemble cast, combines live hand drawing, interactive video, and large-format animation by actors on stage. A major step in the imaginative use of technology in theatre; ASTRO BOY is a truly ground breaking work.
"A feat of exhilarating imagineering, the performance piece heralded the emergence of director/writer/technical whiz Natsu Onoda Power as a captivating force in Washington theater. Almost as much ingenuity was apparent in this 70-minute exploration of the work and life of 'Astro Boy's' visionary animator Osamu Tezuka as is displayed in the design of a Mars rover. Having actors sketch onstage, as others interacted with animated movies and 3-D cartoon figures, transformed the theater from a Studio in name only to one where experimental breakthroughs truly can happen."
- Washington Post
Cast
PLAYWRIGHT & PRODUCTION STAFF
Natsu Onoda Power
Playwright

Natsu Onoda Power


Director

Ramona Ostrowski


Dramaturg

Jamie Gahlon


Assistant Director

Karthik Subramanian


Production Manager

Jared Mezzocchi


Projection Designer

Tyler Kinney


Costume Design

Justin Paice


Lighting Design

Kelsey Jarboe


Sound Design

Natsu Onoda Power


Scenic Design

Megan F. Kinneen


Props Master

Abigail Medrano


Stage Manager

Rachel Shaw


Assistant Stage Manager

Jessica Hogan


Assistant Stage Manager

Erin Basile


Assistant Production Manager

Mia Buchsbaum


Assistant Production Manager

Mike Kilduff


Projections Operator

Matt Cost


Master Electrician
---
Natsu Onoda Power
Natsu Onoda Power is a DC-based writer, director and designer. She was one of the founding members of Live Action Cartoonists, a performance group that combines comics and live performance. Her Live Action Cartoonists directing credits include Revenge of the Poisoned Ladies, Performance of Sleep in One Long Act Without Intermission, are you my negative space? and SCIENCE (FICTION). She has also written and directed The T Party (Forum Theatre), A Trip to the Moon (Synetic Theatre), Astro Boy and the God of Comics (Studio Theatre 2nd Stage), The Omnivore's Dilemma (adapted from Michael Pollan, Georgetown University), as well as other productions at Georgetown University, where she teaches as an Assistant Professor of Theater and Performance Studies. Recent set design credits include Anime Momotaro (Imagination Stage), Kafka's Metamorphosis (Synetic Theatre), bobrauschenbergamerica and Mad Forest (Forum Theatre). Natsu holds a PhD in Performance Studies from Northwestern University, and is the author of God of Comics: Osamu Tezuka and the Creation of Post World War II Manga (The University Press of Mississippi in 2009).
Reviews
July 25, 2014
July 23, 2014
July 23, 2014
July 22, 2014
July 21, 2014
July 21, 2014
July 21, 2014
July 21, 2014
July 21, 2014
June 1, 2014
June 21, 2014
June 21, 2014