There are no tickets
available for purchase
at this time.
Get Tickets
ARTiculation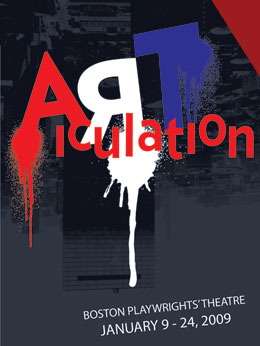 Conceived by Tory Bullock
Directed by Lois Roach
January 9 – January 24, 2009
Boston Playwrights' Theatre
While the country is ushering in change with the election of a new president, Company One is doing the same with a new kind of theatre. Set in the not-so-distant-future, ARTiculation follows the journey of six Boston poets as they weave their way through the vast jungles of their own imaginations. Armed with only words, this young diverse ensemble provides a mosaic of life, love, youth, religion and art set to a thundering mix of urban poetics and dynamic live theatre. Written by the performers themselves, Company One is proud to present the artistic revolution that is ARTiculation.
This non-stop hour of poetry, sung, chanted, and acted by the poets themselves, will renew your faith in the art of the spoken word, and in the youth of America.
- Theatre Mirror
Cast
PLAYWRIGHT & PRODUCTION STAFF
Lois Roach


Director

Jarrod Bray


Set Designer

Mark Abby VanDerzee


Lighting Designer

Tristan Raines


Costume Designer

Lindsay Barton


Stage Manager

Eliza Mulcahy


Assistant Stage Manager
---
Stay tuned for information on special events!
Reviews
January 16, 2009
January 14, 2009
January 10, 2009