There are no tickets
available for purchase
at this time.
Get Tickets
After the Quake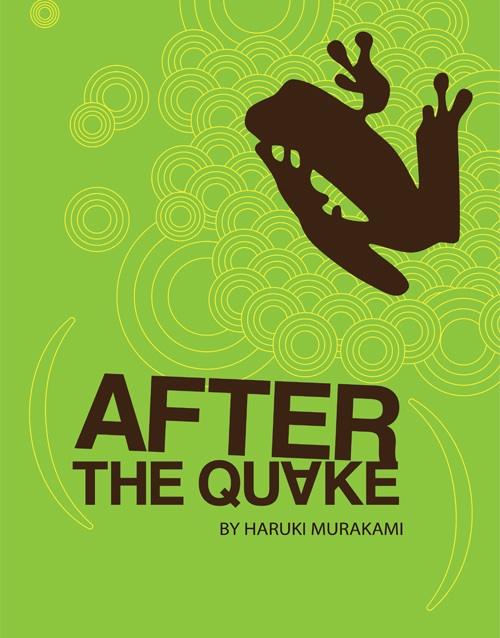 Written by Haruki Murakami
Adapted by Frank Galati
Directed by Shawn LaCount
July 17 – August 15, 2009
The Plaza Theatre @ The Boston Center for the Arts
Writer Haruki Murakami, author of The Wind-Up Bird Chronicle and Kafka on the Shore, is one of the most acclaimed writers of our time, winning a Yomiuri Award, Japan's equivalent of the Pulitzer. Frank Galati, Tony Award–winning director and adaptor has fashioned an enchanting and deeply moving play out of two of Murakami's short stories. AFTER THE QUAKE is a gentle tale of life in the wake of earth-shaking disaster. A timid man woos an old flame, enchanting her anxious daughter with whimsical bedtime stories of a six foot frog's fight to save Tokyo. Company One invites you to experience a testament to healing and hope in an increasingly vulnerable world with what promises to be a beautiful and mesmerizing evening of theatre.
It is an elegant, economic, gently hypnotic piece of theater
- New York Times
HIGHLY RECOMMENDED! A mesmerizing 100-minute theater piece...filled with plenty of humor and whimsy
- Chicago Sun-Times
An elegant and sleek meditation on the reverberations of trauma adapted for the stage from a collection of stories by Japanese writer Haruki Murakami.
- Bill Marx, The Arts Fuse
...portrayed with heartbreaking innocence and grace
- Louise Kennedy, The Boston Globe
Kudos to Company One for staging an engaging work
- Bill Marx, The Arts Fuse
[a] delicate and moving production
- Louise Kennedy, The Boston Globe
Cast
PLAYWRIGHT & PRODUCTION STAFF
Haruki Murakami
Playwright

Shawn LaCount


Director

Emily Hayes


Stage Manager

Eliza Mulcahy


Assistant Stage Manager

Alycia Marucci


Assistant Stage Manager

Robyn Jones


Child Acting Coach

Liana Thompson


Dramaturg

Sean Cote


Set Designer

John Forbes


Lighting Designer

Arshan Gailus


Sound Designer

Miranda Giurleo


Costume Designer

Shaw Pong Liu


Music Director & Composer

James Wylie


Musician & Composer

Sarah Cohan


Production Manager

Mark Abby VanDerzee


Technical Director

Grace Geller


Directing & Dramaturgy Assistant

Jessica Hegarty


Production Assistant

Nicholas Tosches


Assistant Technical Director

Paige Warren


Assistant Costume Designer
---
Haruki Murakami
Haruki Murakami is a Japanese novelist and translator. An important asset to the Japanese literature of the 20th century, Haruki has received several noted awards for his fiction and non-fiction works. He was also referred to as one of the world's greatest living novelists by The Guardian. Hear the Wind Sing, Haruki's first novel was published in 1979 which was a part of The Trilogy of the Rat. The book received the Gunzou Shinjin Sho (Gunzo New Writer Award). His next publication also a part of The Trilogy of the Rat, Pinball, 1973 was published in 1980. In 1981, Murakami decided to make writing his ultimate profession and therefore, sold the bar he ran with his wife. The third part of the same trilogy named A Wild Sheep Chase was published in 1982. Haruki won the Noma Bungei Shinjin Sho (Noma Literary Award for New Writers) for this book in the same year. After spending some time moving to Fujisawa and then Sendagaya, Haruki published Hard boiled Wonderland and the End of the World in 1985. This book was also immensely praised and received the Junichi Tanizaki Award. Haruki then moved to Oiso and travelled to Rome and Greece before publishing Norwegian Wood (1987), an extremely popular novel among the Japanese youth and abroad. Haruki won the Yomiuri Literary Award for Wind-up Bird Chronicle in 1996. Some of his more recent novels include The Sputnik Sweetheart (1999), and Kafka on the Shore (2002). The Elephant Vanishes, A collection of Murakami's short stories published in 1993 was also liked well by his fans. Underground (2001) is a significant non-fiction work of Haruki Murakami based on the gas attacks by religious extremists in the Tokyo subway in 1995. In January 1991, Murakami moved to New Jersey and became an Associate Researcher at Princeton University. A year later he was promoted as an Associate Professor at Princeton University. In 1993, Haruki started teaching at William Howard Taft University in Santa Ana CA. Murakami was born in Kyoto, Japan on January 12, 1949. Haruki probably inherited the passion for writing from his parents who were teachers of Japanese literature. Haruki, however, was never a big fan of Japanese literature and was instead under heavy influence of Western culture. He has been criticized on being overly westernized by the Japanese on several occasions. In 1968 Haruki attended Waseda University as a Theater Arts major student. Not very studious by nature, Murakami would spend hours reading film scripts at the Theater Museum at the university. He also met his wife for the first time in Waseda University and they married in 1971. Together they opened a Jazz Bar named Peter Cat in Kokobunji, Tokyo which was later shifted to Sendagaya, Tokyo, a quite locality. Haruki Murakami is an iconic figure of postmodern literature known mostly for his unreal, humorous work focusing on the loneliness and empty mindedness of Japan's work dominated generation. He now resides in The United States and is an enthusiastic marathon runner, a hobby he acquired at the age of 33.
Stay tuned for information on special events!
Reviews
August 6, 2009
July 25, 2009
July 24, 2009
July 22, 2009
July 22, 2009
July 22, 2009
July 21, 2009
July 19, 2009
July 17, 2009
July 15, 2009
June 30, 2009